Slumberjack Ultimate 20°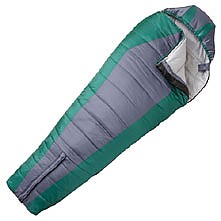 For a cheap bag for light use it is OK. For anything else it would be better to spend more for a better bag.
I bought this bag a couple of years ago and the biggest complaint I had was the same as mentioned by every other reviewer. The temperature rating is off by about 25 degrees. without a liner and lots of clothes you will be miserable below 40 degrees.
I bought this bag because, as a larger guy (6ft, 250lbs) I wanted extra room, and wanted to save some $$. On this, the bag delivered. However recently the bag started separating at the seams (literally). It is supposed to have a Lifetime guarantee against defects in materials and workmanship.
I called Slumberjack and they would not even talk to me until I sent them the bag for review. Once they got it (confirmed by Fed-Ex) it took 2 days for them to find it in their mailroom. Another 2 weeks and 5 phone calls and they told me "there is nothing we will do for this bag", short of an offer on a discount for another bag, and return my original back to me.
Summary, for a cheap bag where you don't expect it to last, and where it will only be used in relatively warm weather, it is OK but don't believe their "life time warranty. 
Save up and buy a nicer bag.
Price Paid: $99

The Slumberjack Ultimate is the lightest, most compact bag you can buy for the money. I got mine used lightly on eBay for $25, but they retail for about $50 on Amazon and elsewhere.
The next thing you need to know is that this is barely a three-season bag and the +20°F rating is very inaccurate. You could survive in this bag down to about 30-35°F, but you won't be comfortable if it's below 40-45°F and that would wearing your Patagonia Capilene-1 thermal underwear, Patagonia Capilene fleece top and wool socks.
The third thing you need to know is that the zipper frequently malfunctions, particularly when you try to unzip it all the way down and the two sides come apart. It's very difficult trying to get the zipper back on track in the middle of the night.
Having said all that, if you really cannot afford $50 or more for a better sleeping bag with more loft and a better zipper or if you absolutely won't be camping out in early Spring, late Fall or Winter, then you could do worse for the money. This would be perfect for sleepovers or middle of the summer camping because it does have the velcro panel that allows air into the foot compartment. It's also extremely light at less than three pounds and compacts to the size of a small watermelon in the stuff sack provided.
We will probably spend $50-60 next September to upgrade to something warmer, like a Coleman North rim or Kelty Mistral, because my girlfriend tends to get really chilly at night and weight is not that important for us with car camping.
Design: Mummy
Fill: Synthetic
Temperature Rating: +20°F (Actually +35°F)
Weight: Two pounds six ounces
Price Paid: $25

Don't try to use this sleeping bag in anything colder than about 45 degrees. As with a Slumberhack bag it is outrageously overrated. Add 20-25 degrees to every SJ bag.
Who cares how light a bag is when it won't keep you warm except during the summer (and I live in Arizona). A trash bag is light, but I wouldn't want to sleep in one, then again it may keep you warmer than this bag.
Design: mummy
Fill: Synthetic
Temperature Rating: 20

Glad I got this thing cheap because it is definitely not worth full price. Took it camping in PA and when the temp dropped to 30C overnight I froze my arse off. I had to double up on socks and put on two fleece jackets and I still didn't get a wink of sleep. Lesson: spend a little more on a better bag unless you just want to use this for summer camping. Also, the zipper gets stuck in the material...every time.
Design: mummy
Temperature Rating: 20F...haha
Price Paid: $55

Quite similar to what other reviewers have said. I took this bag down into backcountry Kentucky in November. Lows hit 25 and 34 two nights I was there. Did not sleep either night because I was so cold. This bag was cold cold cold (and that was with a sleeping pad that cost twice as much as this bag). I was quite upset at the time and am still quite upset at Slumberjack. I will NOT buy Slumberjack again. Live and learn.
This is a 20 degree bag and last fall it worked pretty good out a Glacier National Park with night lows of about 32-40 degrees. I just arrived home from camping in Northern Minnesota this past weekend where the overnight low was 19 degrees. Even with a sleeping pad I was very cold both nights. The second overnight, I had to get up around 4:30 a.m. and get the fire going again because I couldn't stop shaking from the cold! It is a nice bag for warmer weather but bring something different when it gets COLD!
Design: Mummy
Temperature Rating: 20 degrees
Price Paid: $79

This is NOT a cold weather bag!! Do not believe the labeling. My first night on Frosty Mtn in Ga. was in the mid-30s -- I shivered so much I barely slept. On a recent trip to the Cascades, I found that 43-45 degrees is the limit for comfort. I am keeping it around for a summer bag b/c it is indeed very lightweight.
Design: mummy
Price Paid: $70

Being a student and low on money I was attracted to the low price of the Slumberjack. The weight was not attractive but I thought at the time I would not mind.
My first trip out to the Smokies mountains in North Carolina was not good. The first night temp dropped to -5 degrees, and I was afraid for my safety in the Slumberjack. It was the coldest night of my life, but I thought it was not fair to judge the bag on that cold of a night.
Next trip temps hit the high 30's low 40's, still cold. Next trip, mid 50's still cold. The last and final straw was when I brought my bag to a friends to stay the weekend. I was in the basement of a heated home.... you guessed it.... still cold.
If someone were to give this bag to me for free I still would never want it again. Save your money people!!!
Price Paid: $65

Liars! This bag sucks! The size is good, but if you actually get anywhere 40 degrees you will freeze to death, let alone 20 degrees. I bought two and use them when it's 75 at night out in the desert, because they are about worthless after that.
Design: mummy
Temperature Rating: 20
Weight: light
Price Paid: $65

Your Review
Where to Buy
Help support this site by making your next gear purchase through one of the links above. Click a link, buy what you need, and the seller will contribute a portion of the purchase price to support Trailspace's independent gear reviews.
You May Like
Specs
Price
MSRP: $79.99
Historic Range: $39.95-$99.95
Reviewers Paid: $25.00-$99.00

fall 2010
Weight
4 lb 12 oz / 2200 g

Fill weight
3 lb 12 oz / 1700 g

Temperature rating
20 F / -7 C

Fill
G3 Fiber synthetic

Shape
mummy

Max user height
6 ft 0 in / 180 cm

Shoulder girth
62 in / 160 cm

Hip girth
60 in / 150 cm

Foot girth
42 in / 110 cm

Recently on Trailspace