Smartwool Hike Light Cushion Crew Socks

#6 in Hiking/Backpacking Socks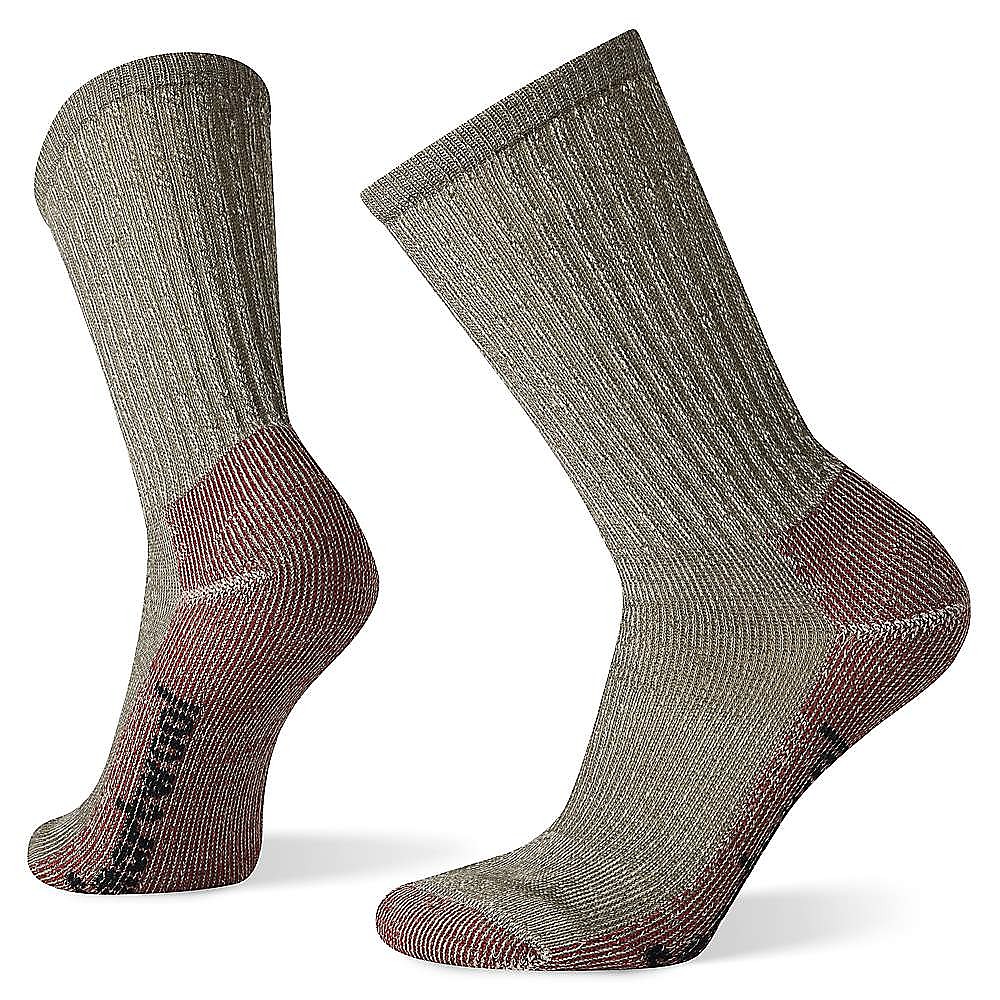 Hikers know Smartwool as one of the best-known Merino wool brands on the market. I have owned several Smartwool products over the years, and I have never been disappointed with any of them. The Hike Light Cushion Crew Sock is no exception. As a lighter cushioned sock, it is perfect for day hiking or backpacking with an ultralight setup. With Smartwool's improved warranty and a commitment to sustainability, these are definitely hiking socks worth considering when making your next purchase.
Pros
Comfortable
Hold their shape
Breathable
Odor resistant
Dry quickly/wicks moisture
Responsibly sourced wool
Recycled materials (used in both socks and packaging)
Made in USA
Warranty
Cons
I really couldn't come up with any.
The packaging on the Smartwool Hike Light Cushion Crew Socks (or "Hike LC" for short) reads, "go far. feel good." I find that slogan to be the ideal description of these socks. After 100 miles of hiking, they still feel good on my feet.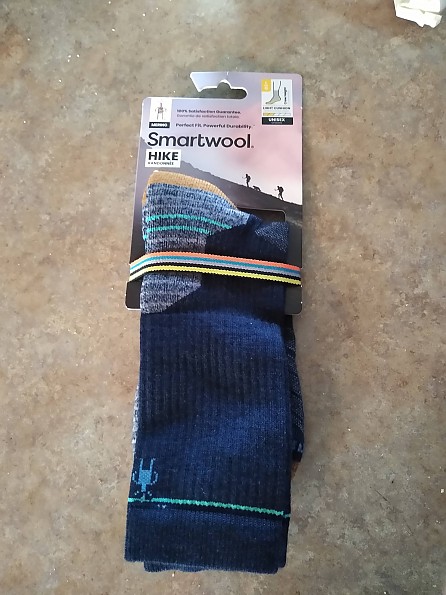 OUT OF THE PACKAGE (which is both minimal and made from recycled materials), the Hike LC look and feel like what you would expect from quality Merino wool socks. They are soft, comfortable, and regulate temperature well.
Going by the packaging, the Hike LC are comprised of 56% Wool, 28% Recycled Nylon, 13% Non-recycled Nylon, and 3% Elastane (Lycra/Spandex). The packaging promises everything you would expect from a Merino wool sock, even one that is a 56/44 blend: Blister protection, Breathability, Moisture control, and Odor control.
Anyone who knows Merino knows these are not hard promises to keep. It is the nature of the material. The big promise to test is "Stay-In-Place Fit." No one wants saggy socks on the trail.
OTHER STATEMENTS on the packing worth noting are "PROUDLY MADE IN THE U.S.A." with smaller print stating "From Imported Yarn." Smartwool also states "Made Using Responsibly Sourced Merino Wool" (Side note, the packaging really is all over the place in using capitalization and punctuation.). I went to Smartwool's website to learn more about "responsibly sourced"  and found videos and articles explaining what Smartwool does to ensure its providers are both treating the animals well and using environmentally-friendly methods in their wool production.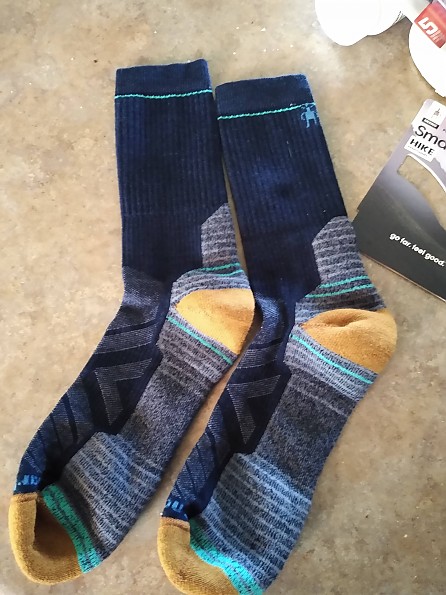 THE SIZE & FIT is spot on. The socks run true to size, and the fit provides a comfortably snug, stay-in-place hold on your feet.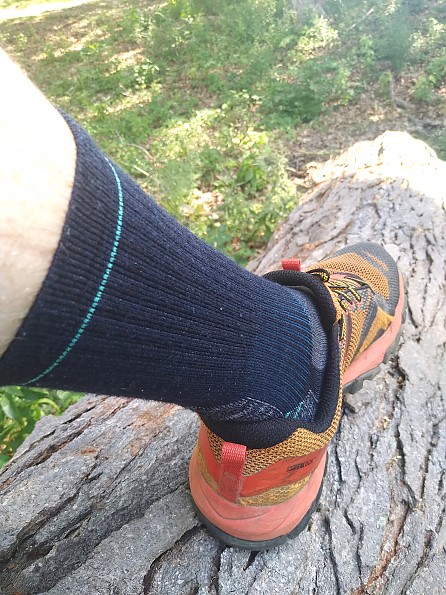 THERE IS ONLY ONE WAY TO TEST SOCKS —put them on your feet and go hiking. Now, I will be honest, the COVID-19 quarantine ruined my backpacking. Each of the times I went out in 2020 the usually quiet trails were crowded and trashed. On one occasion I had to divert a couple of hours from my trip to walk a lost hiker back to a trailhead. He had none of the Ten Essentials, not even a bottle of water, just the clothes on his back. He thought he was hiking to his car, but he was on an entirely different trail and going further into the National Forest two hours before sunset. On my last overnight trip in October 2020, I looked at multiple piles of human excrement and toilet paper at the side of the trail, turned around, and went back to my car. I have not picked up an overnight pack since.  
So, the socks were tested on day hikes ranging from 3-5 miles in non-public areas. I wore them as I walked the private trails near my house. I wore them as I bushwhacked private land looking for new cave entrances (Cavers call this "Ridge Walking," and it is done with landowner permission). I wore them every time I was doing something outdoors. The socks got wet in streams. They got muddy. They were worn multiple days in a row without washing. By the time July 1 rolled around my log showed I had covered about 100 miles over the course of 52 days. 
PROMISES WERE FULFILLED during the testing period. The Merino did what Merino is supposed to do (listed above). And, as promised, the socks held their shape and stayed up while hiking. After nearly two months and 100 miles, they still feel good, and they still stay up.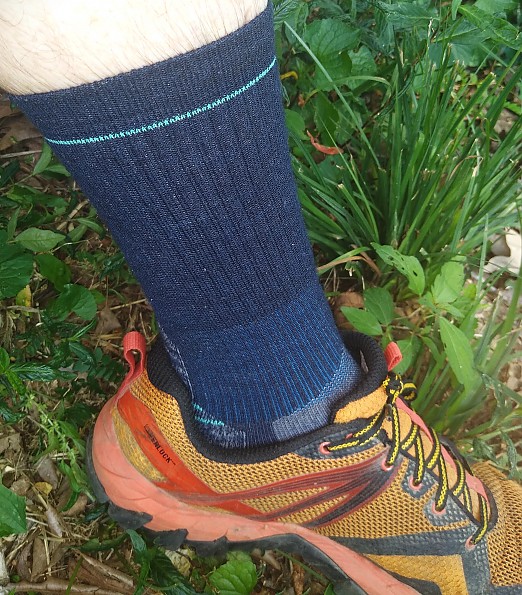 THE WARRANTY HAS IMPROVED AND BECOME COMPETITIVE. In the past I have been critical of Smartwool's limited warranty, especially when one of their biggest competitors offers a lifetime warranty. The Hike LC packaging says in large letters "100% SATISFACTION GUARANTEE" (again with the capitalization). So, I went to the website to see what that meant, and I was pleasantly informed of the current policy.
Smartwool states "So if, for any reason, you aren't completely happy with your Smartwool gear within two years of purchasing, we'll get you into some new gear. No problem." If you ask me, two years is generous for any pair of socks, especially if you are thru hiking a long trail and rely on replacing your socks during the trip.
Even better Smartwool generally does not make you return the socks when you make a replacement claim. Small print does say they reserve the right to ask for a physical return, but in general they are choosing to trust their customers. This is a step up from the competitor I referenced before (Note, it has been a couple years since I returned socks to the competitor; so they may have updated that policy.).
SO IN CLOSING, Smartwool remains a powerhouse in Merino wool garments. I started wearing the brand more than a decade ago, and I find their products are still top notch. The Hike LC did not disappoint. The socks are well-made, comfortable, and hold up over time and distance. I would recommend these socks to any hiker looking for a pair of quality Merino socks.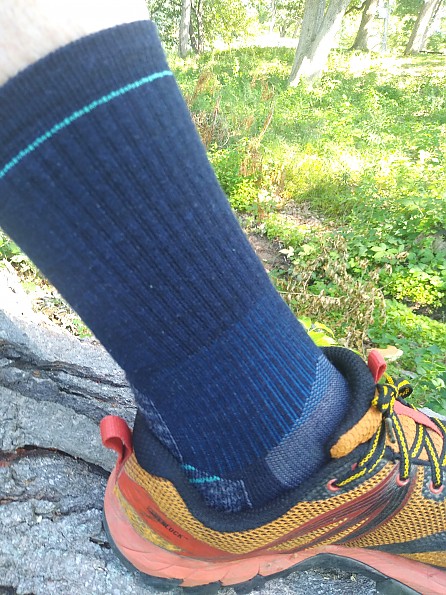 Experience
I have been wearing Merino wool socks for hiking, backpacking, caving, and running since 2001.
Source: received for testing via the Trailspace Review Corps (Sample for testing and review provided by Smartwool)

Your Review
Where to Buy
Help support this site by making your next gear purchase through one of the links above. Click a link, buy what you need, and the seller will contribute a portion of the purchase price to support Trailspace's independent gear reviews.
You May Like
Specs
Men's
Price
MSRP: $24.00
Current Retail: $14.96-$24.00
Historic Range: $14.96-$24.00

Sock Height
8" Crew

Sock Cushion
Light Cushion

Origin
Made in the USA of Imported Yarn

Materials
56% Merino Wool, 11% Nylon, 31% Recycled Nylon, 2% Elastane (specific percentage of recycled nylon will vary as we transition to 100% recycled nylon in future seasons)

Women's
Price
Current Retail: $17.96-$24.00
Historic Range: $12.99-$24.00

Kids'
Price
Current Retail: $10.40-$14.00
Historic Range: $7.99-$14.00

Recently on Trailspace