Smartwool Merino 150 Pocket Tee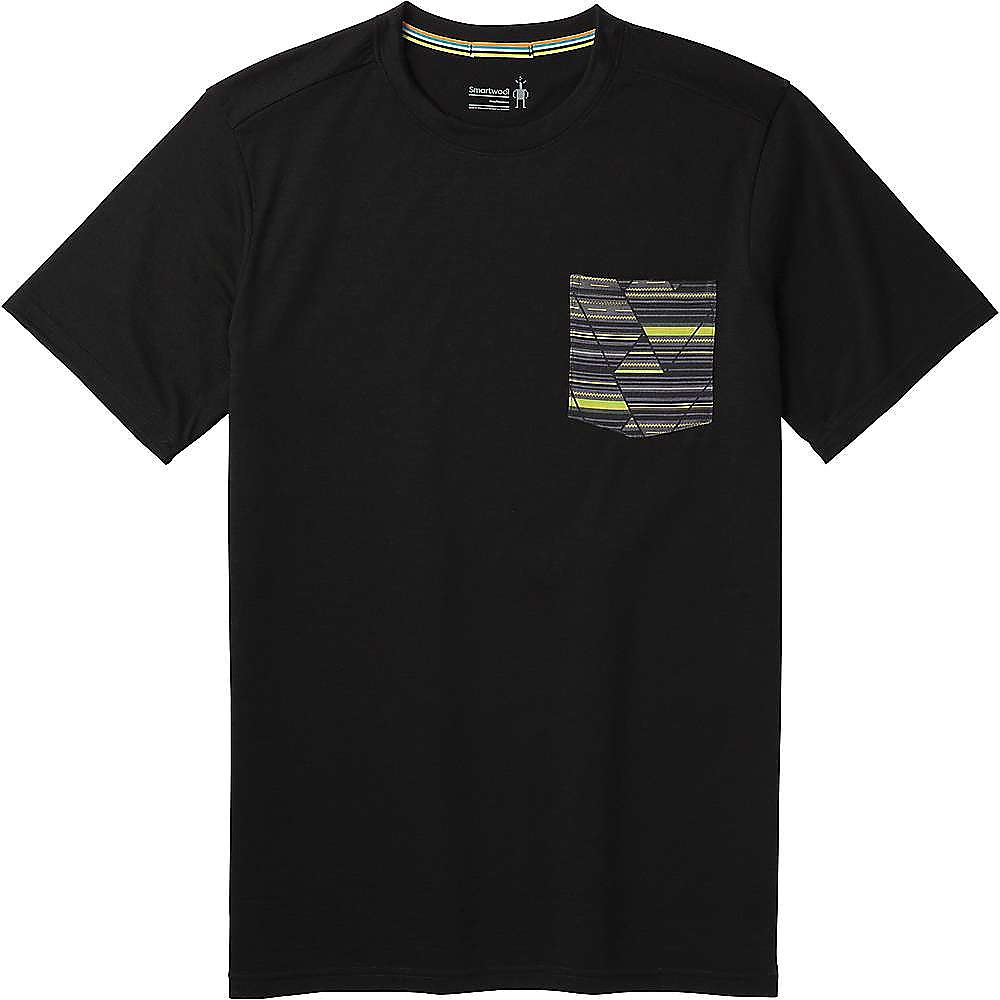 The Smartwool Merino 150 Pocket Tee is an active wear, base layer made up of 87% merino wool and 13% polyester. The high wool content maximizes one of nature's greatest insulator's ability to regulate temperature, ward off the multi-day stink, and manage moisture, while the polyester content adds durability and comfort.

A lightweight wool tee allows for an endless amount of uses—from a thin sun shirt on hot summer days, to an excellent next to skin layer as part of a clothing system in winter. I've worn this from the trail, to the crag, to the pub, to the lake, to chasing the kids around the yard; it is really just that versatile. The fit is a little baggier than I would like, but that one constructive criticism is more than offset by the comfort, function, and versatility of this tee.
Pros
Breathable
Wicks sweat/ feels dry
No stink
Soft, itch-free wool
Offset shoulder seams
High merino content
Cons
Sizing runs a little large in the mid-section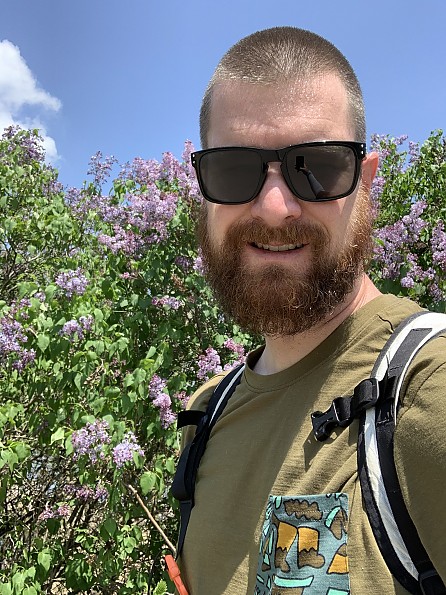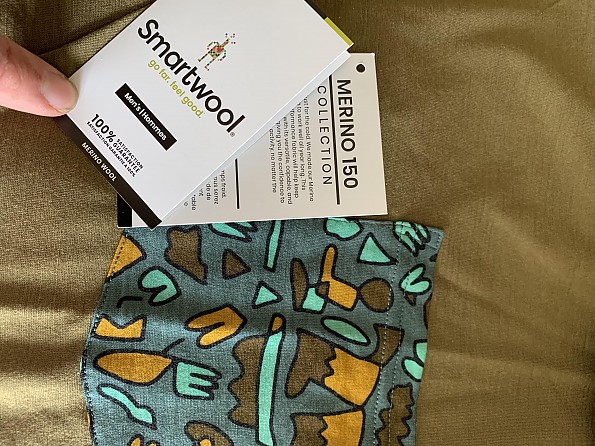 First off, a disclaimer—I am an unabashed wool fan. It's amazing to me that man has made so many "revolutionary" fabrics designed to do, well...exactly what wool does. Mother Nature has shown us the exact fibre to be using for years. Our ancestors knew it, most experts that make a living outdoors know it, walk through the Scottish Highlands/Canadian North/Siberia, and see what their clothes are made off- natural materials. 
Wool is, by nature, "scratchy" to some people. It has come a long way from the ragg wool of past, and high quality, low micron wool, like the kind used in this tee, are a lot softer. The type of wool matters as well; shop for Merino wool if you are looking for the softest feel against the skin. 
FIT AND COMFORT AND...STYLE(?)
I find the fit of the Merino 150 Pocket Tee to be slightly baggy around the mid-section for me (I'm six foot, 180 lbs, in a size large), and that is about all the negative feedback I have. I would like to see it tapered in a little more around the waist section. I believe it would allow the tee to layer under additional pieces, or when tucked into pants in colder weather, although at the expense of the airy feeling during summer, I guess. Smartwool labels this tee as a "Regular Fit" which I assume aims the fit as much towards everyday activities, as it does towards athletic pursuits.
The length of the hem (comes down just below the waist) makes it great for tucking in under a backpack hip belt or harness. The shoulder/chest sizing and sleeve length are all perfect as well.
The shoulder seams has been moved off the top to increase comfort/minimize rubbing when wearing a pack.
A note about the looks of this piece, I absolutely love it. I'm a sucker for green, especially this dark natural green in the tee I received. I've never been mistaken for someone who cares about fashion, so take this with a grain of salt, but I find the shirt looks awesome. I've been wearing it casually throughout the summer, and as the temps begin to cool here in early September, I've been wearing it with pair of jeans. The pocket adds a little visual variety too, so it is not just a mundane all green shirt. The 150 in the Smartwool Pocket tee addresses the microns of the wool, indicating that this is a lightweight, softer version of wool.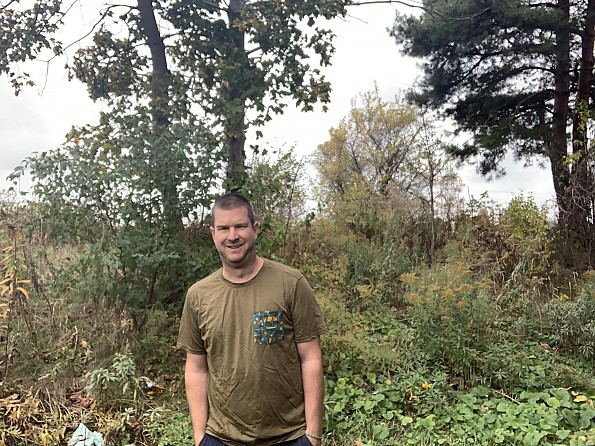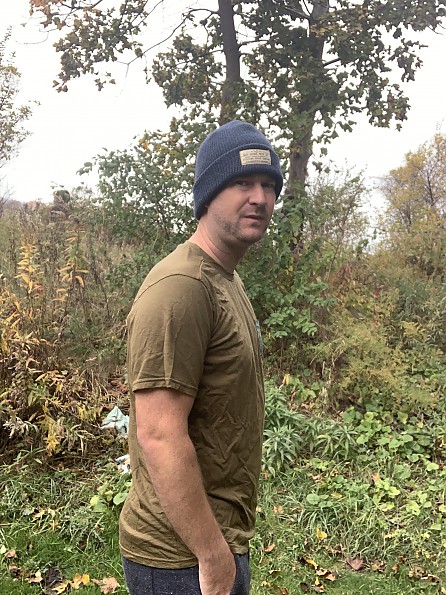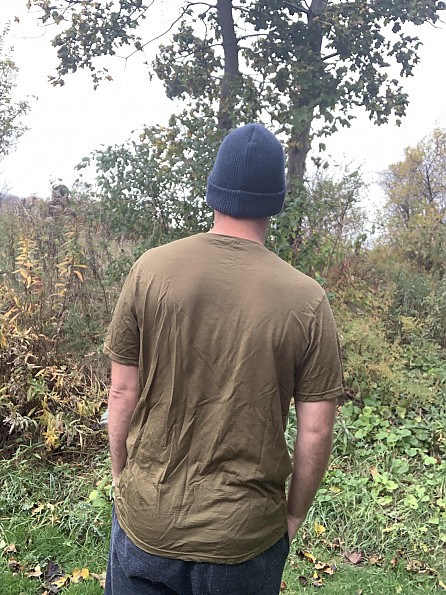 BREATHABILITY/ MOISTURE
One of the best qualities of wool is its ability to manage a micro climate around the body. Wool is able to absorb a large amount of water without feeling wet to the touch (up to 30% of its weight), as it pulls it into the core of the fibres. What that means to the user is that you can sweat buckets without worrying about that chill when you stop for a water/snack break. There's none of the "synthetic shivers" (just came up with that, it's catchy though!), that you get when wearing other base layers. that's because there's often no sweat on your skin, and your body isn't touching the water contained inside the wool. It also means there's far less chafing.
The one downside to that is wool traditionally takes longer to dry than synthetics and this shirt is no exception. It usually isn't a huge negative to me, however it may be to some.
The best example I can give of this is shown when wearing a pack. You can see here after a training sessions of stair climbs the entire shirt appears (and feels) dry, except the portion of the hydration bladder pack I was wearing.
DURABILITY
One knock on wool can be its durability. I try to wash my wool as little as possible, however I do not baby it. I often don't have the time, or effort, to separate and wash it alone, with a specific wool wash, although you should. Traditional detergents, and hot water, strip the wool of the lanolin (the protein in the wool which helps keep its water properties and no stink factor), so be sure to use cold water at the very least. The other weak point is often the stitching, so the addition of polyester (13%) helps to stabilize the Merino 150 Pocket Tee.
To this point I have not found any pulls in the stitching, or holes in the fabric. It has been shoved in and out of packs, jammed against rock, brushed through sticks and twigs while bushwhacking, and come out fine. It's been washed in lakes and hit by embers from the fire with no ill effects.
The seams are offset from the top of the shoulders as well, so pack straps have less effect.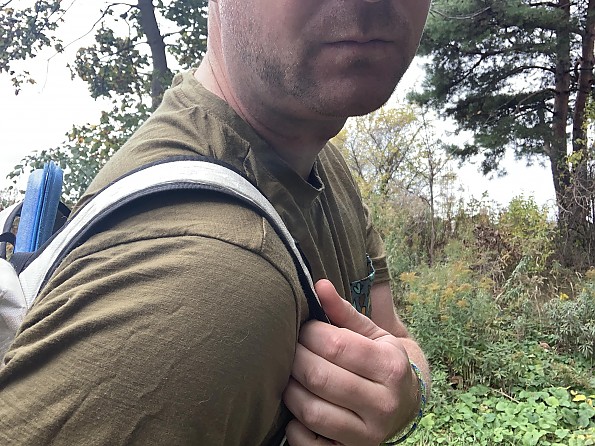 LAYERING
The tee was used primarily over the warmer summer months, however I have worn it under a shell in heavy rains, and tried it on with a mid-layer and a puffy. Primarily it was used under a sun layer (it has a UPF rating of 20+) for exposed, prolonged time in the sun—crags, beaches, out on the water, etc. I believe it will work great all winter long as well though.
One note, wool often doesn't work well together. Wool layers get caught up together and bind. I often choose the most important layer, almost always base (like this tee), to be wool, and build a layering system out from there.
WARMTH
Wool is by nature warm, and it feels warmer against the skin than other fibres. The magic comes in how it regulates your temperature like a second layer of skin. As mentioned above, each fibre is crimped, which then makes the fabric lay like a spider web, the fibres do not sit neatly, all parallel in a grid. Each little space between these crimps is why wool is so much better at regulating temperatures. Millions and millions of tiny air bubbles are contained within the crimps.
That layer of trapped air is why you are never exposed to huge temperature swings when wearing wool. A fun way to see this is to take off your jacket when you are sweaty in the winter (with a wool tee on, obviously). The outside of the tee, where any moisture is being held away from the body will freeze up. The inside of the tee, against your body will feel dry. It's doing its best to keep that micro bubble around your body! That buffer zone is why wool can simultaneously be warmer in cold weather and cooler in the heat.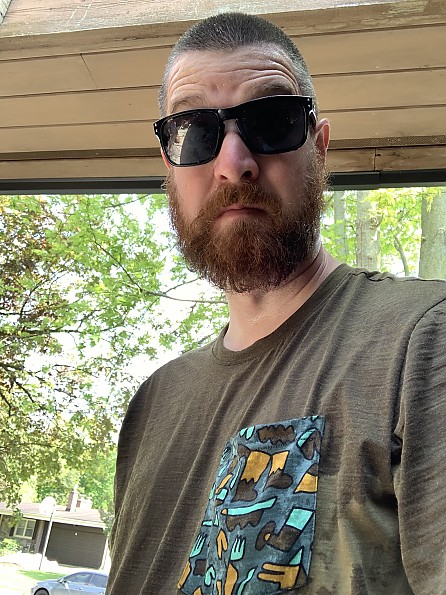 OTHER
Pocket. It's a pocket. I don't really use it other than to store my phone a couple seconds max (it's about the exact same size as an iPhone 10), but it looks cool!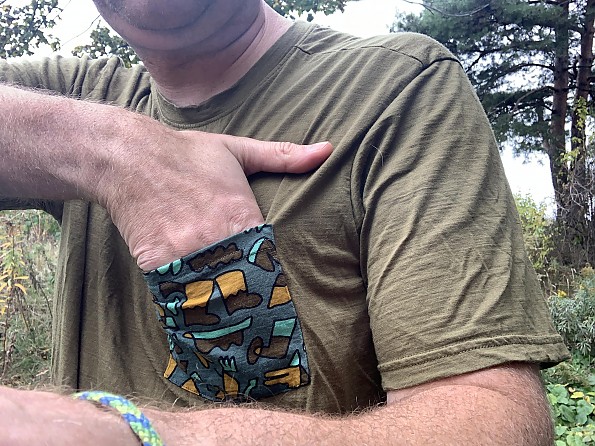 Wool is naturally fire resistant. Awesome for around a campfire!

Wool is mold and mildew resistant.

Wool has a natural flexibility to it. Great for range of movement.

Smartwool makes a range of men's and women's wool tops and base layers in varying weights, including other Merino 150 weights, including short sleeve (no pocket), long sleeve, quarter zip, hoodie, and tank (women's only).

Wool is a naturally sustainable material that is far better for the environment than fleeces and other synthetic fabrics.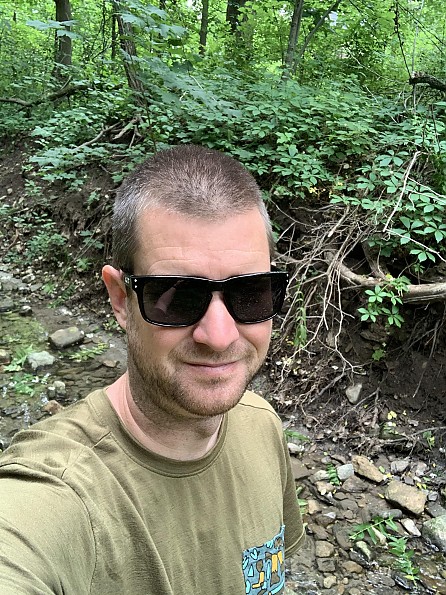 CONCULSION
The Smartwool Merino 150 pocket tee is a highly versatile (base) layer that I see being useful for all for seasons at any activity level. Wool's natural properties are ideal for anything from lounging on hot summer days to fighting the chill of winter.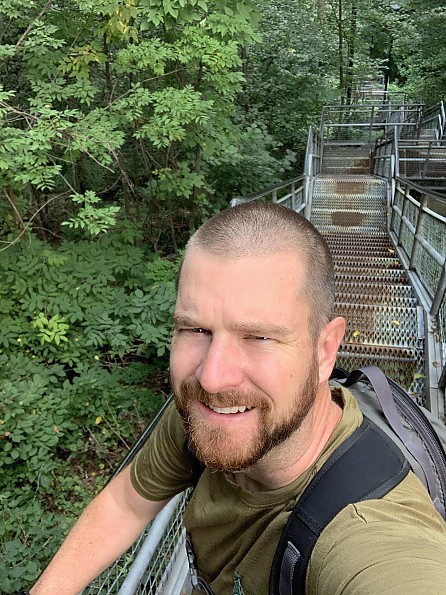 Experience
I have used the Smartwool Merino Pocket Tee for four months in Ontario, Canada. With a tee this useable it is hard to keep track of how many times it has been worn; conservatively I'd estimate at least 40 times since receiving it. It has been with me on camping trips, at the crag, on the paddle board, and around town. Temperatures have ranged from 35°c to 5°c (95°F to 41°F). I own, and use, many weights of wool shirts from Smartwool, as well as other brands.
Source: received for testing via the Trailspace Review Corps (Sample for testing and review provided by Smartwool)

Your Review
Where to Buy
Help support this site by making your next gear purchase through one of the links above. Click a link, buy what you need, and the seller will contribute a portion of the purchase price to support Trailspace's independent gear reviews.
You May Like
Specs
Price
MSRP: $85.00
Historic Range: $45.99-$85.00

Fit
Regular Fit

Material
87% Merino Wool, 13% Nylon

UPF
UPF 20+