Smartwool Merino Boxer Brief

Smartwool brings Merino magic with their Boxer Brief. Comfortable, functional, and surprisingly durable these are great for any sort of hiking or backpacking, but especially useful on extended trips when you appreciate the no-stink qualities of good wool.
Pros
Comfortable
Durable
Good waistband
Amazing anti-smell ability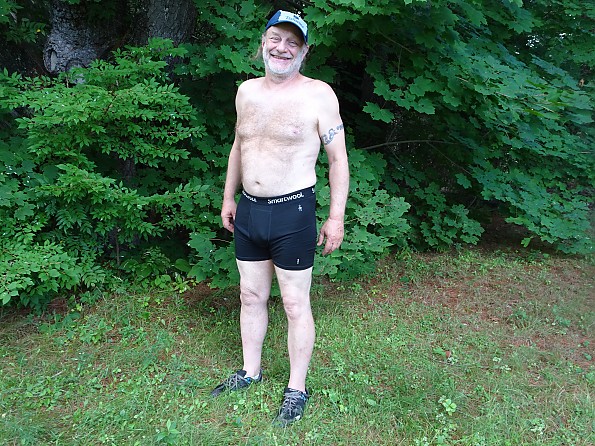 .
I have had great experience in the past with Smartwool products having enjoyed their socks and insulating layers. When the chance came up to test their Merino Boxer Brief I had high expectations. Made with a Merino/nylon blend, 150g weight material in a Slim Fit style, they looked and felt great from the start. After a grueling season on trail, including a month-long thru hike of Vermont's Long Trail, I have to admit I liked them even more than I expected heh. Let's get into these briefs...I mean talking about them.
Fit & Comfort: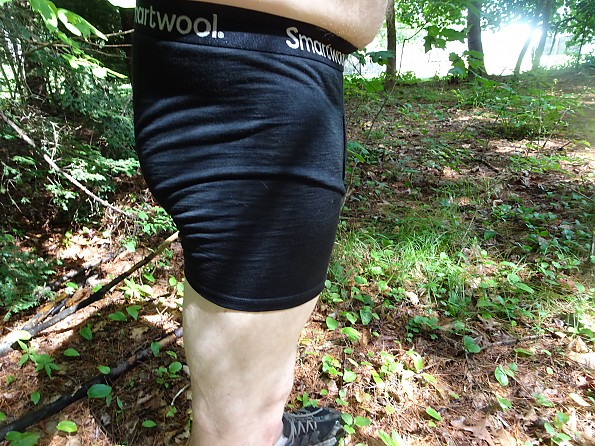 Smartwool describes the Boxer Briefs as "Slim Fit" but I'm living proof that doesn't mean you have to be slim to wear them. It means there is little excess fabric and the material rides close to the skin in all areas. These really are great qualities for a base layer intended for active use. They are spot on based on the sizing chart so no need to add or subtract to get the right fit.
That close fit combined with Flatlock seams eliminated any chafing or irritation, even when wet. The front panel provided excellent support while still venting freely.
Smartwool also offers a Boxer version that has a Regular Fit and women's versions in their seamless Hipster and Sport Bikini models.
Breathability & Moisture: 
These are the qualities I'm most interested in when it comes to base layers. Much of a garment's comfort rating comes from how it handles hot sweaty days on trail. The time I spent on the Long Trail certainly gave me some time to gather data on the Smartwool Boxer Briefs. Given my steam engine tendencies I almost always layered the Boxer Briefs with either 3/4 length Stoic or full length Smartwool tights. This was topped with either OR Equinox pants or a fabulous pair of board shorts Frau Stranger found at the local gear exchange.
Using the pants on cooler or rainy days and the shorts the rest of the time I found the Boxer Briefs did a great job of moving moisture away from my body and passing it on to the tights. To be sure I could overwhelm this system on steep climbs or in humid conditions, but much of the time I was hiking relatively dry. For me that is very unusual and definitely a joy heh.
Even with another layer over the top ventilation was not an issue. Normally not something you notice until it fails, there were a few breezy summits that made me very aware of how well the Boxer Briefs can breathe. Arriving at the summit damp from a steamy climb I really noticed the wind blow between my legs a few times. Smartwool makes a Wind Boxer Brief with a solid front panel for those who spend a lot of time in such conditions.
Warmth & Layering:
I tested the Smartwool Boxer Briefs under warm weather conditions for the most part though there were a few cold, wet days on trail. Generally I was interested in staying cool and dry. The briefs worked really well with light tights layered over the top, both in terms of comfort and moving moisture. The Slim Fit meant no extra material to get in the way or cause friction points.
I have been layering wool in the winter for many years, but a couple of years ago I began experimenting with 3/4 length wool tights over synthetic briefs in warm weather. While adding layers might seem counterintuitive when dealing with heat, I have found that this really helps move moisture keeping me drier and cooler. I found the Smartwool Boxer Briefs worked really well in this application.
Features: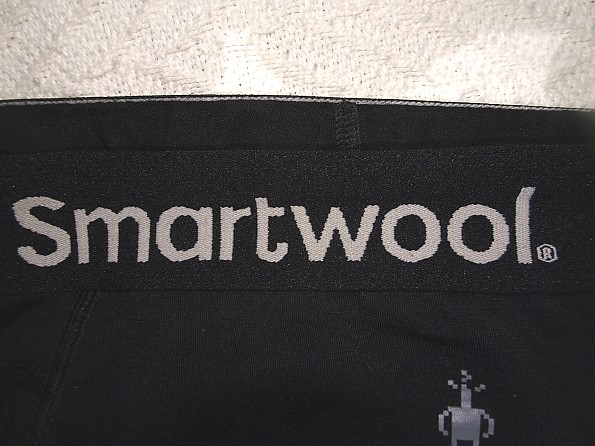 Smartwool has used a 1.5-inch wide elastic waistband with stitched layers rather than wrapping the material over the top. This avoids issues with the material fraying and keeps the elastic from shifting around freely.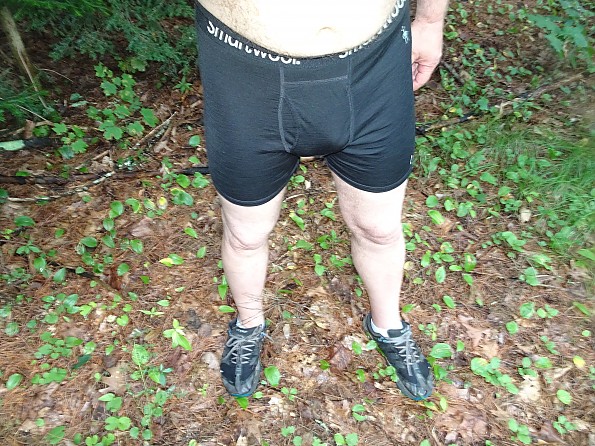 They describe the fly as "fully functional" which is sort hard to pin down, but I did find that it performed the one function I needed it to well enough. Exiting or returning traffic found no impediments or roadblocks even with the multiple layers.
The flatlock seams are meant to prevent friction. I think the design which puts the seams in places they won't cause trouble gives them a great head start, but they definitely are not felt at all while worn.
Construction & Durability:
Made with a blend of 87% Merino wool and 13% nylon the briefs are labeled as Merino 150. In terms of durability this is about as light as a wool layer can be. Other garments I've owned in the 100 to 130 range tend to fall apart under heavy use. This material is knit in Vietnam using a process that involves a nylon core wrapped in the Merino wool so only wool makes skin contact. The garment is made in China.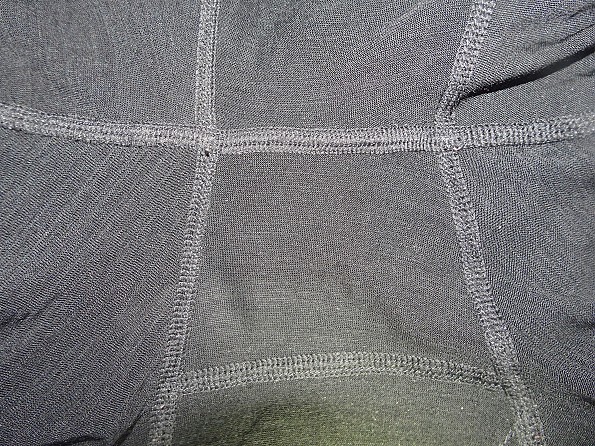 The stitching is nearly flawless. Even after months of use I am only able to find a single hanging thread that was there when new. There are no signs of wear to the stitching at all.
In fact the material panels also show no wear. There is no pilling, stretching, sagging or any other signs of the abuse this material has taken including many washings. Generally I expect wool base layer bottoms to disintegrate from friction. The crotch usually becomes see-through and then falls apart. There are no signs that will happen to the Smartwool Boxer Briefs any time soon.
Testing Conditions: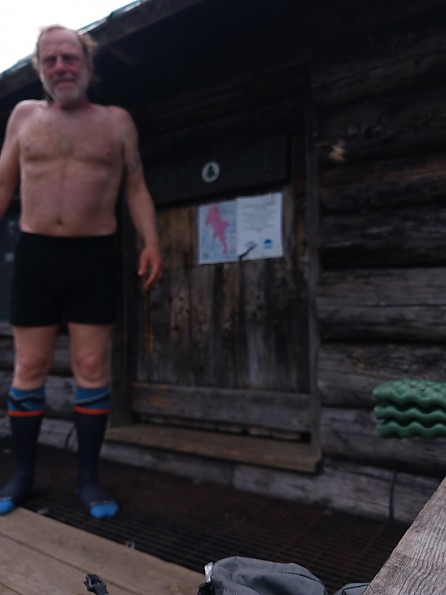 I really had a great season to be testing these briefs. Some early trail work trips in New Hampshire and half a Grafton Loop here in Maine before heading to Vermont to spend June hiking the Long Trail. After that came several week-long trips in Baxter State Park with Frau Stranger.
These extended trips really gave me a great chance to see how durable the Boxer Briefs were. They also gave me a chance to try to push their limits as far as how long you can go without washing them.
Conclusions:
I hate to give out 5 stars because I usually can find something that could be improved. The Smartwool Boxer Briefs really have earned the highest marks. They were comfortable from the start and remain just as comfortable after hundreds of miles and months of hard use.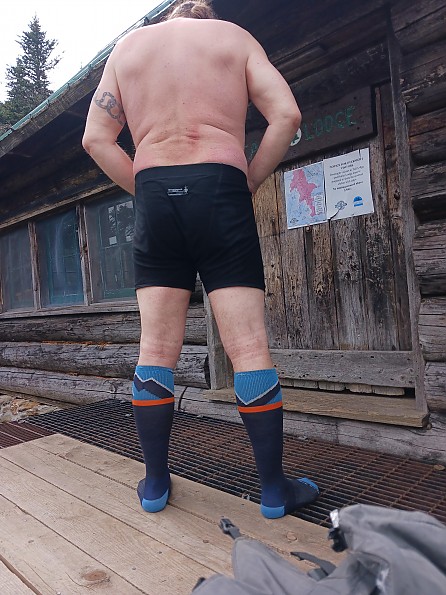 On the Long Trail I wore them for 13 days before hitting town to do laundry (and drink beer.) Part of my testing protocol was to stick my nose in the crotch to get a good whiff before putting them on in the morning and when taking them off at the end of the day. Most days they got a little drying time on the line in camp and I found they dried pretty fast hanging on a line, but some mornings they were still damp if it was raining or very humid.
I became increasingly afraid to do these sniff tests as the days went on, but was amazed to find that as long as they had a chance to air out they had no odor. Trapped in a bag with soggy socks after a soaker during the second ten-day stretch without a wash was the only time they smelled bad. Washing brought them back to life afterwards with no lingering effects.
Wet or dry I found the Boxer Briefs to be very comfortable. The wet part was surprising as anyone who has hiked in soggy layers before can tell you. Wet material tends to create friction points that you don't notice until there are holes in parts that you don't want holes in. I used almost no body lube on the LT hike and almost all of it went on my back to deal with pack friction.
Wool, especially base layers, tend to be short-lived given the amount of use and abuse I give them. Seeing how the Smartwool Boxer Briefs have held up is going to change my expectations going forward. The Stoic 3/4 length tights I use are basically disposable. The crotch wears out pretty quickly. Having seen how well the Boxer Briefs have held up I am thinking I may want to try Smartwool's 3/4 length All-Season Merino option.
Another doomed feature on most base layers is the waistband. The extra width used on these briefs did raise my hopes a little as most waistbands begin to roll from abuse. Pack hip belts combined with my rounded belly usually kill even Smartwool's best attempts. I am surprised at how well this one has held up given I know the abuse it saw on trail. It helped that I dropped 20+ pounds over the month on the Long Trail, but this seems like it may last a while even after I've put some of that back on.
I listed the investment as a Con, but I have seen the Boxer Briefs on sale a few times for half price. At full price they are a good value if you appreciate the magical qualities of good Merino wool. At half price they might be worth a 6th star. Wool is worth the investment, but durable wool that can take prolonged abuse definitely seems to have appeal.
Final word is just that; Value. Get em on sale if you can, but even at full price the Smartwool Boxer Brief seems to bring a lot of function for the dollars. Being comfortable and perhaps a little less smelly is worth a few bucks in my opinion.
Background
The Smartwool Boxer Briefs were tested, hard, for over three months on trails in New Hampshire, Vermont, New York, and Maine. I've been a wool convert for close to ten years now. As a four-season adventurer I keep finding new ways to stay comfortable on trail by swaddling myself in wool.
Source: received for testing via the Trailspace Review Corps (Sample for testing and review provided by Smartwool)

Your Review
Where to Buy
Help support this site by making your next gear purchase through one of the links above. Click a link, buy what you need, and the seller will contribute a portion of the purchase price to support Trailspace's independent gear reviews.
You May Like
Specs
Price
MSRP: $48.00
Current Retail: $28.80-$48.00
Historic Range: $15.00-$50.00

Fit
Slim Fit

Inseam
6.5 in / 17 cm

Material
87% Merino Wool, 13% Nylon

Garment Weight
102 g / 3.6 oz

Recently on Trailspace