Smartwool Merino Sport 150 Hidden Pocket Tech Tee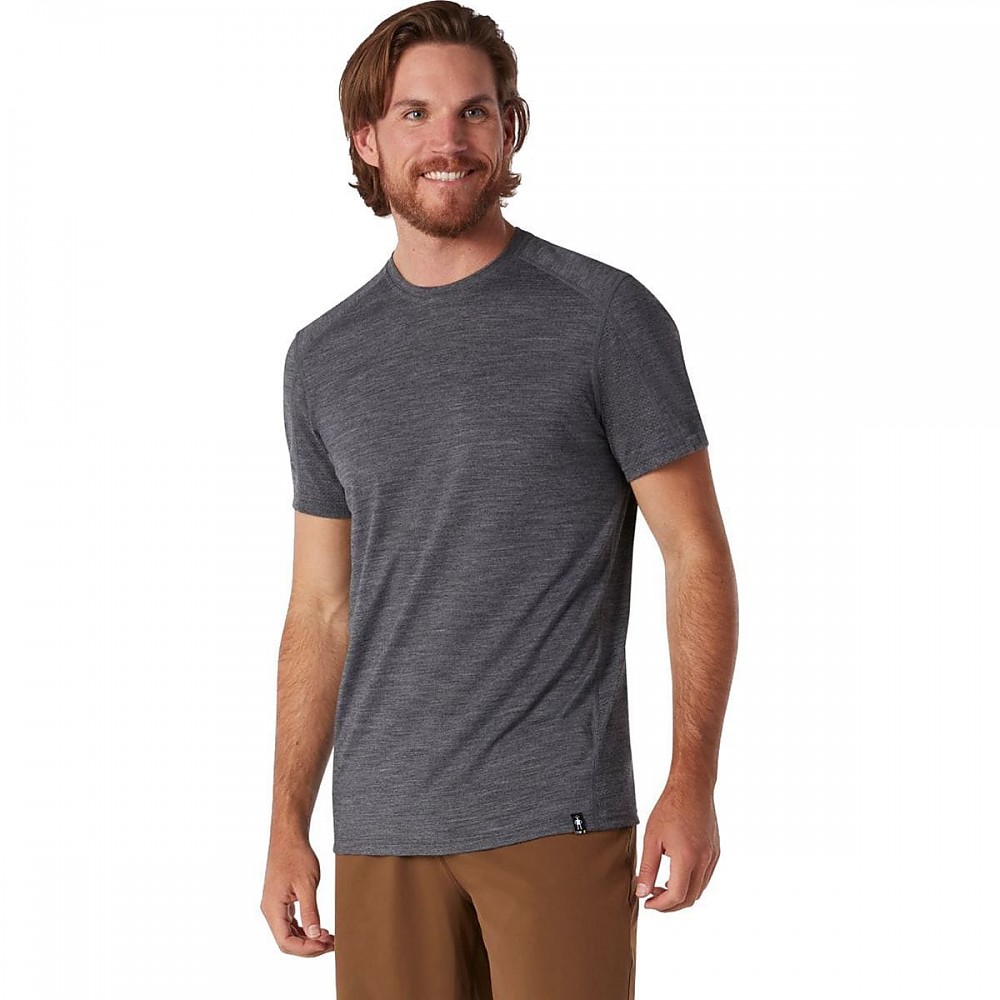 The Smartwool Merino Sport 150 Hidden Pocket Tech Tee is a lightweight tee-shirt, made from a comfortably soft blend of merino wool and polyester (56% merino/44% polyester). This combination makes for a shirt that breathes well, stays cool, dries quickly, and doesn't stink after a day of hiking. An ideal shirt for warm weather adventures. Unfortunately, the hidden pocket isn't very practical.
Pros
Merino/polyester blend is soft and comfortable
Fit (slightly loose and long)
Quick to dry
Great for warm/hot weather
Cons
The price for merino wool shirts ($65 is a lot for a tee shirt)
Hidden pocket is impractical
Really long name for a product (joking, but seriously, what's up with the name?!)
Conditions: 
I've worn the Smartwool Merino Sport 150 Hidden Pocket Tech Tee regularly for two months, which occurred during a warm spring and very hot and humid summer, with temps reaching in the 90s°F (32-35°C) in the eastern U.S. The tee has been a go-to shirt for hikes, camping trips, and bike rides.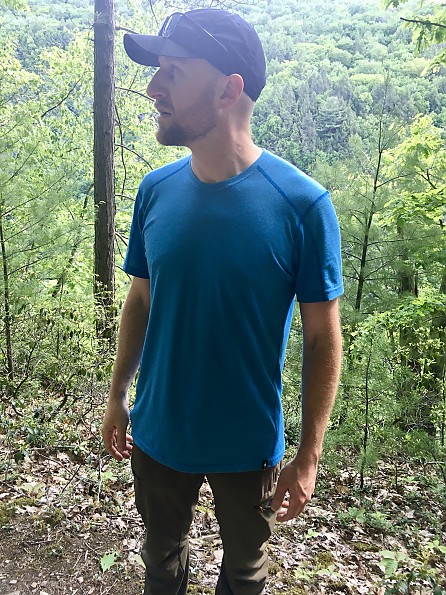 Specs: 
Size: Large, regular fit. True to size.
Weight: 5.9 oz (167g)
Fabrics: 
Main Body: 56% Merino Wool, 44% Polyester;
Back and Underarm: 54% Merino Wool, 46% Polyester
Care: Machine wash cold gentle, tumble dry low (although I've line dried it a few times too). No shrinking noticed. 
Reviewer: 6'2" (1.88m) and 200 lbs (90.7kg). Typically wears a size Large tee shirt.
A Note on Naming: The shirt has a long, but meaningful name—Smartwool Merino Sport 150 Hidden Pocket Tech Tee. The "Merino Sport 150" references the fabric used for the shirt, which is offered in several garments for both men and women, such as button downs, polos, hoodies, tank tops, etc. This fabric differs from other fabrics in the Smartwool line, such as the Merino 150, Merino Sport 250, Intraknit Merino 200, etc.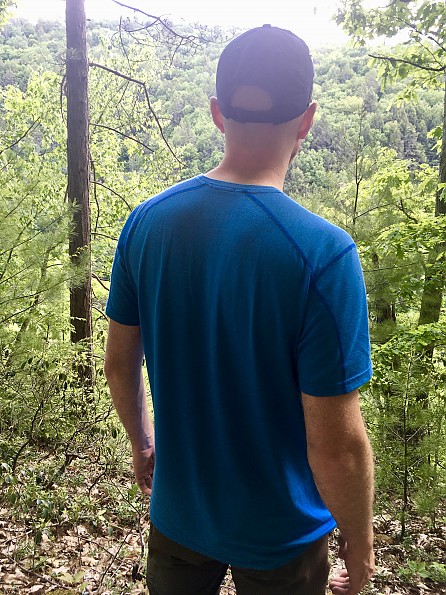 Fit and Comfort:
The Smartwool Merino Sport 150 Hidden Pocket Tech Tee is a regular fit shirt (as opposed to slim or athletic cut), which means it fits loosely but not baggy. The shirt also seems slightly longer than many other tee shirts of similar size and purpose. I particularly like the cut of the shirt for activities like biking or hiking, where a little bit longer cut ensures full torso coverage; however, I am taller than average, so this slightly longer cut may not be for everyone.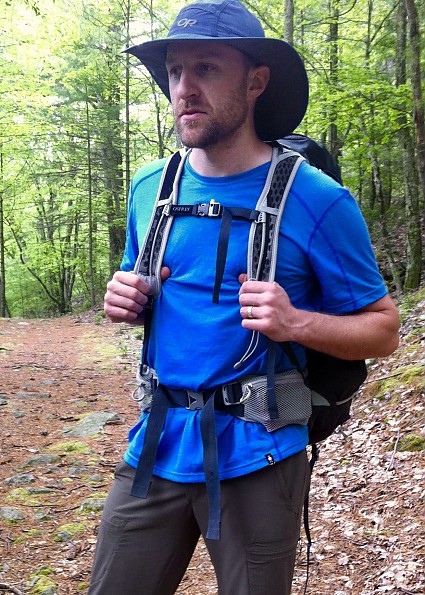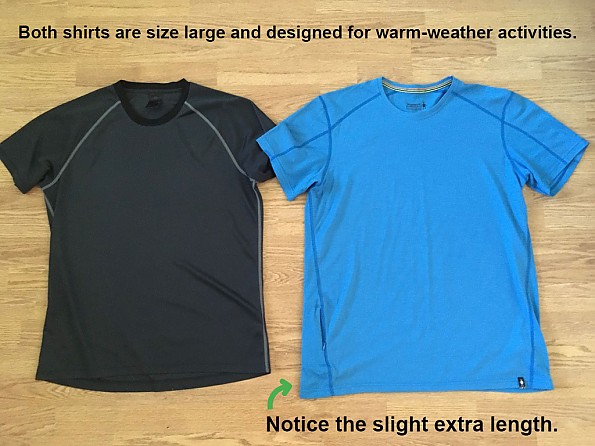 Dry Test: 
Smartwool says this shirt has "the breathability of merino wool (more on this in the next section) and the quick dry time of polyester" so I put this claim to the test. I tested three tee shirts, all made of different materials from different manufacturers, to see how the drying time compared. All three shirts were dried on a clothesline in the shade on a 75°F (24°C) day with a minor, yet steady breeze.
Here's what I found: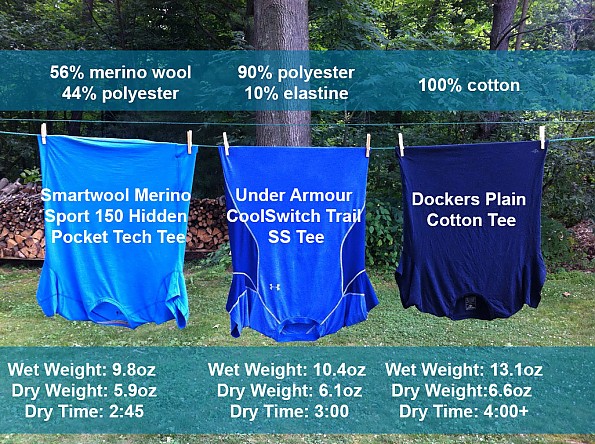 The Smartwool shirt is both the lightest and quickest to dry, among the three shirts tested. Also, 95% of the shirt was dry in about 2:30, but the pocket area, where there is additional fabric, took a little bit longer to dry, thus 2:45 being the "official" dry time for the shirt. 
The fact that this Smartwool shirt dried slightly faster than a polyester performance tee shirt, makes it very valuable on multi-day hikes or when traveling light is required and washes may be infrequent. Some think wool takes forever to dry (and thicker, heavier wool would), but I think the balance of fabrics and light weight of the shirt makes this dry quicker than others. 
Breathability and Moisture:  
The shirt does an excellent job breathing, keeping things cool underneath, even in one of the hottest, driest summers of late in my locale. The combination of fabric, fit, and ventilation, seem to work well in tandem to keep things cool and dry.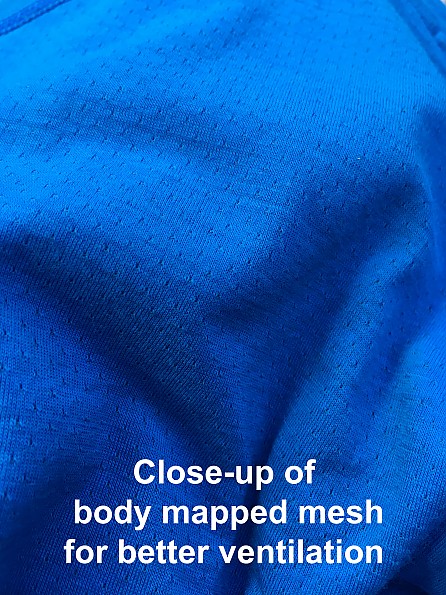 I'll be honest, I hate summer. I hate the heat. I hate the humidity. Sorry, summer lovers, I just don't get it. So I love when clothes help make the summer more bearable, like this shirt does. The most sweating I did while wearing the shirt was up and over a couple of rocky ridges on a 12-mile, 80°F (26.6°C) hike carrying about 25 lbs (11.3 kg) in the Allegheny Mountains, a western subrange of the Appalachians. I still produced a lot of sweat, but I was noticeably more comfortable than what I would have felt like if I were wearing a polyester or cotton shirt. No fabric sticking to me and no swamped-out armpits, and when the hike was over, the shirt dried relatively quickly. 
I also wore the shirt for biking, day hiking, and setting up camp (which was nice because that inevitably requires lot of bending over, and the slight extra length keeps the lower back covered). I don't see any reason why this shirt and the several other Merino Sport 150 garments couldn't be suitable shirts for a multitude of activities like working out, running, sports, etc. 
Features:
One of the main feature that sets this shirt apart from other merino tees on the market is the inclusion of the hidden zippered pocket on the right lower seam. For the life of me, I couldn't find a practical use for this pocket. I tried stashing different combinations of my phone, super-slim wallet, and keys (individually and together) but all items pulled the shirt down uncomfortably.
Perhaps I was pushing my luck though. Smartwool does state on its website regarding the pocket, "A hidden pocket at the side seam is perfect for throwing a couple bucks in for your emergency beer stash." It's certainly large enough to carry small items like a small phone, wallet, keys, GPS beacon, granola bar, etc., but it is not practical to do so. I don't find myself needing to only carry a couple small bills, or an ID card, or just one single key, and not anything else, so this pocket is somewhat useless for me.
However, I can see some cases where this would be useful for others, so I'm not going to knock the pocket too much. The nice thing is though, it doesn't get in the way, so I just pretend it isn't there. For what it's worth, the pocket is accessible when wearing a pack with a hipbelt.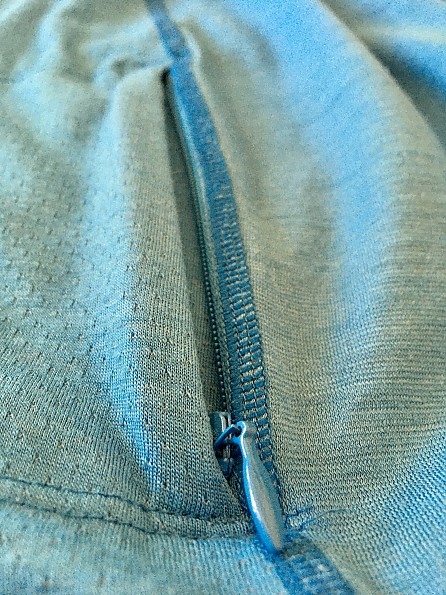 Construction & Durability: 
Over the course of two months of wearing and washing, the shirt looks and feels practically the same today as it did on its first use, with only one exception. A tiny hole has appeared after I wore the shirt into a thicket of wild black raspberries and a thorn snagged the shirt, causing a minor, almost unnoticeable hole. That's the price I'm willing to pay for fresh-picked berries. 
I haven't noticed any wear from pack straps, but then again, usage under pack straps has only been approximately 40 miles total, so there would need to be more testing done to adequately make a claim as to whether or not pack straps cause wear to the shirt.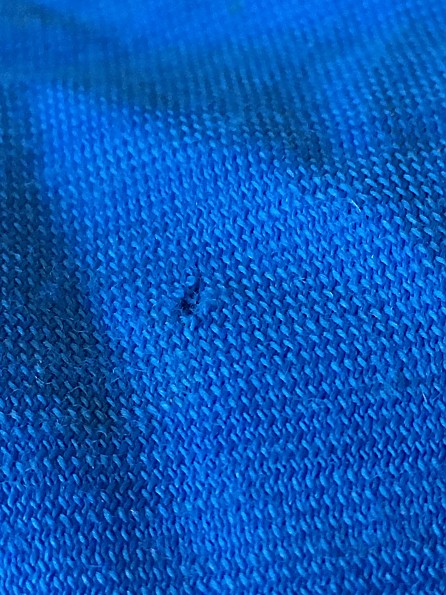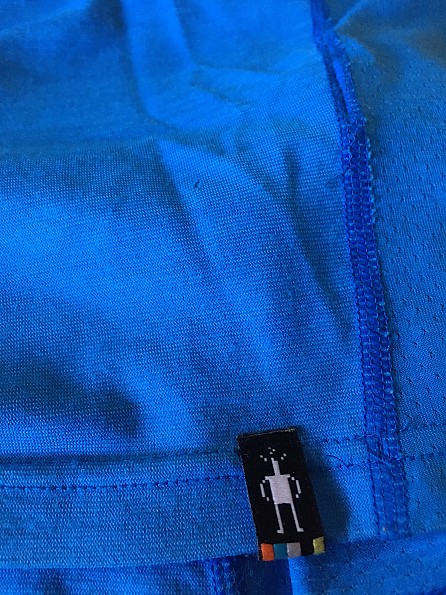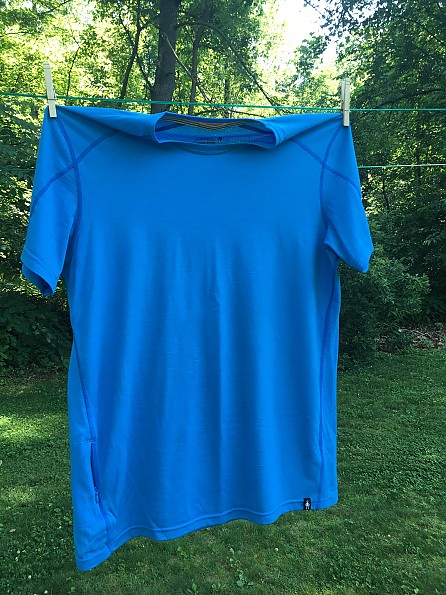 Final Thoughts and Recommendation:
Here's the deal... I hate summer, and anything that makes summer less miserable is a great thing in my book! This shirt, with its combination of fit, breathability, and lightweight fabric, makes summer less miserable. But besides people like me who hate summer but still love to get outdoors, I'd also recommend this shirt for hikers, causal bikers, travelers, and others who want to beat the heat in a comfortable, soft, and breathable tee shirt that has a quick dry time and doesn't hold onto odor like a full polyester shirt does. I assume other garments made from the same Smartwool Merino Sport 150 fabric would fare just as well in the summer and something I will be checking out in the future.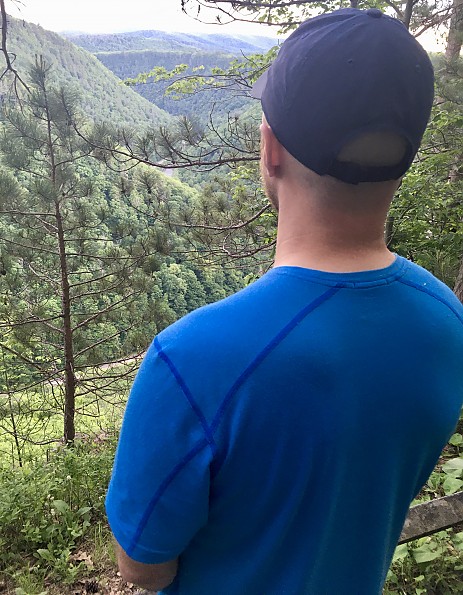 Experience
As someone whose body temperature runs hot, I'm constantly on the lookout for the lightest weight and most breathable shirts for summer. The merino wool/polyester blend shirts, like this one, are becoming a favorite fabric of mine for warm-weather adventures.
Source: received for testing via the Trailspace Review Corps (Sample for testing and review provided by Smartwool)

Your Review
Where to Buy
Help support this site by making your next gear purchase through one of the links above. Click a link, buy what you need, and the seller will contribute a portion of the purchase price to support Trailspace's independent gear reviews.
You May Like
Specs
Price
MSRP: $65.00
Historic Range: $32.99-$65.00

Weight
148 g / 5.22 oz

Fit
Regular Fit

Material
Main Body 56% Merino Wool, 44% Polyester
Back and Underarm 54% Merino Wool, 46% Polyester
Origin
Knit in Vietnam