Sony DSC-HX90V

Top 25 in Cameras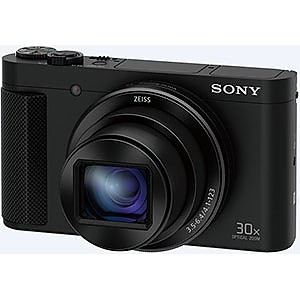 Reviews
1

review

5-star:

0

4-star:

1

3-star:

0

2-star:

0

1-star:

0
The world's smallest ultrazoom camera. Compact but versatile with a x30 zoom and GPS—excellent for hikers and backpackers.
Pros
x30 zoom lens
Electronic viewfinder
Tilting screen
Inbuilt GPS receiver
Compactness
Cons
Image quality good, but could be better
Pop-up viewfinder and flash are fiddly to use
Video lacks time-lapse mode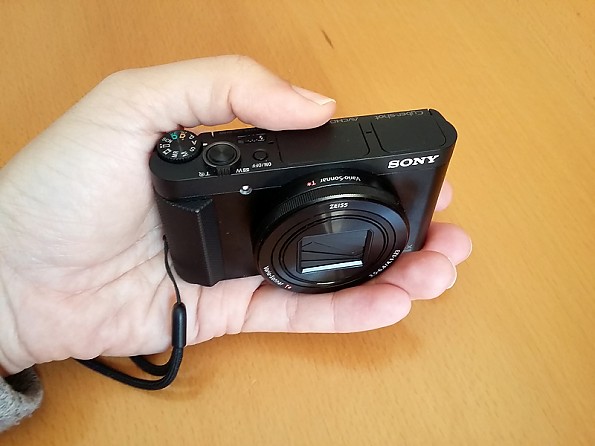 Normally I take photographs with a digital single lens reflex camera or DSLR. DSLRs are unbeatable for image quality, but they're big and heavy. I decided that I needed a compact camera to take with me on camping treks. As I did my research I settled on the following requirements:
Compactness. I wanted the camera to be small enough to fit in the hip-belt pocket of my rucksack.
Zoom range. My favourite DLSR lens is a 100-400mm, but I have never taken it with me on hikes because of its weight. I wanted to regain the versatility that a long zoom offers.
A viewfinder. It can be hard to see LCD screen displays in bright sunlight. A viewfinder—a little DSLR-style window through which you squint to compose your shot—solves the problem. In addition, using the viewfinder means holding the camera close to you instead of away from you. This helps you to hold it steady, which is important when you're shooting at full zoom.
GPS. Geotagging photos eliminates the "now where was I when I took this photo?" syndrome. Many cameras allow for photos to be geotagged using your smartphone's GPS receiver. However, I decided I wanted a camera with its own GPS receiver. This makes geotagging less fiddly and it saves phone battery consumption.
Just two cameras met these requirements: the Panasonic Lumix DMC-TZ60 and the Sony Cyber-shot DSC-HX90V. Both cameras pack a x30 optical zoom lens and an 18-megapixel sensor into a remarkably compact body. Both can also shoot videos in full HD format. I went for the Sony because it is appreciably smaller than the Panasonic, and because—having compared sample images from both cameras—I felt that the Sony delivers marginally better image quality than the Panasonic.
This said, one should not expect too much of any compact camera with a x30 zoom where image quality is concerned. No zoom lens is going to deliver sharp images throughout its range. The wider the zoom range, the more image quality is compromised. This is one reason why they don't make x30 zoom lenses for DSLRs.
Furthermore, fitting a x30 zoom on a pocket-sized camera is only possible if the camera has a tiny sensor. Tiny sensors generate grain and resolve fine detail poorly. This is not about the megapixel count but the physical size of the sensor: squeezing more megapixels onto a tiny sensor only makes the problem worse. The main reason why DSLRs are bulky is because they have big sensors. In going for a compact ultrazoom I was consciously opting to sacrifice image quality for practicality.

Features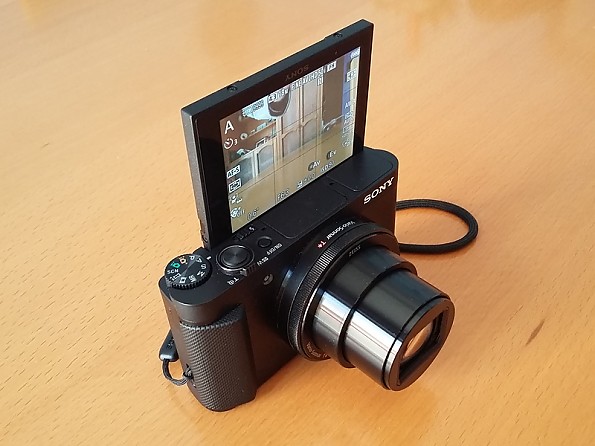 As this photo shows, the Sony has a tilting screen which can be raised 180 degrees, great for shooting selfies. This is another advantage the Sony has over the Panasonic, which has a fixed screen.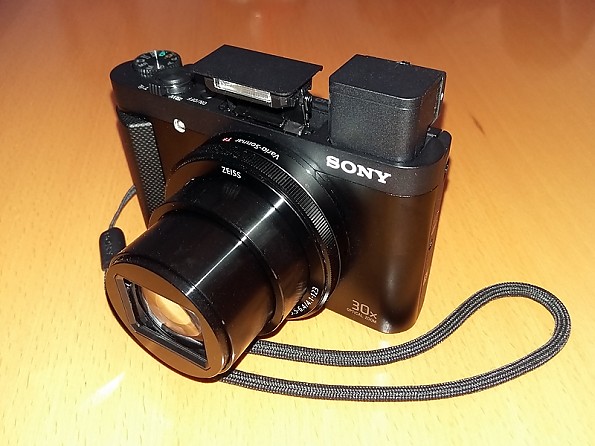 The Sony has a pop-up flash and electronic viewfinder, both of which are more fiddly to use than the fixed viewfinder and flash on the Panasonic. However, this is the price of the HX90's greater compactness.
The camera handles nicely thanks to a protruding grip on the right side which allows you to hold it securely with one hand. It feels heavy for its size at 245g (8.6oz), indicating just how much gadgetry is packed into it.
Sony's designers have pulled off a remarkable feat in making the HX90V so small, but even they couldn't fit a x30 zoom lens completely within the camera body. The protruding lens housing adds bulk to the camera, but on the plus side it gives you something to hold on to with your left hand: two-handed shooting DSLR-style, with left hand cradled around the base of the lens, helps a lot in keeping the camera steady when shooting at full zoom.
And there is a very useful control ring around the lens housing which can be set to control various functions. I use it to set exposure compensation. Sometimes you're taking a photo with large areas of background shadow, which can fool the camera into overexposing your main subject. You can avoid this by setting negative exposure compensation. This normally involves diving deep into the camera menu, but with my HX90V all I need to do is turn the control ring with my left hand while I'm framing my shot.
Anyone familiar with compact cameras will find it easy to get the hang of the various buttons on the back of the camera. The camera menu system is complex but intuitive.

Image quality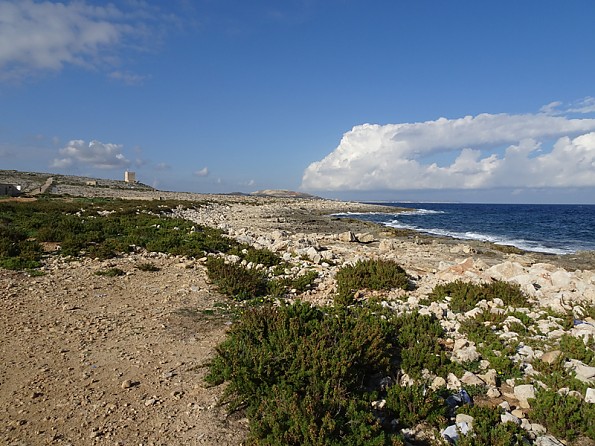 Image quality is a mixed bag. Colour rendition is accurate and exposure is generally good. The photo above is a good example. The autofocus is excellent: I have hardly ever had to delete an image because of poor focus. Images taken in good light are pleasing to look at on your monitor—so long as you don't expand them to full size.
If you look at images at full size you will notice that, owing to its small sensor, the camera struggles to capture fine detail, as the crop below (taken from the lower middle section of the photo above) shows: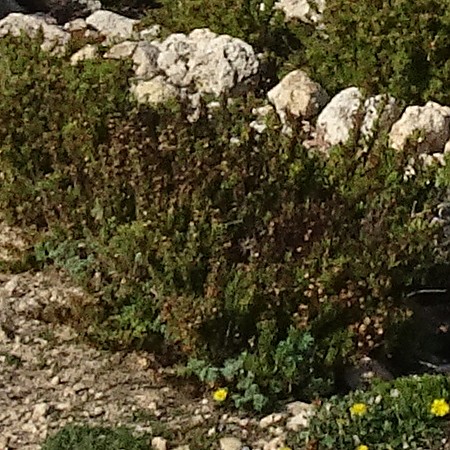 The limitations of the lens optics show up in wide-angle shots such as the landscape photo above, which suffer from blur in the corners—particularly the lower right corner in my camera's case, as the next crop shows: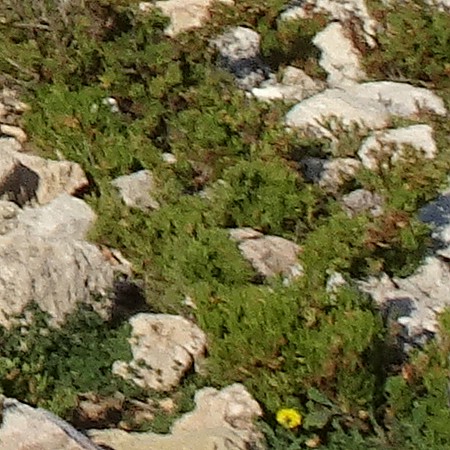 At high ISO settings grain becomes more and more visible in photos. The camera does its best to wipe away the grain, but at the cost of eliminating fine detail and giving images something of a watercolour-effect look. This is illustrated by the next sample image, which was shot at ISO3200 (the maximum in most shooting modes), as well as the crop immediately beneath it. The crop is from the nearest window in the picture.
Video features
Like most other compacts the HX90V can shoot video. It offers full HD resolution (1080p) in various formats—MP4, AVCHD, and Sony's own XAVC—as well as different frame rates and two alternative bit rates. Video quality is reasonably good. By way of a sample, this video was shot entirely with my HX90V:
However, the camera has its limitations in video mode. It cannot do time-lapse and it has no attachment point for an external microphone, meaning sound quality will be limited especially if it is windy. Sony has a downloadable app for time-lapse photography but unfortunately it is not compatible with the HX90V, at least up to the date of this review.

Still image quality in comparison with DSLR cameras
I thought it's worth making a direct comparison between the HX90V and my DSLR cameras with respect to still image quality in case anyone else is looking for a compact as an alternative to a DSLR. Here is a first pair of photos for comparison purposes: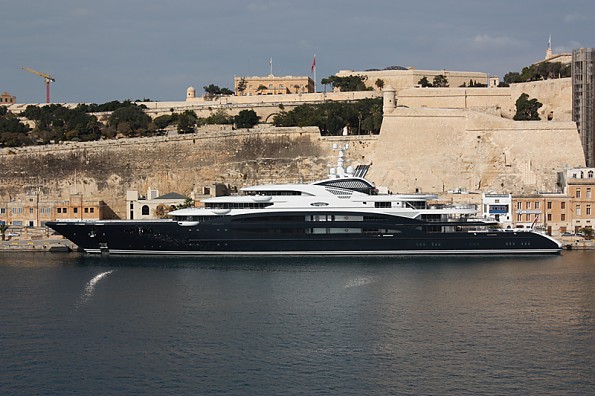 Taken with a Canon 450D and 18-55mm lens
The Sony produced a marginally better exposed image than the Canon 450D. But a comparison at full size shows up the Sony's weaknesses:
The subject appears larger in the HX90V crop because the HX90V image is bigger to begin with—18MP versus 12MP for the Canon 450D. But as the crops show, megapixels do not equate with image quality. The HX90V photo was taken at ISO80, the best quality setting, yet still it is grainy and does not bring out fine detail as well as the Canon 450D image. Compare the name of the yacht, which is easier to read in the Canon crop, and the lifebuoys at lower right.
The second set of shots compare the HX90V at full zoom with a Canon 7D and a 100-400mm lens, also at full zoom: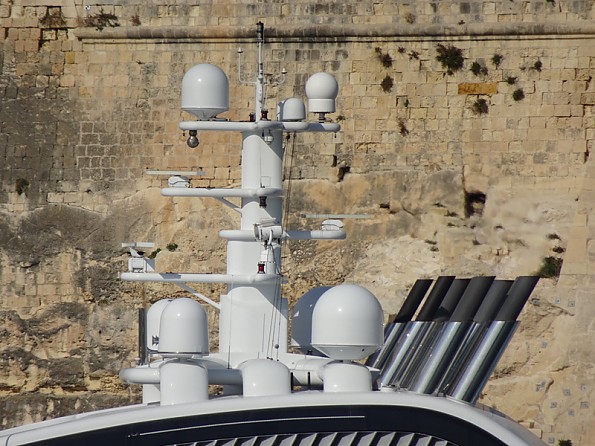 Sony HX90V at full zoom (equivalent to 720mm focal length)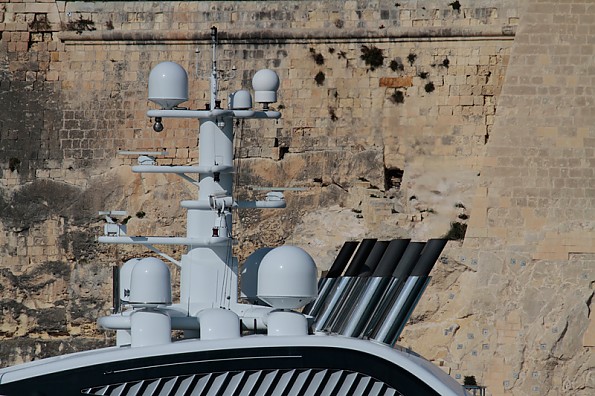 Canon 7D with 100-400mm lens at 400mm (equivalent to 640mm focal length because of this camera's sensor crop factor)
I'm still amazed that my little 245g Sony can get me closer to a distant subject than a DSLR and lens combo weighing literally ten times as much. And the Sony image is the better exposed and more pleasing of the two when viewed at small size. The Canon image is noticeably dark and too cool in terms of colour tone. Again, however, crops from the full-size images show where the Sony falls short:
The HX90V image appears soft and grainy compared to the Canon 7D image, which brings out fine detail much better. Note in particular the vertical cables at lower right.

GPS and wireless image transfer
However, neither of my DSLRs can tell me where I was when I took a particular image or allow me to transfer images wirelessly to another device. In these areas the Sony wins hands down.
The HX90V's in-camera GPS is easy to use. It does not make excessive demands on the camera's battery. The image below shows how the location of a photo can be identified using Sony's PlayMemories Home app on a PC, obviously provided that the camera GPS was on when the photo was taken: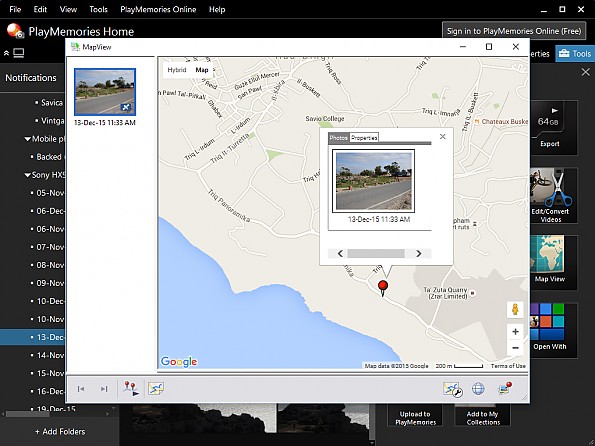 A point to keep in mind is that the HX90V does not record compass bearings yet the location data in PlayMemories Home includes the direction of view, which is misleadingly recorded as north by default.
Like many other compact cameras, the HX90V can transfer photos wirelessly to your smartphone or tablet so you can email them or upload them to social networks. The HX90V is equipped with NFC (near field communication), which supposedly allows you to set up a connection between it and a compatible smartphone or tablet simply by holding the two devices against each other.
I say supposedly because I have not yet been able to make this feature work. But I have not missed it because setting up a connection manually is very easy once you have downloaded the necessary app to your smartphone.

Overall verdict
As I said I bought this camera for practicality, not image quality. And it scores highly for practicality with its combination of compactness, a long zoom range, GPS, electronic viewfinder, and tilting screen. Although I expected compromises where image quality is concerned, I admit I have been surprised at just how extensive the compromises are and this is why I'm giving the camera four not five stars.
Still, I'm very happy overall with the Sony HX90V. This camera is not for you if you want professional-standard image quality. But if, like me, you're looking for a small but versatile camera, and you don't intend to scrutinize images in detail at full size, then this camera would make an excellent choice.
Source: bought it new
Price Paid: £287 sterling

You May Like
Recently on Trailspace