Sorel Glacier

The Glacier has been discontinued. It was replaced by the Sorel Glacier XT.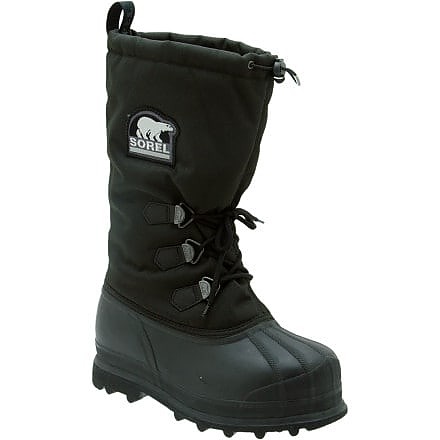 This is a survival boot. Not a walk to the park, or waltz around the shops when it's just below freezing boot. I mean, DUH..look at the design. Designed for door to door, or driving across town to the friend's house, snow sledding for miles or as backup boots whilst driving an hour to work when it's 20 below.
They are heavy. You get used to it, but, they are heavy. Once again..let's stress survival. When the penguins are cold, these are the bad boys to have on. Comfortable like all Sorels, great grip on ice, and amazingly warm.
Style wise? Ha...I've read reviews where both men and women didn't like the "Look". Well, those will be the same people who get caught in a blizzard with a pair of boat shoes and a T-Shirt on. Intelligence is not always at the forefront.
I rate them a 5 star, for what they were designed for. The same boots are commonly seen around McMurdo Sound (South -Arctic ) and Alaskan villages at the top of the planet.
No sequins, no fancy lace, and no posers.
I use mine in Northern Arizona when it snows and I have to clear snow and ice outside. I don't wear them to the shops, and I take them into the mountains as backups should I get caught out overnight. Hard to walk with frozen toes. Your call...
Materials: Rubber and other goodies.
Use: Clearing Ice and Snow. Backup Survival Boots for the Mountains during Winter.
Break-in Period: Umm....bout' 10 seconds tops...
Weight: Heavy..I dunno...geez, look it up in Google.
Price Paid: $111

I bought these boots three years back, so I don't quite remember what I paid for them, but I do remember that I bought these boots through Campmor since they had a good waranty on the boot.  
Good thing I did, since not even a month after they arrived the seam at the heel busted open—this is where the rubber "foot box" meets the cloth "legging." Granted I was using these on a farm in the New Hampshire winter, but I feel they should have held up to the work.  
Before the seam broke, they were in fact waterproof. Granted because I remember more after the break I can't say for sure if the fabric was indeed waterproof.  
One nice thing about these boots is that they had a removable foot liner, and man was this thing warm.  
This was a good boot, since Campmor allowed me to send it back after the season for a full refund. However three years later, I have not gone back to this boot, but instead to BOGS boots, after many recommendations—who knows, there might be a review at a later point in time.
Price Paid: ?

These boots almost cost me my life last weekend. I made my way on to a lake where I ran into 3 or 4  inches of water under the snow. Water immediately flooded into my boots as I got off my snowmachine. At -35° below weather my feet instantly froze up whereas I had no feeling or movement of my feet, leaving me stranded on the lake for hours till a passerby came by and rescued me.
I have owned Sorel for many years of trouble and trusting free. That's when the fight started. They are now made in China? This is disgusting that anybody would sell such a inferior product, especially when you put trust in a product then this happens. 
A very pissed off customer, dan vancaeyzeele
Price Paid: $140

Your Review
You May Like
Specs
Men's
Price
MSRP: $140.00
Historic Range: $89.97-$149.95
Reviewers Paid: $111.00-$140.00

Women's
Price
MSRP: $140.00
Historic Range: $59.99-$180.00

Kids'
Price
MSRP: $100.00
Historic Range: $54.97-$104.95