Soto Micro Regulator Stove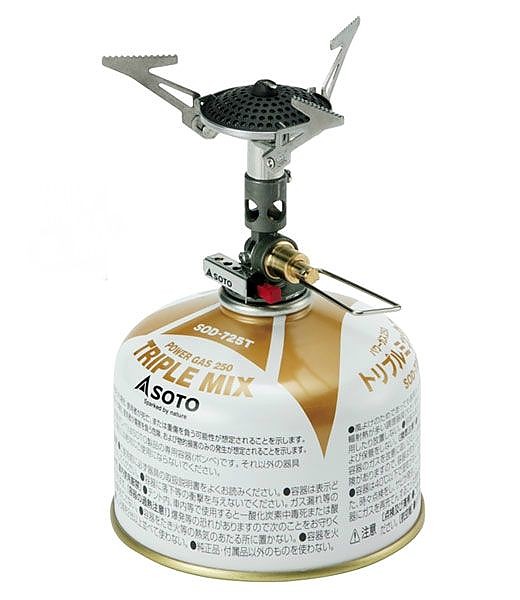 Great for cooking fish or boiling water. The Soto OD-1R Micro Regulator stove is a versatile canister stove with the ability to evenly cook fish, boil water, and everything in between. It's perfect for backpackers who like to cook or prepare their meal while out on the trail.
Pros
Compact and light
Great simmering capabilities
Durable
Cons
Potential piezo igniter durability, but haven't run into any issues yet
A few months ago I was on the hunt for a new canister stove. There are a lot of options that fall within a pretty wide price range, so to help narrow my options I looked at stoves that were highly packable and able to cook a lot of different foods - from heating water to working on my backcountry culinary skills. After some research I settled on the Soto OD-1R Micro Regulator Stove.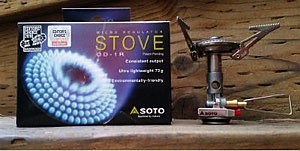 When looking at the stove out of the box for the first time, I really like the look and feel of it. The burner on the stove has a convex shape, allowing the flames to be spread over a wider area. The three arms feel a little loose but once they are extended and locked in place the stove is pretty solid and durable.
Overall, the stove has the feel of a lightweight, packable stove but with the durability to last. The Soto weighs 2.6 oz (73 g), burns approximately 1.5 hrs with a 250 g fuel canister, and the dimensions in use are: 3.8 x 3.7 x 3.4 inches and 2.0 x 2.0 x 3.2 inches when stowed. It boils 900 ml of water in just above 4:00 minutes.
To give the stove a test run, I tried two different dishes: scrambled eggs and bacon for breakfast and trout for dinner.
To fry the bacon, the burner was turned on a little hotter then adjusted a lower once the eggs were added. With a little stirring the scrambled eggs and bacon turned out nicely.

I cooked the trout on each side for 4 minutes with salt and olive oil for flavoring. I was a little worried that the fish might have not cook evenly, but that was not an issue, the trout was fully and evenly cooked. I did have to play with the temperature setting to make sure the pan didn't get too hot with the olive oil and end up burning the fish.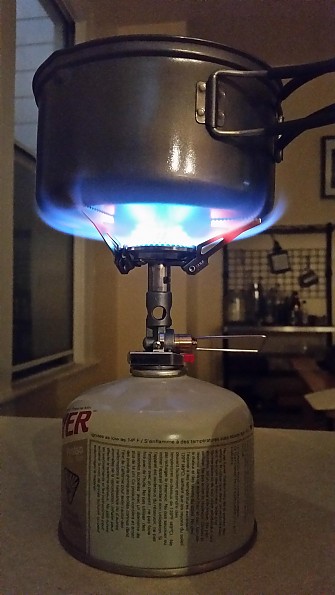 One potential flaw of the stove is that the piezo igniter might not last too long. Other backpackers have reported that the piezo igniter on their Soto has lasted a few years or more, but it's good idea to bring backup matches or a lighter just in case.

While the three arms did a good job holding a pan for both the fish and bacon and eggs, when I added the detachable handle to the pan it threw off the center of gravity of the setup, so I had to adjust how the pan sat on the arms. While it's not necessarily a weakness of the stove, it's something to be aware of when using different cooking setups.
Overall, I've been more than happy with the stove's performance. While it comes in at a little higher price point, I think the few extra dollars are worth it when cooking up a good meal. 
Source: bought it new
Price Paid: around $55

Burns hotter with a better flame than the PocketRocket. Burns better in colder temps and at altitude than the PocketRocket. Burns with a full flame until the canister is completely empty... no weak flame for the last little remainder of fuel.
Pros
Very light and compact
Works well in colder temps and at altitude
Uses up the last little bit of fuel in the canister with a FULL FLAME!
Can get a real integrated wind screen
I've been using the PocketRocket for over 10 years now. I have several other stoves as well, but when I go lightweight I would always use my PocketRocket. 
I recently bought the Soto Micro Regulator Stove with the Windscreen.  In my opinion it is a much better stove for real world usage. 
With the windscreen attached, the wind blocking is far better than the PocketRocket's little "wind clip", and it doubles its usefulness by reflecting heat upwards to the pot as well.
The flame of the Soto is much fuller, and more fully encompases the base of the pot to allow for a more even heating of the pot. This makes for lower boil times in the real world, and if you're simmering, it eliminates the burnt hot spot in the middle.
The Micro Regulator does what it is advertised to do. It makes for better flame in cooler temps, at higher altitudes, and when your canister is almost empty and is losing pressure, it still gives a full flame. With most canister stoves [including the PocketRocket] the flame will get very weak and not boil very well, but when you shake the cansiter, it still seems like there's a little liquid sloshing around in there.
The Soto, with its micro regulator eliminates this. It uses up ALL of the fuel with a FULL FLAME. So there's no tapering off of performance as the canister loses pressure.
I've had this stove for only a few months, but I've taken it on several multi-day trips here in the Canadian Rockies.  So far I like this stove WAY better than the PocketRocket. The peizo-igniter is still working, but even if it quits, this stove is still superior.
Source: bought it new
Price Paid: $70 + $10 for the windscreen

Got the new Soto micro regulator this summer to try its stated ability to maintain output in cold/hot, and especially to maintain better heat output as canisters become low on fuel. I haven't had the opportunity to test it in cold yet, but have used it several times this summer.
So far, I am impressed.
It's very light and easy to operate, at low and full throttle. It's three fold-out pot supports are thin but adequate and lock into place easily. The igniter has worked 100% of the time.
I just returned from a week-long trip in the Trinity Alps in Northern California during which I was able to directly compare the performance of the Soto to a friend's Jetboil. Both stoves seemed to boil similar amounts of water equally fast. Most importantly, as advertised, the Soto maintained full heat/flame output as canisters became low on fuel.
This is a major advantage over the Jetboil, or other canister stoves I've used. Canisters that were essentially spent on the Jetboil, had sufficient fuel to burn at full flame for several minutes with the Soto. The relative effect seems like lithium batteries compared to traditional batteries... full output longer up to the end, at which the light (or in this case - flame/heat) drops to zero very quickly, rather than gradually.
For me, two rather minor downsides keep me from rating the Soto 5 stars:
(1) I would prefer four pot supports for a bit more stability (with heavy/large pots), and
(2) would like the option of inserting a wind screen for use in certain conditions (e.g, like is available for the Snowpeak Gigapower).
Note: the windscreen-less Soto did hold its own with the more wind-proof Jetboil on the No. CA trip, in the windier camps.
All in all the regulator seems to be a nice new innovation... I'd expect other stoves will want to add regulator technology in future iterations of their stoves, for similar benefits.
Upshot: I will be spending less time sitting around waiting for boils over weak flames when the gas gets low. In turn, I won't have canisters sitting around with small amounts of gas remaining in them.
Price Paid: $65

Piezo hasn't failed in 8+ years, stove weighs less than comparable products, and the overall durability is record-setting.
Pros
Piezo always lights
Uses all the fuel in the canister
Weight is less than the power you get from the stove
Packs easily into a cup for storage
Cons
One fin tends to stick when I am putting the stove together. Other than that, there are none.
The MicroRegulator was a well-reviewed product when it was released. I am still amazed that more backpackers and outdoors folks haven't heard of it or seen it. It has worked well in the mid-teens (North Rim of the Grand Canyon, 8000ft+) and under every other condition I've hiked and camped in for the past 8 years.
I purchased it as a returned product at an REI garage sale over 10 years ago but it sat unused for a couple years because I wasn't getting out for any overnights. The adjustable flame makes it a snap to boil water or cook, and at higher elevations the ability to simmer a pot has come in handy. The piezo igniter never lets me down and I have only singed my fingers once while turning it on.
"If I were to improve the product ---" maybe sell it with a cookpot option. Otherwise, just leave it alone. This stove has been one of the rare finds that has no equal.
Background
I've used other canister stoves (PocketRockets, JetBoils) and all are "you get what you pay for." The MicroRegulator is an investment that keeps on giving.
Source: bought it used
Price Paid: $25

I found this stove at a REI gear sale and decide to take it with me on a snow camping trip to Lassen Nat'l Park a few weeks ago as a backup.
I tested this stove mainly for making water from snow using 1.5 oz water at the base of the pot to start and keeping it consistent. I used a MSR 110 gram canister that I had kept warm ( 50-60 s)and Temp was 23-25 degrees in a covered (ditch) next to the snow cave.
I was able to bring to a slight rolling boil (small bubbles forming) 8 liters of water out of snow each taking 6-7 min from fresh powder. The stove was running at about 3 /4 full during that time. There was no changes in the flame / output during the whole time even when the canister was getting cold, we ran that stove for about 45-50 mins straight when we made our fresh water. We used a Primus Eta pot 1L with the lid (has heat fins at the base).
I tested that canister when we came home, ran another 3-4 mins before the stove went out
I also own a Pocket rocket , I think its going to be replaced.
This is a true 4 season stove, don't pass it up. my friend wants one of these stoves too after our trip.
Only drawback is the igniter, need to turn the stove valve pass half way to 3/4 to light it.
Price Paid: $23 includes tax

I use this stove in all conditions. It works so fine I stopped using MSR PocketRocket and other methods, although I still use MSR Dragonfly (I think this also is an excellent stove for based camp like trips... a bit heavy) when I go car camping with my buddies.

Because of fuel regulator, this releases steady fuel, even if you are in cold condition. I'm pretty sure that many of us stop using gas canister stove during winter season for above reason, but Soto works fine so that I stop using gasoline stove in winter season, which it means minimizing your pack weight dramatically.

I recommend this stove to everyone!!!! Must have gear!!!
Pros
Works fine in cold weather (-4°f)
Compact, fits in most of your small cooking systems
Good price (I paid $65)
Easy to assmble
Built-in click ignition is good and works every time
Could simmer, very easy to control the flame
Boils water under 4 minutes if not faster (in cold condition without windscreen)
Fuel efficiency is pretty good
Stability depends on size of your fuel canister
Small and portable to fit any of your cooking system
I've been using this stove for past 4 years and still going like it just came out of the box.
Works fine in every condition, hot or cold doesn't matter.
Source: bought it new
Price Paid: $65

Japanese manufacturing excellence at an affordable price.
Pros
Light
Compact
Efficient burner
Cons
A hard-case would be nice (like the case that comes with the Rocket)
The Soto regulator stove is marvel of engineering made to precise Japanese standards. Piezo works every time, light, compact, and can be used in moderate wind (works better when protecting the stove from the wind). I have used this stove in moderate rain without an issue. The gas regulator works perfectly and it is straightforward to simmer food rather than burn it...
On a side note, most things made in Japan greatly exceed the manufacturing quality of items that come out of China and some European countries. The Japanese still have the desire to make something as perfect as possible, rather than continually chase dollars by cutting corners in the manufacturing process.
Background
25 years
Source: bought it new
Price Paid: 60 AUD

I think this is a great product. I used this stove in windy conditions with excellent results and fast boil times. The design is extremely lightweight and matches perfectly to my Snow Peak solo titanium cook set.

I highly recommend this stove to anyone looking for an ultralight dependable performer with good wind resistance, nice flame pattern, and fast boil time.
The only reason I have not rated this a "5" is that I have not assessed its durability.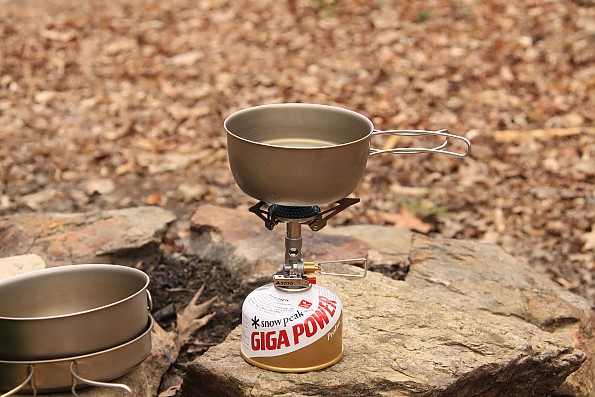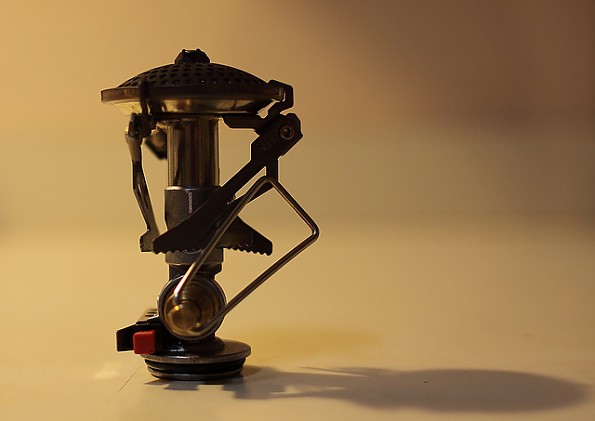 Source: bought it new
Price Paid: $69.95

It doesn't get any better than this.
Pros
light weight
fast boil time even at altitude
compact
Cons
pot supports might be a little weak
I have tried them all from the MSR white gas models to the PocketRocket, Snow Peak GigaPower down to the ultralight alcohol stoves.  Conclusion is this is the best of all these other stoves from ease of operation to compactness and fast boil time even in cold and altitude.
Source: bought it new
Price Paid: $70

One of the lightest, yet easy to use. Piezo ignitor lights every time.
Pros
Weight
Small
Built-in ignitor
I was looking for a small packable stove for getting lost on the weekends.
At the time, small and light was in my head, and this stove is one of the smallest and lightest.
On top of that, it has a handy piezo ignitor built in, and it works every time. (although you would be better off to have a back-up lighter).
The major gripe about this stove is that it absolutely needs to be on a flat, stable surface.  Without much area to set the pot on, any imbalance will meet disaster. Also, the common problem with these types of stoves: windproofness. You can't put a screen around it for safety reasons.
Source: bought it new
Price Paid: $60

Used the Micro Regulator primarily winter camping this past season and it was pretty flawless.  Finally got to use up all my 1/4 full canisters! Heat output was consistent and efficient across a very broad spectrum of conditions. 
When you need hot water at 15 below, your stove performance really matters and the Soto delivered.  I have an old Peak 1 Xpert and a JetBoil, and the Soto is far better in really cold conditions.
My only complaint is that the pot supports are a slight pain to lock in place. One always seems to "un-click" and fall. It is also slightly cumbersome to unfold everything when you take it out to use it. 
All in all, though, a really great lightweight and efficient stove that I'm looking forward to using on backpacking trips. I finally get to give my Esbit system the boot, as this was the first canister stove I considered a worthy replacement in my ultralight set-up.
Price Paid: $60 at REI

I read the Backpacker review and decided to get one. 
When it arrived, I put the stove AND a fuel canister in my freezer for 4 days at -5°F.  It lit on the very first try, so I am convinced that it works in cold weather. 
I live at sea level and I haven't had the opportunity to try it at altitude yet, hence the 4.5 rating. 
I highly recommend this stove for its small size, light weight, convenience of use, and cold weather performance. The only quirky thing is that the fuel valve needs to be opened 2.5 full turns to get it to light, but I knew that before I lit it the first time.
Note: The piezo ignition did fail when something I was cooking boiled over and it got wet.
Your Review
Where to Buy
Help support this site by making your next gear purchase through one of the links above. Click a link, buy what you need, and the seller will contribute a portion of the purchase price to support Trailspace's independent gear reviews.
You May Like
Specs
Price
MSRP: $69.95
Current Retail: $48.96
Historic Range: $48.93-$79.95
Reviewers Paid: $23.00-$70.00

Weight
2.6 oz / 73 g

Output
2800 kcal/h 3260w 11000 BTU

Duration
Burns approx.1.5 hours with 8oz/250g canister

Recently on Trailspace