Stanley Adventure Vacuum Food Jar

Top 25 in Thermoses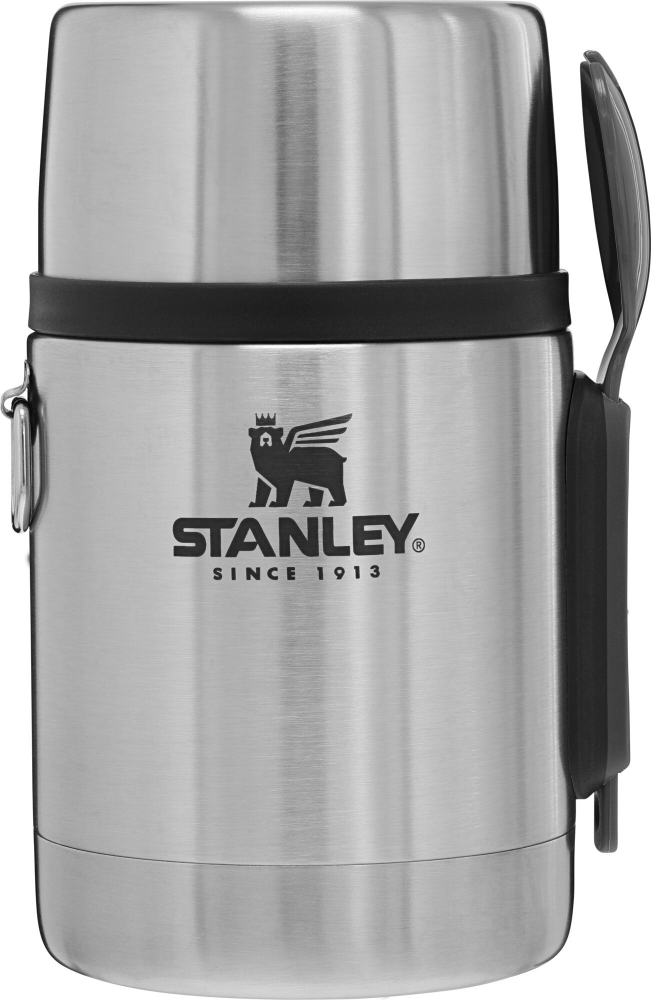 A wide mouth, 0.5-liter thermos that can keep food palatably hot for up to 8 hours, but doesn't quite make it as a long-term ICDS (ice cream delivery system). A side mounted spork and secret compartment are some nice finishing touches.
Pros
Keeps a meal palatably hot for up to 8 hours
Wide mouth for easy eating and cleaning
Small storage compartment in lid
Handy side-mounted spork
Cons
Not quite good enough for reliable ice cream delivery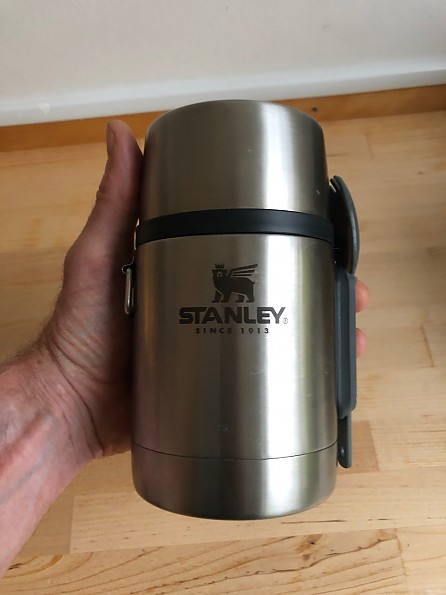 I started making ice cream when I was 15, during the summers at my dad's place in southern NH. I took an ice cream making hiatus during my college and world travel years, but after all that I put in a couple years as part-time caretaker and all-round handyman at to help my dad start up a B and B in the White Mountains (while otherwise odd-jobbing, ski bumming, and running a nature center in the summers). I found the old ice cream maker packed away in the garage and she started right up.
In one of those summers I started in a-courtin' the lady who is now my wife. Somewhere in those first few feverish months we went on a canoe trip on Lake Umbagog in Maine. I decided I'd surprise her by bringing along some homemade Mint Milano ice cream in a big wide mouth steel thermos for the first night out. We were so starry-eyed that we forgot to bring eating utensils of any kind and ended up eating dinner and desert with spruce-twig chopsticks. The ice cream was already pretty goopy by the time we got around to it, but it was still good, one chopstick dip at a time.
Nowadays I churn out one or two liters a week, from classics like triple chocolate and coffee Daim (Norwegian heath bars) to more exotic tastes like brown cheese-vanilla chocolate chip and cashew—some for us, and some for our daughter, son-in-law, and (well, eventually when she starts on solid food) granddaughter down the road. Every once in a while I'll put some in a Thermos to take along on a hut trip, and then it's nice to have a wide mouth Thermos for easy serving.
So when I saw what I'll call Fat Stanley (the Stanley Adventure Vacuum Food Jar) on sale at a local outdoor retailer, I figured I'd try it out for that purpose. Stanley's mission: deliver some of my finest homemade to a remote hut or campsite at an edible consistency, up to 12 hours after leaving the freezer.  
Details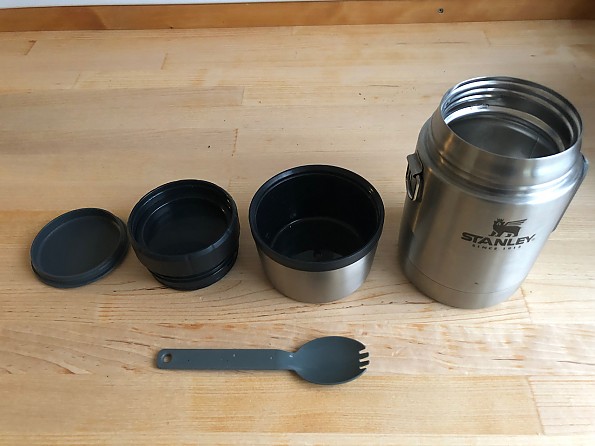 According to the manufacturer (Big Stanley?), Fat Stanley holds 18 fluid ounces or 0.53 liters. That would be a very generous serving of ice cream for two hungry campers or more modest portions for up to four. It's 6.9 in / 17.5 cm tall and 3.7 in / 9.4 cm in diameter. I haven't been able to measure the inner diameter, but by feel the vacuum chamber seems to be 1 cm or less thick.
Like his taller, thinner cousins, Fat Stanley has a lid that can serve as bowl. It comes with a little plastic spork that slides into a slot in a plastic fitting on the side. The spork is kind of small and I'd rather use my own, but I suppose it could come in handy in some situations. With lid and spork it weighs in at 18.5 oz / 525 g. It has a D ring under the lid on one side so it could potentially be hung on a pack of strap.
One thing I didn't appreciate at first is that the inner lid has a "secret compartment" that can be used to stash extras, but it only holds about 2 oz/ 60 ml, enough for some nuts or chocolate sprinkles for my ice cream, a few oyster crackers for some hot chowder, or maybe a little bit of granola to mate with some yogurt in the main compartment.
Testing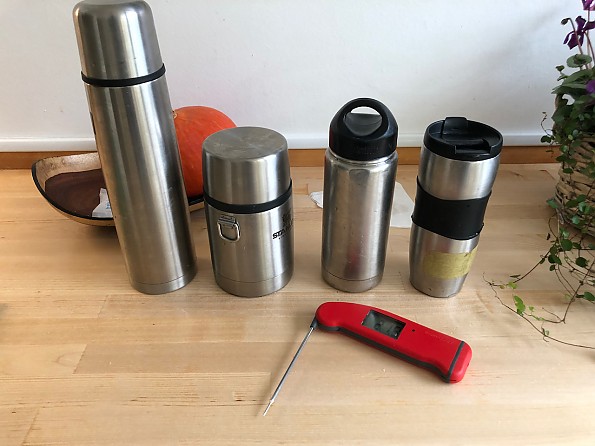 To test Fat Stanley's thermal performance I preheated it with boiling water then refilled it with fresh boiling water, and for comparison did the same with a 1 L Thermos brand thermos bottle, a Kleen Kanteen insulated bottle that I use for work, and a tall insulated steel Starbucks cup that I use on the road. I left them to cool slowly on a kitchen counter with an air temperature of around 20˚C/68˚F. Because opening these containers up for temperature measurement involves some heat loss, I measured the temperature only 6 times, immediately after filling and after ca. 1, 2, 4, 7, and 17.5 hours. The results: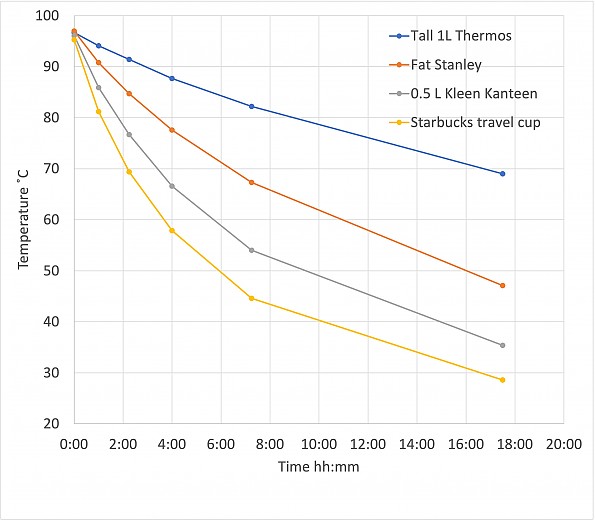 The initial temperature difference driving heat transfer was about 80˚C; for comparison, my ice cream would start at -20˚ for a 40˚C temperature gradient if the external temperature were around 20˚C. On the hot food side, the 7-hour temperature of 67.3˚C is still hot enough to be satisfying (lukewarm is about 40˚C), something the tall Thermos bottle could deliver after 17 hours. I could see using Fat Stanley to bring along some hot soup on a leisurely mountain ski tour.
Over the last 10 hours, when Fat Stanley's temperature fell from 67.3 to 47.1˚C, it was losing about 2˚C per hour with an average gradient of about 37˚C. Assuming heat transfer in the opposite direction should be at about the same rate (as expected using an Ohm's Law analogy), then my -20˚C ice cream should reach -10˚C, substantially above the ideal serving temperature of -15˚C, in 5 hours. So, under summery conditions and without extra insulation it wouldn't make it to after dinner time.
That jives with the results of a couple of field tests. It passed with flying colors when I packed it in a cooler with a couple ice packs and some other cold stuff for the 6-hour drive to our starting point for our canoe trip in the Rogen region in Sweden. We had raspberry ice cream for desert that night and left Fat Stanley empty and clean in the car.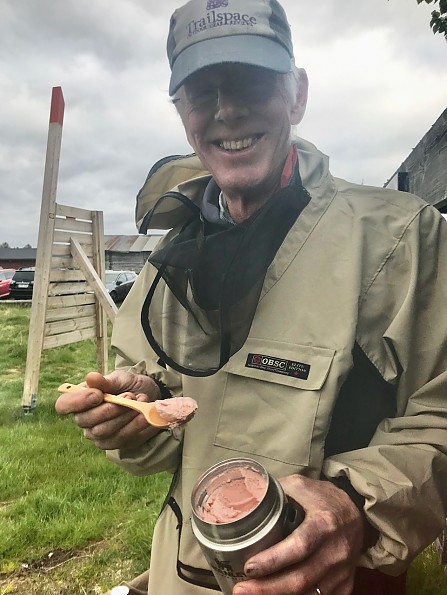 But on another trip, to a fjord-side hut in July, where it was in a cooler while in the car but then unprotected during the short hike in and over the afternoon in the hut, it didn't do so good—we had chocolate ice cream soup for desert that evening.
Best use
Fat Stanley is perfectly adequate for taking a half liter of soup for lunch at work or on a ski tour. Under cold conditions, it should still be edibly hot after 4 or 5 hours, especially if kept in a pack or other container that might offer a little more insulation. For my frigid purpose, under winter conditions with outdoor temperatures a bit below freezing, I should be able to get ice cream into a hut for a first night desert, again if it's wrapped in a pile jacket or something else to provide more insulation. In summer (in Norway), 4 or 5 hours would be the limit, unless it's kept in a cooler with other cold items during transport as on our Sweden trip.
So while Fat Stanley delivers on the promise of a hot lunch, I wouldn't mind something better insulated so my wife and I can have a couple romantic scoops of Mint Milano ice cream on a summer evening at a campsite or one of our favorite huts.
Experience
I have been using stainless steel insulated bottles on day and hut-to-hut trips for most of my adult life, going back to the wide-mouth Aladdin that I used to woo my wife (and help warm up a hypothermia victim in NZ). I have only tried out Big Stanley for transporting ice cream, but see a future for him in soup.
Source: bought it new
Price Paid: On sale at NOK 349 (about $35 including 25% VAT)

Your Review
Where to Buy
Help support this site by making your next gear purchase through one of the links above. Click a link, buy what you need, and the seller will contribute a portion of the purchase price to support Trailspace's independent gear reviews.
You May Like
Specs
Price
Current Retail: $25.49-$34.99
Historic Range: $14.96-$34.99

Recently on Trailspace