Stansport Star-Lite 2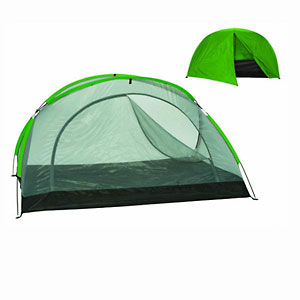 Specs
Price
Historic Range: $66.99
Reviewers Paid: $53.00

Trail Weight
5.5 lbs.

Packed size
13"X5"

1 Door.

Interior Area
41.25 sq. ft.

Peak Height
44"

Floor Material
190T polyester, 2000mm P.U. coated

Mesh
No-see-um

Number of poles
2 shock corded fiberglass 8.5 mm.

Pole sections
12" lengths.

Rainfly Included.

90"X66"X44"

Reviews
1

review

5-star:

1

4-star:

0

3-star:

0

2-star:

0

1-star:

0
Low cost mesh covered, bathtub bottom, 2-man tent with fly. Same design as the Kelty Salida 2 but bigger, and only weighs one pound more.
Pros
Size
Cost
Actual two-man tent
Sturdy
Aluminum replacement poles from Stansport cuts over lb.
Cons
Not a con, is a two-man tent, trail weight 5.5 lbs- fiberglass poles
No center loft, no big deal
After having searched for months, I finally settled on the Stansport Starlite II camping tent. I was looking for a lightweight, cost effective, hiking tent that was big enough for me and all my gear inside. I eventually found what I was looking for, the Stansport Starlite II ($50) because it resembled the Kelty Salida II ($159) camping tent that was Backpacker Magazine's tent of the year for 2011.
I was also attracted to the Starlite II because it is over $100 dollars cheaper. Yes, that is over $100 dollars cheaper! While it weighs just over one pound more than the Kelty Salida II, the reason for the extra weight is from two obvious reasons:
The Starlite II uses 13 inch fiberglass poles with ferrules while the Salida uses DAC press fit aluminum poles.  (Read on about Stansport aluminum replacement poles for $50 dollars that save 18 ounces.)
The Starlite is MUCH bigger — it is actually 90 inches in length. That is 2 inches longer than the Salida II is rated at, but all reviews state that the Salida II is much smaller than the 88 inches it is advertised at. The Starlite II is also 11 inches wider. Yes, I said "11" inches wider. The Starlite is actually large enough to be a two-man tent as advertised. The Salida II is really only a one and a half man tent at best.
How could I pass up a bigger tent that is over $100 dollars cheaper?  Well I could not so I purchased it. I also purchased the Stansport replacement pole set for $50 dollars. The aluminum poles are smaller in diameter and slide through the pole sleeves easier that the larger fiberglass poles. Using the aluminum poles rather than the fiberglass poles saves 18 ounces of pack weight.
Tent, stakes, fiberglass poles- all in provided bags 5 lbs 15 ounces
Tent, stakes, aluminum poles- all in provided bags 4 lbs 13 ounces
Disclaimer: Please remember that you need to check each piece of equipment after purchase, and prior to taking it out to use, this is only common sense.  You need to check for fit, function, defects, broken parts, etc.  This is especially true with equipment that is on the low end of the market.  This is not a slam, but many times the low end equipment does not have strong quality control.  That being said, I have read MANY reviews from high end equipment that was faulty in some way. Just remember, the low end items can be wonderful and easy on the wallet, but be sure to check the item out before using it so any problems can be fixed or remedied by the companies customer service department.
The only issue I had with this tent upon purchase was that the fly had all the corner elastic stake out cords double looped except one corner.  Upon setting the tent up I noticed that on corner of the fly did not pull down as far as the others.  After a short investigation the problem was discovered and easily rectified.  I just untied the cord, doubled looped it, re-tied it, and it pulled the corner low to the ground just like the rest.  I also recommend seam sealing and waterproofing every new tent prior to use to ensure it stays water tight.
Update and review:
I am an experienced camper so I have some knowledge and experience. I also literally spent dozens of hours doing research on all the popular tents. My goal was to then find the same thing as the pricey popular tents at an economical price, and that is exactly what I did when I found the Stansport Starlite II.
As you saw I initially rated the tent on its size and price compared to the Kelty Salida II to show a cheaper and bigger alternative and nothing more. I now have used this tent on two different three-day and two-night trips and it is wonderful.
On one of the trips there were thunderstorm and tornado warnings out and the winds were a steady 25 to 30 miles and hour with gusts to over 40 and the tent held up perfectly except on one occasion where the wind pulled a stake out of the very soft ground. I was able to go out and push it into the ground further and it held thereafter. The fly has no tie out lines so the fly did flap and make noise during the storm but a pair of ear plugs took care of the noise problem.
On the other trip the weather was warm so I set up the tent and did not put on the fly. I had a beautiful view of the full moon and all the stars. The mesh kept out all the misquotes and bugs.
I realized that the tent is so roomy that I can lay with my feet at one end of the tent and lay flat while reaching my arms out as far as I can and I cannot touch the other end of the tent and I am 6' 1''. I also have plenty of room for my 75-liter High Sierra pack, and any items that I take out of the pack. I also have plenty of room for a large size Therm-a-rest BaseCamp model self inflating mattress and still have room to move around despite the mat being 78"x25".
I did test the tent and fly prior to use for being waterproof which it was. But as is my habit, I retreated both the fly and washtub bottom of the tent as additional protection. I am looking forward to taking each of my daughters out on a one day and one night hike while using this tent. There will be plenty of room for my large Therm-a-Rest BaseCamp and their large Therm-a-Rest TrailPro, large size, self inflating sleeping pad. Even after taking up all that room with the sleeping pads there will still be room to spare at one end for both our High Sierra packs, 75 and 30 liter bags, and all our personal items.
My only suggestion is if someone buys this tent is to set it up and mark the material sleeves through which the pole slide through so you can clearly know where to slide each of the two crisscrossing poles since it is a little difficult to see which sleeve leads to which sleeve while the tent is laid flat on the ground. The pole sleeves are all the same color so marking them eases and speeds up setup time since you will get it right the first time.
The tent has a mesh storage pocket at each end of the tent for additional storage of frequently used items like glasses, cell phones, headlamps, etc. Each pocket is large enough for me to fit four heavy wool socks side by side hanging down to dry out.  The tent does not have a mesh loft, but an after marker loft could be installed.
I highly recommend this tent for anyone to be used as a very roomy one-man tent or as a comfortable two-man tent. If I were to eventually hike the Appalachian Trail alone I would probably either get aluminum poles made for it, thus making it nearly the same weight as the Kelty Salida2—just bigger, or I would look to down size my tent choice simply to save weight. But since I only paid $50 dollars for this one I could afford to just give this one to one of my kids or one of my friends.
Please feel free to ask questions are give your comments. Thanks Kevin
08/26/12 Further update.
I decided to set my tent up today in my yard during a heavy down pour of rain just to see what it would be like to do so on the trail. To show you how heavy the rain was, I got soaked in under 30 seconds while setting up the tent. The tent bottom also gathered a fair amount of water inside it.  Having set up the tent in the heavy rain I learned a couple new things that I would like to share with everyone.
First, as I was putting the pole sections together I realized why the tent stood up so well in the wind storm as I mentioned earlier in my review. With each section of pole being only 13 inches it gives the poles more strength since they are shorter and will not bend as much as longer pole sections.
One reviewer complained that the short sections made it too difficult to set up and take down, but I do not see that. I do not find it any harder to push the assembled pole with 13 inch sections through the material sleeves through than pushing 18 inch sections through the same material sleeves. You simply push from the end and run it through each material channel. Yes, you will have to pull the material channel over the end as it goes through the channel, but that is no different than any other tent with sleeves for the poles to run through.  On a day with no wind I can set this tent up by myself in approx. five to six minutes.  When my daughter and I set up the tent on a day with no wind we had it up in three minutes.  I pushed the poles and she guided them through the sleeves.  It was a piece of cake.  I have also set up the tent in strong wind and like any other tent it takes a little longer, but that is to be expected.  There is a positive to having tent poles with 13 inch sections; the shorter sections makes the poles stronger because the poles bend less then poles with longer sections.  This makes for a sturdy tent, albeit adding a little extra weight.  I will take that trade off of strength for a few extra ounces every time.
As far as dis-assembly, you simply reverse the process and push the assembled poles out of the material sleeves. While tents with sleeves for the poles are not as fast or easy as a tent that use hooks to attach the tent to the poles, material sleeves provide much more strength for the tent and poles thus making the tent more stable and less susceptible to pole breakage. I set the tent up during the downpour in about five or six minutes, and I have only set it up a half a dozen times so far so I should get faster with practice. I should also note that I marked the pole sleeves as I mentioned above to ease set up. Once you understand where the poles go it is not that hard to set the tent up.
My tent was water tight and had no leaks. I set up in this tent in heavy rain and after approx. 2 hours I checked the inside of the tent and found no moisture of any kind. Buyers should know that tents are harder to set up in the rain. Any mesh top tent obviously allows water to enter through the mesh top while it is being set up but there is an easy way to rectify this water issue. You set up the tent as I would any other time; and yes water will gather in the bottom of the tent when it rains. You simply secure the tent fly onto the tent and tip the tent over so that the water can drain from the bottom of the tent while fly blocks any further rain from entering. Once the tent is set upright and staked out you simply use a camp towel to wipe up any water that remains on the inside of the mesh top and on the floor. I left the tent set up for the night because the forecast was for rain all night. My tent was still dry on inside in the morning even after over 12 hours of continuous rain.
10/04/12, additional update.
I took one of my daughters on a hike and camp. As I mentioned above, there was plenty of room for both of our Therm-a-rest sleeping pads, and there was plenty of room at one end for both packs-75 liter and 30 liter. We also stored water and clothing at that end as well.
During the day it was quite humid and the night got down to about the upper 30's so there was a tremendous amount of dew on everything in the morning. The picnic table by us had a 1/4 inch of standing water on it in the morning from the dew. As should be expected with two people sleeping in such humid and cold weather there was a great deal of condensation on the bottom of the fly, but none dripped into the tent.  Any condensation build up simply runs down the inside of the tent fly to the ground.
Update
I took my other daughter, twin sister of above, hiking and camping on 10/21/12. The conditions were almost identical to the 10/04/12 event mentioned above. There was a heavy dew outside and everything that was outside was very wet in the morning. We slept in the tent with the fly zipped and pulled down. Once again there was a great deal of condensation on the bottom of the fly, and once again none dripped into the tent body.
I still love this tent, especially for the price. I have no plans to look for anything else and I plan to continue to camp regularly in this tent. I do plan on using this tent to do some winter camping. I will update after doing so.
Source: bought it new
Price Paid: $53

You May Like
Recently on Trailspace