Stone Glacier Helio Hoody

Top 25 in men's Fleece Tops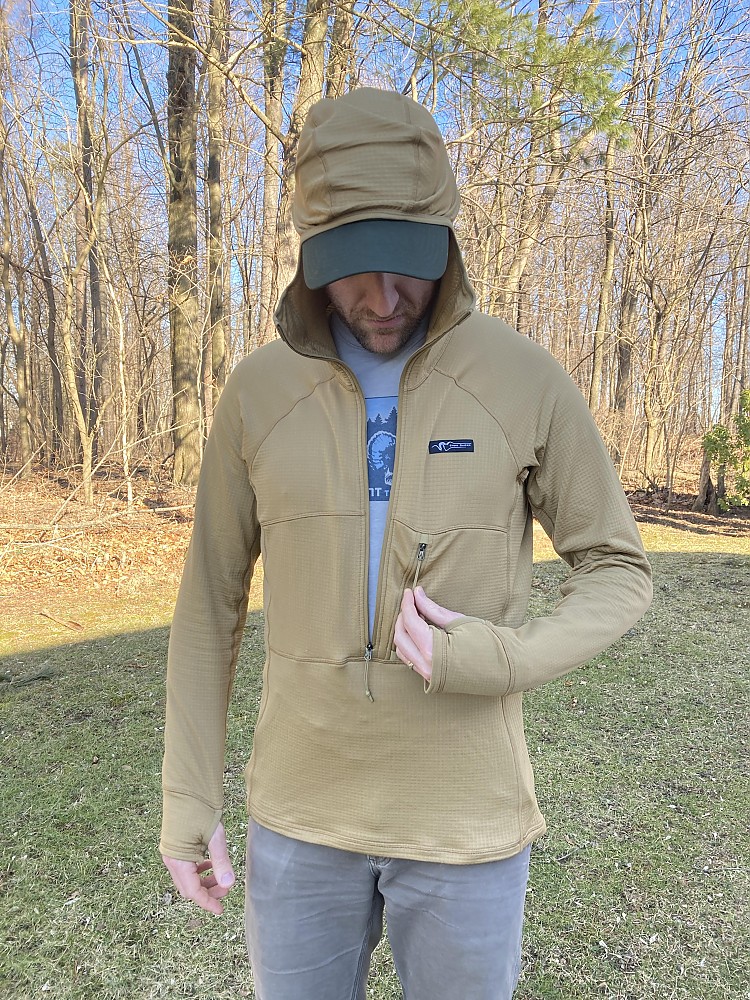 An all-around, all-purpose midlayer that has been designed with the small details in mind, like a long torso length that stays tucked in no matter the activity, a chest pocket that sits below a pack's sternum strap, and a sleeve length that is long enough to actually enjoy the integrated thumb holes. Useful in a wide range of activities and in a wide range of temperatures, from the single digits to 50°F.
Pros
Perfect fit (at least for this tall tester)
Long torso stays tucked in
Below-strap placement of chest pocket
Sleeve length/thumb holes
Zipper pulls long enough to find even with gloves on
Cons
Only offered in men's sizes—women need nice layers too.
Limited (although nice) colors
Limited warmth without layering
Testing Conditions
I've tested the Helio Hoody for nearly four months during the fall and winter in the mountains and valleys of central Pennsylvania. It was used both as an outer layer on mild days and a midlayer on chiller days. This layer has been worn on numerous day hikes and in the field for 7 days of the Pennsylvania whitetail deer firearms season. It was also worn far too many times this winter as a warm midlayer when shoveling snow off the driveway.
In the backcountry, the Helio Hoody was worn as a midlayer as I hiked steep hillsides through thick and nasty brush as well as while sitting still in the rain/snow for long hours at a time. Temps ranged from 50°F (10°C) to 15°F (-9°C) during hiking and hunting, as well as single digit (F) temps when I've put it on as a layer to clear snow and ice off the driveway at home.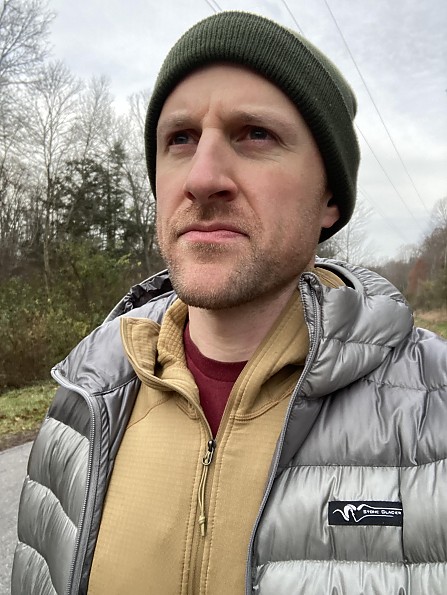 Tester Specs
I am 6'2" (1.88m) and 200 pounds (90.7 kg) and, in general, wear a men's large shirt in most brands, and that is the option I tested for this hoody. 
Fit and Comfort
I know fit is fairly subjective, but there isn't a single thing about the fit of this hoody that I can gripe about. The long torso length, the generous sleeve length, the athletic but not restrictive fitting, the tight but not suffocating hood, the better-than-most thumb loops, and the liberally-lengthed zipper all make for a tremendous fit.
I know this hoody may fit someone else quite differently, but this layer is spot-on for me. As for comfort, it's easy to wear for an entire day. The 93% polyester and 7% spandex blend in a micro-grid weave makes for a soft-to-skin feeling.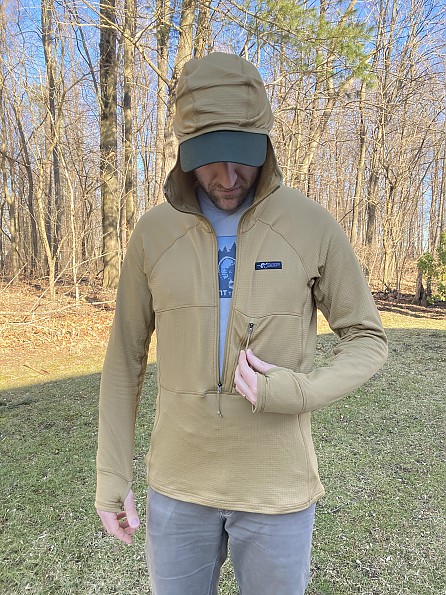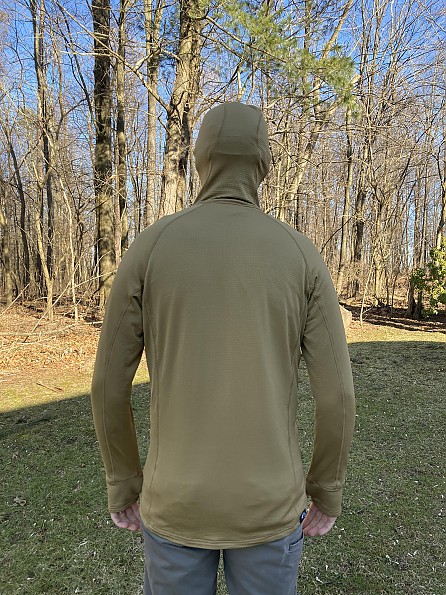 Construction and Durability
At first sight, the Helio Hoody looks a lot like the US military's level 2 tan waffle tops that are issued to soldiers for extended cold weather. Yes, they may look similar, but there are some key differences, like the addition of a hood, a longer front zipper for better ventilation, and better zipper backing for more comfort all the way up through the chin, longer sleeve lengths which make the thumb loops more useful, and the addition of a chest pocket, which is lower than normal for easy access with a pack on and comes in handy when needing to keep something like a phone or granola bar from freezing up.
I've worn the military's Polartec waffle top midlayers before and they are admittedly pretty good, but the Helio Hoody ups the ante quite a bit. In fact, it's the best midlayer I've worn, period. I'm not suggesting the manufacturer attempted to merely "upgrade" the military's waffle top, but if they did, they succeeded with flying (well, tan really) colors. 
In the four months of testing, I've seen no signs of wearing, tearing, or excessive use, although I've been fairly cognizant to not wear it as an outer layer in brush, thorns, thickets, or other potentially seam-tearing terrain. It would certainly rip if exposed too much.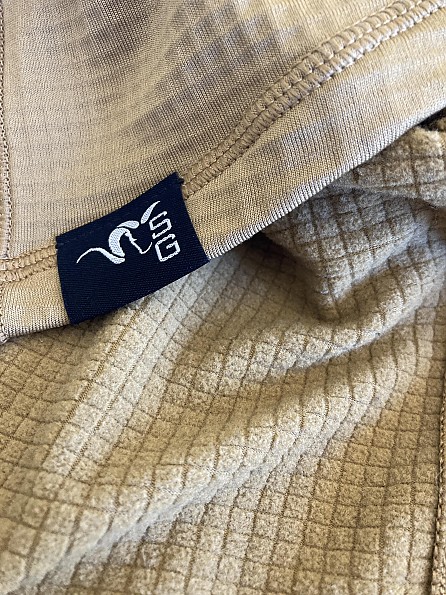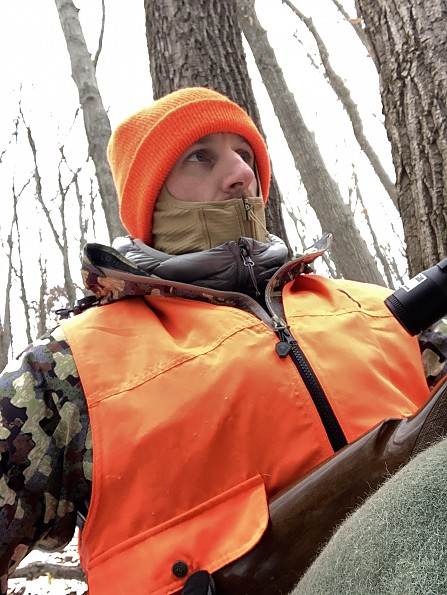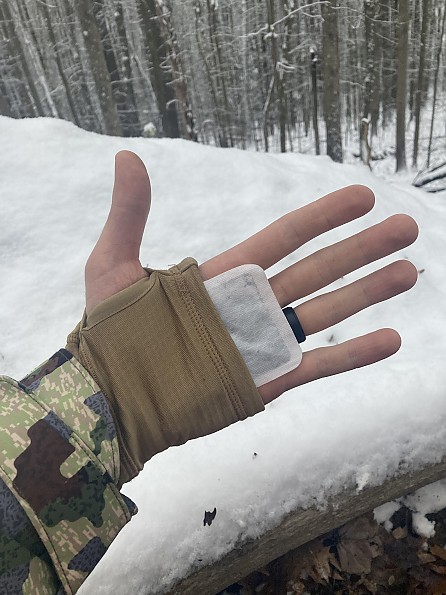 Color Options
Although Stone Glacier's marketing materials clearly show them as a western US hunting brand, I think their solid color choices and design features are just as relevant to the general outdoors population. This hoody comes in solid tan, gray, or dark green colors. 
I personally prefer to utilize hunting gear that can also be worn as hiking/general outdoors gear without it looking out of place. I'd much rather wear neutral earth tones while hunting than wear camo while pursuing non-hunting activities. For this reason, I'm really drawn to items like the Helio Hoody and other garments from Stone Glacier due to their non-use of camouflage. All their apparel is solid colors only and fits nicely into a hunter or hiker's wardrobe. Now if they could only offer women's sizes too.
Handling the Elements
The microgrid construction has been around in the midlayer industry for a while now. I don't have the scientific data to support that such construction has a higher weight-to-warmth ratio; I do believe at least anecdotally that it does, and for me, it's highly comfortable to boot.
The Helio Hoody is a moderately light midlayer (14.5 oz / 411g for men's large) that does a pretty nice job of cutting out the cold and vent moisture when the body temp rises. I've worn it as a midlayer in the single digits (Fahrenheit) and as an outer layer in highly aerobic activities down to the 30sF.
With odor control Polygiene technology integrated into the hoody, the manufacturer boasts that it can also be a comfortable hot-weather layer. While I haven't had the opportunity yet to test it as such, I could see where a hoody like this would be beneficial in the warmer months when trying to ward off bugs and sun (perhaps archery season) or when trying to cut just a little bit of chill (perhaps a cool summer eve around the fire), although I personally like a looser-fitting hoody for those warm-season purposes.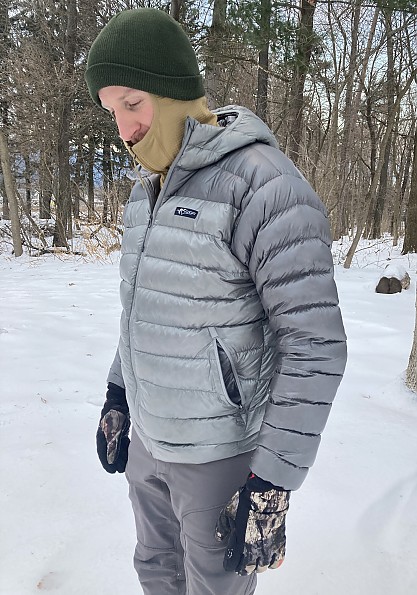 Laundering
The Pennsylvania firearms season for hunting deer is 14 days long in late November to early/mid-December. I went out while wearing the Helio Hoody for 7 full days of those 14 days and only washed it once midway through the season after two consecutive days of consistently hiking and sweating hard.
As mentioned, the hoody does feature Polygiene odor control technology, which based on my previous use of garments with this technology as well as with this hoody, truly does allow for synthetic materials like these to not stink nearly as fast or as bad as non-treated materials, thus not needing to be washed as often. But don't be fooled into thinking that it never needs to be washed. That's just gross! As for laundering, a simple cold wash and low tumble dry does the trick.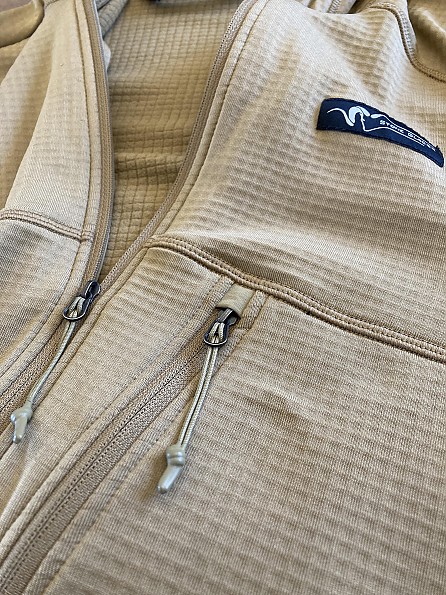 Layering
A midlayer like the Helio Hoody is one of the most versatile layers in my opinion. As such, in the fall and winter, I've most commonly worn this layer over a merino wool baselayer (T-shirt or long sleeve, depending on temp). Depending on the conditions and exertion-level of my activity, I will then decide what to layer on top. In cool but not super cold weather when I'm moving a lot, this is all I need to stay warm.
If the temp is colder or my activity levels are more mundane, then I'll most commonly layer up with either the Stone Glacier Grumman Down Jacket (review forthcoming) or a windproof/rainproof outer shell, and on many occasions, both. The hood area is also highly layerable, meaning I was able to wear both a ballcap and beanie overtop of it, which is great because I have a really big head that doesn't always allow for this kind of layering.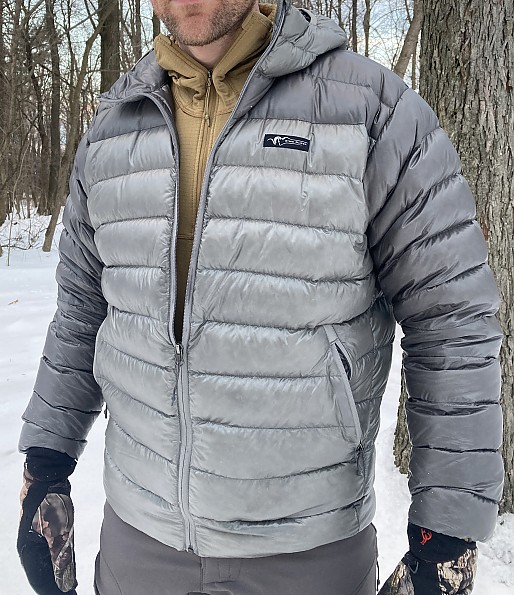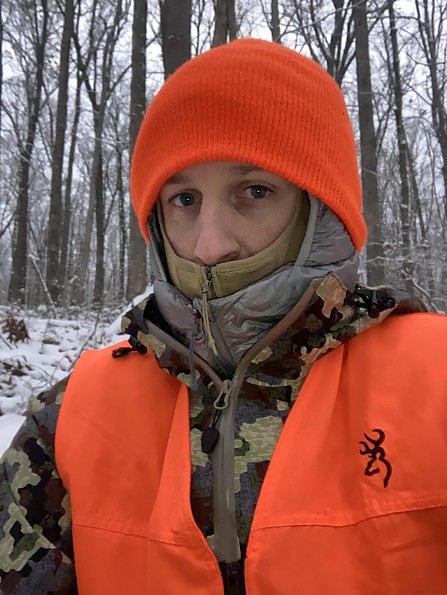 Recap and Recommendation
I'm a big fan of midlayers. I find them highly useful in many different weather conditions. When a midlayer is really good, you'll rarely find me without it (either already wearing it or it stuffed in my pack, ready to be worn at any time). That's exactly the case with the Stone Glacier Helio Hoody over the last four months of testing.
While it's originally intended for backcountry hunting pursuits, which I've worn it for plenty of times, I've also found it really comfortable for day hikes on local trails and even while building a snowman with my daughter. Sure, the fabric is soft and comfortable, but what truly makes me want to bring it along on every adventure is its great fit and small details (torso length, accessible front pocket, stays tucked in, etc.)
I'd recommend this to (and already have several times) to hunters, hikers, anglers, bird/game watchers, snowshoers, ice climbers, and anyone else who could benefit from a midayer with serious range.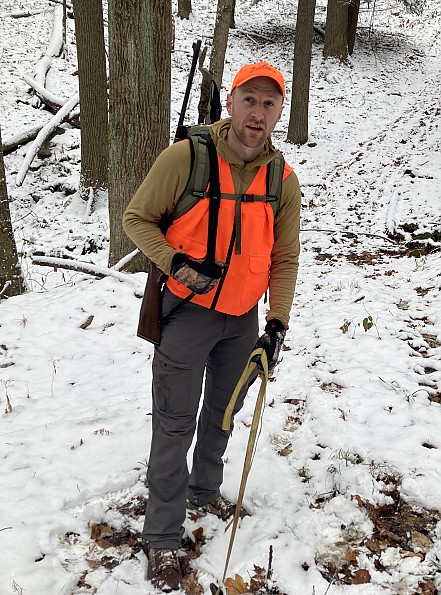 Experience
As a hiker and hunter, I generally like to kill two birds with one stone when it comes to gear and apparel by finding "crossover" items that can be highly effective no matter the activity. This midlayer certainly allows for a wide range of uses and outperforms many, if not all, other midlayers I've used.
Source: received for testing via the Trailspace Review Corps (Sample for testing and review provided by Stone Glacier)

Your Review
You May Like
Specs
| | |
| --- | --- |
| Price | MSRP: $129.00 |
| Weight | 14.5 oz (L) |
| Body Fabric | 94/6 poly/spandex blend with Polygiene Odor Control Technology |
Recently on Trailspace