Stunt Puppy Puff Doggy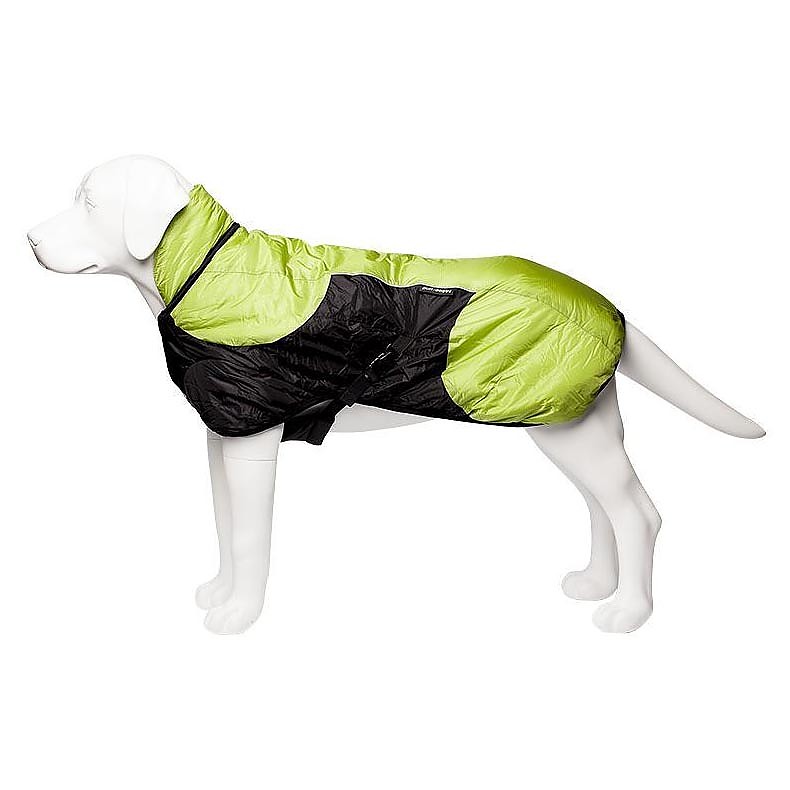 Now your best friend can have the same quality materials and workmanship that your insulated jacket has.
Pros
Warm
Lightweight
Packs into its own pocket
Sturdy stitching and buckles
Generous coverage
Simple to put on
Cons
Not difficult for a dog to remove on its own
Stunt Puppy Puff Doggy
If your dog lives in your house or if their breed doesn't grow an undercoat your pup will be miserable in the cold/wet. Consider the Puff Doggy to make your dog more comfy in the cold.
There was no way the puppy we brought home this fall would be able to grow a proper winter coat of her own before the snow came so she needed some help staying warm this winter.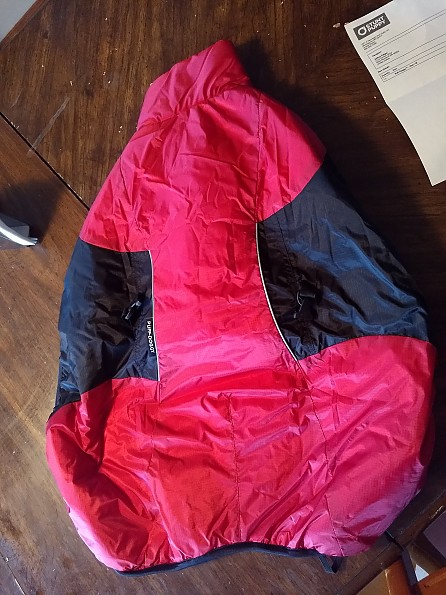 Testing Conditions
We camped in 25-30°F temperatures in deep, moderately dry snow. We hiked in, then my puppy, Taxi, sat around curiously looking at me set up the tent and build a fire. Not especially active. Sitting still is when she would have usually been shivering without the jacket but she was fine in her new coat. 
During the day she chased sticks, snowballs, and everything that wasn't smart enough to stay hibernating.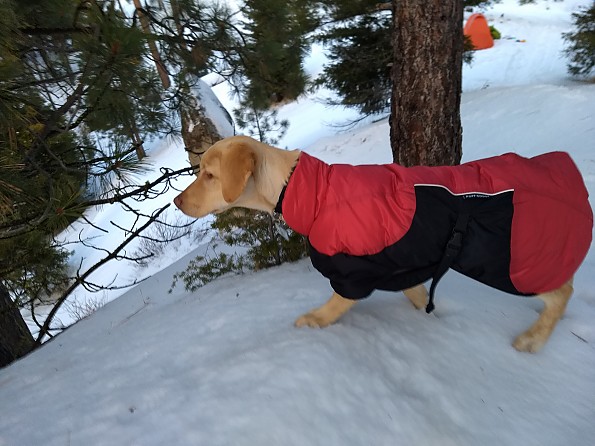 Reflective piping on the sides as Taxi sees a squirrel that decided to wake up to check the weather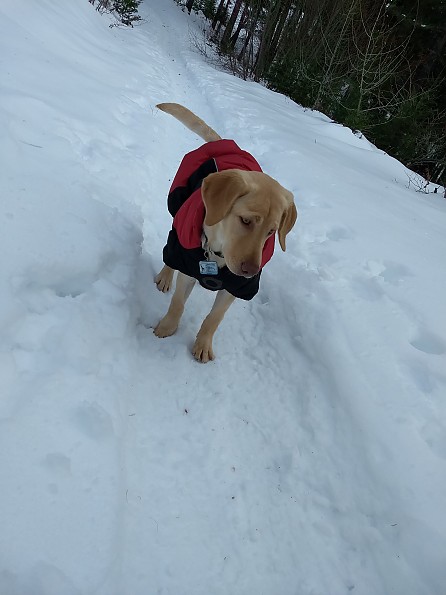 On other days we ran in the pucker brush at temps that hovered around the freezing mark. Taxi was active; smelling things, romping puppy-like, through the brush, basically enjoying life. 
We also went sledding with the kids in wet, slushy and windy snow. Taxi ran, jumped, wallowed in deep snow and sat still, begging for treats as we ate lunch.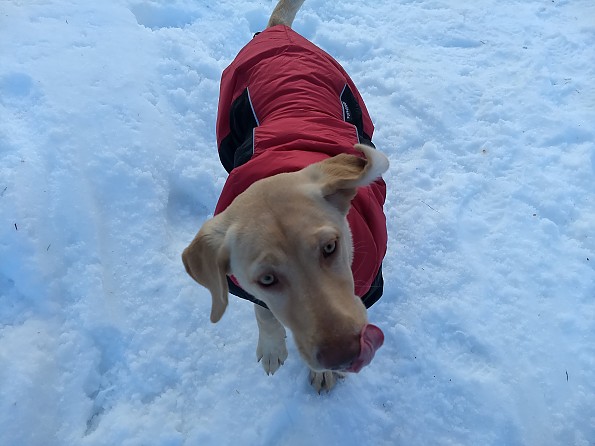 "Lunch?"
Test Subject
Her name is Taxi. Yes, it's funny walking around a park yelling her name. If I lived in a big city it might be even funnier.
Taxi is a Labrador puppy about 35 pounds. She lives indoors and spends 3-5 hours per day outside, but doesn't have a decent undercoat. I'd describe her as thin, with very little body fat.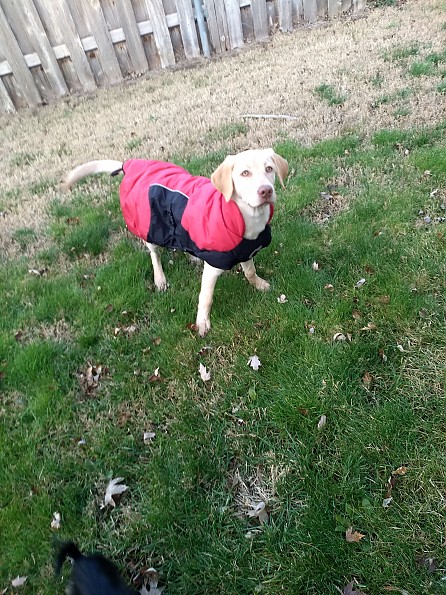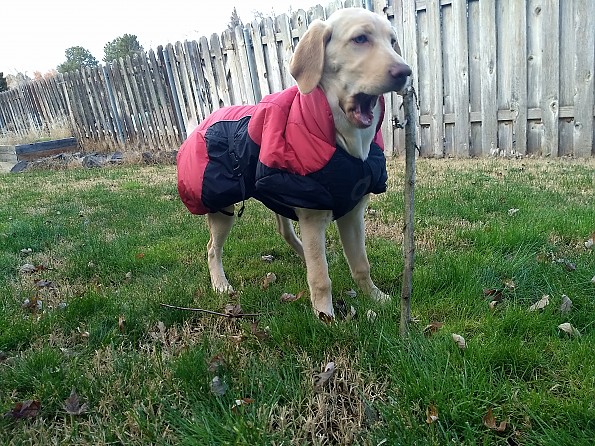 Coverage extends to the belly to keep your pup covered
Weight: 10 oz.
Ease of Putting On
Even on a wiggly puppy the Puff Doggy is intuitive to put on her. The tail and rear leg loops stretch to make dressing up to go play outside even easier. 
Stays On?
Unfortunately the Puff Doggy is not extremely difficult for a dog to remove if left alone. Taxi came back to me after a romp in the trees without it once, so I had to backtrack her in the snow to find it. This was the only time she undressed herself and I'd describe Taxi as very compliant. If your dog HATES clothing this jacket will not stay on them very well, but during normal activities the jacket will stay on just fine. 
On the bright side; if your dog is away from you and the jacket tangles on something, a moderately motivated dog will be able to free themselves from the garment and escape.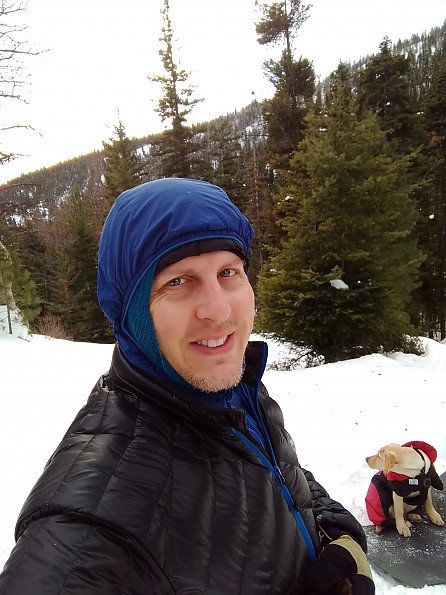 This is what I was wearing so you can get an idea of the temps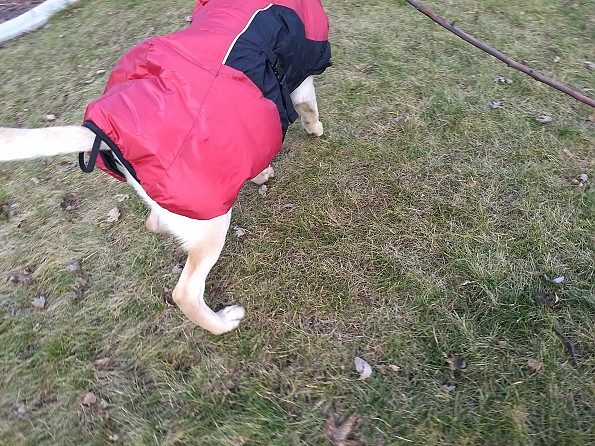 Tail loop doesn't interfere with pottying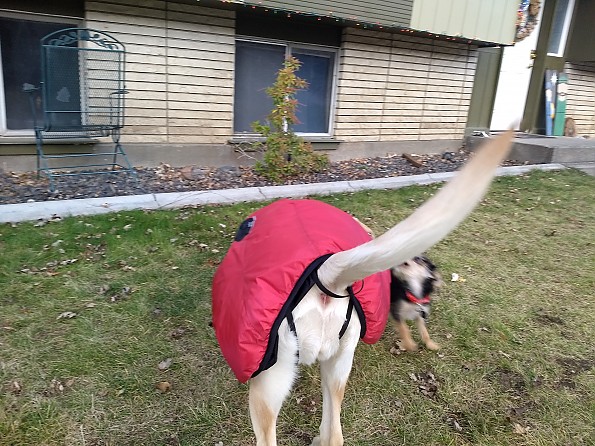 Leg loops keep the coat in place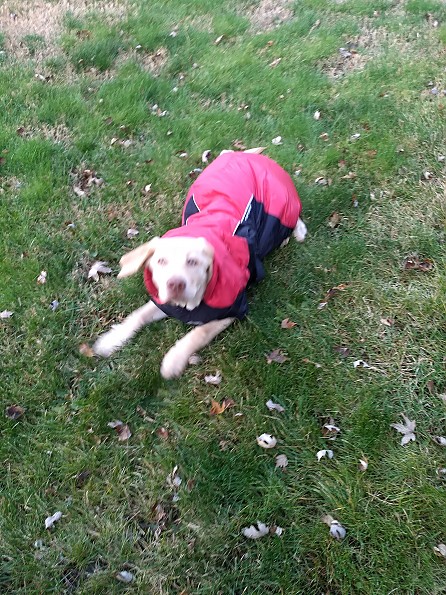 Romping and playing, no problems staying on
Fit
I found the Medium, which was recommended by the people at Stunt Puppy to fit well and slightly loosely which would account for the puppy growing up. I think that tight fitting jackets compress the loft of the dog's natural fur and could diminish their warmth and make them unable to perform athletic feats like jumping and climbing. 
The Puff Doggy wraps around the dog's body to protect hips and belly from the cold.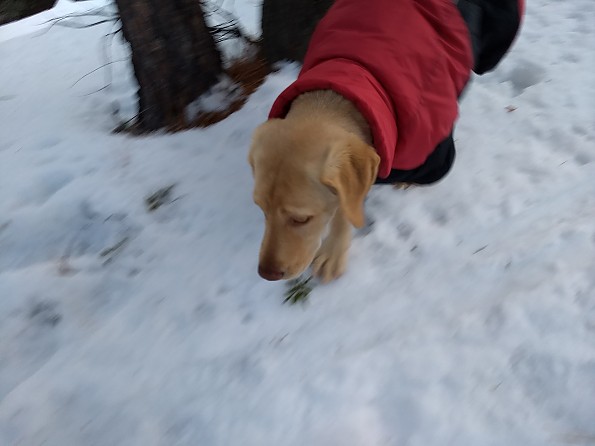 High collar to protect from wind


Durability
The puckerbrush didn't seem to damage the Puff Doggy. The straps, hook and loop closures, and materials all appear undamaged and well-constructed. Taxi is not a destructive puppy and never tried to chew the garment.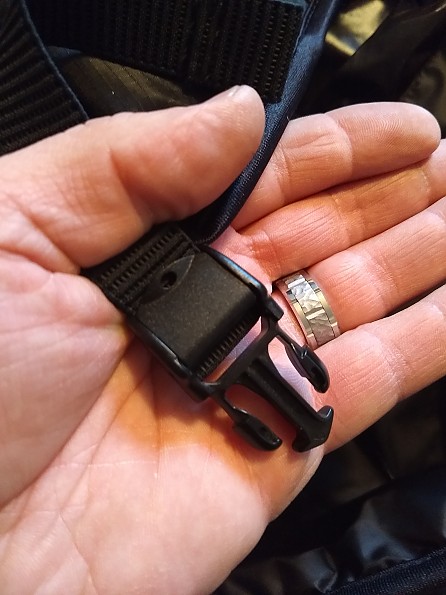 Durable, easy to adjust buckles
Warmth
I think the thing that kept Taxi from removing the jacket more than the single time was the fact that she disliked how cold she was without it. Without a doubt, the Puff Doggy increased her comfort during her camping and sledding excursions. I noticed her shivering after we woke up and this ended once I had her in her cozy coat. This did not keep her from snuggling up to me near the campfire as I drank my coffee, but she's a lover anyway.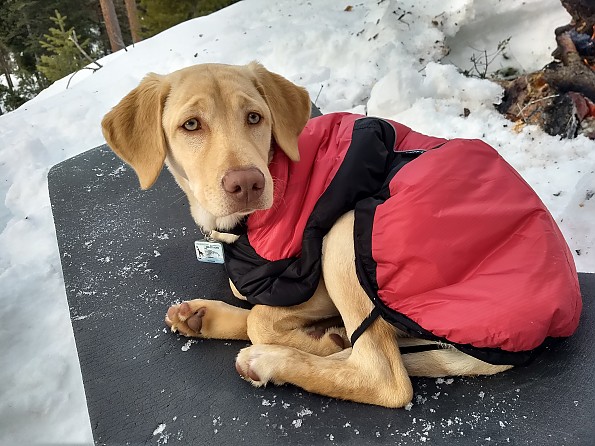 Packability
The jacket packs into its own pocket, like most human puffy jackets these days. I found that to be a blessing for when we no longer needed it because I could use it as a pillow.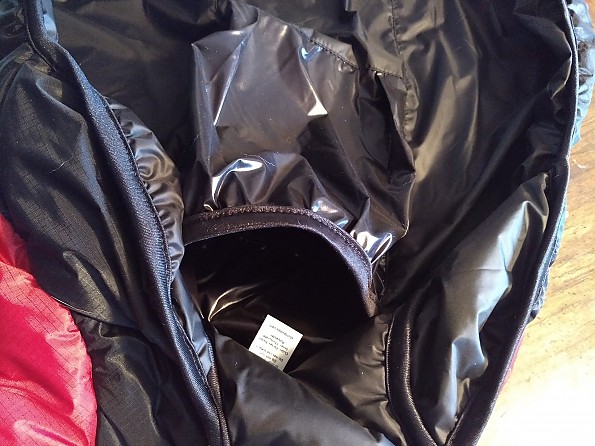 The pocket that the coat tucks into

A little smaller than a Nalgene 1-liter bottle


Bottom Line
If your house dog or thin-coated pup needs a little extra warmth and is okay with wearing clothes the Puff Doggy may be the jacket your pooch needs.
End Note
Taxi was later diagnosed with an extreme case of hip dysplasia and had to be put down, so we'll never know how it fits her as an adult. She was one day away from being six months old when she was euthanized. She was an extremely sweet puppy and we kept her comfy with vet-grade pain killers in her last days. Only dog owners know the pain losing a pup can cause. 
Experience
I'm a lifetime dog owner and my last three dogs were thin coated breeds that needed coats in the winter.
Source: received for testing via the Trailspace Review Corps (Sample for testing and review provided by Stunt Puppy)

Your Review
Where to Buy
Help support this site by making your next gear purchase through one of the links above. Click a link, buy what you need, and the seller will contribute a portion of the purchase price to support Trailspace's independent gear reviews.
You May Like