Stunt Puppy Stunt Runner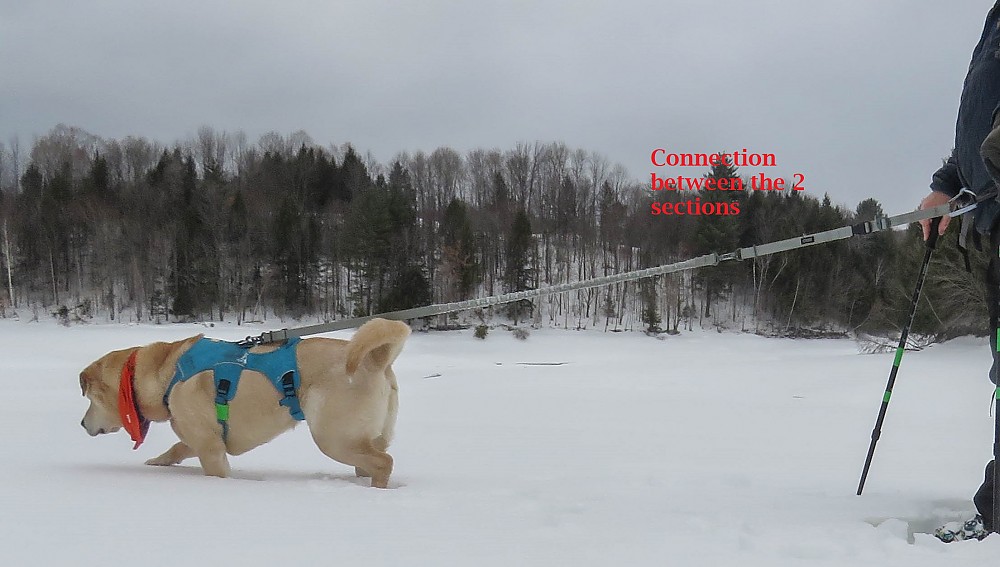 The Stunt Runner is a two-part leash system, designed for running (or other hands-free activities such as hiking or snowshoeing) with your dog. This well-made and durable leash offers adjustment and sizing options for different dogs and owners. I can recommend this Stunt Runner for those wishing to keep their dogs safe and active.
Pros
Durable and well made
Multiple color choices
Strong and flexible bungee element
Easily adjustable
Cons
No reflective trim
A bit short for some activities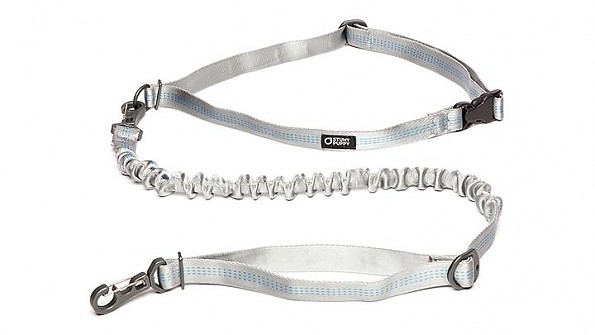 Manufacturer's photo with current snap links
The Stunt Puppy Stunt Runner is a hands-free leash system, designed with runners in mind, but eminently suitable for snowshoeing, hiking, or walking. According to Stunt Puppy, the two-section system "creates space for running with your dog single file on trails, out wide on skis or snowshoes or in close for side-by-side in urban areas".
We do not run with our dogs, but found that this leash offers nice option for hands-free trekking, by foot or on snowshoes, especially since it permits easy use of trekking poles. This is not designed as a lead for pulling sports, so we did not use it for skijoring. It would probably also position your dog too close to you for safely skiing with your dog.
As an option for hiking or snowshoeing, we found it too short as offered, but a slight variation in its use made it our "go-to" leash for daily outings. For runners or walkers who prefer their dog closer to them, this is a nice, sturdy, flexible option.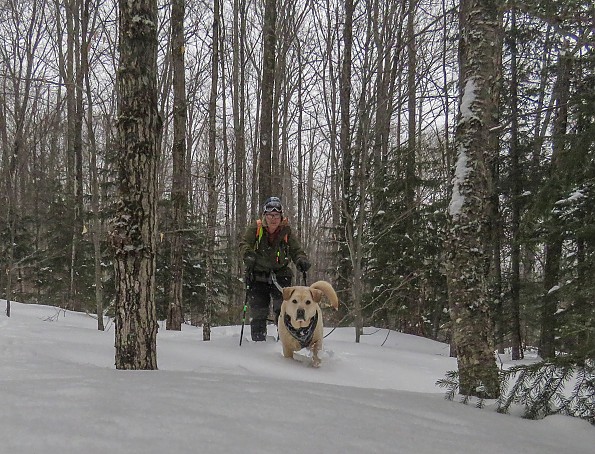 In use in the deep snow of Stowe, Vermont


Our dogs are on trekking lines 99 percent of the time, so this Stunt Runner got a good workout over a few months of daily use. It was used primary for snowshoeing in snow, rain, cold, sunny, and wet conditions. Our dog Gryphon is a straight-shooter, staying pretty much on-trail at all times. Edgar, our black mutt, is more of a slalom wanderer, sniffing and wandering on both sides of the trail. Edgar is also more likely to give a good pull on the line, especially if he sees a chipmunk! The Stunt Runner worked well with each of the dogs.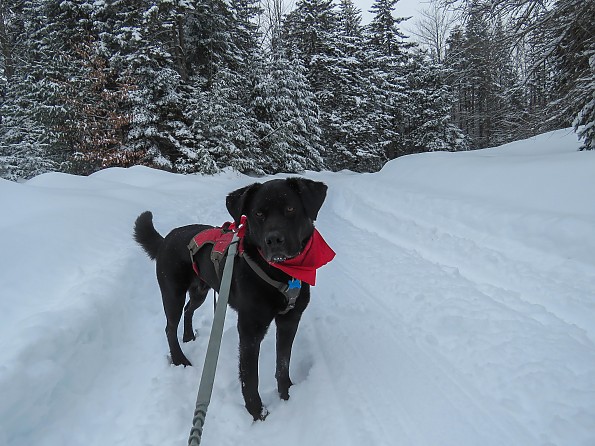 Edgar, in one of the rare times when he is not moving!


The Stunt Runner is available in five colors (silver, orange, black, blue, and red); we were provided with the silver leash. The Stunt Runner includes two sections; they are purchased as a unit, not separately. I will refer to them as the "runner section", and the "dog section". A second "dog section" can be purchased from Stunt Puppy, should you want to attach two dogs to the runner's waist section.
Materials: The leash elements are made of 1-inch wide closed tubular webbing. This webbing has proved to be strong and pliable even when partially frozen. The material is flexible, thaws quickly when frozen, and is easy and comfortable to grasp with bare hands or gloved hands. Stunt Puppy does offer a reflective running leash ("Go Dog Glo Stunt Runner" ; same design, but in a reflective webbing), but it would be nice to have at least some areas of reflective trim on the basic Stunt Runner.
I found the hardware on the leash to be strong, easy to use, and not subject to any corrosion. The adjustment hardware on the runner section and dog section was easy to adjust, even when wet.
The two 3-inch swivel snap hooks, on each end of the dog section, seem strong and easy to use in all conditions. The spring gate has not bent or deformed, and I have not experienced any unintended releases of the snap from the dog's harness. The snap hook has clipped securely into different width and shapes of harness attachments. Prior versions of the Stunt Puppy apparently utilized a different snap hook.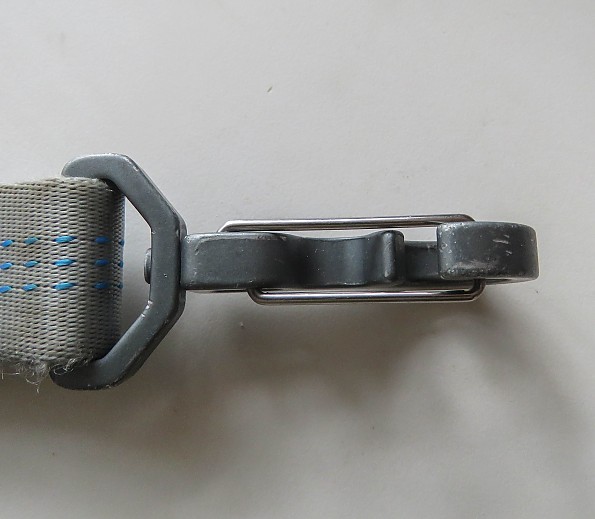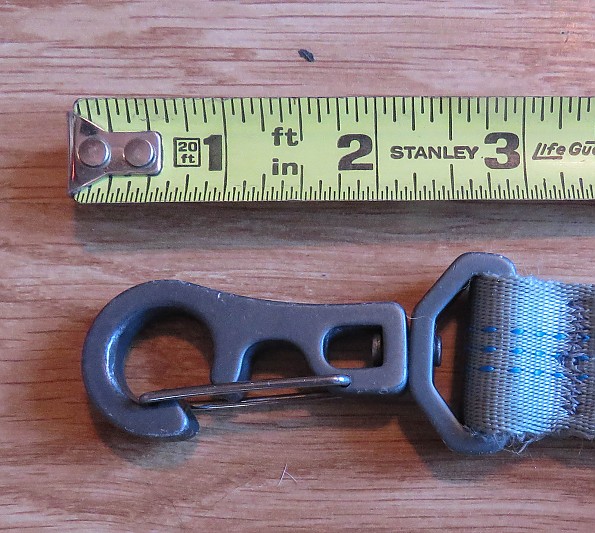 The DuraFlex buckle on the runner section has also proven to be strong and reliable.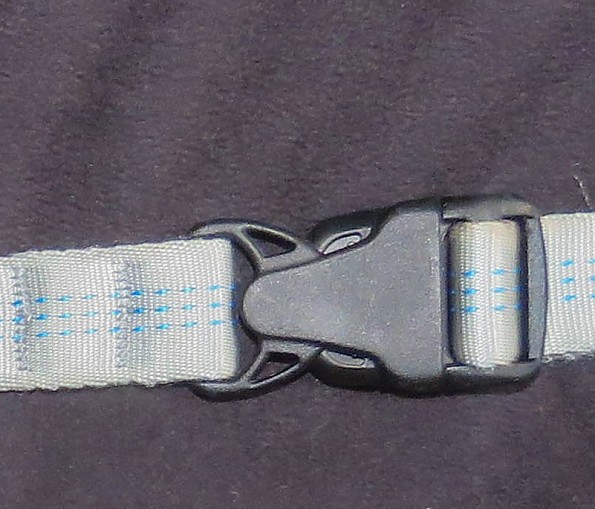 Buckle has held fast, despite some pretty tough pulling!

 
Design: The design is simple; the runner section is designed to go around the waist of the human, and the dog section, with a bungee portion, attaches the runner's section to the dog's harness. Adjustments in length of each of these sections permits appropriate use by dogs and owners of various sizes.
The runner's section size is adjusted by slider, and is securely closed with the DuraFlex buckle. The waist section is reported to fit up to a size 42-inch waist. My husband is a 38-inch waist, and he had just enough room when wearing it over a fleece vest. It is important to consider what clothing or outerwear you may be using when considering size information. There is a "floating D-ring "on the runner's waist belt, permitting you to position the dog section attachment to the front, side, or wherever you want to position your dog. It takes a little effort to slide this, and my husband said he would prefer to just slide the whole waist section around to the desired position.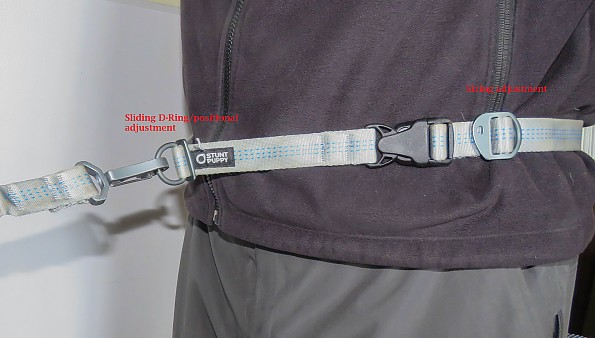 The runner's section is, as reported, 1-inch tubular webbing; your comfort wearing this narrow belt may be affected by the clothing you wear, the amount of pulling your dog may do, or the position on your back in which the leash rides. Friends of mine who are involved in canicross say that they prefer a wide, more padded waist belt. This is apparently just an area of personal preference among runners, and as long as you do not suffer sustained tugging, the narrowness of the belt may not be an issue.
The dog section of the leash has a nice, flexible, 17-inch bungee section. All of our trekking lines, and skijor lines, have bungee, so we have come to appreciate the value of this element. The bungee flex permits the dog to move around in different directions, at differing speeds, without detrimentally affecting the runner or hiker's gait. We rely on bungee lines to safely negotiate uphills and downhills, scrambles, different speeds between the dogs, and negotiating obstacles.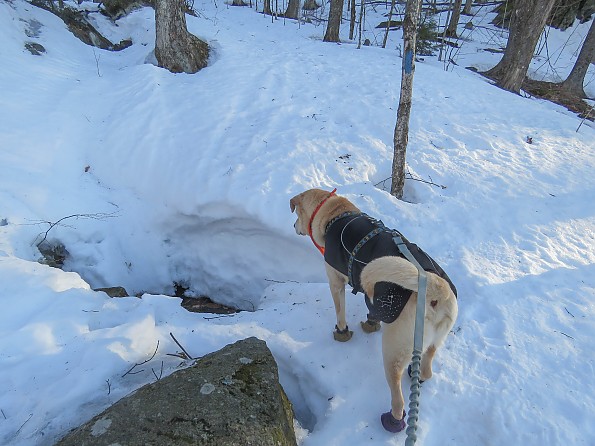 Up to Taylor Lodge on an icy winter hike


The 17-inch bungee section is contained within the 42-inch dog section; after over 60 days of hard snowshoeing and hiking in all conditions, this section has shown no loss of elasticity, and has maintained the same minimum (42 in.) and maximum (66 in.) length. The bungee dog section continues to absorb shock, or jolts from sudden movement. This is definitely a strong point, as other trekking lines we have used have shown deterioration in elasticity over a shorter period of time.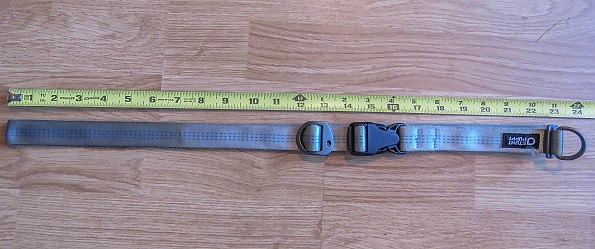 Measuring to confirm the elasticity is maintained


It is always important to be careful with bungee lines in traffic areas; a dog can pull ahead quickly and be in a hazardous situation. It would be helpful to have a double webbing/loop section near the dog's harness attachment end, to grasp in close quarters situations.
Uses: The adjustable length permits the user to adjust depending on personal preference, activity, speed, or size of dog, and can prevent slack or too much tension. If your lead is too long, you may trip over it or the dog may get tangled around an obstacle. If your line is too short, the dog may be too close to your stride, or you could pull awkwardly on the dogs back.
My research has indicated that the ideal length for canicross is 2m (78 inches)  at full stretch, though some runners prefer a shorter (down to 1.2 meters/47 inches) length. This leash allows for nearly attaining either of those lengths. It can also be noted that in areas where leashes are required, the leash length is often "6 feet or less". This makes the Stunt Runner very suitable for such locations, and worked out well on a few occasions when I walked the dog in such areas.
Since we prefer a bit more line length when snowshoeing or hiking, I simply attached the closed loop of the runner's section to the waist belt of my pack with a carabiner. By doing this, I get approximately 24 inches of line before the connection with the dog's section, resulting in approximately 90 inches maximum (when bungee is fully stretched) between my belt and the attachment to the dog's harness.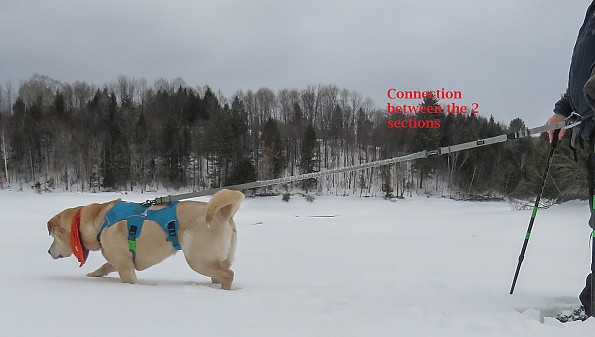 This configuration has worked out great, and the webbing that attaches to my pack via carabiner has held up well, showing no signs of degradation or excessive wear. The carabiner is loose, so this permits the same side-to-side flexibility as the integrated D-ring on the runner's section. On a quick walk around town, or shorter outings, I will continue to use the runner's section as designed; for our backcountry outings, the carabiner attachment technique is more suitable for me and my dogs.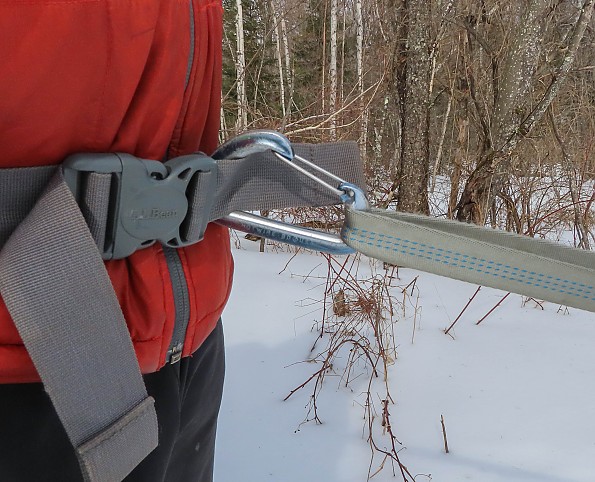 I prefer to attach the dog's line to a wider belt, so I use my pack belt


Summary: The Stunt Runner is a strong, durable, and well-designed leash system for a variety of hands-free activities with your dog. In any dog sport, personal preferences and dog safety are critical to effective and successful activity. The Stunt Puppy offers a variety of configurations and adjustments, making it suitable for many active dogs and owners. The workmanship is top-notch, and the materials are high quality. I confidently recommend this leash system to anyone looking to safely and actively participate in hands-free walking, running, hiking, or snowshoeing with their dog.
       The Stunt Runner...as we slowly plod through some of our deep snow!
The flexibility of the bungee allows Griff to move freely, while not upsetting my balance.
Experience
I have used a variety of trekking lines, skijoring lines, and various bungee leashes with our dogs for nearly 10 years. We are out every day, year round, and almost always our dogs are attached to us with a harness and trekking line system. I feel that given our experience, and the variety of conditions we have experienced this winter, the Stunt Runner received a good workout and test from us.
Source: received for testing via the Trailspace Review Corps (Sample for testing and review provided by Stunt Puppy)

Your Review
Where to Buy
Help support this site by making your next gear purchase through one of the links above. Click a link, buy what you need, and the seller will contribute a portion of the purchase price to support Trailspace's independent gear reviews.
You May Like