Sun Company MiniComp II

Top 50 in Handheld Compasses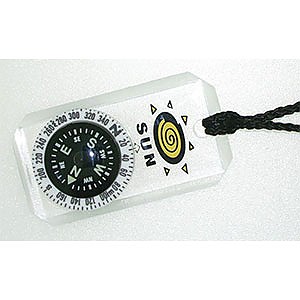 Specs
Price
MSRP: $10.00
Reviewers Paid: $10.00

Dimensions
1.1 in x 2.0 in / 2.9 x 5.1 cm

Weight
0.4 oz / 9 g

Reviews
1

review

5-star:

0

4-star:

0

3-star:

1

2-star:

0

1-star:

0
At 9g/.32 oz, the Sun MiniComp II is a surprisingly well-featured mini-compass that takes up little space and virtually no weight. A great backup to digital technology or a lightweight backup option when you need to check direction.

Don't swap out your go-to Suunto or Silva, but if the ultralight bug has bitten you, this is something to consider for quickly orienting maps or taking a bearing.
Pros
Small size and weight
Rotating bevel
Accurate, within reason
Readily packed or carried
Liquid-filled
Low cost
Cons
10˚ increments on bezel are not very precise
Not as accurate as others due to size
Luminescent markings fade quickly
When I am in the backcountry, I make it a point to have map and compass with me. I generally carry these even if I am familiar with my surroundings. As I have sought to reduce weight, though, I have sought out lighter and lighter items, and it was this pursuit that made the Sun MiniComp II catch my eye.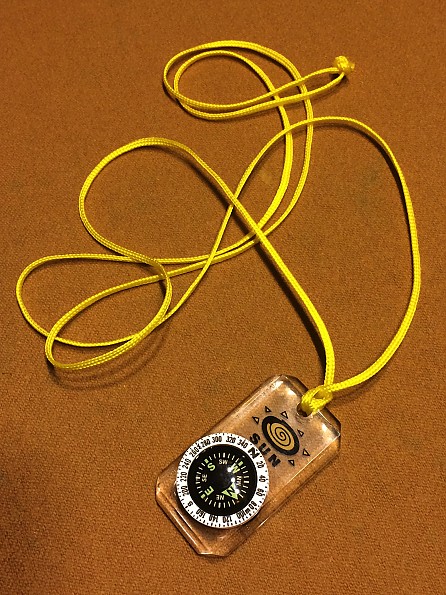 The MiniComp II comes in a cardboard and plastic package with a lanyard; I traded the existing lanyard out of a cord of my own preference. Directions on the back of the packaging instruct one in the basics of taking a bearing and map-to-field and field-to-map orienting.
The compass itself sports a liquid-filled, luminous compass in an acrylic housing. It also has a feature that drew me to this mini-compass: a 360˚ rotating bezel, an unusual feature for inexpensive compasses. The bezel moves easily left and right. The two long sides of the compass feature inch and centimeter rulers which--given the dimensions of the compass itself--are of limited usefulness. The base plate is a fairly thick slab of acrylic; one would be hard-pressed to break this without trying. Physical quality of the compass, then, is good.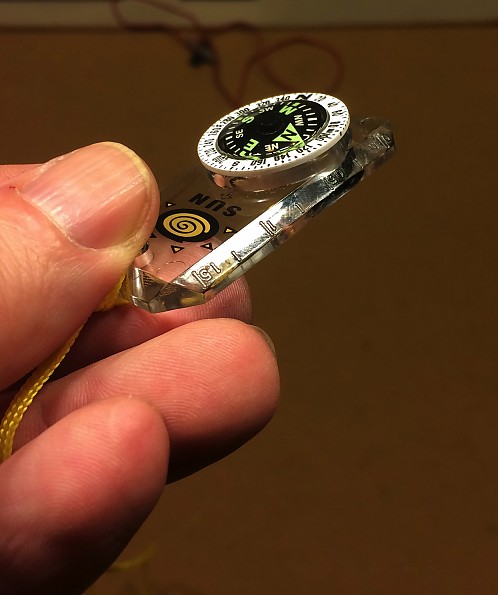 Another feature that drew me was the luminous dial—it is always nice to be able to see what you're doing, even if backcountry night navigation is a daunting undertaking. Unfortunately, this feature was disappointing: the glow fades almost as soon as the light source goes out. While it lasts it is nice enough, though.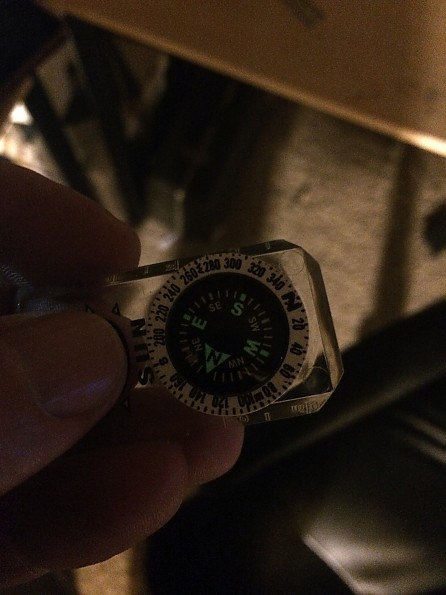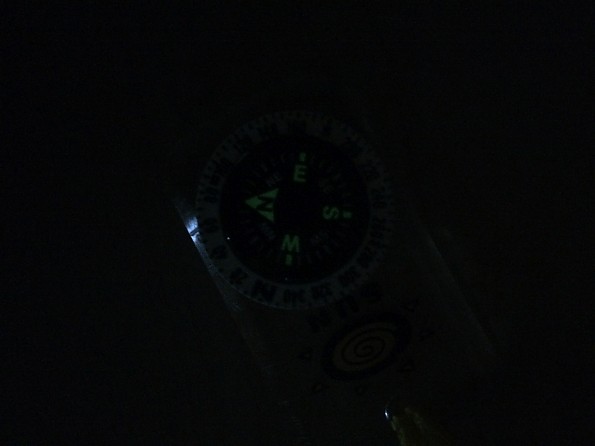 To test the accuracy, I paired it with my Silva Ranger. The Sun MiniComp II pointed in the same direction as the Ranger, suggesting a basic level of accuracy. The problem, of course, with a compass this size is that the degree markings on the bezel are lumped together by 10's. It would be easy to lose 5˚ or even 10˚ and never realize it due to the small size of the compass bezel. Orient your map, yes, but I wouldn't rely on this for tricky backcountry navigation.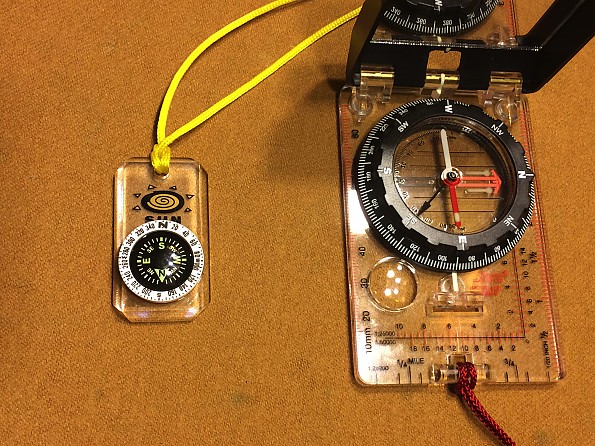 Overall I have found this compass to be useful if one is mindful of its limitations. It is not intended to rival larger compasses in accuracy or functionality, but as a spare or a what-if gear add-on to your day pack, it works reasonably well.
I find it useful for quickly orienting maps, and its light weight makes it easy to forget you are wearing it (I've actually slept with it on because I forgot about it). I like having the functionality of the rotating bezel even if I am not likely to rely on it for complicated navigation. This would be a great intro compass for kids or, for preppers, for a bug-out bag. It is also handy for the quick direction check when moving on-trail. 
Source: bought it new
Price Paid: $10

You May Like
Recently on Trailspace