Surf to Summit Bungee Paddle Leash

#6 in Paddling Accessories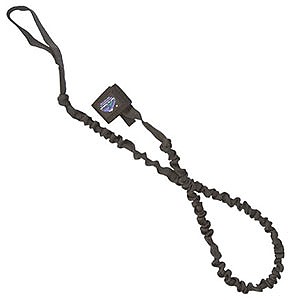 Specs
| | |
| --- | --- |
| Price | Reviewers Paid: $19.95 |
Reviews
1

review

5-star:

0

4-star:

1

3-star:

0

2-star:

0

1-star:

0
A paddle leash is ESSENTIAL kayak safety gear! Many, if not most, kayakers often overlook getting one, which is a very bad idea. This leash has an excellent good functional design, which is simple to use.

-- Writing and gear photos still in progress, please check back soon. --
Pros
Simple design, attaching paddle to my boat!
Stays out of the way, stretching as I paddle
Cons
More expensive than a simple rope or shock cord, but very functional and stronger = safer)
Could tangle me (but is unlikely due to the design)
The leash (for life) ...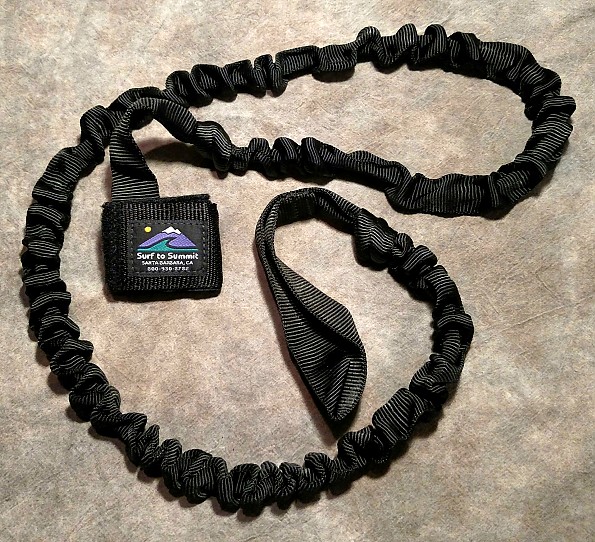 Imaging losing a paddle on big water! Imagine losing a boat on big water! I've done both at the same time, in fact in big salt water, with live coral and potential predators present! See the Rabbit Island Rescue Hawaii story below.
One could make a simple kayak leash with rope alone, but longer ropes tend to tangle up, and shorter ones won't work well. A stretchy cord-based design is a much better idea. And this leash is a great one.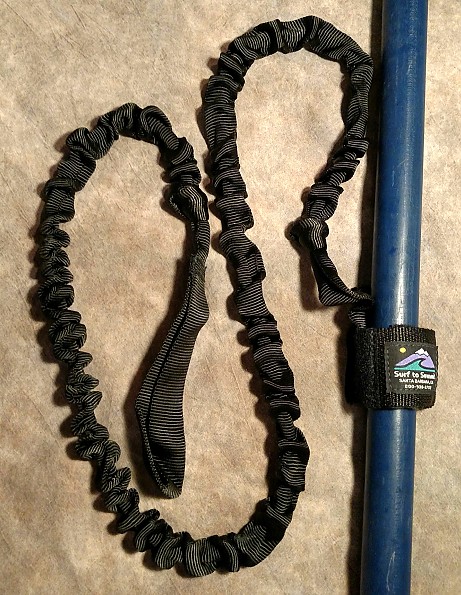 Our Sea kayaking location at Rabbit Island, just off the SE coast of Oahu Hawaii (not my video).  Rabbit Island, also known as Manana Island is about ¾ of a mile (1.2 km) off of Kaupo Beach, just northwest of Makapuu Point. This edge of the island focuses ocean swell nicely. Swell can be huge and the bigger waves can 'gift' you surf conditions, exciting and possibly dangerous to sea kayakers.
I started by going out to the Island with my outfitter in a green Scupper rental kayak. We went around the Island clockwise and ended up here again because the swell was the largest and the most fun to ride, with each passing swell. We stayed out in the swell zone and did not go further towards the mainland, where the swells would form into wave, peak, and crash forward into white surf on top of the coral heads underneath!
We played awhile in the big swell with local kayakers, who accumulated over the next half hour or so. They were typically using sleek fast, outrigger style boats or similar, almost half as wide as my kayak. My host then left 'Island right' and went down the coast in the direction of Diamond Head, leaving me there to play. 
Connectors ends inlclude a velcro wrap end that firmly attaches to the paddle and loop end to attaches to the boat, or alternatively to your wrist.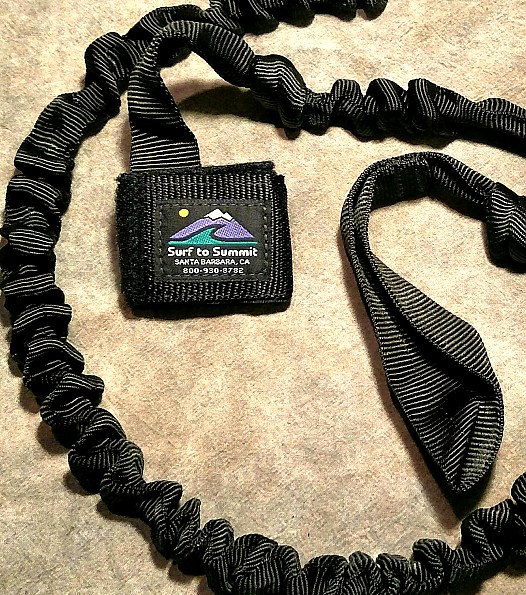 The swells were getting larger over time the kayakers began leaving. Waiting for my host, I continued to play with glee, it was more and more fun by the moment.  My Scupper, being wider than the sleek outrigger designs, could not pick up as much speed and outrace the developing waves, much like a surfer does. Being slower, I raced forward a bit too. However, the swells went under, then past me and I'd wait for the next.
Example of Scupper Ocean Kayak in action. (Not my video, but typically for a Scupper. Note that kayaker falls off once, even in small swell and waves! Fun, but not a good idea to do alone. Having the second person here, really helps.)
They say that every 200th swell or wave is the big one. Mine came eventually. I kept building under and behind me. I started going very fast, and could see my 14' boat back tucked just in front of the crest, which toppled me (yes, a 14 - 16' spilling wave). I was suddenly in the water with life preserver on. But I had lost my paddle and boat! And I was alone out there, with no one else in sight. No problem, I hoped, because I was in pretty good shape. 
My paddle was 20 feet away so I swam over and got it. But there was NO KAYAK in sight anywhere! IT WAS GONE. Why? Because my Hawaiian rental outfitter did not supply a paddle leash, such as I use at home on my kayak! Similar to a 'sea anchor', this causes the attached kayak to drag in the water and stop much of the forward progress of the boat. Bummer ... finally when I and my lost kayak were both on the top of swells (and only then), I could see it. And it was about two city blocks away and moving further fast. Bummer again...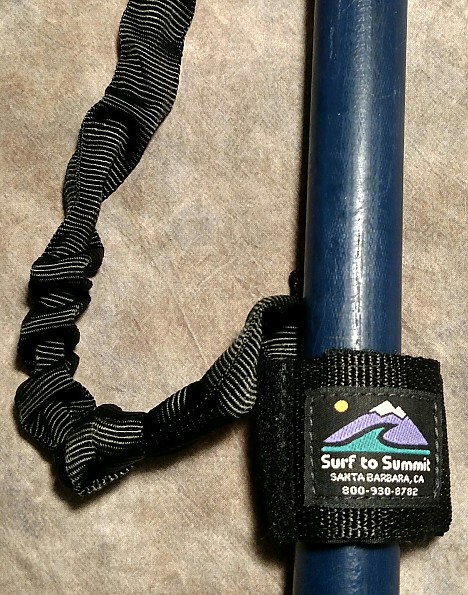 Then, after about 5 minutes (an eternity with a racing mind, thinking how sharks might like to cruise out here along deep water channels between coral heads) I saw my outfitter about 1/4 mile? away. I saw him paddle like crazy, grab my kayak bow and paddle towards me. He was about 100' away and yelled "watch out coral" and an instant later my little toes on one foot touched it and I was instantly bleeding. Bummer ... better shark bait now too, I thought!
He came up next to me braced the other side of my kayak I flipped around and sat up on it, and the next swell pushed me right on top of the ~8' wide coral head that I had just tagged my foot. I was so hoping, even praying that the incoming swells did not topple me off the boat again, and shred me up on the top of that coral head! I was in about 6 to 8" of water over that head and I could see the ~20' deep channel on the other side. The boat was shaking wildly and going BANGITY, BANGITY, BANG on the coral head! I quickly paddled, lucked out no bigger wave came right then, and got safely off into the channel, with that coral head now protecting me from the crashing waves.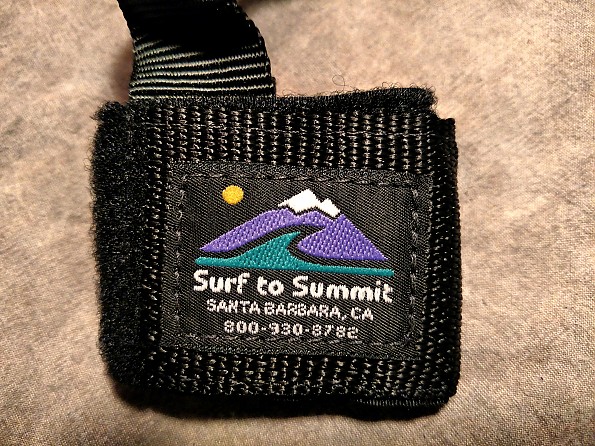 I was feeling VERY lucky as we both found our own ways through the complicated coral channels, back to the safety of Oahu's beaches. Along the way back, the next shock of my life happen. A nearly human-sized big eyed alien head of greenish hue, popped up a few feet from me and looked at me!  After a second or two I realized that a Green Sea Turtle was just seeing who this other large green alien above him was. I laughed and enjoyed that I had not become a statistic that day. Hydrogen Peroxide purchased on the way hope helped treat those coral kissed toes.
I'm a big believer now in paddle leashes and better thinking about safety gear and procedures on any kind of outing. Would it be more understandable now why I am also am now starting to carry Z-Rig Pulley Rescue gear for PNW snowshoeing in our deep, often complicated snowy mountain terrains. Review of gear chosen and why coming soon. It can be quite light.  And I hope to never have to use it.
One of our two Mariner Kayaks ... this Mariner II is the main 'yak that I had for over 20 years! Built like a Hummer, so it is still like new.  We go out in ANY weather. When there are currents and wind waves, a paddle leash make things SO much safer if you drop your paddle or fall out of the boat! They can and do help save lives!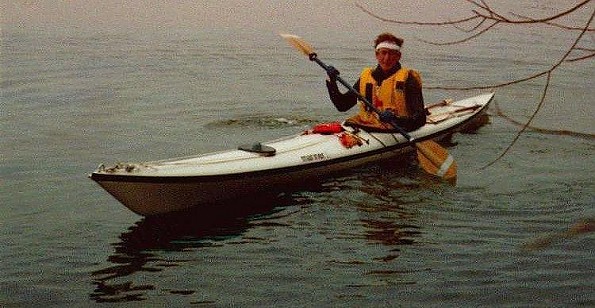 Deception Pass near Anacortes, WA, is ruggedly beautiful section of northern Puget Sound! It is also a deceptively dangerous kayaking area, with rapid moving tidal currents during tide changes and downright deadly whirlpools at times. You definitely want a paddle leash here! And a rescue float too. It is NOT RECOMMENDED to kayak alone here.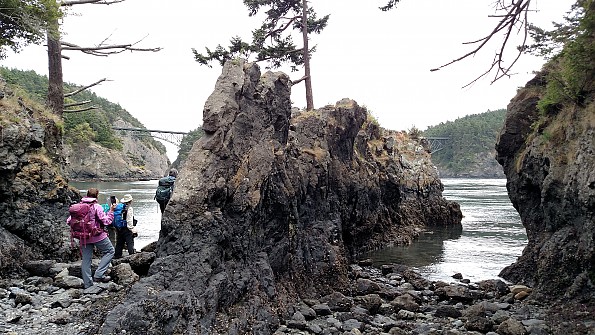 Reviews on Mariner Kayaks attached to this leash are upcoming.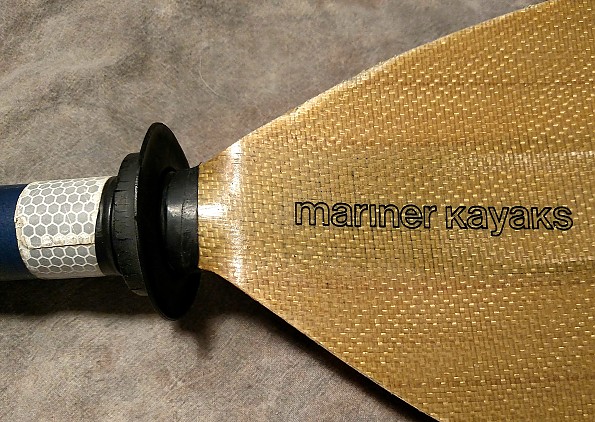 Source: bought it new
Price Paid: $19.95 REI

You May Like
Recently on Trailspace