Suspenz Deluxe Rack

Top 25 in Paddling Gear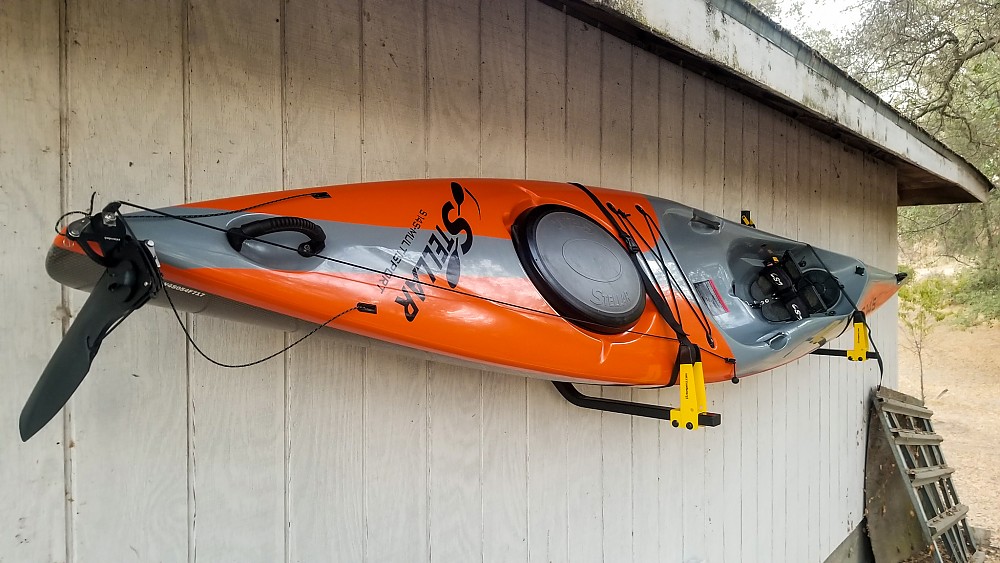 Specs
Price
MSRP: $124.95
Current Retail: $124.95
Reviewers Paid: $110.00

Capacity
stores boats up to 125 lbs

Holds
adjustable to fit the depth, width, and length on any kayak, fishing kayak, or canoe

Dimensions
extends 22" from the wall, height 24"

Reviews
1

review

5-star:

1

4-star:

0

3-star:

0

2-star:

0

1-star:

0
The best solution you're likely to find for storing kayaks.
Pros
Durable
Suspends kayaks on side
Facilitates easy kayak on/off
No pressure points on kayak
Minimizes required storage space
Cons
Expensive
May rust near salt water
Sticks out from wall when empty
125lb weight limit could limit some
Suspenz has been around since 2005. They offer a variety of solutions to store, carry, support, and transport your kayak, canoe, or SUP.  While they do offer car topping solutions, carts, and stands; it's their method of storing kayaks that caught my eye. You can learn more about their products by visiting their website here https://suspenz.com/collections/roof-racks-for-kayak-canoe-sup.
Me? I've owned just about every type of kayak there is, and one of the things I've learned is that how you store them is very important; especially when you consider they spend most of their time that way. Stored improperly, permanent damage can and will occur. 
Some other things I've learned is how much space is required to store them, and just how awkward they can be to get in and out of storage. Over the years I've tried various storage methods, but was never truly satisfied with any of them; and so went looking for a proper solution.
Enter the Suspenz Deluxe Rack. To me, it looked as though this product addressed all of the issues. They are capable of supporting 125 pounds, which is almost 100 pounds more than either of my kayaks weigh, so I ordered two pair in the safety yellow, because they're a few bucks cheaper and because I preferred the way the yellow ends make them easier to see when they're empty—less chance of someone walking in to them and getting hurt (note to manufacturer—a pinned bracket allowing easy removal of rack from the wall when not in use would be a great addition/option). 
For about ten bucks more you can get their "Marine Grade Black" which includes stainless steel hardware and black end brackets. The manufacturer does however note that the Marine Grade Black will rust in salt water due to steel construction; so either way the brackets themselves are made of powder coated steel. Finally, the straps are the standard outdoor nylon stuff you'd find on a kayak.  
My Suspenz Deluxe Racks arrived in a cardboard box with minimal packaging. That said, there was enough to do a good job of ensuring that they arrived in perfect condition. All required parts were included, as were clear and easy to understand instructions. All powder coated metal parts are of good quality. Also worth noting; a full compliment of replacement parts is available should that ever be required.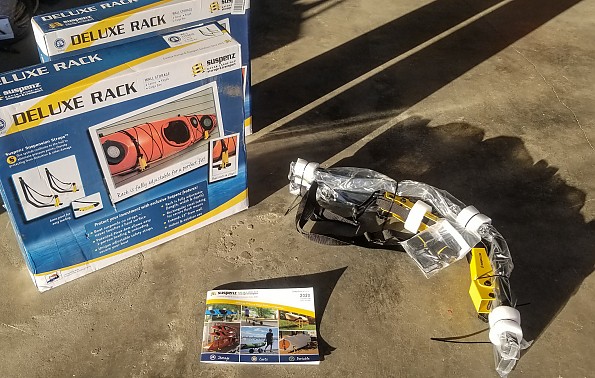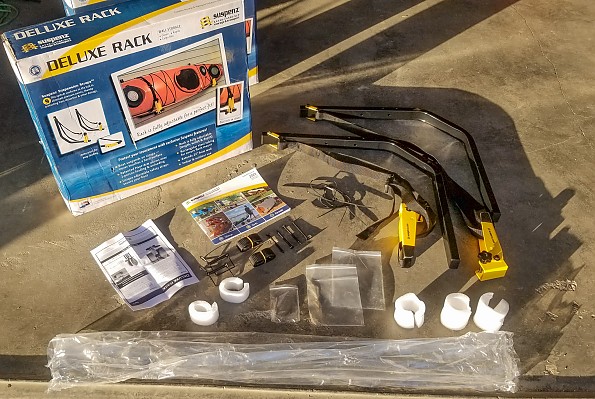 I mounted mine on the side of my garage and have owned them for about two years now. There's also a free standing floor-stand available to hang them on if you don't want to mount them to your wall. Other than the accumulated dirt, mine still look basically new and still function as such.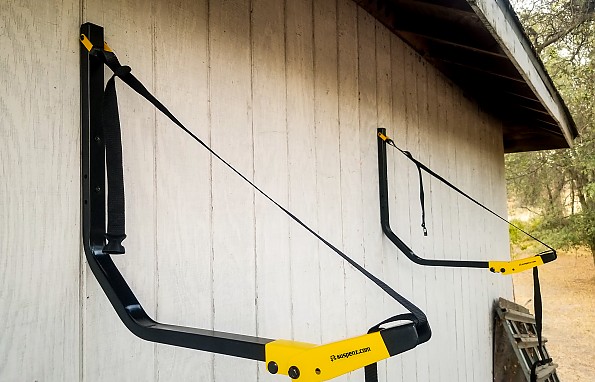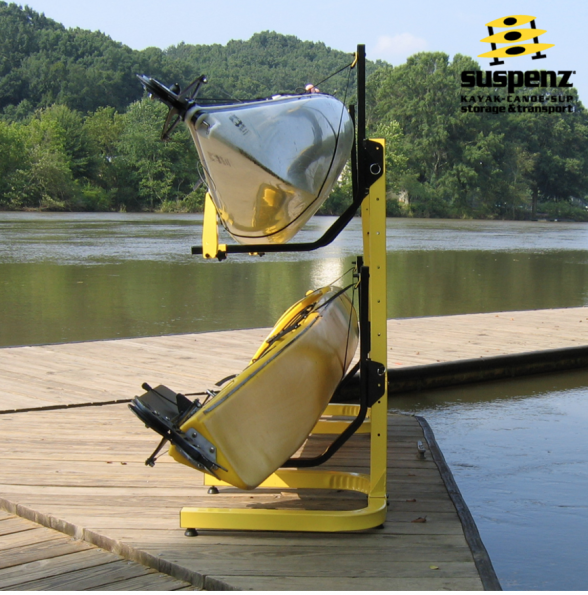 So let's talk about proper storage. Most manufacturers recommend storing and transporting kayaks on their sides as the best solution, with upside down as a second choice. Most discourage storing and transporting them right side up, on their bottoms.  While true of all builds, it's worth noting that rotomolded kayaks are probably the most susceptible to damage from improper storage and/or transport in the form of oil canning, or permanent dents in the hull; particularly in hot climates.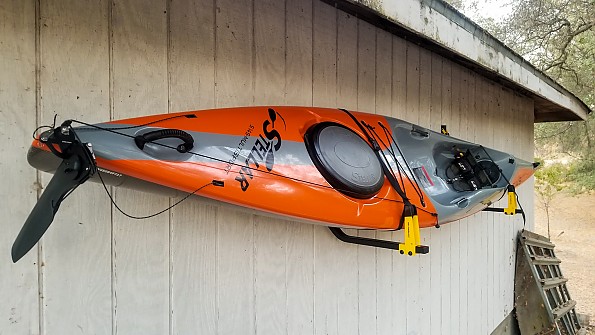 Suspenz Deluxe Racks not only store your kayak on its side, but they do so by suspending it in nylon straps that conform to the shape of your boat's hull, gently distributing its weight and eliminating any pressure points. Nowhere does your hull come into contact with the bracket, the wall, or any other hard surface. Your kayak actually floats in the straps. With some kayak shapes it may look as though the hull touches the rack because it sits very close to the brackets, but if you look closely you'll see that there is actually a gap.
All that's required is a bit of initial adjustment, and the clearly written instructions make doing so simple. Once the adjustments are made, you'll not have to fool with it again; they hold true over time. You will however need to be sure you center your kayak between the two brackets the same way each time you place it on them. All said, you'll rest easy knowing your kayaks are properly stored.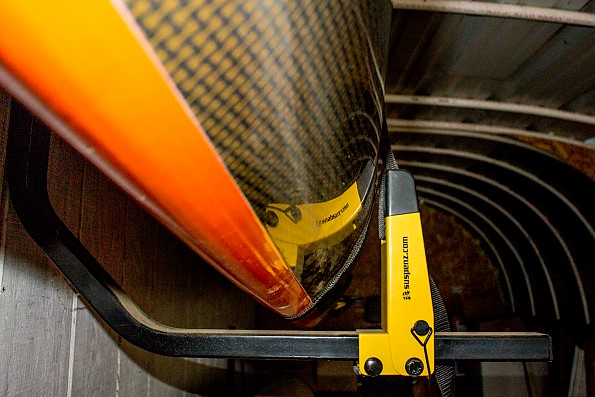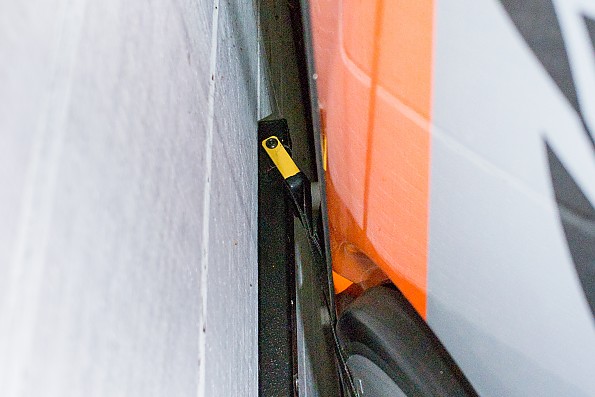 What about ease of storing? Well, lifting a kayak is awkward, especially alone, and there's not much that can be done to change that. Suspenz does however make getting the hull on and off the Deluxe Rack as easy as it can possibly be, by placing a pivot point on the upright ends of the rack. This allows them to drop flat and out of the way when lifting a kayak onto or off of the rack. The tips of the uprights are even rubber coated just in case you somehow manage to drag your boat over them or improperly adjust a strap and it does make contact. Locking clips are included for safety just in case a strap were to fail or come loose. These keep the ends of the rack upright and prevent them from pivoting down, which might otherwise allow your kayak to slide off the rack and go crashing to the ground.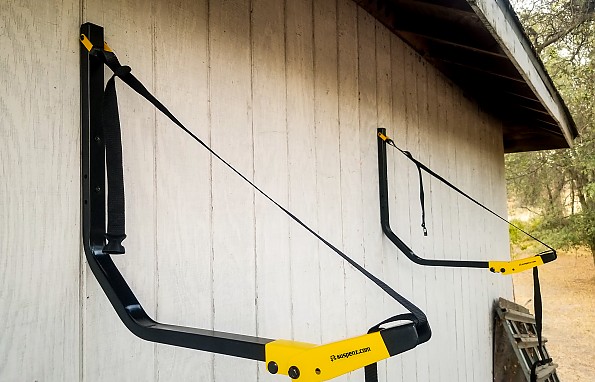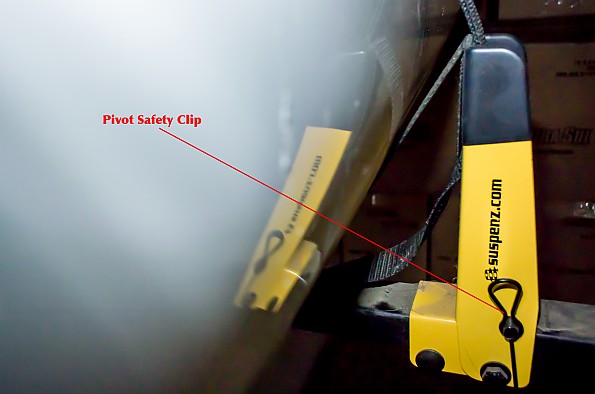 That leaves us with storage space. Just as there's no getting away from the awkwardness of carrying a kayak around there's also no getting away from the sheer bulk of a kayak; but the Deluxe Racks do keep them fairly flat and out of the way against the wall when thusly mounted. They only extend 22 inches from the wall and take up about as little space as your kayak possibly can. As noted earlier, there is also a free standing floor rack available that only requires a couple more inches of space if stowed against a wall. Either way you'd be hard pressed to find a more compact way to store your kayak without resorting to hanging it from the ceiling; and Suspenz does have you covered with a better engineered product there as well, should you decide to go that route.  
So in conclusion, I really like this product. A lot. It's the best storage solution I've found and I've tried all kinds of things; from DIY projects to similar looking racks that lacked the "suspension" and pivoting, upright ends. This rack system addresses all of my concerns: it treats my boats with kid gloves, stores them properly, saves space, and facilitates easy loading/unloading. If you have any kind of paddle toys you need to store, you should give Suspenz storage solutions a look. I'm cheap.. and yet I won't hesitate to purchase another set of these great racks when I add another boat to my small fleet.
As a side—since I mounted mine outside, on the side of my garage, I added a ringed lag bolt on the wall behind the kayaks through which I run a motorcycle cable lock for added security.  
Experience
I'm an avid kayaker for almost 15 years. In that time I've owned rotomolded, fiberglass, blow molded, carbon fiber, and other kayak builds. I've had sea, touring, fishing, surfski, and other types of hulls. I've stored them on a trailer, hanging from the ceiling, the wall, etc. using purchased and DIY gizmos.
Source: bought it new
Price Paid: $110

You May Like
Recently on Trailspace