Suunto Ambit

#6 in GPS Watches
The Ambit has been discontinued. It was replaced by the Suunto Ambit3 Peak.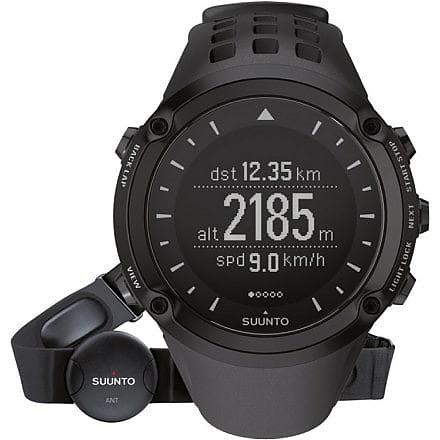 The Suunto Ambit is the most advanced ABC/GPS Navigation Trainer watch. It's a Game Changer.
Pros
Solid build construction
Advanced GPS with total adjustability
Screen display is the sharpest made
Fast GPS lock up times
3D compass that can be used while moving
Adjustable backlight that is so bight you can read by it.
All new altimeter and barometer sensors
Firmware updates adds all new features
100M WR
Suunto Ambit reviewed by a hunter/outdoorsman's perspective.
I am going to try to do a review of the new Suunto Ambit Black GPS navigation training watch. This is going to be difficult because the Ambit is an evolving product with many firmware updates planned by Suunto for additional features. As a longtime multiple ABC watch owner, I can safely say that the Ambit is in another league. It's a "game changer" for outdoor watches.
It is so much more advanced over my beloved Suunto Core, that it would be like comparing an 8-year-old basic Cell phone to the latest iPhone smart phone. The Ambit, even as just an ABC watch, uses all new sensors and does the ABC thing better and more accurately than the Suunto Core. Up till now the Suunto Core was the gold standard of ABC watches.
The Ambit is a big watch. It is not heavy and is very well balanced. The strap is very good and has a waffle pattern that allows your skin to breath and allow water to escape when swimming. It is long enough to strap over a light jacket or just over your skin.
It is worth noting that the strap is now connected to the head of the watch with allen head screws and not the typical flat head screws of the past. The size of the Ambit is thicker than the Core but if you can wear the Core as a every day watch, you can wear the Ambit as an everyday watch. It's that simple. I found it slips under my winter jacket cuffs without any problems.
The Ambit is designed and manufactured in Finland and is Suunto's halo watch. Its build quality is a tank and a notch above anything Suunto has produced previously. The button push is solid and smooth. The watch oozes quality and feels very reassuring if you were to use it in the real rough stuff. The display is another feature that blows any other digital display away. It has a very high dense pixel count and is crisp and sharp. The closest analogy I could use would be the Core's display is standard def tv, the Ambit is like a 1080P LCD hi def. It's that good and is a major feature to this watch.
Your main interface with this watch is its display and having the sharpest display available gives the user a giant advantage over anything before. The unprecedented feature of this display is its ability to switch display from positive to negative display with a push of a button. No longer do you have to buy a separate watch for two great looks. The negative display is very cool looking and is way more legible than any negative display by any manufacturer. The positive display is just as impressive. I can read the negative display from 8' across the room and can read the positive display 10' away across the room.
The adjustable back-light may be the brightest I have ever seen and was only at 50%. It's so bright you can read by the light (no joke). I have not seen how bright 100% is. I lowered the back-light to only 30% and it's still brighter than any back-light I have ever used. The Core's back light would be a 3-5% in comparison. Very impressive.
The Ambit has a screen-saver to save battery life. If the Ambit doesn't sense any movement in 30 minutes, The screen is turned off but all measurements are still active. The slightest movement brings the Ambit's screen to life.
The alarm has a very high quality multi tone chime. When the alarm sounds, the light comes on and stays on 10 seconds after you push a button to either turn the alarm off or activate the snooze. Of course, you can adjust features like the light during the alarm,etc...
It's hard to narrow down the Ambit on who and what it was designed for. It is so versatile and can be custom tailored to about any and all activities. It's a training watch that can be easily linked with a heart rate or bike pod strap. It has very detailed training logs that go way beyond my use.
The Ambit is a navigation watch for trail running, mountain climbing, hunting, and any sport you might find yourself doing in the mountains. It's great for motor-sports like motorcycle riding, ATV riding, boating, etc... You get the picture? The Ambit can be custom designed by the owner through Suunto's free downloadable software called "Movescout". You can totally adjust all features and settings via Movescout on your computer if you want.
The watch is powered by a internal lithium-ion rechargeable battery that is charged through any usb power source. The Ambit comes with an alligator clip adapter that clips to the watch and makes contact with contact points on the bottom of the watch. Simply plug into any USB plug on your computer, AC adapter, car adapter, or even a solar USB charger. However you would charge your iPod, you can charge the Ambit.
Battery life depends on how hard you run the gps. As a standard ABC watch the battery life is 30 days. When using the gps the battery time is 15 hours with 1 sec GPS fix and 50 hours with 60 sec GPS fix. The watch always remains sealed and Water Resistant to 100M. The Ambit has more in common with an iPod than a watch. Even the way the Movescout mirror syncs between the computer and watch parallels Apple's iTunes and a iPod. That should open up a lot of endless possibilities.
How does it perform?? Let's dive into only the ABC functions. The Ambit is using a totally different sensor than the Core. It finds its altitude quicker and doesn't bounce up and down as much. I set the altimeter to a reference of 997ft. I then would run up and down three flights of stairs in my house. The Ambit changed as fast as I could move and when I would stop half way up, the Ambit's numbers would stop. It was like it was locked into a gps signal but it wasn't.
The set up is similar to the Core but with many more features to set. The Altimeter now has a 12 hour graph. The Barometer graph is 27 hours long. Like the Core, the Ambit has an Altimeter profile for hiking and telling the altitude. A Barometer profile that tells the weather trend and a automatic profile that lets the watch decide the correct profile for the activity.
The compass is another major upgrade. The compass no longer has to be held flat and still for a correct reading. It has 3D compass which allows for readings on the move. The temperature reading still has to be removed from the wrist for accurate readings without your body temperature effecting it. A side benefit helps keep the Barometer more accurate knowing a approximate temperature internally.
Now the big news,..The GPS. The Ambit uses the latest SiRF star IV technology. Cold lock up times were very fast and compatible to my cars Garmin Nuvi 3490 at 14-20 seconds. After that lock-up times were almost instantaneous. Lock-up times inside my 3 story brick house on the first floor is 3 seconds. That's about as good as it gets and is outstanding on a wrist gps.
In car performance on the wrist was just as good. The internal memory holds 100 waypoints that can be set on the watch in real time or in the Movescout program. It is very easy and intuitive. Perfect for marking your parked car before entering the woods and then mark a few landmarks along you days journey. The watch has a long list of icons and preset labels that can be personalized more detailed if you like.
The Ambit has custom profiles that Suunto calls "training logs". A training log is a custom set of priorities you design your Ambit to do. The possibility are endless.
As you can see by my pic I set my Ambit up for ATV riding and any motorsport that looks and locks onto the gps signal and records a waypoint every 1 second. A general Hunting stopwatch timer that mirrors features similar on the Core like altitude, etc...but doesn't look for a gps signal. Trekking that looks for a gps signal and marks a waypoint every 60 seconds. These are very very basic exercise modes I have designed on Movescout. I cant stress how many options and tasks you can custom tailor and store as a "exercise log" in your Ambit.
I am going to wrap this review up because I could go on and on with the features of the Suunto Ambit. Remember many new features will be released as firmware updates for the Ambit like storm alarms, count down timer, and who knows what else??? At the time of writing this review, the Ambit Black was getting very hard to find,... The MSRP is $500 for the Ambit a $550.00 for the Ambit with the additional heart monitor. You can always buy the Suunto heart monitor at a later date. It is a standard Suunto accessory and your Ambit will link up with it in under a few seconds. I purchased mine at "CleverTraining.com".
Suunto is currently asking what features its users want at Ambit@suunto.com. This shows the company has great plans for the Ambits future. It's an exciting and brand new world for Suunto and the Ambit. It could be Suunto's most significant watch and is certainly their most complex and versatile ABC/GPS Navigation/Training watch.
Source: bought it new
Price Paid: $500

I recently purchased this watch for a hunting/trek in August. I was not disappointed. This watch is perfect for any outdoor person wether an outdoor adventurer/military/law enforcement. The watch is easy to use and compare to several other outdoor watches this watch super-cedes all. It is large, the buttons are easy to use and it took me about 2 days to master it. It has a gps, barometer/altimeter, several countdown timers, can change from a black face to grey face. Overall I'm using this watch over my other outdoor watches. It has not failed me yet.
Pros
Big, easy to use
Mil spec I think
Outdoor adventurist dream watch
Tons of efficient buttons for gps, altimeter/barometer
Tactical black with nice rugged wrist band
Heart rate monitor
Suunto warranty, this watch rocks!
Cons
Rechargeable- lasted me 9 days without a recharge
Middle button can interfere with hand if you got a fat wrist
I recently returned from a 7-day hunting/ trek in the Trinity Alps. I purchased this watch because I heard about it on a website. When I got it I was amazed by everything detail that Suunto provides. The watch comes in a awesome box that is geared to anyone who has any type of outdoor background. It is stylish, set up is easy and once charged and place on your wrist you're gonna love it. I mastered the watch very rapidly within 2 days without looking at the manual.
I am sort of a gear junkie since I was in the military and love proper gear that works! This watch does everything from temperature readings, compass, night readings with two types of screens. You can have the grey screen or tactical black screen. I love all the features. You can plot gps points and accurately get back to you points of interest.
This watch is water resistant and when you have to jump in a lake to clean up you don't have to worry about it not working. This watch is dependable and trust worthy. If you have a fat wrist like I do you will find out that the watch will slightly rub and press the middle button. It can be overcome by pressing the locked button.
Overall I buy the beat gear. I don't settle for cheap but I do shop around to get the best quality products because when you are roughing it in the mountains and have to rely on your gear you should only settle for the best.
Source: bought it new
Price Paid: $348 and worth every penny spent!

Your Review
You May Like
Specs
Price
MSRP: $550.00
Historic Range: $174.93-$550.00
Reviewers Paid: $348.00-$500.00

Weight
78 g / 2.75 oz

Recently on Trailspace