Suunto M-3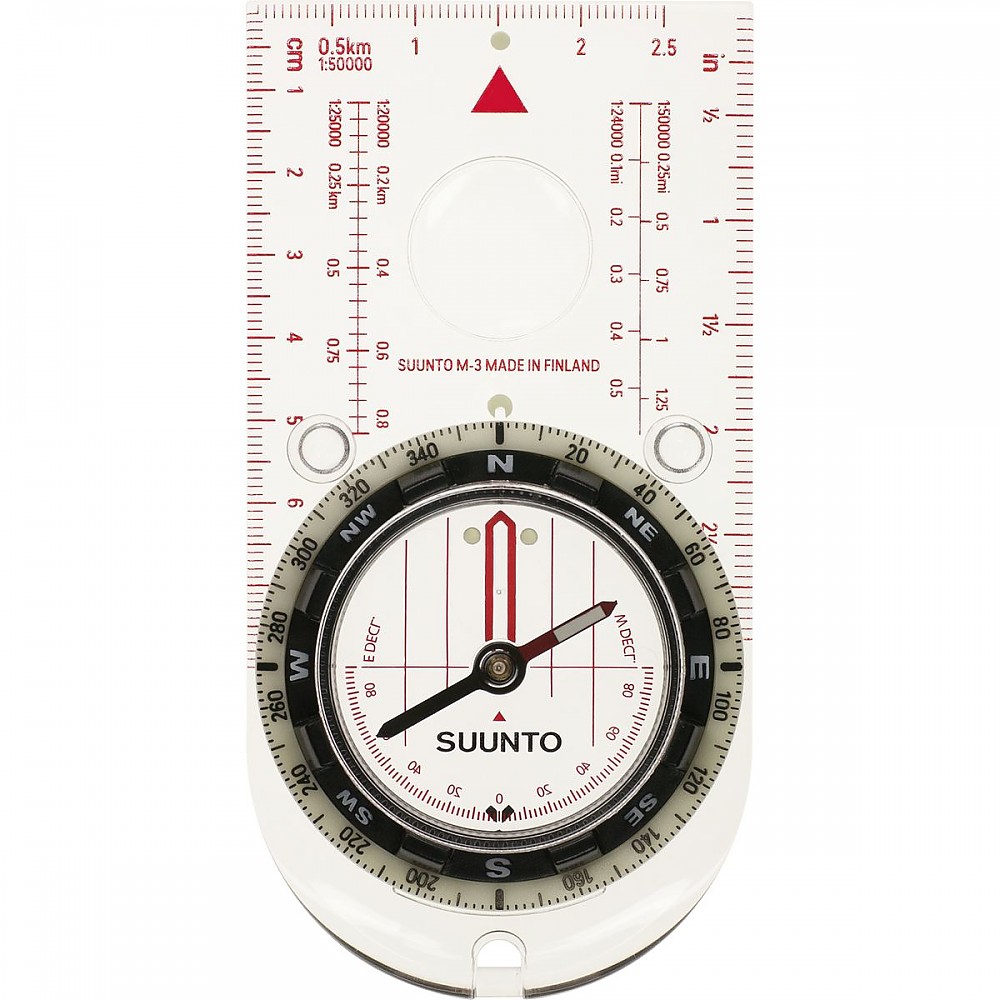 The M-3D is a great tool if you understand how to use it. Don't go in the wilderness without practice, and maybe one day it will save your life.
Pros
Light weight
Waterproof (will not float)
Large magnifier, templates
Large rotating dial
Cons
Need tool to adjust
Lanyard
Global needle
This review is for day hiking, but can be used on multiday hikes. I have read Be Expert With Map and Compass and felt after I read this book I was an expert. Wrong! I bought the Suunto M-3D, maps, and now I have my 10 essentials.
I have used this compass now for a few years. At the beginning I thought I needed a compass that was .5 degrees accurate, but this is a waste of time. The M-3D has 2 degree increments which you can split to 1 degree, but this takes a lot of practice and most of the time if you're within 2 to 5 degrees you are doing great.
I found that three-legged compass walk a great test on my ability. This test was to place something on the ground and walk a number of steps, then turn 120 degrees, walk the same amount of steps, turn 120 degrees walk and pick up what you put down (triangle). I perform this about 10 times and notice that I keep right of my original spot.
I was ready now for a true test. I put my reading glasses down and went on 100 meter legs, when I look down guess what, my glasses were gone. I found them to the right approximately 10 meters away. I found out that I was not being careful reading the compass. I now make sure that my feet are pointed in the direction of travel and lift the compass from chest level to eye level two or three times to make sure I pointing correctly at my target and make my final adjustments.
The base plate is great for quick readings, the front is straight, and the back is pointed which will allow you to orient it easily. The base plate has enough scales for wilderness navigation with 1/24000 front, behind that scale is 1/62500, the sides have inches in 1/16 scale and cm on the other side. The base plate also has two rubber feet which are great when using maps, it doesn't slip that much.
The magnifier is larger than most other compass I look at. This is very useful when reading your maps. I used the compass in the field with maps and a known trail I use all the time. I found landmarks and oriented the compass in the direction of the landmark, put it in my pocket and now I knew where I was on the map, and realized how powerful the compass is when used with a map. I practice three more times, I also did some bushwhacking to gain more confidence. I should also note that I did set my declination which is 13 degrees west, it has setting from 90 degrees west to 90 degrees east.
Now for next test, I call this the peanut butter and jelly moment. The next time I went on the trail it was foggy, I would estimate you could see 200 to 300 meter. I had my GPSR and mark my base position (my truck). Then I went down the trail 6 kilometers and then turn up a 1,000 foot hill 3 more kilometers and turn on my GPSR and found my waypoint, got my bearing to my truck and set my M-3D. I turn off the GPSR and found trees, rocks and other landmarks using compass to follow bearing, going from one landmark to the other. I also had a map of the area and could follow my trek. I found my truck bushwhacking with no problems.
I would also like to say you should only go on the trail with waterproof maps. I didn't this time and it was a big mistake, the paper got wet, but I could still use the map. I will not take a map in the field anymore unless it's waterproof and with UTM.
I found after I learn to use the M-3D correctly, I'm still learning and I will not go on the trail without it. I have added two more books Outdoor Navigation with GPS should say GPSR and GPS Made Easy I would like to say that if I'm with in 1 kilometer of my target I'm happy and anything else I consider a bonus, it's the wilderness not the city.
Pro: Light weight, waterproof (will not float), large magnifier, templates, large rotating dial saves batteries on the GPSR
Con: Need tool to adjust declination, glow in the dark doesn't last long, lanyard, ruler may not be long enough. Global needle.
Source: bought it new
Price Paid: $30

The Suunto M-3D Leader Compass simply meets my detailed traditional requirements! Here is why:
1. A reasonably long, transparent plastic base-plate for pointing the compass at objects in the field and for joining points on the map and it has a prominent index mark indicating the direction of travel. (The three little rubber feet help you use the edge of the compass to find and draw your bearing on the paper map.)
2. A big rotating compass needle housing marked in two degree increments. The housing has a transparent base which is marked with true north-south meridian lines which, together with the long compass edge, form a protractor for use on the map. (With one exception, the base plate compass is a protractor when it lies on the map - the needle is disregarded. The one exception is when the housing is dialed in to true north and the compass is placed on the edge of the map to orient the map in the outdoors, to north and south using the magnetic needle.
3. An adjustable "north indicator arrow" (the red shed), which is set independent of the true north-south indicator lines. Your compass can be adjusted for the magnetic declination in your area!
You make your adjustment by turning a "micrometer" screw on the bezel, accurately setting you current declination to one degree using a separate scale marked on the reverse side of the bezel. This virtually eliminates dangerous math in the field. (The 30 year old Silva Ranger was, for many years, the only compass to have this special feature.)
4. The compass needle is designed for specific locations of the globe (M3D is designed for North America) and liquid dampened to slow oscillations and allow fast accurate readings.
(Compasses designed for other areas of the globe may suffer drag from "needle dip".)
5. The big rotating compass housing dial is marked in 2 degree increments, from 0 to 360 degrees, clockwise (an azimuth compass).
(Beware the engineer's "quadrant" compass marked in 90 degree increments which requires lots of dangerous math in the field)
6. The base plate edges are marked with mile (and meter) scales based on the USGS 1:24,000 quad map scale.
7. It has a base plate graphic marked with a scale for the 1:24,000 UTM/UPS (military) 1,000 meter grid system squares.
8. It has a magnifying spot for your bad eye.
9. The base plate is ergonomically rounded at the back end that is held in the hand (to discourage attempts to hold the compass backwards) and an adequate hole provided for a waist length lanyard to go around the neck (beware of choking!)  The lanyard should also hold your loud plastic whistle, near your mouth. Lose the shorty red cord!
10. The Suunto M-3D Leader Compass compass is simple, well designed and made and light weight.
Price Paid: $34

Love this compass.
This compass gives me everything I need and more. It is a great mid range compass for the cost and you get great quality. This is the compass I have in my pack.
Source: bought it new
Price Paid: $35

Your Review
Where to Buy
Help support this site by making your next gear purchase through one of the links above. Click a link, buy what you need, and the seller will contribute a portion of the purchase price to support Trailspace's independent gear reviews.
You May Like
Specs
Price
Historic Range: $7.93-$199.00
Reviewers Paid: $30.00-$35.00

Recently on Trailspace