Suunto MC-2G Navigator

Top 25 in Handheld Compasses
The MC-2G Navigator has been discontinued. If you're looking for something new, check out the best handheld compasses for 2021.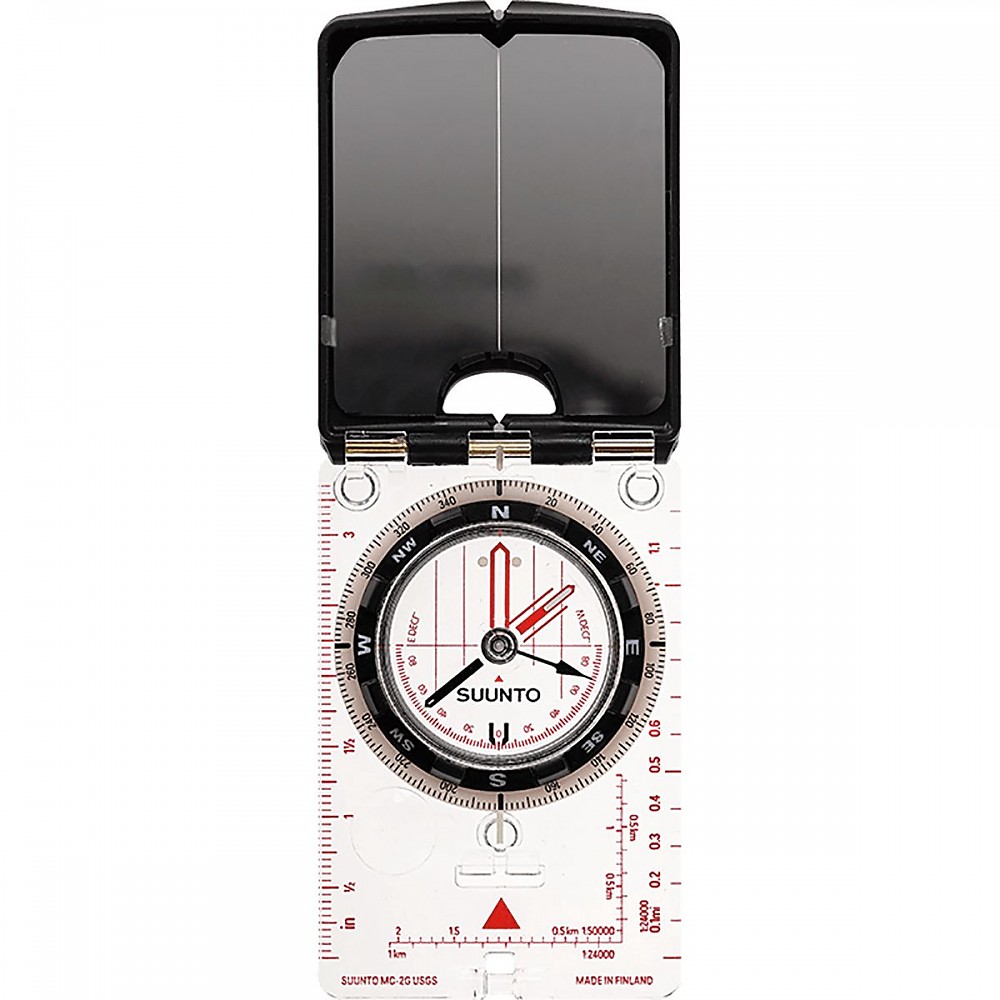 Specs
Price
Current Retail: $69.59-$95.00
Historic Range: $54.95-$95.00
Reviewers Paid: $50.00-$64.00

Reviews
5

reviews

5-star:

3

4-star:

0

3-star:

1

2-star:

0

1-star:

1
Nowhere near the quality of my mid-1990 Suunto. The lid closure is too tight, putting a lot of strain on both the lid and the baseplate acrylic lugs. Poorly etched base plate markings will not last long. Dial markings look like they have been applied by a 4 year old.

Very poor quality when compared to my old Suunto. What a shame!
Cons
Lid closure does not need to be this tight.
It's only a lid!
Love the needle. That's why I bought it.
Don't like the lid closure. That's why I sent it back. I can see this breaking the acrylic lugs. It really is that tight. Couldn't shut the the lid for nearly 10 minutes on the the first attempt. I had to force it closed and then had a job to open it again.
This is a very poor design as far as I am concerned.  This is putting a massive strain on the base plate. Over time this will stress the acrylic lugs. I wouldn't be at all surprised if they failed. 
I would say that it's not that brilliant quality. So much so I initially thought mine was fake.
Overall a brilliant concept ruined by lack of thought and cost cutting. I can't see the base plate markings lasting long. 
Unfortunately I don't have a picture as I sent the compass back for a refund. All I can say is that unlike older compasses I own, the baseplate markings seem to be only lightly etched on (if at all). Before returning my model I had a look at another one in my local hiking shop and the base plate markings were exactly the same.
I did some further digging and if you type SUUNTO MC2 into YOUTUBE there is an INVICTUSOUTDOORS review called SECOND COMPASS. This guy's markings have completely gone and it is clearly shown on the film.
It's a real shame as the idea is brilliant!
Source: bought it new
Price Paid: £62

This Suunto compass has all the features and ability to get the job done for someone with solid compass skills. Made in Finland, plus the mirror doubles as a survival tool. Also it is good in both North and South Hemispheres. Declination is easy to set. I researched a lot of compasses and am very satisfied I went with this winner.
Pros
Overalll features
Mirror
Needle
Declination setting
Calibrations and measurements on base
Made with quality.
Excellent backcountry tool. A must-have piece for off-trail navigation.
Source: bought it new
Price Paid: $64

Another high quality product from Suunto. Made in Finland, this compass shows unparalleled craftsmanship and attention detail.
I teach wilderness and marine navigation professionally and this is the compass I have all students purchase before the first day of class.
I have used one myself for almost 20 years. The other compass to compare this one to is the Silva Ranger -- an excellent tool but about $10 more with identical features.
Price Paid: $50

Just a quick review. I have not been hiking with this compass yet, but I did take it with my wife and me on our Eastern Europe vacation this past December. It proved very valuable in Prague, Czech Republic. Those streets are like a maze; it definitely kept us on track and lowered the stress level by preventing us from getting lost.
Very pleased and would gladly spend the money again for another should I lose this one.

Price Paid: $50

The needle on this thing is incredible. It's amazing the angles you can hold it at and still get accurate readings. It should work at just about any latitude, regardless of the magnetic dip. Sometimes this needle will block your view of the clinometer, though.
The luminous dial is pretty useless. You can only read the points for a few seconds before it dims. The cardinal points are not illuminated which would be much more useful.
The lanyard is too short. The slide catches, and is very hard to work. I liked the Ranger better on this point.
It lacks the tapered cover like that on the ranger, which gives you a much better view of the azimuth in the mirror. This makes it hard to take quick bearings using the mirror. However, it does force you to adjust the mirror to to the correct angle.
I got the metric version. I don't really care what's on the baseplate, though, as I usually use a UTM grid card for map work.
The dial has tighter tolerance than the Ranger. This makes it a little harder to turn, but less likely to get sand and debris under the dial. I actually got a chunk of wood stuck under the Ranger dial.
The reverse protractor on the clinometer is great. That combined with the extra sighting notch, make it easy to take clinometer readings in the mirror. It also makes it easier to adjust the declination screw. There's a luminous mark on the baseplate that allows you to use the clinometer marks to set the declination. This gives you a more accurate adjustment, and means that you don't have to keep flipping the compass over to set the screw.
Merging the MC-2G with the Silva Ranger would be just about perfect. They're now made by the same company, so I can't see why they haven't done it. I think the Ranger has better overall design, but lacks the features of the MC-2G. I mainly got this compass for the clinometer and the global needle. Otherwise, I'd prefer the one-handed convenience of the Military lensatic. It's a pain to turn the dial with mittens on.
Price Paid: $59.95

You May Like
Recently on Trailspace