Suunto Vector

#8 in Compass Watches
The Vector has been discontinued. If you're looking for something new, check out the best compass watches for 2023.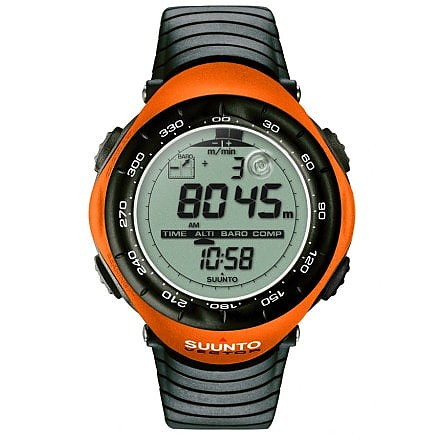 I bought this watch because I thought that as a soldier it would be a valueable asset for my job. To be honest I have been more satisfied with a basic Ironman and military compass.
The first week out in the field the watch face was so fragile it became scratched to the point I could no longer read the numbers (which when I sent it back after only owning it for 2 weeks was told it was no longer under warranty and had to pay another nearly $100)
When I got the new watch the dial fell off when I rubbed it against the refrigerator door, and now the face is scratch again after rubbing it accidentally against the wall!!! (not to sturdy)
In theory this watch sounds great but everyone I have talked to in the military that owns this watch expresses the same issues, even measurements such as the temperature are routinely off by 20 degrees
I couldn't recommend not buying this watch more strongly.
Price Paid: $245

The Suunto Vector is bomb proof! I've owned mine for about three years and I've had no glitches at all.
THE LOOKS: The piece is quite large, but I'm a husky dude so it doesn't seem abnormally big on my wrist. I have the black model with the indistinct orange bevel on the inside. Very nice and understated. If you're a flashy personality, try one of the many colors; but be advised that yes, the size of the watch, coupled with a boisterous color will make your wrist look fatter...
THE FIT: It's contoured nicely to comfortably fit on your arm; no binding, no discomfort. As a matter of fact, the Suunto Vector is so light that sometimes I forget I'm wearing it...no, really!
HOW I USE IT: I travel a lot in South America...not Hilton Hotel, first class airline ticket travel, but $3 a night hostel, sitting on a bus with a chicken on my lap travel. I'm an archaeologist so I work months on end at 13,000 ft+, and this watch has always run strong and been within 20 meters of the stated elevation on high mountain passes. The compass is also a delight, if only to show my mysterious and magical powers to the Ayamara Indians of Bolivia. They're always fascinated by my ability to be gringo that can tell north from south in the Andes...if they only knew.
I've banged this watch around and the face is still very clean. The crystal is really scratch resistant. Truly though, I've found myself beating up my watch just to find an excuse to get another one...but it won't budge. It's like an insecure friend that just won't let go. If you don't mind a watch with a bit of insecurity, a watch that really needs you, then get this watch 'cause it won't let you down.
Price Paid: $75

Great tool for any outdoor activity. On Mt. Washington the altimeter was accurate to within 10 ft. I fly in helicopters all the time and it's right on as long as you're not ascending or descending too fast. The rate of ascent/descent is a great feature also.
The compass is accurate but a little bit of a pain to use while the watch is on your wrist so I use it as a back up. The barometer is nice to have if you're going to be away from civilization for a while and need some info on possible weather. It's a great tool, at a great price, if you're going to be wearing a watch anyway.
Price Paid: $149

This watch rocks. I bought mine about two months ago and now I feel naked without it on my wrist. Sure I don't use all the functions every day, but it's nice to know they are there when I need them. The best thing is the watch is almost indestructible.
Price Paid: $83.99

I hate to say it, but I have had nothing but trouble with my Vector. I purchased the watch in OCT/NOV 07 and by JAN 08, I was already cursing and swearing up a storm.
To my absolute horror after getting out of the shower one day, 2/3's of the interior under the crystal was full of water. Shortly thereafter, the watch itself began to display a whole cacophony of symbols and various intensities of each of the icons.
I thought to myself "Self, maybe you should get a new battery." So I did, and the watch lasted another 4 weeks, then died. Repeat that process one more time, and that is where I am today.
Now, perhaps I made the mistake of buying the watch through a company who's name rhymes with Shmamazon. I even contacted the outdoor company who sent the watch through the on-line company. They were very helpful after the first e-mail, but I have heard nothing from them for nearly 2 months. I am not exactly in a position where I can mosey on over to the nearest Suunto dealer.
I had looked forward to my new watch, but instead have a nice little paperweight. Looks like a G-Shock or Timex in my near future.
Price Paid: $160

As one of the first buyers of the Vector (back when Suunto had maybe 3 watches in their lineup), I've drooled over many of the newer Suunto watches from the X-lander to the current Core. However, I just can't justify the new purchase because my Vector fails to break down!
People have gotten accustomed to seeing me with the huge yellow watch on my wrist because I never leave home without it. It's probably logged over 2000 days of use and it's gone through intense cold, heat, water, dust, etc. The only issues I've had are very minor. The bubble has disappeared and the logo has rubbed about. That's about it.
The watch is pretty much indestructible and as an added bonus, spare parts are plentiful. This year, I finally changed the wrist strap and battery cover because they were showing signs of wear. I guess I'll have to wear this watch for another 5+ years.
This is an outstanding watch! Accuracy is A+ and very durable! What makes this watch so great is the simplicity of use! A great watch at an even better price.
Price Paid: $250 CAD

Your Review
You May Like
Specs
Price
MSRP: $199.00
Historic Range: $100.00-$229.00
Reviewers Paid: $75.00-$245.00

Weight
54 g

Recently on Trailspace