Suunto X9i

The X9i has been discontinued. If you're looking for something new, check out the best gps watches for 2023.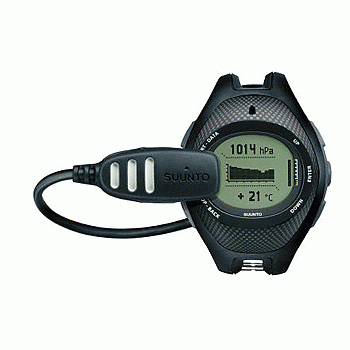 I have owned two (2) X9i watches for several years which I purchased when on a cruise. After a couple of years the wristbands started to break and chip. Wristbands on the watch housing are made out of rubber.

Every year afterward the wristband started to chip and break more frequently. Paying the amount for two watches you would think the rubber parts of the watch would last more than a few years. I recently called for service and the service dept. said that it would cost between $45-$65 to replace the wristband at a service center.

I feel paying this much for this model watch, why should I pay for a defective wristband?
Pros
Software package is good
Comfortable to wear when the wristband is not broken
Cons
Rubber wristband and housing. Wristband needs to be replaced at a service center
Wristband needs to be replaced with newer style.
Spending a lot you think most of the time is getting a total quality product. Guess what? At times you "Get What You Pay For".....
Source: Bought on a Cruise Ship while on a cruise...

In 3 years of usage while sailing the Atlantic and Med. the face has separated from strap, strap loop has broken twice, strap broke once.
GPS is almost useless, by the time you do get a fix, the battery will be just about empty, and fix is never where my on board GPS tells me we are, close, mostly within 10 NM, but that's a lot when you need it.
Instructions are not very clear and help on the website seems to be almost impossible, I get thrown out of the system always before I am done writing the question.
It tells time pretty good, compass is reasonably accurate, barometer works, temp. gauge is of no use while wearing the watch.
Work hours for Suunto US seems to be whatever... "Thu afternoon we are in a meeting" Fri morning "we do not work on Fri"!!!
Price Paid: $439

This is a piss poor product. The GPS on this watch is extremely bad. The only reason I bought it was to aid in running, however it does not perform as described. Trees or not this watch should produce somewhat of a signal. It has only worked once over 50 attempts in many different locations.
Look at other alternatives...
Price Paid: $250

I wore a cheap Casio G-shock for over 10 years with while on active duty and never had a problem on Airborne operations, fast roping, mountaineering etc..
I bought the X9i from an authorized dealer in Kabul Afghanistan at the ISAF KIA PX primarily for the GPS capabilities.
Within 10 months of NORMAL use the watch face broke and became detached from the right side of the watch.
I called the international customer service number (50 USD) from Afghanistan and they told me they would send a replacement part to my home address and that I could personally repair it by watching a video on their website. They never sent the part, and I had no luck finding this reported video either.
I tried to do a Customer service request but it's not available to Afghanistan. So I have to send my watch back to Alaska to have my wife send it to Suunto via DHL. Then it gets sent back to her so she can ship it to me here at Camp Eggers. DHL is 8 dollars both ways and I incur what it cost to send and receive to and from Alaska to Afghanistan.
As a soldier you could find yourself anywhere in the world and you need a watch you can depend on and if necessary get repaired without all the red-tape.
Additionally you would think Suunto reps would realize that the user guide specifically states what the International Suunto help desk told me to do constitutes "Unauthorized repair".
The watch band is also aggressive and too small for most wrist. The watch comes with an extension band that when utilized makes the watch very uncomfortable.
The GPS isn't working properly as the watch face is broke.
I paid over 400 dollars for this watch (which is a lot of money for me). I would have been better off keeping my G-Shock on my wrist and my Magellan GPS in my cargo pocket.
My interpreter is happy though, he is sporting a 10+ year old G-shock that I gave him when I bought the X9i. My biggest complaint is the product is not durable and Suunto's customer service is intentionally restrictive and not worthy of the prices they command for a sub-standard product.
I do not believe I should have to incur the run-around to get this watch repaired, they won't accept the watch from US Postal Service (registered mail) and they want money from me when it wasn't me that failed (I paid 400+ USD). The product failed me.
I would not recommend Suunto products to members of the US Armed Forces. Buy a G-shock.
J. Ryle, 1SG USA Retired
Price Paid: TOO MUCH

I wanted a wrist mounted GPS unit that I could fall back on to tell me where to go in poor weather when out in the mountains, and that I could use to download where I'd been when out mountain biking, skiing etc.
My first comment is that the product is extremely difficult to use. In an era when most people have grown used to fairly intuitive products this one fails dismally. In consequence I had to read the manual quite carefully to get the thing to work. Then I read it again, convinced that I must have missed something when it failed, categorically, to track my movements when out running. It seems trees are a problem, bushes too can be a bit tricky, in fact simply holding the unit on its edge appears to cause it to loose signal.
If it was just a matter of loosing signal however I would simply describe the X9i as junk. Mine logs random locations while it is supposedly tracking my position - if you genuinely tried to follow its Track Back feature based on a stored route it good quite literally guide you over the edge of a cliff.
As a navigation aid this product is dangerous DO NOT WASTE YOUR MONEY.
Why did I give it half a star? - The clock seems to work OK.
Price Paid: £200

As an altimeter, this functions reasonably well, but I agree completely with the comments about the GPS function. It is just not worth the extra money, works very badly and hammers the battery.
It has the user-interface from hell, with the manual badly translated from the original Korean! Satellite acquisition is systematically poor and very slow and very flaky when on the move.
It is totally unclear how one is supposed to setup the unit for use with French/German or most other maps, while trying to get help on this question from Suunto is like trying to swim in treacle. They will make vague references to Positions, datums and god knows what - all I want is "to get it to work in France, do this, then this, then this and it will match the grid on IGN maps". Not a badly given and largely incomprehensible lecture about map-projections, geodesics and who-knows-what.
The most basic thing that I would want to do, with 1 or a couple of button presses is to find out "where am I?". No straightforward way to do that at all. Tracking-back, following routes - who needs it - I'll carry a map anyway, just tell me where I am on it.
Also, what is the reason that the activity function requires the battery-killing GPS to be on? It would be very useful to have a record of ascent/descent, without needing GPS (which doesn't really work anyway).
In concept, this is a very, extremely cool device: GPS with markable waypoints, barometer, altimeter, thermometer, plus every watch function you could ask for -- all on your wrist in a standard-sized watch format. Mine happens to be the X9iM, which is the military version (identical except the backlight is red so the baddies can't see you use it at night).
The trouble is, the rubber doesn't quite meet the road with this one. Sat link is very poor -- decent in the outdoors so long as there are no trees (Oh, wait...trees in the outdoors could pose a problem, couldn't they?), though when it links it is accurate. The activity feature is a cool idea too -- if only it tracked well (again, probably poor due to the lack of continuous lock on ability).
It is modestly water resistant. Add to that the excellent wristband that allows you to wear this over your sleeve (even a jacket sleeve!) and it's very usable in terms of it's being where you need it when you need it.
Although this isn't very useful in the outdoors where it was intended to be, I have found its special niche is at cocktail parties. Try this line out with the cocky types who like to flash their fancy gold or platinum Swiss whatever brands in everyone's face: "You paid HOW MUCH for your Rolex/Breitling/Omega/Patek and it only tells time? How very 19th century of you. Here's what a real watch can do..." and see Mr. Flashy type get all flustered with envy...
Price Paid: $480

The GPS unit is next to worthless. Avoid this product like the plague!
Price Paid: $400

The watch is an excellent idea poorly executed.
Bad points:
-Clunky interface compounded by hard to press buttons
-Flaky battery (doesn't charge completely), erratic battery level indication
-Inefficient use of display / no flexibility in how/what is displayed
-Inaccurate for speed/distance at low (walking/biking) speeds (sometimes shows as much as 2X distance actually covered)
-Included PC software clunky
-Reliability issues - time reset itself once, alarm sometimes doesn't go off, activity log corrupted once.
-Uselessly quiet alarms
Good points:
-It's a wearable watch sized GPS :)
-Good navigation utility, reliable GPS tracking and quick acquisition once "warmed up"
-Solid construction
In summary, it is a useful tool for special applications. (I am in the military and also a private pilot, and the utility outweighs the cons for me).But other than that a traditional gps at half the price is a better bet.

Price Paid: CAD 550

It does not stay linked to the satelites. It's hard to use. Awkward to use. The software is not practical. The National Geographic software upgrade is ok but still not very practicak. It's a very expensive toy. I do not see any reason for anyone to purchase. If you need a GPS, this unit will get you in trouble. If you don't really need a GPS, then why spend $500.
Price Paid: $500

Save you money—poor manufactuer support!
Cons
Was made to create Suunto with continuous profit
This GPS device was made to support the Suunto brand directly by not providing their product through general retail outlets, and to make the product sealed, preventing customers changing their own battery.
This device must be sent to the local national Sunnto-owned and operated office for battery change. This product is priced-fixed through Suunto authorized dealers only. A MAP price is forced on those Suunto-authorized dealers.  They are not allowed to advertised discount prices of the Suunto product they own.
Avoid the Suunto brand until the current owners of the Suunto brand become more honest and value you the consumer.
The plastic bodies break easy under real outdoor wear! Consider buying a more substantial and properly purpose-designed personal instrumentation like a high grade Swiss Army brand watch, and enjoy a lifetime of durable rock-pounding surviving and low wear mark enduring appearance of superior Swiss stainless steel.
If you need to wear an altimeter, look at the Casanova Sun Co analog altimeters, and watch for new more durable wearables made with metal bodies. Avoid the retail gimmicky products. They are designed to appeal to buyers and generate profits with little or no consideration for real wilderness use conditions.
I owned this model, and others. The outer shell came off, button cover failed, and the battery never held a charge long enough during a day to use for real time navigation tracking. Suunto USA refused to cover the problems no charge.
Source: bought it new
Price Paid: $200

I'm quite surprised by the other comments. I have used this X9iM version for some time now in the great outdoors and it has been superb.
Its only downfall is the time it takes to get a cold fix if it hasn't been used for quite a while. It took 5 minutes to fix four satellites after no use for 10 months, so not really that bad. It keeps its lock well and has been accurate every time when comparing to a map also carried.
Mine was a gift from friend so I can't complain, but I enjoy using it.
Price Paid: Was a gift

This thing is just great. If you spend some time with the manual and the PDFs on the CD (or read http://www.wmin.be/sport/X9i/SUUNTO%20X9i%20Achieving%20Maximum%20Performance.htm)
you will have a new friend for life. GPS is very accurate, speed and position too.
Price Paid: $500

Your Review
You May Like
Specs
Price
Historic Range: $213.92-$499.00
Reviewers Paid: $200.00-$500.00

Recently on Trailspace