Sven Sven-Saw 21UL-2 Folding Saw

#2 in Camp Saws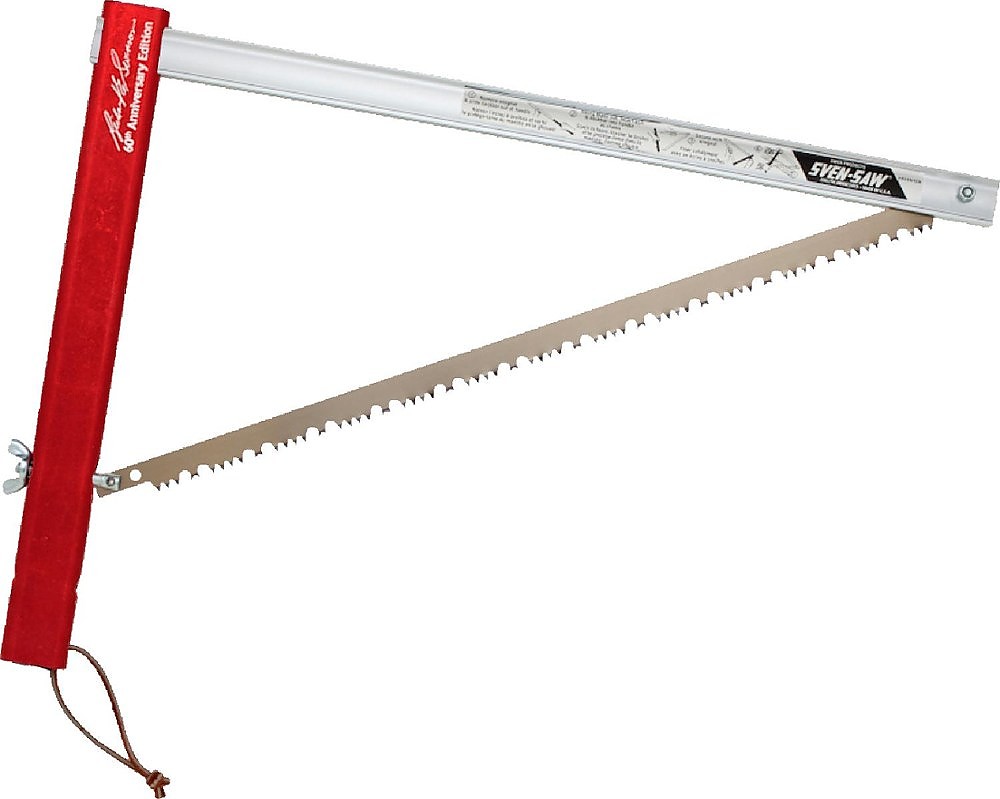 Great tool for the money and weight.
Pros
Light
SHARP!
Compact
Easy to assemble/use
Cons
No sheath (limited aftermarket options)
Sharp corners
Easy to lose wingnut
Bought this to replace a foldable saw that was really not much more than a toy. The Sven saw, OTOH is a viable tool for anyone who needs light weight and a self stowing package (saw collapses into the red handle you see in the picture).
At 21" you won't be lumberjacking, but cutting up limbs and trees up to about 8 inches in diameter is very realistic. The blade is SHARP, goes through pine like butter, and harder wood very effectively. We use this saw during our yearly BWCA excursions to avoid carrying a hatchet (the most dangerous tool in the woods next to a dull knife).
Deducting a half point because it's ridiculously hard to find a sheath for this saw that doesn't cost almost as much as the saw itself. I ended up using an extra long machete sheath that I purchased on Amazon for about 6 bucks, and it works fairly well after a few modifications. IMO you will want a sheath if you plan on carrying this saw in a pack, as it does have some sharp corners that could abrade or puncture fabric if you weren't careful in stowing it just right.
Another half point deducted for the weak point to this tool is the wing nut, which is fairly small and very easy to lose. Once lost, your saw will not be very useful if you don't have a spare nut.
Carry a spare wing nut, use gloves, and you should be very satisfied.
Source: bought it new
Price Paid: $29

Ever see a camp gadget that you just had to have? If not, then check this saw out, by far the best saw on the market. Had mine for over two years and it has never let me down.
Pros
Lightweight aluminum
Blade folds into handle
Strong Swedish steel blade
Mostly made in USA
Cons
No sheath
Wing nut easy to lose
24 inches long when folded
I first saw this saw on a backpacking trip to Panthertown Valley. I used my swiss army knife for years. I normally go by the "burn nothing bigger than your wrist" rule. But after seeing this saw in action, I knew I had to have one.
It easier to use than a traditional bow saw. At 1lb 1oz it's lighter than a bowsaw. And the Swedish steel blade is super strong. The 21 inches of blade cuts fast and effortlessly, unlike my old bow saw. Quick and easy to set up and use. I wish it came with a sheath, the corners were a little rough on my old pack.
Many a scout has used it and people at quite a few shelters along the Appalachian Trail have thanked us for helping cut the firewood for them. One trip we were at Deer Park shelter near Hot Spring, N.C. Two of my older scouts raced—one using my Sven saw the other using a big bow saw. The Sven won every time.
In my opinion, this is a must-have tool for camping.
Source: bought it new
Price Paid: $40 or so

A must have for every camper!


Pros
Lasting durability
Simple, form follows function
Effective for size and weight
Compact
Cons
Doesn't do the cutting for me
Quality, usable, sustainable product. I have owned this saw for 30+ years, using it consistently on hiking, backpacking, car camping, canoeing, and kayaking trips...along with yard pruning. I am still on the original blade, which has retained its sharpness despite my abuses.
I have not lost the wingnut at any time, though I have fumbled and dropped it on occasion...yet I don't see that as a weakness or con.
Early on, I inadvertently backed over the saw with my truck on one occasion, much to my horror. It was open and quite bent. I straightened it the best I could, used a flat blade screwdriver to spread open the aluminum blade housing...and it continues to serve me faithfully.
Though not recommended, I have used this saw to cut very large diameter deadfall...just working my way around the log. I have no negatives to share regarding this saw...other than I bought a spare blade 34 years ago when I purchased the saw...and have had no need of it to this point.
Source: bought it new
Price Paid: REI back in 1983

Pros
Light, for a saw
Easy to pack
Durable
Chews through firewood fast
Very affordable
If you want to take a saw backpacking, this is a fantastic choice. I usually leave it at home for warmer trips, but during the winter it's a great tool to have for cranking out large amounts of firewood. It'll chew through 4-5" logs easily, and if you're patient, you can cut down entire (dead) trees with it.
It collapses down to a long, slim tube that's easy to pack, and setup and breakdown is a quick and easy process. It's way lighter than most hatchets, and you can produce much more wood for the same amount of work.
I've had mine for 2+ years now, and the original blade is still working well. I have yet to see a better collapsible saw. If it ever breaks (I don't see that happening anytime soon) I'll happily buy another.
Source: bought it new
Price Paid: $30

Your Review
You May Like
Specs
Price
Current Retail: $40.95-$45.00
Historic Range: $32.95-$45.00
Reviewers Paid: $29.00-$40.00

Weight
17 oz

Folds to
24 x 1 3/4 x 5/8 in

Recently on Trailspace