Swaygo Push Pack

Top 50 in unisex Daypacks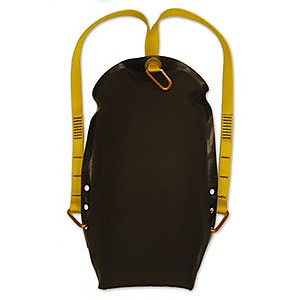 Specs
Price
MSRP: $109.00
Reviewers Paid: $79.00

Weight
20 oz / 570 g

Volume
740 cu in / 12.1 L

Dimensions
25 x 14 x 4 in

Material
840-denier, balanced-weave nylon, polyurethane impregnated and coated

Reviews
1

review

5-star:

1

4-star:

0

3-star:

0

2-star:

0

1-star:

0
The Push Pack by Swaygo is a completely waterproof, nearly indestructible day pack that proves once again that anything big companies can do, cottage manufacturers can do better. The Push is ideal for cavers, canyoneers, white water rafters, and anyone in need of a durable, waterproof pack.
Pros
Waterproof
Durable
Easily repaired
Can be worn, dragged, or pushed
Made in the USA
Cons
I always seem to want a bit more room
Not as adjustable as some cave packs
A recent article in Outside Magazine inspired this review. Outside ranked the "best" waterproof packs. Swaygo's line were not included in the list—cottage vendors are rarely acknowledged by trendy mags. In fact, the last pack in the list was described as slightly "less waterproof." Uh? Less waterproof? There is no degree of waterproofing. Either a pack is waterproof or it's not.
The Push Pack is waterproof. Period! I have spent seven years dragging this pack through some of the nastiest water passages in the United States. I have even used this pack as a float through deeper water (When you swim with boots on, you appreciate any buoyancy you can get!). In an emergency, you could haul water IN the Push Pack.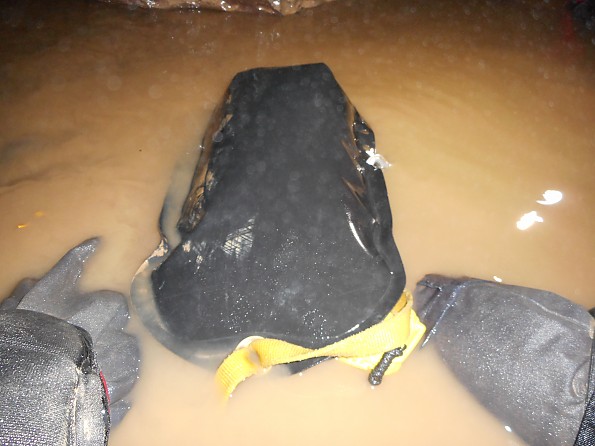 Floating inside my Push are spare headlamps. batteries,
food, and warm clothes. I have no concern that they might
be getting wet.
____________________________________________

Construction & Design
The Push Pack is made out of heavy duty polyurethane impregnated nylon. Seams are sealed using Radio Frequency welding (Yeah, I had to look up RF welding too. Here's a good explanation I found on line: http://www.ufpt.com/blog/rf-high-frequency-welding/). The RF welding ensures the seams will never leak.
Pack straps are simply a single sewn webbing connected by three non-weight bearing carabiners. The two 'biners on each end of the webbing clip into the holes placed on the sides of the pack. The mid-point of the webbing is pushed through the hole at the end of the pack and the third 'biner is clipped through the bight.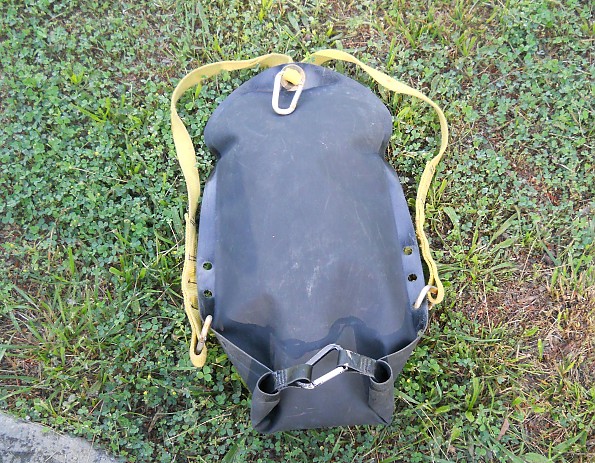 If the strap ever failed, it could simply be replaced with a piece of 1" tubular webbing tied with a loop on each end. However, after years of abuse, I don't see the strap failing any time soon (maybe if I accidentally cut it). In fact, I have never heard of a strap failure from anyone I know who uses this pack.
These keychain-type 'biners are quite adequate for carrying the pack. However, on vertical trips I substitute a couple of climbing 'biners for two reasons. First, and most likely, I can reconfigure the straps to hang my pack below me and on my rappel device, taking the weight off my body and getting it off my back in tight rappels, where I might get caught on something. Second, and less likely, I have extra life-supporting 'biners in case something happens to my primaries.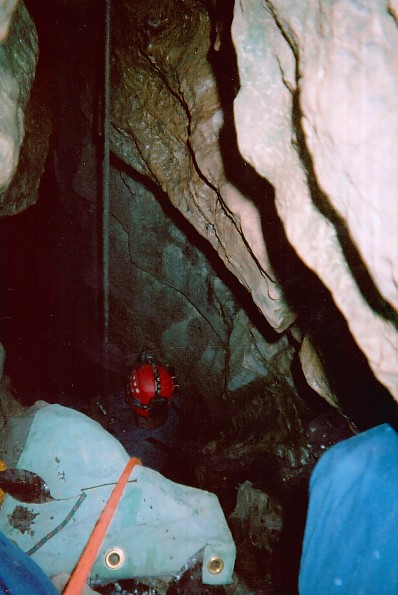 A tight rappel space where a pack hanging
off one's back might lead to trouble.
The pack is closed by rolling the opening three times and clipping the two ends with a fourth 'biner.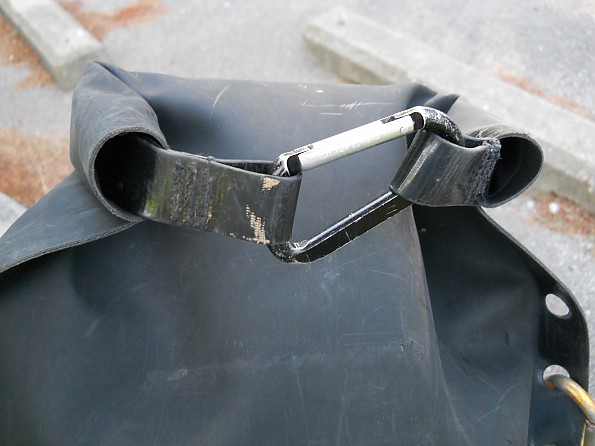 Originally, the Push came with plastic buckles. However, these were the first thing to break on the pack. After my buckles cracked, I contacted Swaygo. They said they had stopped using the buckles because of this problem, and they told me to finish cutting the cracked buckle off and replace it with another 'biner (See picture above.). This was a quick, cheap fix for the only weak point in the construction.
____________________________________________
Size & Weight
The Push Pack is the smallest in Swaygo's line, and I feel I always want more room. The Push has 740 cu in. (12.1 liters) of space in a tapered design, where the bottom of the pack is thinner and narrower. This allows it to ride better when worn (See "How It's Worn" below.). 740 cu in. is not a whole lot of room to work with.
With a bit of work, I can get into the pack a very basic first aid kit, 1 liter Platypus water bottle, lunch, spare headlamp, emergency base layer, balaclava, harness and other vertical gear. My camera is usually clipped outside the pack in an waterproof box so that I can access it more readily. However, I can squeeze it in when I'm not using vertical gear.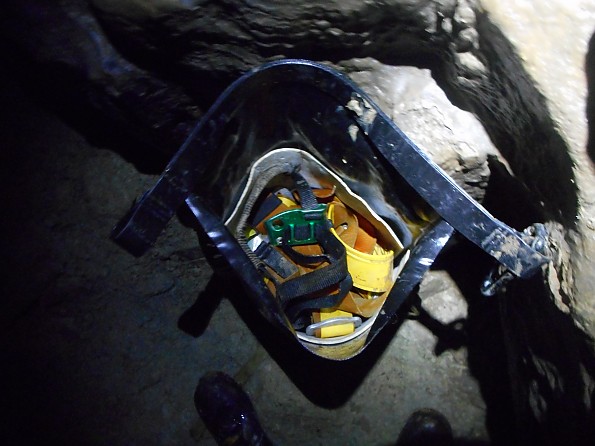 My vertical gear at the top of the pack for easy access.
If the Push is too small for your needs, Swaygo also makes packs in 950 and 1200 cu in. (15.5 and 19.7 liters).
The push pack weighs, 1lbs. 4oz. That's heavier than my ultra light, 60-liter pack. But then my UL pack wouldn't last a day in the same conditions. After all, the Push is designed to take abuse and stay completely waterproof.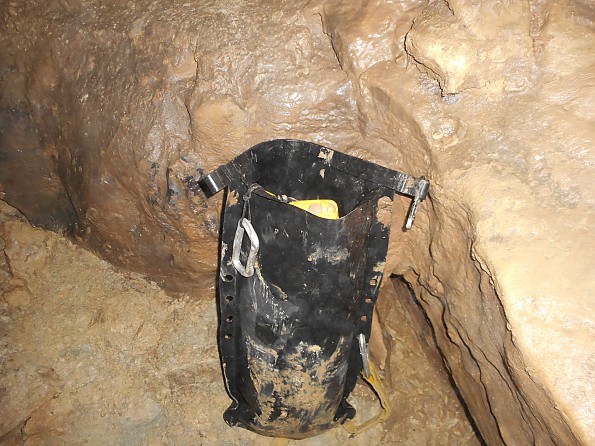 ____________________________________________
How It's Worn
The pack is actually designed to wear upside down (with the rolled closure at the bottom). Swaygo's founders discuss this on their website. One of them mistakenly put a prototype on upside, and they suddenly realized this made the pack more streamlined. I can personally attest to the genius of this approach. Having the narrow "bottom" at the top ensures the pack does not catch when moving through tight passages.
The multiple holes on the side of the pack allow the wearer to adjust how loose or tight the straps are. In addition, because this is just one strap, the wearer can adjust the pack so that one side is tighter than another. This allows the wearer to swing one arm out easier when the passage gets unexpectedly tight.
Additionally, there are entirely different ways to wear this pack as well.
I already mentioned, the pack can be hung straight down between the wearer's legs from a rappel rack.
In streams, the Push can be clipped to clothing and allowed to float along side the wearer.
In tight crawlways, one end of the strap can be wrapped around an ankle and clipped in with a 'biner. This allows the Push to be dragged behind the wearer.


This illustration from Swaygo shows a number of carry options.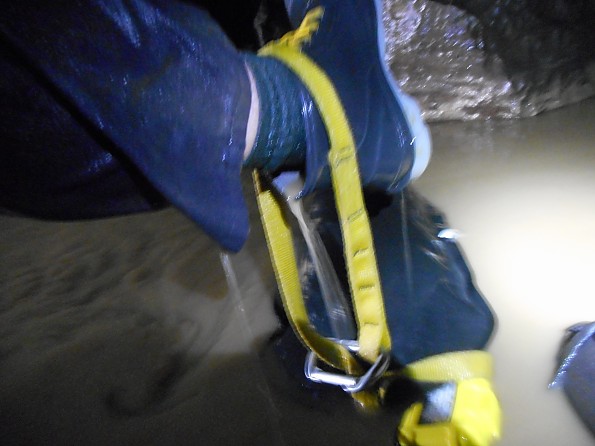 Swaygo hooked around my ankle (not tightened). Sorry for
the blurry photo. The mapped name, "Sewer Passage,"
should have been a clue on how crappy this passage is.
I was in a hurry to move on.
____________________________________________
Durability
Bombproof. That's the best way to describe this pack. I have already mentioned I have used the Push for years, and I have never put a scratch in it.
Of course, it is not invulnerable, but it is easily repaired. When a sharp rock does manage to puncture the polyurethane impregnated nylon, the hole can be completely sealed with a tube of Aquaseal. Swaygo's website gives step-by-step instructions on how to do the repairs yourself. People I know who have made these repairs state the pack is as good as new when done.
[I should mention that just two days before posting this review, I heard a first-hand report that the threads on another caver's roll top closure had failed on him in Blunder Hole Cave. When he relayed this account another caver asked the group, "Has anyone else ever heard of a Swaygo failing?" Eleven experienced cavers in the room said this was the first time they had heard of such an issue. We considered it to be an anomaly.]
In Conclusion
Unless Swaygo puts out big marketing dollars, I doubt their packs will ever be featured in trendy magazines. That's too bad. This pack is worthy of attention. I own several cave packs, and when water is involved, this is the one I grab.
Swaygo Gear: http://www.swaygogear.com/
Want to see how waterproof it is? Watch this video and count how many times you see a Swaygo take a swim.
Source: bought it new
Price Paid: $79 several years ago (Currently retails for $109)

You May Like
Recently on Trailspace