Sweetspot

Top 25 in Camp Chairs
Sweetspot is no longer in business, and the Sweetspot has been discontinued. If you're looking for something new, check out the best camp chairs for 2022.
Reviews
1

review

5-star:

0

4-star:

1

3-star:

0

2-star:

0

1-star:

0
The Sweetspot strap chair is a clever little device that allows a person to have back support when sitting on the ground, a bench, or trailside log. The design is so simplistic, it leaves the user wondering, "Why didn't someone think of this sooner?"
Pros
Provides back support
Comfortable
Packs down small (pocket size)
Lightweight
One size fits most
Another example of Cottage Industry innovation!
Cons
On my lanky, 6'2" frame, I max out the size adjustment
APPEARS uncomfortable (even though it's not)
Would like to find a multipurpose use for this item
Printed on my Sweetspot Chair is the company slogan, "Way Better Than Nothing." I have joked repeatedly on how Sweetspot's creators have set the bar pretty low on customer expectations with that slogan. However, this product is clever, simplistic, and waaaaay better than sitting in camp trying to balance yourself on a rock or sit pad!
As a facilitator of team building and adventure education, I spend several hours a week outdoors sitting quietly as my clients seek to solve the challenges I present to them. It is not uncommon for me to be perfectly still for up to an hour at a time. Before receiving the Sweetspot Chair, my options were to stand or lean against a tree. I can't carry a lawn chair with me, but keeping the Sweetspot in my cargo pocket is easy.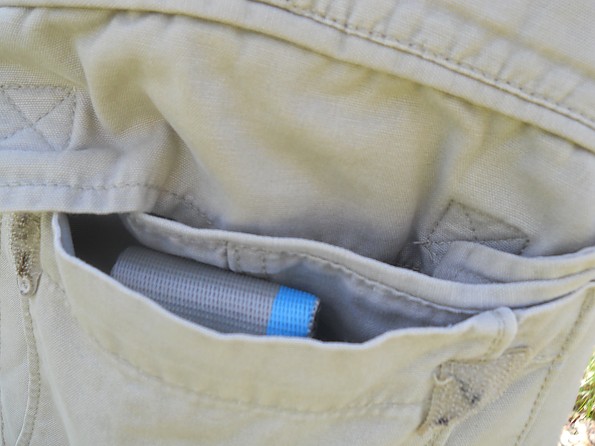 As a man with arthritis in both his knees, I have found the Sweetspot Chair in no way aggravates that condition. I can sit comfortable for long periods of time.

That is why I was very surprised when I first saw pictures of me sitting in the chair. I appear to be very uncomfortable. I assure you, this is far from the case.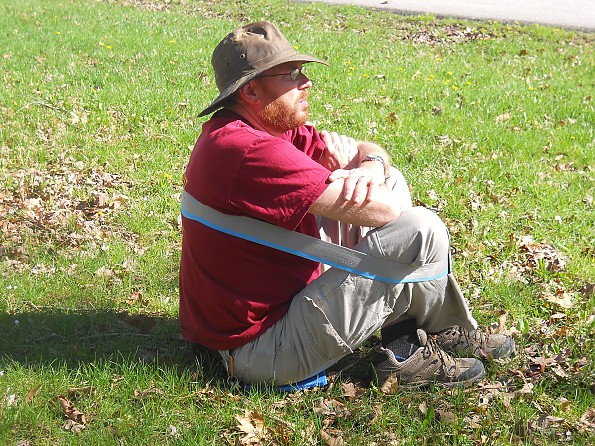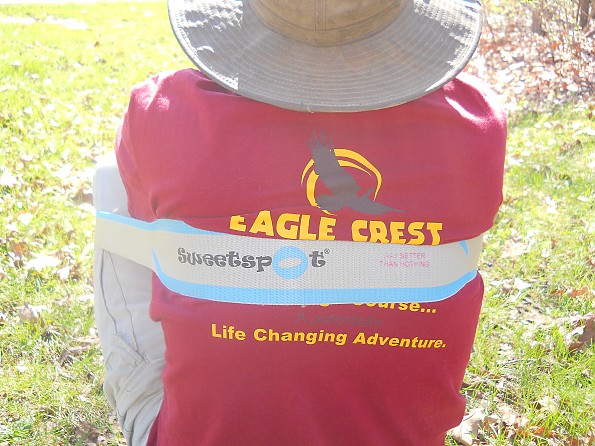 Until seeing the above pictures, I didn't realize I appear to be tied up. I have a 6'2" frame, and a 34" inseam. As such, I have to use the strap fully extended. I have seen other web photos where smaller-framed people can put their knees lower. I would love to try a Large-Tall version of this strap.
Appearances aside, not only do I find the Sweetspot to be comfortable, I appreciate that my hands are free to do what I need to do.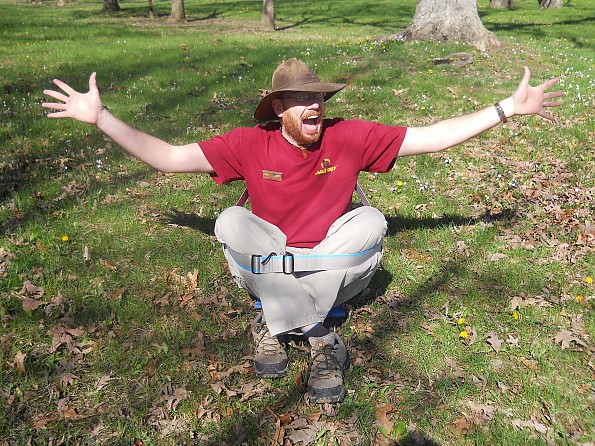 In my field of work, having my hands free allows me to take notes or look through my processing/debriefing tools as the group solves the problem I've given them. Out backpacking, one can sit in the chair and read a book, cook supper, repair gear, and etc.

The chair compacts well and easily fits into a pocket.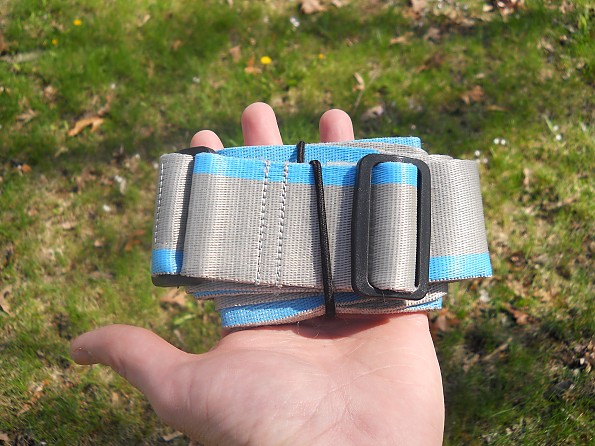 When I sit on the ground, I carry a small piece of foam pad (a scrap of Tyvek would be an option).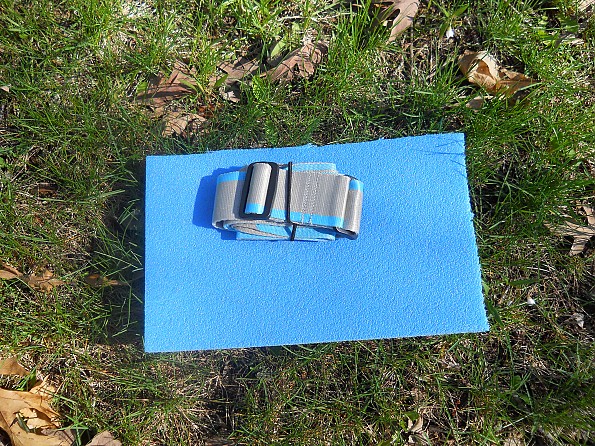 The Sweetspot also provides back support when sitting on a log or rock (or bleachers at a school game). I actually find the lower the object is to the ground, the more effective the chair feels.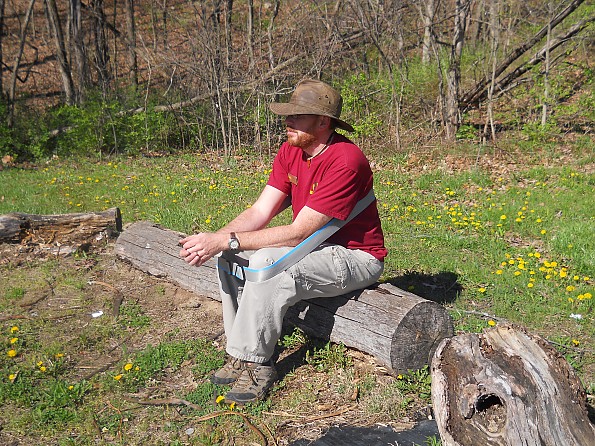 At a mere 3.4oz, the Sweetspot is definitely worth throwing into your pack. What I would like to see is a way to make this item multipurpose. I spent a small amount of time unsuccessfully thinking of ways I could replace various straps with this item.
A few small grommets that could accept microbiners, like the Dutchware Ridgeline Biners, would definitely improve its versatility and keep it light. It would even be cool if Sweetspot worked with a UL backpack designer to combine the chair with the removable belt strap of a pack (wear it while hiking; unclip it when at camp to make a chair!).
I received the Sweetspot as a prize from Trailspace for being the January reviewer of the month. When I sat down to write my review this morning, I discovered Sweetspot's website is closed down. However, the product still has a Facebook page at https://www.facebook.com/pages/Sweetspot-WAY-Better-Than-Nothing/187457294703704
Before running out and spending $30-$100+ on gadgets stamped with REI, NorthFace, or Therm-A-Rest, you owe it to yourself to check out this inexpensive, cottage-industry innovation!
Source: received it as a sample, freebie, or prize (The awesome folks at Trailspace!)

You May Like
Recently on Trailspace