TAD Ranger Hoodie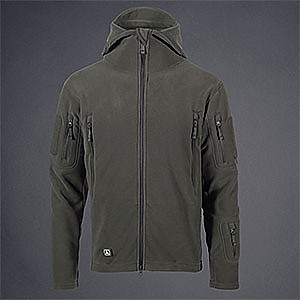 This is my go-to fleece, I've worn this fleece every fall, winter and early spring since I got it in 2008. It's made 2 trips to the middle east and kept me warm and the dust out every time I needed it too. This is the best fleece i own, when i wear it out (if i wear it out) I will buy a new one.
Pros
Strong zippers, made in America
Thick fleece, real tight to keep out wind and dust.
High collar and a hood that's big enough to go over a helmet
Pockets where you need them to get to them with all your gear on.
Large chest pockets.
Pockets on the upper arms and one on the forearm.
Slots for pens, and pull through for ear buds on an ipod or mp3 player.
Thumb holes on sleeves so you can put on your gortex or rain gear without pulling up your sleeves.
Cons
It would be nice if it had hand warmer pockets down at the waist, but it's not that necessary, that's the only con that i can think of.
Just remembered, no pit zips, I think the newer ones do.
FIT&COMFORT- the fit was good, I got an XL because i usually wear a few layers under a fleece. I could have went with a large, i don't need a bunch of layers under this fleece. plenty of length on the sleeves, no ride up if you stretch forward or up. jacket is plenty long enough to cover your waist, it goes down past my belt by at least 10 inches. this was one of the first things i noticed and liked. it goes down plenty far enough to cover a CCW, if you are licensed or choose too.
ADJUSTABILITY- there is no adjustment, i guess you could pull up the sleeves if you wanted to.
WATER RESISTANCE- it's not a water proof coat BUT the fleece is thick and tight enough that it does take a lot of water to get through it. I've worn it in rain more than once and only got wet one time(severe down pour lasted more than 5-6 hours) it still kept me warm tho, it's still kept the chill off of me. it also dry fast for as much water as it will take. YMMV. wind proof and dust proof does seem to mean that it will take more water than your regular fleece.
BREATHABILTY- I have one of the older ones, mine doesn't have pit zips (i think the newer ones do). it is definitely not a lightweight fleece.
MOISTURE- never worn it without something, at least a shirt under it, but it does seem to soak up some sweat.
WARMTH- it is the warmest fleece i own. it's warmer than my North Face Denali, and it has a hood and higher collar.
LAYERING- there's plenty of room for layers. I've actually worn this fleece over a plate carrier and a chest rig more than once. (i could have went with a large) i could zip up the front with my gear under it. it didn't take much of a look to tell i had gear on under it but it would zip up. most of you probably won't ever need to do that but the ones that do know what i mean.
ABRASION- went through 2 trips to south west Asia with no trouble at all. in and out of vehicles, both air and ground, bumping into hescos, jersey barriers, and even some time on the ground and its no worse for wear.
FUNCTION- read above, that's what it was designed to do, if this fleece will go through a combat zone and come back looking just broke in, there's not a lot you are gonna do to it that it won't take. zippers are still holding, interior is still in one piece.
EASE OF USE- slide your arms in hands first, pull it up over your shoulders and zip it up, and be warm. to easy.
FEATURES- velcro on the shoulders for unit patches. pocket placement, strong zippers and a hood that will go over a helmet, lot of room in the chest but a tight waist. double thick fleece on elbows.
This is a great fleece, a bit expensive but well worth the money if you need a fleece that will last where other things just fall apart. you won't want another fleece after this one.
Enjoy.
Source: bought it new
Price Paid: 200$

I use this jacket at work in the desert mountains of the Southwest. (Yes, it actually snows in the mountains down here.) My job doesn't officially let me wear it, but the jackets/sweaters that are provided do not have anywhere close to the quality of craftsmanship or function that the Ranger Hoodie does.
It is warm in the cold—if you're looking for something for a little chill instead of cold, TAD has a lighter version—but I can still wear it while hiking in cold weather by unzipping and pulling up the sleeves. It is much more quiet than the Gore-Tex or soft shell jackets that I can use, which allows me to preform my job more efficiently. I also like having all of the pockets in places that I can access while wearing a vest or pack. 
I can attest to the wind-stopping claim. I have worn this many times under my leather jacket while riding a motorcycle in the low 30s and high 20s at high speeds. It kept the wind out where it covered, and I would usually only get cold if I didn't tuck the bottom into my pants and the wind came up the bottom. Not comfortable in these conditions, but I didn't freeze, either. 
I also took it along on a trip to Seattle. It kept me dry in a typical Seattle drizzle. While I was out at a bar, I overheard somebody tell his buddy, "check out that bada** hoodie that guy's wearing." It was also comfortable for an early spring Grand Canyon hike that started out dark with frost on the ground. 
Overall, this jacket is made for the people who will use and abuse their gear and need function, not just some name brand that will fall apart if you scrape it on a tree or rock while wearing it. To me it is worth the money to keep you as comfortable as possible in nasty environments. 
Price Paid: $225

The best jacket I have ever had.
This is hands down the best garment I have ever owned. It is bomb-proof, weather-proof, and pretty much anything-proof. I have worn it in wind, rain, and all through the winter as my only jacket — up until -35° Celsius with just a merino base layer under it.
I only got the down out for standing around and twiddling my thumbs for the whole day, which was maybe twice last winter. I have found this jacket to be too warm in above freezing temperatures — I am very warm blooded though, and usually wear a lot less clothing than the people around me. The fleece is heavy and definitely weighs more than my other fluffy non-wind-proof fleeces.
The fit is great — even for women. It is a little looser around the shoulders and arms and tighter around the hem than it seems to be for my male friends. If not for the hem I might have gone a size smaller. The chest pockets are higher than usual which is great with a backpack.
TAD has moved the chest pockets lower in the women's version of this jacket, but I have found no "anatomical issues" with them. They are comfortable and functional, as are all the pockets and other features in this jacket. 
It is the one piece of equipment I have never had to think about. It just works.
Source: bought it new
Price Paid: About $200

This Jacket is bomb proof.  I have 2 of these fleeces, one of which is 3 years old and been worn a ton.  It is showing a little wear around the elbows but other than that it looks like new.
It is made from polartec fleece and appears to be about a 300 weight fleece.  I have the older model which is an XL but with this year's changes in the sizing of the Ranger I had to go with an XXL.  This years XXL actually fits better and smaller than my old XL. My measurements are 36" waist, 46"chest, 34" arm.
The functionality of the jacket is great. I live in Chicago and have worn it in weather from dry and cold -25 to cold and wet 30's.  It stops most of the wind but on really windy days or those really cold days a hardshell is necessary. 
My only complaint about this jacket is the front zipper has no storm guard, so while the jacket stops the wind, the front zipper lets it in.
Oh and this is still made in the USA and more specifically in California!
Bottom Line:  Buy this jacket.  It is warm, functional and durable.
Price Paid: $200

Pros
Quality
Wind resistance
Pockets
Water repellent
Warmth
Durability
Freedom of movement
Comfort
I got the TAD Ranger Hoodie a bit a go and it's held up in war zones, hiking, etc and still looks new! It has tons of useful pockets, sheds rain very well, and it will keep you warm!
I live in VA and I can wear it and a t-shirt and I'm warm for hours outdoors. You can also buy a lightweight version and layer it with the Stealth Hoodie and be good to go for anything!
My Ranger Hoodie was worth the money and with all the pockets I can carry all I need. I can't say too much about this jacket just because until you get one you really can't explain how great their gear is.
Source: bought it new
Price Paid: $200?

Both the Ranger Hoodie and Stealth Jacket by TAD are tough quality products. Several of us instructors @ the USAF survival school take these jackets to the WA mountains for 100+ days a year and beat the hell out of them.  
I've had both products for almost 3 years and they are in perfect condition, minus the blood stains.
If you're looking for a well made product these jackets are worth the money! 
Price Paid: $225

I can only echo the comments of the other two reviews. Mine gets used in the Middle East in the sand most of the time and it is the first fleece I have had that has not dropped to bits within a few months.
I have had one for three years now and last year bought the then current model which is lighter weight. 
Price Paid: About 200 dollars

Your Review
Where to Buy
Help support this site by making your next gear purchase through one of the links above. Click a link, buy what you need, and the seller will contribute a portion of the purchase price to support Trailspace's independent gear reviews.
You May Like
Specs
Men's
Price
MSRP: $239.00
Reviewers Paid: $200.00-$225.00

Women's
Price
Reviewers Paid: $200.00

Recently on Trailspace