Tarptent Double Rainbow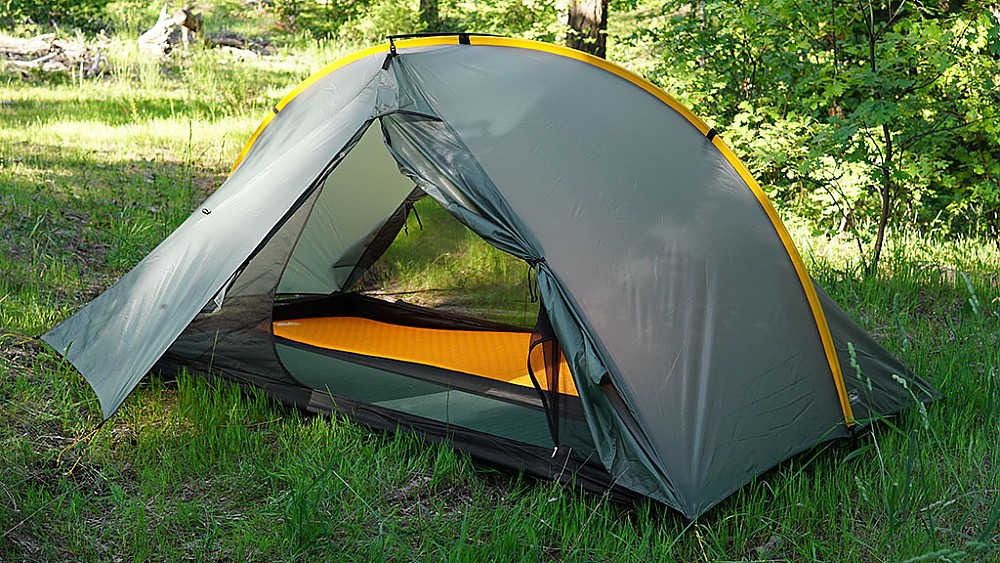 This is a very lightweight, single wall, two-door tent that is very durable, easy to set up and withstands inclement weather (especially high winds). Tent material is silicone impregnated ripstop nylon; tent pole is Easton aluminum; full mesh netting for bug protection
Pros
Dual vestibules/2 doors
Roomy
Easy setup
Durability
Cons
Weak tent stakes
Rain splash back
I received this tent last December as a Christmas gift. I seam sealed it myself. After using the tent stakes that came with it once, I swapped them out for a more rugged stake, the MSR Groundhog. The original stakes were just too weak and easily bent/broken for my use.
I've used this tent as my exclusive shelter for almost a year now. This includes many days and nights on the trail, in all kinds of weather and in varying terrain. 
Dual vestibules/2 doors. This is a nice feature. It allows you to have two porch-like storage areas and two ways in and out. My previous tent was a single door, so having two entrances is quite useful (especially when there are two tent occupants).
Roomy.  When I say this tent is roomy, I mean it.  I am 6'6", 230 lbs and it is plenty big enough for me. It's the first tent that I can lay down in, flat on my back and not have my feet brushing up against the tent wall. The bathtub floor is 50" x 90" – incredibly spacious!
That's a 77-inch sleeping pad (above).
Easy setup.  Probably the most easy, idiot-proof and fast setup of any tent I've ever had. Insert the tent pole along the center sleeve, stake out the corners and then tighten/adjust as necessary. So simple, a Neanderthal like me can do it. I also appreciate being able to set it up in the pouring rain and keeping the vast majority of the inside dry.
Durability.  Almost a year's worth of use that encompasses about 78 days and nights on the trail or in the backcountry. It has held up to high winds (over 60mph), sustained torrential rains, blistering heat and humidity, and even some snow/sleet. I did have to re-seal one seam (along the top ridge vent) after about 6 months of use, but other than that…. no other repairs/maintenance.
As for the cons, I did exchange the tent stakes as mentioned above. I will accept a few more ounces of weight to have durable stakes that don't bend when they first encounter tough ground. The splash back from rain can happen, but I think with experience I learned how to adjust the height of the walls to account for this, and at least minimize it.
The amount of ventilation the Double Rainbow affords helps reduce condensation and keep it to a minimum.  During high humidity it can occur, especially in the early morning hours (3 to 5 am) when it's cool and the temperature inversion close to the ground creates the right conditions for condensation.  Nothing a quick wipe with my bandana couldn't handle. 
Overall: A solid, lightweight tent that stands up well to extended use and weather. 
Source: received it as a personal gift

This is one of, and the first of two, Henry Shire's tarptents I own. And I absolutely LOVE this tent when I want more room than my Contrail offers, or if I will be hiking in questionable weather.
It handles 60mph gusts with ease, is fast to set up -- under 2 minutes. Thread the center pole, stake out the 4 stakes, adjust as necessary. OR, for a freestanding setup, use your hiking poles.
I also own the "extras" you can get with this tent -- the liner and the trekking pole extenders, since my poles are a bit short. The liner is fabulous for keeping condensation off your gear, or to prevent the "misting" that often happens with silnylon tents in heavy rain. It also helps hold your body heat inside the tent, when the weather turns cold.
This tent will also stand up to a bit more snow than the Contrail, due to its dome-like build.
The vestibules are terrific. They not only hold a significant amount of gear, they also can be put up with a center, attached, rain curtain on both sides, with your trekking poles. Great for cooking in bad weather or just for a nice view when it's raining, without getting the inside of your tent wet.
At 2.5 lbs (without the options), it is a nice lightweight alternative to the heavier tents out there on the market. This one sleeps 2, but you had better like each other quite well. I use it for solo adventures only at this point, but it will sleep my 6'3" hubby quite comfortably too. With a bathtub floor, no rainwater will come in.
So far, this is my favorite tent from Henry Shires. My cost, when I got it, 3 years ago, was $225, including the options of the liner and trekking pole extenders. Well worth it for the money and ease of setup.
Design: Three season plus, freestanding
Sleeps: 2
Ease of Setup: Under 2 minutes, even for the first time
Weight: 2.5lb without options
Price Paid: $225

Light and convenient. Difficult to set up correctly to keep out rain.
Pros
Light and easy to set up.
Handles wind reasonable well.
Made in the USA.
Cons
Weak constructions in areas.
Not easy to keep out rain.
Not really free standing without modification.
Not sure this tent is suitable for the Canadian Rockies. It needs pegs for setup, so when the ground or tent pad is covered in rock chips (frequently), you'll be struggling to secure it. Using hiking poles is not very functional, and I also don't want small animals chewing on the handles by leaving them outside.
Some people use a modified sleeve to be able to make the tent free standing when using hiking poles.  I like to take my poles on day hikes from a base camp — a necessity to see the Rockies properly — so this isn't an option for me.  A true free standing tent is more suitable.
I know that there is a setup to allow ventilation and a setup to keep out rain, but trying to raise the sides of the floor to keep out rain is not easy to do without pulling draw strings/straps and the floor too tight. To further complicate things, one of the tighteners became frayed and was almost useless. (Difficult repairs were required.) I'm not unrealistic, but I expect that straps and the tightening system should not have problems in the first week of use.  That's basic.
I also have to prop the corners with boots to get the them set properly.
I even make sure the outer tarp is pulled as close as possible to the ground, but the inside is still vulnerable.  Getting wet in temperatures just above freezing in the Rockies — even in July — wasn't fun.  To be honest, it kept me dry for three of five nights that it had rained.
I found this tent not quite large enough for me and my backpack.  I imagine that for two people it would be tight, so unless you travel with a significant other, why subject each other to your sounds and smells in such close range.  Get your own tents — this one's light enough.
For some people this tent seems to function well.  I'm used to a Sierra Design Observatory — a tent that hasn't failed in seven years of extensive use -—so the Double Rainbow is a bit of a letdown.  It is, however, very light, so the compromise is that it is not heavy duty.  The fabric itself is great, and I had no problems with the fly.  As long as you don't abuse the fabric, it won't fail you.
Be aware that this is an ultra light. Much depends on how you use it. Lean how to set it up for various conditions and monitor the condition of the straps.  Test it out for a few nights where you can make repairs easily. Once it's proven, then head out on a trek.
Source: bought it new
Price Paid: from tarptent.com. Cut the middle man.

Lightweight, spacious two-person backpacking tent. Easy to set up and pack.
Pros
Weight
Packed size
Comfortable
Free-standing (with trekking poles)
Cons
Condensation build-up
Not out of the box rain-proof
Purchased in 2013, have used six times on backpacking trips and several car-camping ones. Wanted to use for a few years before I reviewed. Opted to purchase after lots of research and have been very pleased. 
Incredibly easy to set up and pack down. One long collapsible pole will split the length, with corners guyed out with stakes or free-standing with trek-poles. I've always opted to stake as I had that option each time. Comes with 6 lightweight stakes.
My one knock is it is prone to condensation build-up on the interior. I purchased an optional fabric to combat this, but it's never ruined it for me.  The perks of low weight, small pack size, and comfort outweigh that inconvenience. 
As for cost, I think all told I spent just shy of $300 (in 2013). I generally only get out 1-2 times a year on a trip, so i wanted one that would hold up over time, but not break the bank. If I did it again, I would still purchase this tent. 
One piece of advice, have it seem-sealed by the folks at Tarptent. I believe it cost an extra $25, but ensures protection from rain. Would also recommend some tyvek as a ground sheet, will help keep it clean.
Having talked directly with Henry at Tarptent, I could tell he has great pride in his work and is eager to deliver a great product. I also liked dealing with a smaller outfit, one that is well thought of in the backpacking community.
Source: bought it new
Price Paid: $290

This is one great shelter for the go-light crowd. I use it mainly for a solo shelter, but 2 will fit quite comfortably. This shelter has lots of headroom and with the dual doors/vestibules, entry/exit is made simple and unimpeded.
Speaking of vestibules, Henry has a great arrangement going here. With the addition of the 'rain curtain' you can have the vestibule open and cook under it, during inclement weather. I have on occasion experienced some condensation inside, but certainly no worse (even better) than a lot of double walled tents. Adequate legroom for those that like to s-t-r-e-t-c-h out!
It withstood 55mph gusts in a sandstorm while backpacking in Canyonlands NP, Utah. It requires some careful seam sealing, as there are a few seams, especially around the vestibule attachment areas. With all the screening, it provides good ventilation and excellent protection from insects, etc.
Although it is freestanding with the use of 145cm trekking poles, I just stake it out to achieve a good taut pitch and use the trekking poles to hold open/up one of the vestibules.
During a downpour, water can run off the end of the tent section(around the pole ends) and into the interior of the tent, if you haven't pulled the pole ends all the way out. Just something to watch out when you set up. Set up is fast and easy(2 minutes)
This shelter(with 7 MSR Ground Hog tent stakes) weighs 1257g on my digital scales.
Who ever thought you could get so much space and coverage, for so little weight. I paid $200 on sale.
Design: 3+ season tarp tent which can be freestanding with the use of trekking poles
Sleeps: 2
Ease of Setup: 1 Pole and 6 stakes make for set up times in 2 minutes.
Weight: 1257g
Price Paid: $200

This is an easy to set up and take down, lightweight tent. Despite the material being lightweight it has endured my pit bull being trained to camp in it without a scratch.

The tent is easy to pack in the side pocket of my backpack too. I've recommended this tent repeatedly to people seeking a durable but easy to use lightweight tent.
Pros
Lightweight
Easy setup/take down
2 vestibules
Can be freestanding or used with trekking poles
Cons
Heavier than carbon fiber tents
Condensation occurs when it rains or in high humidity
The TarpTent Double Rainbow is a tent that is hard to beat. It travels in my backpack side pocket easily as one unit. The setup and take down is done in about 3 minutes either way.
Setup can be done with stakes or using two trekking poles. I always use stakes just because it's so easy, and I get it up then I can still use my poles to night hike. 
This tent is a deep greenish color, which at first I didn't think I'd like, but now I treasure. Usually solo hiking, the color and density of the material provide adequate privacy, which many tents lack. Even with a light on it's private. 
This tent is also durable. After nine months of frequent backpacking and camping trips with the tent and my pit bull, the tent is still like new. I've held it up, no pinholes. I do use tyvek inside for added protection, but I didn't until I discovered how much I enjoy this tent and want to take care of it. 
When I purchased it I also added two sheets of tyvek and end pole adapters, a liner, and paid to have it seam sealed. 
I strongly recommend this tent. 
Source: bought it new
Price Paid: $320 including seam seal

Your Review
Where to Buy
Help support this site by making your next gear purchase through one of the links above. Click a link, buy what you need, and the seller will contribute a portion of the purchase price to support Trailspace's independent gear reviews.
You May Like
Specs
Price
MSRP: $299.00
Reviewers Paid: $200.00-$320.00

Sleeps
2

Seasons
3

Double Rainbow body, corded
30.6 oz / 868 g

Aluminum arch pole (Easton 8.6mm)
7.7 oz / 218 g

Aluminum cross strut (Easton 8.6m)
1.1 oz / 31 g

Stuffsack
0.6 oz / 19 g

Stakes (6 x 6in ) in stakebag
1.8 oz / 51 g

Fabric
Canopy—30D double silicone-coated ripstop nylon, 5,000mm hydrostatic head pressure rating / Floor—30D double silicone-coated ripstop nylon, 3,000mm hydrostatic head pressure rating

Interior Height
40 in / 102 cm

Floor Width
50 in / 127 cm

Floor Length
88 in / 224 cm

Reflective guyline with Dyneema core
2.5 mm (included)

Packed size
18 in x 4.5 in / 43 cm x 11.4 cm

Recently on Trailspace