Tarptent StratoSpire 1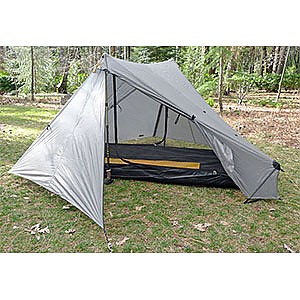 The Stratospire 1 is lightweight, able to withstand severe weather, roomy, and well-constructed. An ingenious design brings together many of the benefits of multiple shelters including a tarp and tent (a well-named product).

It needs seam sealing and takes practice to get the pitch right, but gets easy. For a three-season solo plus shelter, extending into the fourth season with a solid inner, it is tough to find a better or more versatile option in the same weight class.
Pros
Roominess for a solo shelter
Two offset doors
Extremely large vestibules
Wind/rain/snow resistance
Easy to adjust from inside
High quality construction
Pitch options with inner or outer
Setup/breakdown in the dry
Cons
Needs seam sealing
Not long enough for extra tall folks
Finicky setup takes practice
Large footprint
Inner mesh tiebacks slip at times
No pocket sewn in
6/18/18: Scroll to the bottom for a couple of updates to my original review...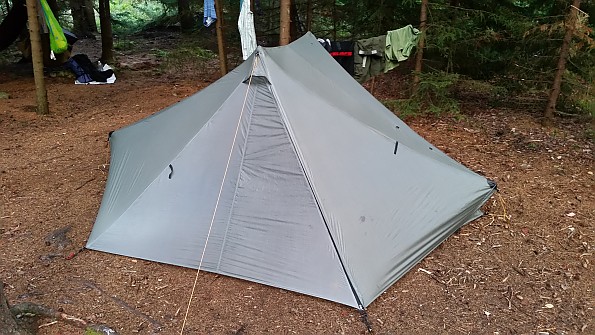 Testing Conditions
I spent a lot of time researching the best tent option for open windy and rainy conditions in preparation for two weeks in Scotland this year, and finally purchased the StratoSpire 1 from Tarptent early in 2017.  Since then I have used this tent on nine trips (20 nights in the backcountry) in conditions ranging from high 80s down to near 0 deg F and sustained winds up to 40 mph. Rain was limited to one trip with solid all-day/night downpour and a few thunderstorms, but it has weathered high winds and a one-foot snowstorm incredibly well.
Tarptent specs are provided below along with my measurements (in parentheses), which were spot on:
Weight: 36 ounces
Fly only – 21 (21.7)
Mesh interior – 11 (11.1)
Solid interior – 14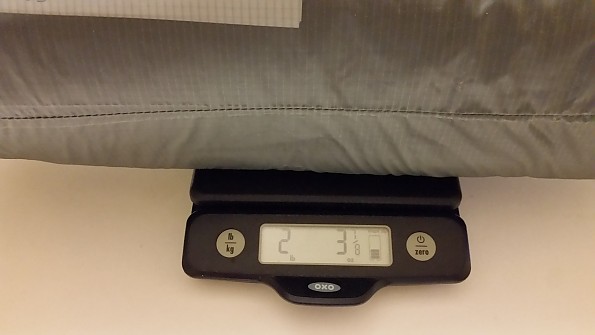 Area:  19.1 sq. ft (inner sleeping area - not including vestibules)
Width – 32 in.
Length - 86 in.
Height:  48 in. peak
Vestibules: 35 in.
Design & Features:
The Stratospire 1 has a really unique and innovative design that, in my opinion, combines some of the best features of a tarp and traditional tent in a hexagonal non-symmetric tent design as seen in this diagram from Tarptent.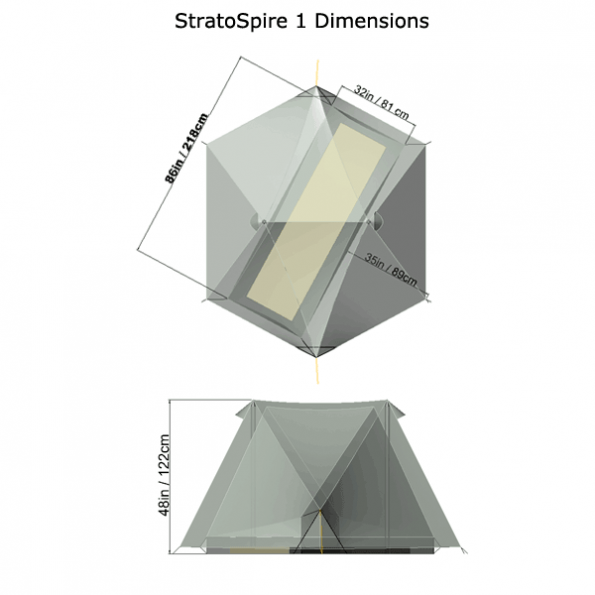 It is a symmetric pitch, but the inner sleeping area is at an angle as seen in the top diagram above. It takes a little getting used to, but once settled in the features and roominess are difficult to beat.
Main features include:
Double walled (with mesh or solid interior options—mesh pictured)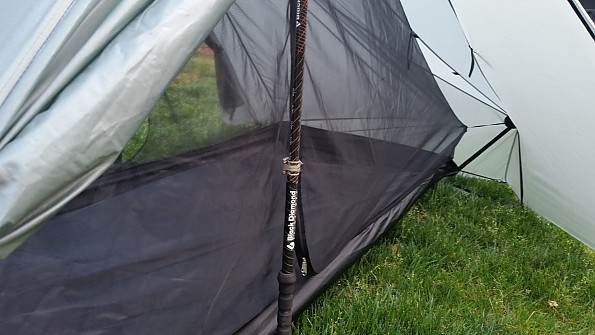 Inner/outer setup independently (outer only below)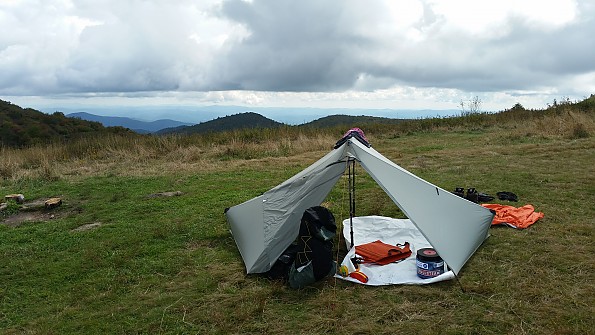 Dual entry with two equal large vestibules (right side open to show space)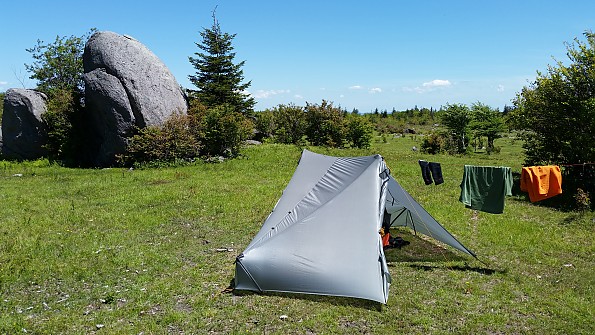 Dry entry/exit—an overhang above the sleeping area when wide open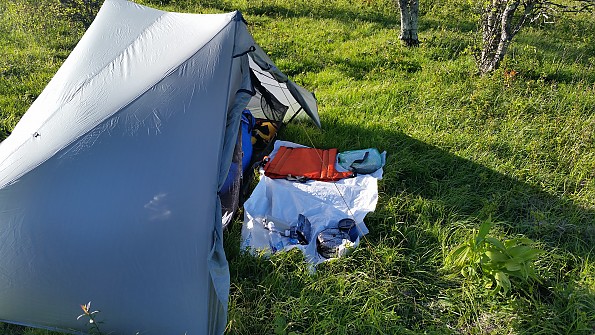 Doors and poles offset—below shows about 2/3 lengh door and offset opposite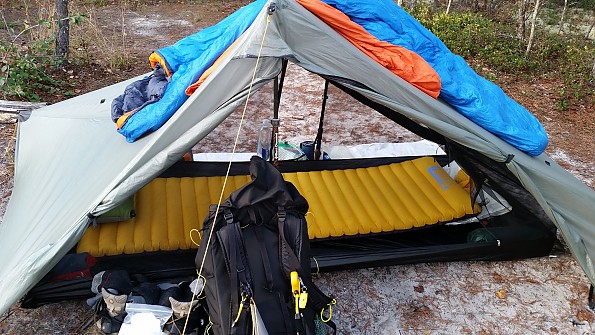 PitchLoc ends for stability and additional interior end-height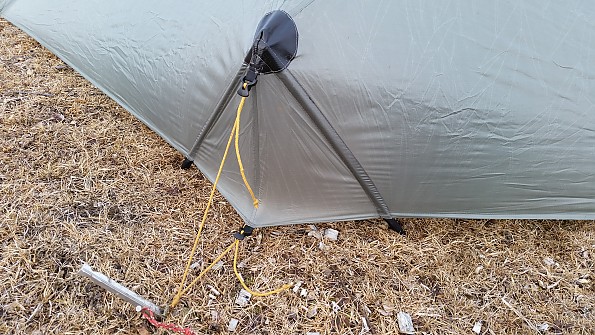 Stable guy outs when doors open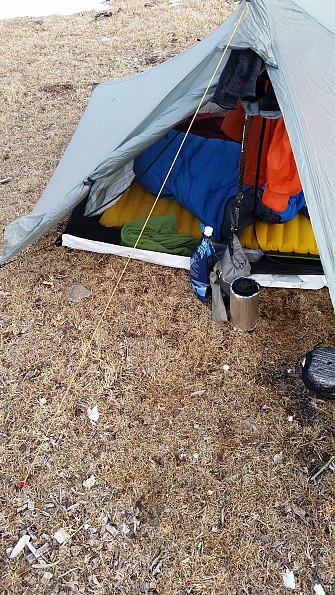 Guy line tie-outs on each long PitchLoc end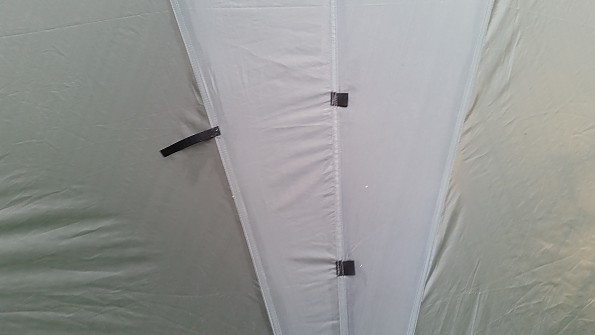 Inner clips on PitchLoc ends result in higher headroom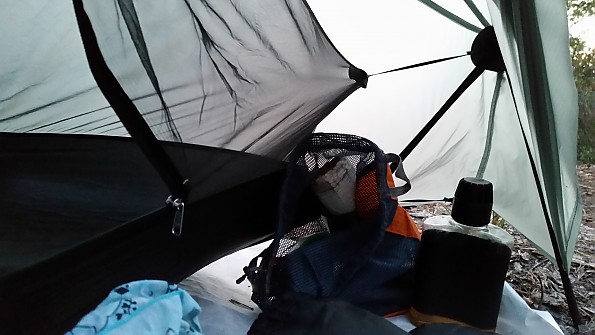 Optional "handle-up" adapters, poles, and "side-car" shelter to expand sleeping area
I'll address many of these features below, but the overall result is an excellently livable and weather resistant shelter.
Construction & Durability
Bottom line, the Stratospire 1 is well-constructed and durable. The tent is made of 30d silicone coated nylon, reinforced at the trekking pole support points and carbon-fiber PitchLoc ends.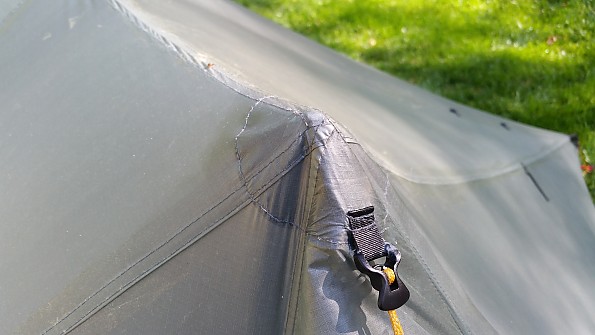 Reflective spectra cord guylines are secured by integrated tighteners and show no signs of stress or wear.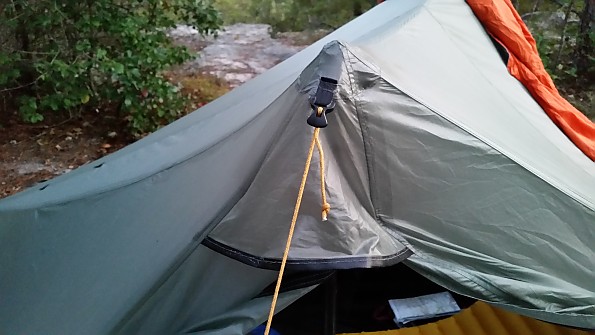 Stitching seems solid and has not stretched or worn even though it is pulled extremely taut. After a year of steady use there are no seam issues once they were sealed and no signs of wear and tear beyond a small area I damaged near the edge of the vestibule. Early in the test period, I "missed" putting one of the trekking pole tips in the grommet and pitched the tent before realizing this…there was no damage to the fly due to the additional reinforcement in that area.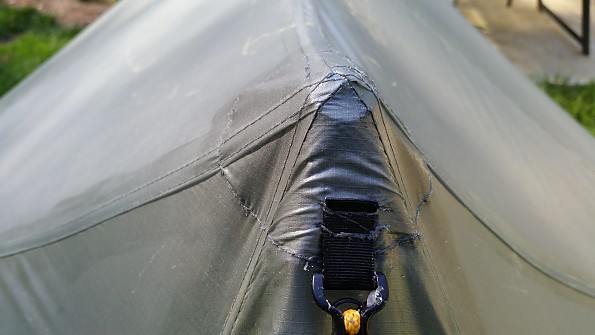 I do often use a ground sheet (Tyvek) as an extra layer when using the mesh interior, but that is out of habit and I don't think it is necessary. After a solid year of testing, I am sure I will be sleeping in this excellent shelter for years to come.
Pitching & Breakdown
There is a bit of a learning curve to pitching the Stratospire 1. The main hurdle is, once you have picked out your sleeping spot, to visualize the offset nature of the fly to the inner area. In the pictures below, try to imagine the line of symmetry (where the matching halves would fold) as running straight down the triangle PitchLoc ends. You can see (I hope) how the sleeping area lines up with each PitchLoc end at the top right and bottom left corner.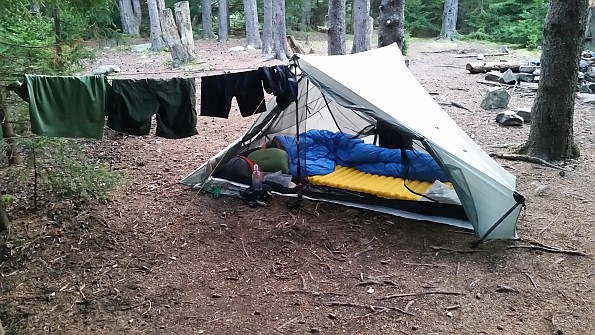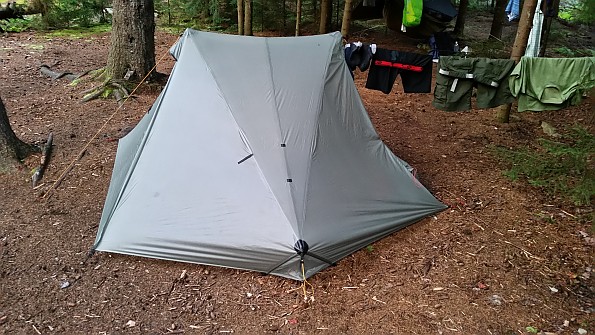 If you are tall, your head and feet should end up (for maximum room) at the PitchLoc ends, which are opposite each other, but the poles and inner are at a slight diagonal from that. Once you have made a couple of mistakes with this, it gets easier to figure out the best pitching option from the get-go.
Actually pitching the Stratospire is easy besides learning the layout. Tarptent suggests staking out the four non-PitchLoc corners first in a rectangle, inserting the poles, and then ending with the PitchLoc ends and guy outs. You can see three of the four corners in this picture and imagine a rectangle starting off the left side.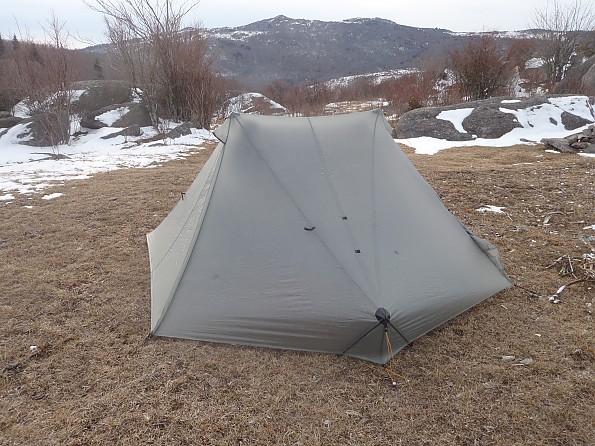 The poles can be inserted through the vents and keep the entire inner surface of the tent out of the rain. I find that this approach works really well in some conditions, but in others like adverse weather or non-flat sites, staking out the two PitchLoc ends first suits me better. I can have the entire shell (not including inner) pitched in a couple of minutes using either method.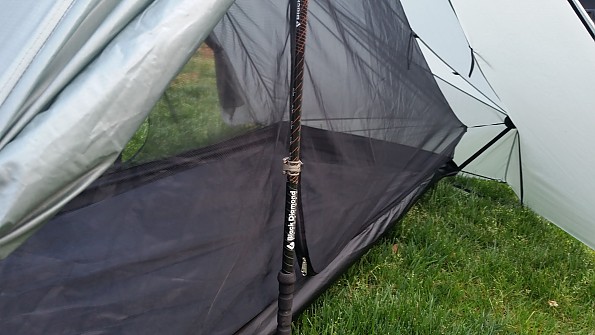 Once pitched, you can make adjustments from inside with tweaks to the height of the poles. A taut pitch is easy to achieve, and important since the design results in large sections of sylnylon exposed to wind.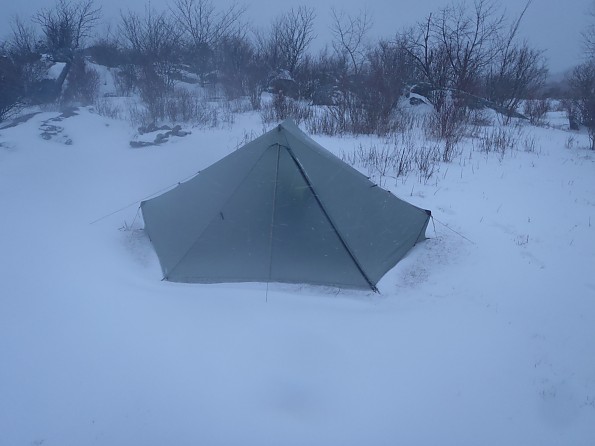 That said, I have slept without worry through several storms as the pitch is ideal for windy conditions, rain, and snow. It resists typical silnylon sag in humidity, and what little sag occurs is fixed with a pole adjustment without leaving the shelter.
Set at the right height (Tarptent suggests 122 cm, but I seem to do better a little lower than that), the Stratospire sheds wind very well. As mentioned above the larger sides can catch the wind and get a little louder, but they held up without becoming a sail in a 40 mph storm. If you orient the PitchLoc ends into the wind, there is much less turbulence. With two offset doors, there is always a dry sheltered area.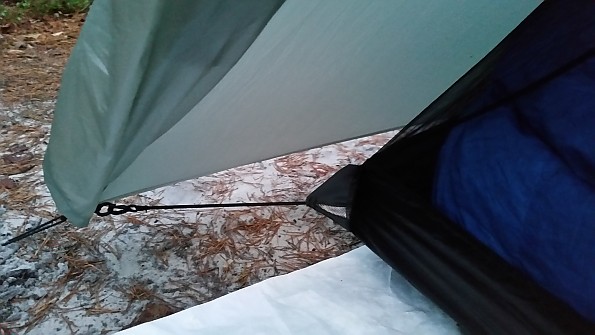 The mesh inner is supported at eight points with clips. It is easy to set up with a little stretch of your arms needed to get to the corners for setup and breakdown.
Out of habit, I unclip it and pack it in my backpack every time, but I suppose you could leave it hooked up to the tarp if everything was dry. The beauty of this tent is the ability to pack everything up including the inner without opening the tent up, and then quickly dismantling the poles, tarp, and stakes and get going in nasty weather without opening your pack.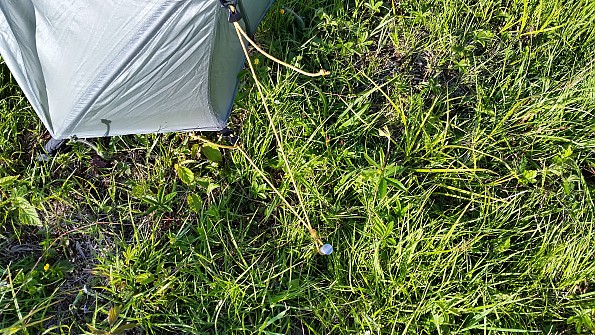 The SS1 comes with Easton aluminum stakes. I use two of these on the PitchLoc ends but carry a variety of others for the other four corners and guy outs so I can adapt to the conditions at each camp. To date, I have never found a site where I can't get a reasonable pitch—even very rocky clifftops, sandy soils, and grassy hummocks on spongy loam soils.
Livability (Roominess and Storage)
This is where I thing the Stratospire 1 really shines. The headroom at 48 inches is more than enough for my 6-foot frame, and the 86 inch length, with the PitchLoc raised ends, has prevented any of those nights where my sleeping bag rubs moisture off the fly.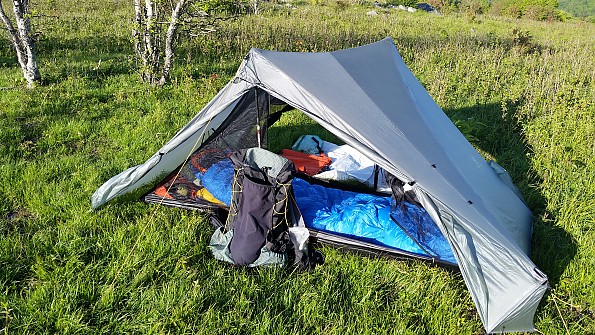 If the inner is in place, its an extra layer of prevention. The offset position of the trekking poles keep them out of the sleeping area, and allow for large doorways.
The two large vestibules are unbeatable in foul weather. No matter which way the wind and rain are coming at you, there is a dry, sheltered side to live and (in non-bear country) cook.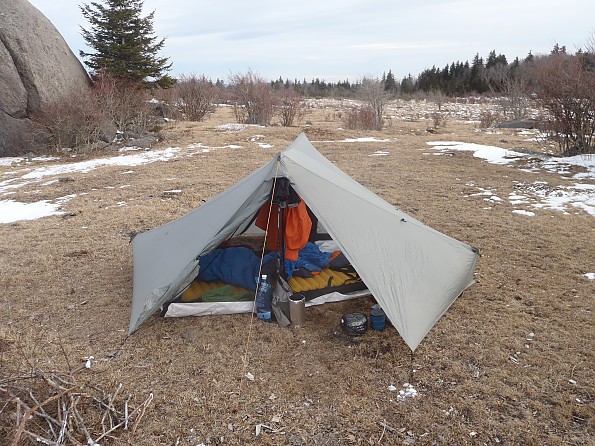 On one or two nights I have experienced drastic shifts in wind direction, and easily switched to the other door/vestibule. 
I can't carry enough gear to fill up the vestibules—my pack would be too heavy! They extend well down near the ground and provide full storage space. If additional venting is needed, you can leave the doors slightly unzipped and the vestibule is still deep enough to keep the weather off you and your gear. In fact, the vestibules are so big, they protected my inner mesh from blowing powdery snow in 40 mph gusts—a little got in but settled out before getting anywhere important.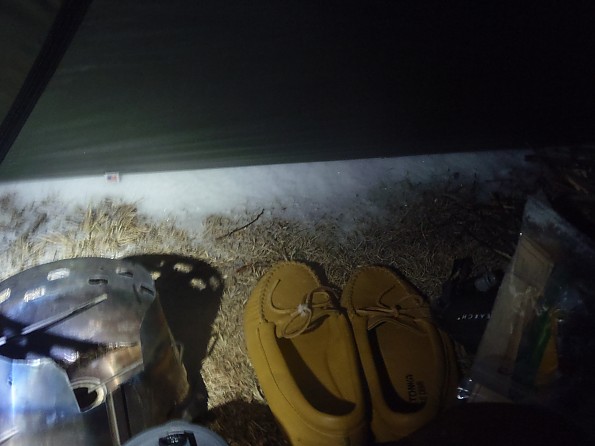 You can roll back one or both doors for excellent views, and entry/exit is easy in rain without getting the inner wet. On clear but buggy nights, you can set up just the inner mesh as well for full sky viewing.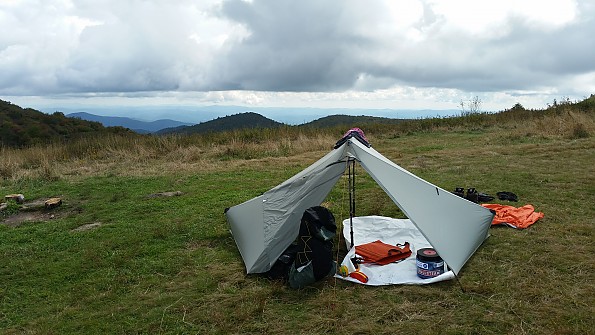 I often put up the outer tent for shelter at lunch stops if its likely to rain since its so easy, while the inner and rest of my gear stay dry inside my pack.
Weather Resistance & Stability

As mentioned above, I decided on the Stratospire 1 after much research with a main concern being performance in wet and windy conditions. After a full year of testing, I am ready and confident to use this shelter in my two-week walk across Scotland. The taut pitch sheds wind as well as any tent I have owned, and the angle of the walls shed snow the other week like a champ.

Under 20-40 mph winds coming at the wrong angle, the door sides do flutter a bit (as any tent is likely to do), but with proper staking and guying I was confident that it would hold up. Overall it is the most stable and weather resistant shelter I have used (either trekking pole supported or freestanding).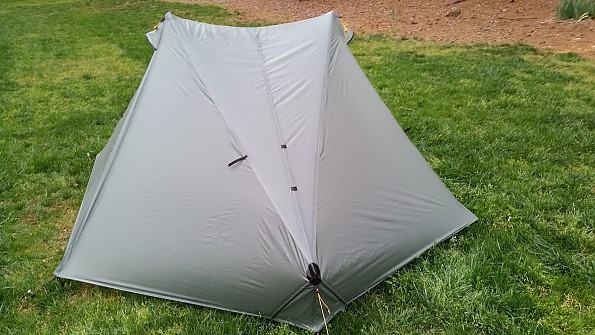 Two peak vents (can just see both above) seem to function as well as other tents, and the really wide vestibules allow you to open them up even in adverse weather to allow additional venting. While condensation has occurred in typical humid conditions in the south, the inner mesh and slope of the tent walls have limited drips on my sleeping bag to just a couple of wipe-able ones.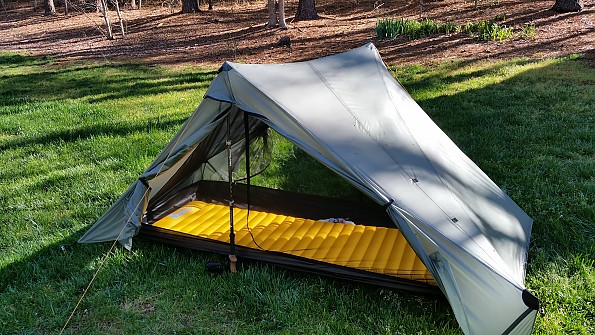 The inner mesh has a bathtub floor that prevents splashing under the tent (which is almost non-existent due to the large vestibules and footprint) from reaching the sleeping area. The inner bathtub is also seamless, so no worries about future leaks.
Ease of Use
I did the initial seam sealing in the backyard and then hose-tested. Everything was good, except for some moisture in the trekking pole support areas.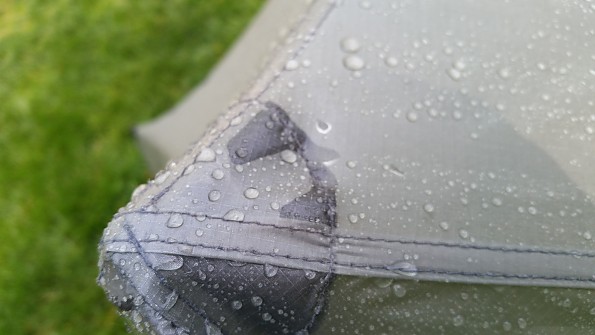 A second attempt reduced this but it still was present and left me with a mild concern about leakage in prolonged rain events. A quick response from Henry fixed this—I used the supplied sealer about a week later, when it had begun to thicken up, and it sealed up well.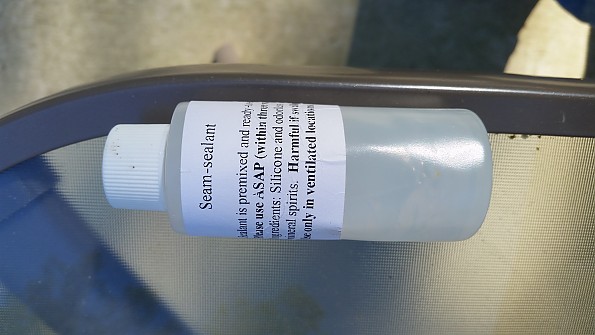 Except for the learning curve on the pitch, the Stratospire 1 makes living in the backcountry easy. The design features make every aspect of camping easier, especially unpacking or packing up in adverse weather.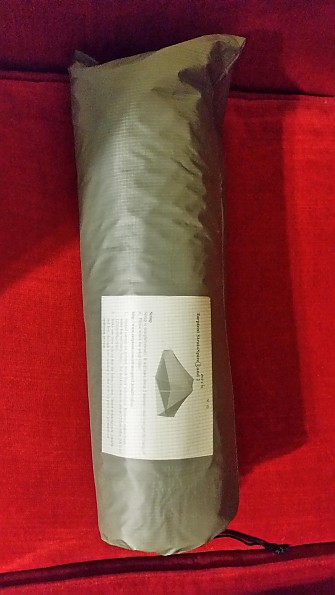 The SS1 packs down into a 16 by 4 inch stuff sack if needed. I tend to store the inner, which is usually dry, inside my pack, and then put the outer tarp and ground cloth in the stuff sack and throw that in the mesh outer pocket of my pack.
Possible Improvement Areas
My only very minor complaints (not worthy of a rating deduction) are the inner mesh tie-backs, lack of pockets in the tent, and length of supplied guy-out cord on the doors. The tie-backs on the inner mesh tend to come undone occasionally, so I would prefer to have toggles or Velcro. I like the Velcro tie-backs on the outer doors.
I have also been so used to a pocket near each door that it was an adjustment. I bought a couple of options to try out, but now have got used to being without them as there is so much storage space in the vestibules, a pocket becomes much less important.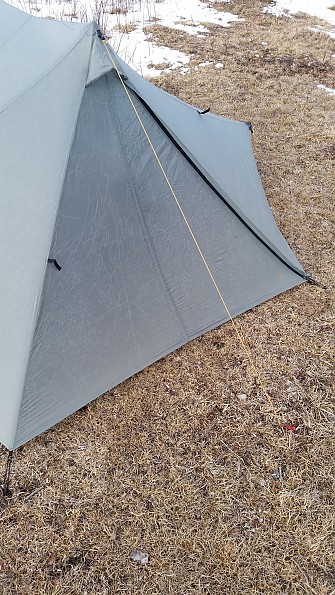 The door guy-outs work well, but sometimes I might like additional room or a better angle, so I plan to replace those sometime (it's been a year already and I haven't done it, so obviously this is minor).
Recommendation
If you are looking for a 1+ person durable shelter for adverse weather I can't recommend the Stratospire 1 any higher. There are lighter and larger shelters, but the innovative design of Henry Shire's Stratospire 1 is a great balance of these two parameters. 
P.S. (Post-Scotland):  6/18/18 —I thought I would add a couple of notes after taking the SS1 across Scotland for two weeks in May 2018. There are no edits to the review. This is an extremely livable and storm-worthy shelter. It held up to a couple of rainy nights (yes, I said couple—we had incredible weather in Scotland this year!) and also to some serious winds...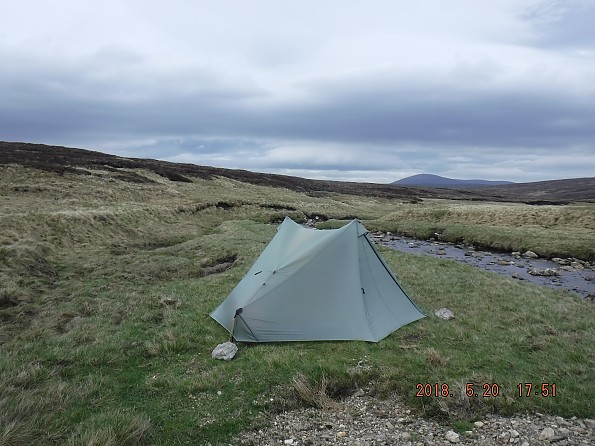 You can see the rock I used to provide supplemental anchorage to the upwind stake near the Shielin of Mark bothy in the highlands of Scotland. We got sustained 30+ mph winds that afternoon and evening and the Stratospire 1 held up well. I added the rock to an 8-inch Easton stake as I was camped on alluvial deposits (small gravel and sand) so wanted some extra assurance.
I am happy with my choice of shelter for this and a lot of other trips. It was easy to pitch on the hummocky Scottish grass where a couple of times I oriented it so I could sleep in a deer path and the remaining areas were a bit bumpier.
The only damage or wear the tent has suffered was a the upper portion of the tarp door stitching coming apart (above the zipper). This occurred during setup in the rain when I tried to squeeze my pack in the unzipped door without unhooking the bottom (basically imagine trying to squeeze a full pack through a door only 6 inches wide—I don't fault Tarptent only the operator!).
There was no functional loss when this occurred and I continued to use it for the entire trip. Henry sent me a patch for reinforcement and some thread and I repaired it in 30 minutes, maybe stronger than ever, once I got home. So just don't stress out the seam of the door without unclipping it at the bottom first. In other words use the door as it is designed to be used!
Source: bought it new
Price Paid: $300

Your Review
Where to Buy
Help support this site by making your next gear purchase through one of the links above. Click a link, buy what you need, and the seller will contribute a portion of the purchase price to support Trailspace's independent gear reviews.
You May Like
Specs
Price
MSRP: $325.00
Reviewers Paid: $300.00

Sleeps
1+

Seasons
3-4

Fly weight
22.9 oz / 651 g + 0.9 oz / 26 g stuff sack + 2.8 oz / 79 g stakes (included) = 26.6 oz / 756 g

Interior weights
11.7 oz / 333 g mesh | 11.5 oz / 326 g solid

Max Interior Height (under fly)
48 in / 122 cm

Floor Width
32 in / 81 cm (floor can widen to 40 in / 102 cm)

Floor Length
86 in / 218 cm

Stakes
6 x 8 in / 20 cm Easton Nanos (included and counted in fly weight)

Reflective guyline
2.5 mm

Packed size
16 in x 4 in / 41 cm x 10 cm

Note
Tent weight includes stakes, guylines, struts, and stuffsacks.

You will need
2 x trekking pole 120-125cm (47-49in) OR 2 x Tarptent's replacement vertical poles

Recently on Trailspace