TATO Gear AB-13 Hybrid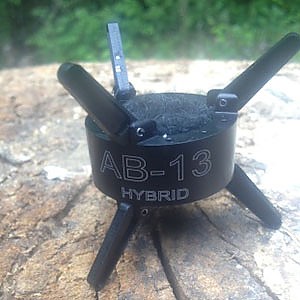 Lightweight, versatile, and seriously cool is exactly how I'd describe this stove from TATO Gear. Built-in feet and pot stand are very well engineered and the recessed fuel port is as far as I know an industry first from the creative mind of Bryan Oates. The AB-13 is worth adding to your gear closet just for the cool factor alone, but it delivers so much more.
Pros
Weight
Size
Flexibility
Built-in permanently attached feet and pot stands
Recessed fuel port
Cool Factor is off the charts
I'm an admitted alcohol stove tinkerer and builder. I simply love playing with these things. And I would have purchased this stove if it was not sitting on the raffle table when my number was called at the Palmetto State Hangers Fall Sprawl last year.
The stove comes in a very nice plastic container that is very much like an old 35 mm film containers, but with an attached lid. This stove is very well thought out. It only takes a quick look to see that the design is one of the very coolest alcohol stoves available today. You are not going to get this thing out in the field and lose something that is required to make it work. And the only thing you need to add to make the stove work is HEET in the yellow bottle, a slight squeeze of the fuel bottle while watching the stove wick will tell you when the wick is full of fuel, you can loosen to bottle cap while holding the bottle upright to prevent the bottle suctioning fuel back into the bottle. Then a little spark and your cooking with alcohol!
The feet are permanently attached as well as the pot stand. The stove, fuel line, and fuel bottle cap fit snugly in the plastic container that used to be included, which may be the reason TATO Gear now ships the stove with a small bag instead.
The AB-13 Hybrid offers the user the ability to pump the fuel to the stove and achieve relatively fast boil times, keep a moderate level of fuel in for a good simmer, or just keep minimum level of fuel for dry or wet baking.
Durable? You betcha. TATO used to have a picture of an AB series stove with a full sized cinder block on top! I think that's strong enough to stand up to any pot you're going to put on the stove! I've used the AB-13 Hybrid with the venerable IMUSA pots, Ketalist, Batchstovez BCR, Snow Peak 450 cup, and Snow Peak Mini-Solo with great results.
For baking I find something to lay the fuel bottle on its side and hold it at the height a minimal amount of fuel will flow to keep the flame going at a low level. There is no fuel regulation component on this stove; heat output is adjusted by fuel flow only. TATO does not have a gravity feed fuel reserve at this time, but rumors have it that one is in the works and that it will include TATO's Low Profile Connector just like the stove. That's reason enough for me to wait on that as opposed to purchasing one from another vendor.
I can boil 10 ozs. in the SP 450 in about 4 minutes and a little over 2 cups in the larger pots in 6-9 minutes at 60° ambient temperature using a foil wind screen. I really do not get into much of a hurry in the woods and do not camp in super cold temps so this works well for me in most cases. In the event I want faster boils I carry the AB-13 Hybrid nested inside my modified fancy feast stove with no weight or bulk penalty.
The stove, cap, fuel line, and plastic container weigh in at 35 grams or 1.2 oz. and I use a handle cut off an IMUSA pot for a dry bake ring that is "C" shaped which slides right over the plastic container and it still fits in the modified fancy feast stove.
I've looked at all the vendors producing alcohol stoves and can find nothing to equal the versatility, functionality and durability of the AB-13 Hybrid. And I cannot find anything close to TATO's innovative features listed below:
Anodized Aluminum
1 piece design with inetegrated legs and pot stand
Great range of heat output
Low Profile Connector LPC a fully recessed machined fuel port that you simply will not break
Durability
Another feature I haven't employed is swapping out the wick with a taller wick for greater heat output.
I have to admit I haven't purchased other wick stoves from Tinny, Smokeater908, or the Batchstovez guys to fully compare. But nobody has the feet and leg design and I am so extremely pleased with the AB-13 Hybrid I just don't need to purchase another. Will I, maybe, OK probably, but I really do not need to.
So no matter your style of cooking on the trail, I believe you could benefit from adding an AB-13 series stove to your tool box. No it won't boil as fast as my Jetboil, but for me the woods is a place to escape the rushed life most of us live everyday so I really do not care if it's the fastest. And I can't bake on my Jetboil either.
Check out the AB-13 for yourself at tatogear.com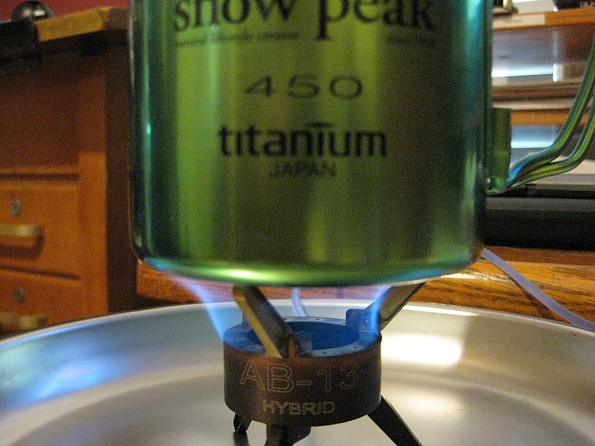 Check out that TATO patented LPC fuel connection.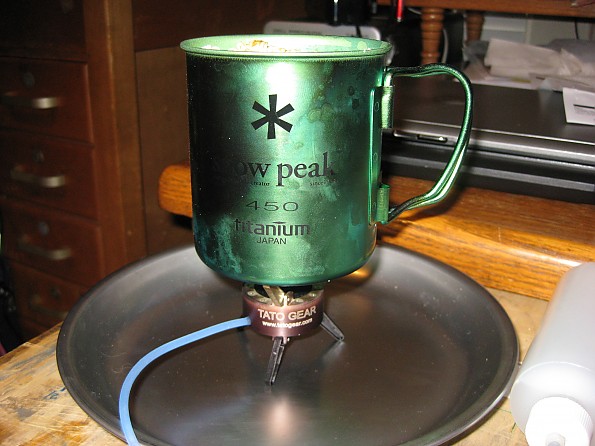 All packed up with baking ring snug on the outside.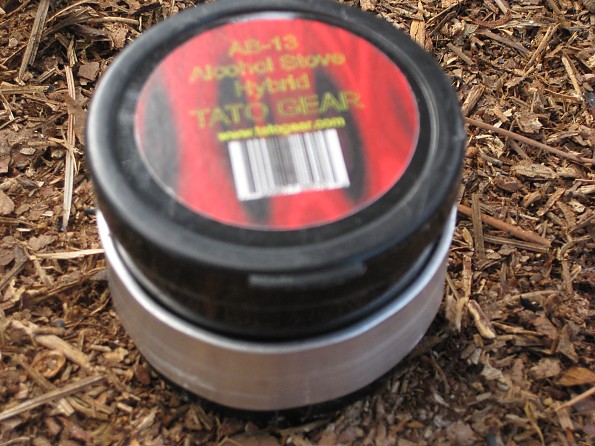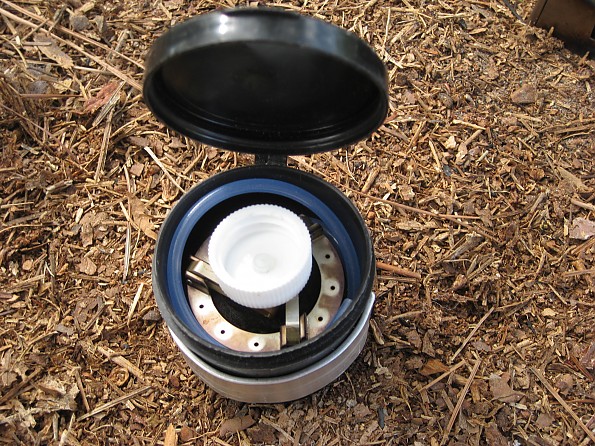 Everything but the lighter and baking ring is included with the AB-13 Hybrid.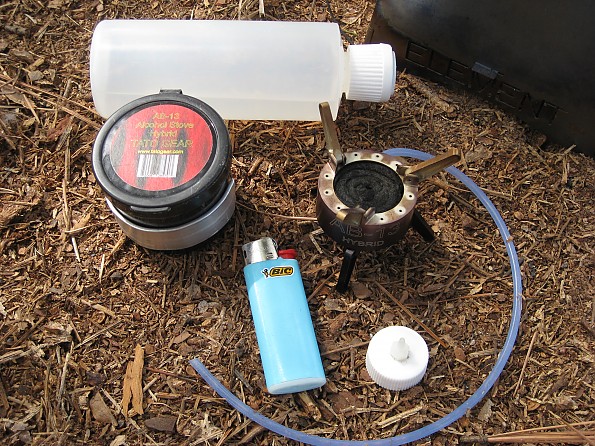 Love how it nest inside the modified fancy feast stove.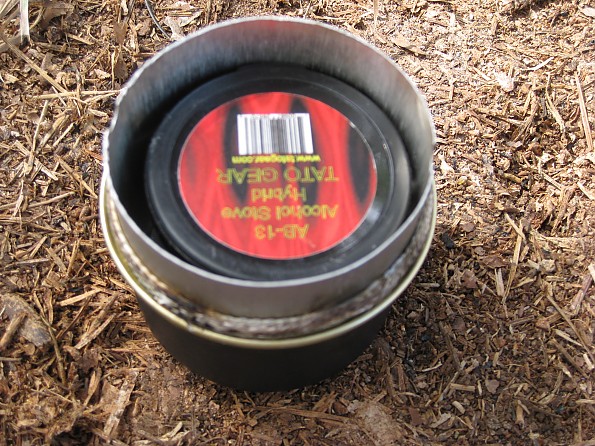 Mini-Bic added for scale.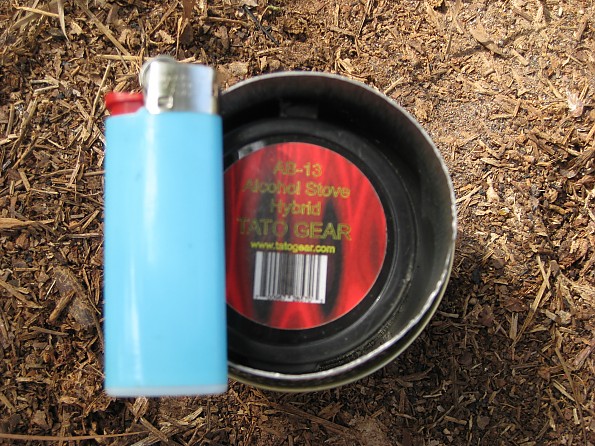 Source: received it as a sample, freebie, or prize (Won in a raffle by the Palmetto State Hangers)

Your Review
Where to Buy
Help support this site by making your next gear purchase through one of the links above. Click a link, buy what you need, and the seller will contribute a portion of the purchase price to support Trailspace's independent gear reviews.
You May Like
Specs
folded
unfolded
Price
MSRP: $34.95

Weight
.55 oz / 16 g

Dimensions
1 1/2 x 1 in
2 1/2 x 2 in
Material
Anodized Alumimun

Recently on Trailspace