Tentsmiths 11'3" x 14' x 8' Wall Tent

Reviews
1

review

5-star:

0

4-star:

1

3-star:

0

2-star:

0

1-star:

0
Version reviewed: Sunforger-Flame
A canvas wall tent for the ultimate retro experience in a classic base camp. The tent is both beautiful and extremely well made. It is both roomy and comfortable. I ordered it with the optional stove jack, optional divider curtain, and attractive Spruce and Mahogany poles.
Pros
Made in U.S.A.
Detailed and quality construction.
Beautiful!
You can stand up and move around.
Cons
It takes two people to erect the tent.
This is an 11' x 14' wall tent. At 50 lbs this is not a backpacking tent. It could be packed in on horses, ATV, or used on a canoe trip, but it is really more appropriate for a fixed base camp. The only thing more luxurious would be an RV bus.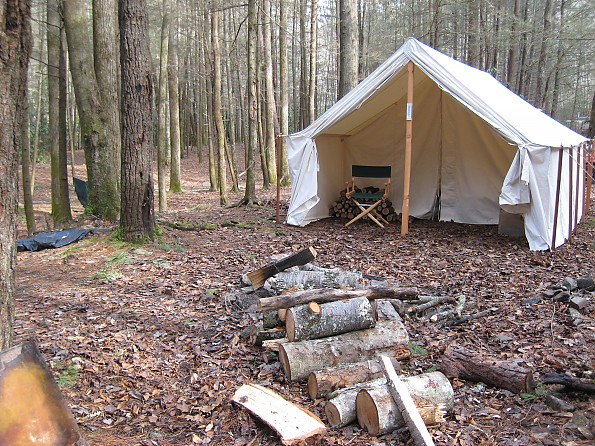 I took off one star only because I can't set it up by myself. Otherwise, setup is straightforward and simple. With the doors tied closed, stake out the four corners. Insert the ridge pole. The ridge uses a two-piece pole, with a sleeved coupler so that the sections are 7 feet length.  (A 14-ft pole wouldn't fit in the bed of a pickup truck.)
The 8-ft upright poles have a steel pin in one end that fit through a hole in the ridge pole. Once these are in place the ridge pole is raised. It requires one person working on each end of the tent. The perimeter stakes anchor the tent to the ground. Next the side wall poles are placed and staked out. The supplied iron stakes are beefy and deep rooted.
The "Sunforger-Flame" 10 oz canvas is resistant to sparks and embers from a campfire or the stove, but the buyer is warned that it will burn if exposed to open flame.
The upright poles and the ridgepole are spruce. The wall poles are mahogany. Both are milled into an octagonal shape in the mid section and retain the square profile on the ends. They are made from beautifully selected cuts of wood stock.
This shelter is incredibly strong. It pitches tightly, doesn't leak, and has withstood very heavy snow load and severe wind storms. Once, a very large limb fell onto the tent during a 60+ mph wind storm. It would have wiped out a tarp or a lighter weight backpacking tent, but it merely bounced off this bad boy. No harm done.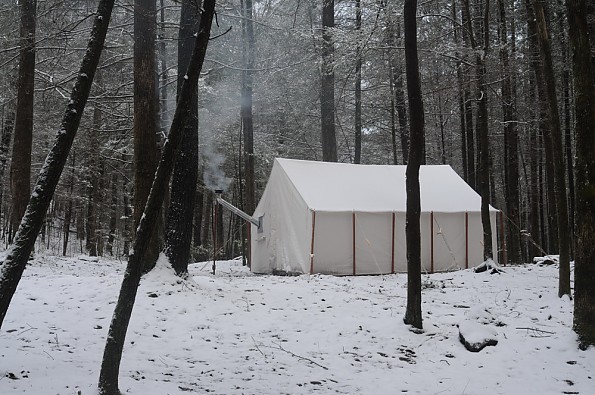 There is no floor.  In extremely wet conditions with saturated ground water the trampled interior dirt floor can become muddy. A well drained site can make a big difference here.
There is enough room to stand up and move around. Full length doors on both ends provide all the ventilation needed. A series of ties both inside and outside secure the doors closed if desired. The doors may also be tied back.
When ordering, I opted for the stove jack at a $75 uncharge. The "Two Dog Stove" from Four Dog Stove will keep the interior toasty warm. I also got the optional divider which closes off a portion of the tent and makes it easier to heat the remaining space. The main "room" has one corner devoted to the stove and firewood storage, yet still has enough space for two extra large cots.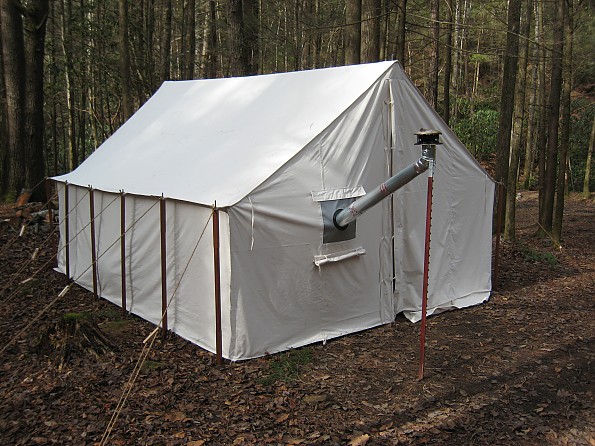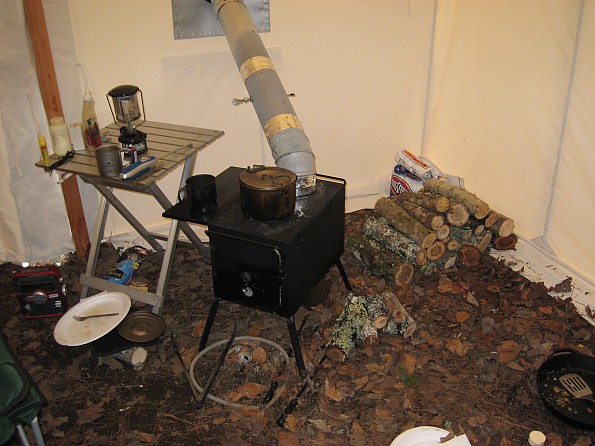 I have a friend who took a sabbatical from life in 2009-2010 because he wanted to experience what it would be like to live in the Cherokee National Forest for an entire year. He started off in August using lightweight backpacking gear, silnylon tarps, etc., but when deep winter came I loaned him this tent from December through February.  (When springtime came he went back to lightweight gear.)
To prevent "homesteading" the rules in the National Forest require that a campsite may not be occupied for more than 14 days at a time. He was required to move to a different camp every two weeks.
During this time I would visit periodically to help him pack up and move. I also enjoyed the experience of life in the tent through this time on a frequent basis. The tent was plenty big to be comfortable and uncramped for two people over extended time.
Tentsmiths does really nice work. Their quality is second to none. They supply historically correct period tents for reenactments as well as for the motion picture industry. It is apparent that they do considerable research of historical documents and accounts as well as vintage photos and artwork. In addition to the wall tent I also have their Whelen lean shelter.
The glow from a Coleman gas lantern at night looks so cool.   :)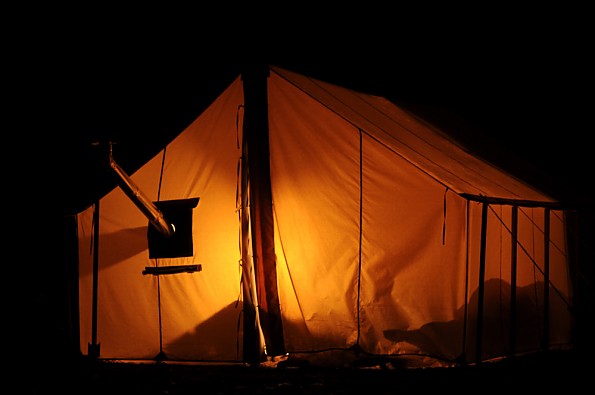 Source: bought it new
Price Paid: Current price is $800+ Stove jack is additional $75. Poles are additional.

You May Like
Recently on Trailspace