Teva Karnali Wraptor

The Karnali Wraptor has been discontinued. If you're looking for something new, check out the best sport sandals for 2022.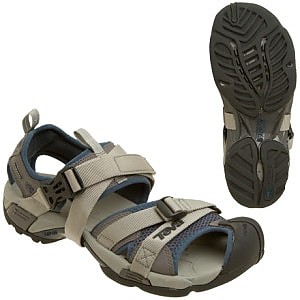 Specs
Men's
Price
MSRP: $100.00
Historic Range: $59.95-$100.00
Reviewers Paid: $19.00-$109.00

Women's
Price
Historic Range: $27.83-$100.00
Reviewers Paid: $33.75-$75.00

Reviews
9

reviews

5-star:

1

4-star:

2

3-star:

3

2-star:

1

1-star:

2
Best of the best from every sandal I used. Look new for me and family.
Source: bought it used

Almost lost my life with these. They are very dangerous on hard surfaces due to the hard plastic arch plate on the sole.

Pros
Look nice
Clips
Neoprene strap pads
Cons
Holes in the bottoms let more water in than help drain it out
The soles have a hard plastic plate in the middle that is dangerously slippery
These sandals have a hard plastic arch on the sole. When you are climbing over rock (wet or dry) and rest on this hard plastic, it slips. I was unfortunate enough to have slipped while climbing along a cliff over a ferocious waterfall and cauldron below.
There was a scraping sound and then I was hanging by one hand over the "slot machine" (see below). It was not a pleasant experience. 


The sole screens that are supposed to let water drain from your sandal actually let more water in than anything. Even when hiking over light dew, your feet become soaked. It works as a disadvantage. Your feet seem to be in constant saturation state.
No matter what other advantages this sandal has, I cannot recommend it. 
Source: bought it new
Price Paid: $60

2007 "Best of Gear" from Nat Geo Adventure?? These sandals suck!!
The soles came off while crossing a river, leaving me stranded in the middle of nowhere... damn sandals. I have no plans to buy another pair of Tevas ever.
Price Paid: $100

I love the fit and comfort; however, I purchased mine in April of 2009. It is now September 2009 and the soles are falling off. So far, glue has kept them together until the next section starts to separate.
Use: 4 days/week
Break-in Period: none
Price Paid: $33.75

Great product overall. I have abused these in and out of the water. Drainage is exceptional with the design.
You can really cinch these up to maximize support in extreme situations, and loosen them up at the end of a full day of activities to rest the feet. Very soft footbed is soo comfortable. I've not had any of the shrinking problems described in other reviews.
One minor quibble: the heel strap is hard to keep from sliding up and down on my heel during activities, but I've never had a hot spot because the material is soft. Overall a great design. I bought 3 pair. Ross has a clearance agreement with Teva's overstock, so keep your eyes open for scorchin' deals on all sorts of Tevas.

Materials: varied man-made
Use: Anything except in snowy conditions
Break-in Period: none for me
Price Paid: $19 at Ross

I've been using these sandals for rafting, and before the end of the season the sole and some nylon straps had worn out. Having clips plus velcro and toe protection makes it safer to use as a river sandal than other Tevas, but the durability of these sandals is, let's say, not proportional to the price you pay.
Also, the back design really should have been like the other Tevas', because this one caused a lot of blisters.
In general this sandal is well designed but they should have pushed their thinking a bit further to achieve the true river sandal everyone is waiting for.
Use: rafting (raft guide)
Price Paid: $75

For a water sandal it's fairly good, but after use in Buckskin Gulch in southern Utah this fall I would say its just okay. When new and never having been wet, it went on my foot fine, but after wearing it in silt laced water and drying out between uses, even after being rinsed of sand it had shrunk and was difficult to put back on when I needed it again. I had to re-adjust the straps to refit my foot like I did when I first wore them.
And even tho I bought it larger than my foot size as I usually do for hiking shoes it gave my feet blisters along the sides, heel and toe (where a cover is over the big toe area).
I don't think I will wear them again.
Materials: Nylon staps and webbing around the foot.
Use: Worn in silt laced water in a slot canyon in Utah.
Break-in Period: I wore them for a couple days dry while walking and cycling around town.
Weight: Maybe a couple pounds together?
Source: bought it new
Price Paid: $109

Pros, Good look, protective, easily tight, walk well
Cons, micro zinc of whatever isn't working, shoes stink more than any other shoes ever had, heel strap not moving with heel. strap on front is very short, I can't chance it.
Use: walk in bush
Price Paid: $100

First the pros:
-Fits well
-Relatively lightweight for the toughness
-Sole is very sticky
-I like the firmness of the bottom - you don't feel the jagged rocks like on some sandals
-Love the big toe guard. Can't tell you how many bloody toes I had with my old sandals... plus the front is still relatively open, so you don't have the "spoon effect" (not to mention the heat box) of Keen shoes
Cons
-I hate the back. My old Tevas had a back strap that was only connected to the "arch" that goes over the front of the foot. As such, this back strap basically floated, and moved naturally with my heel. This back is connected directly to the bottom of the shoe. This results in the heel moving, but not the strap - read: hot spots. If I really crank down on the straps, this movement is reduced, but not eliminated. (I know this description is tough to follow... look at the back of this shoe compared to normal TEVAs and you'll immediately see what I mean
- The front strap is not needed... seems like they were looking for an excuse to put on another cinching strap... for as often as I would adjust it, a velcro strap would have been lighter, easier, and more comfy
- the top buckle enclosure... I like to just slip my shoes on. The perfect solution would have been to ditch the snapping buckle (putting on sandals should never require one to sit down!) and use the type of pull-lock system that is on the front. Would have been much more convenient.
Despite the fit/convenience problems I really like these sandals...
Price Paid: $95

You May Like
Recently on Trailspace