Teva Original Universal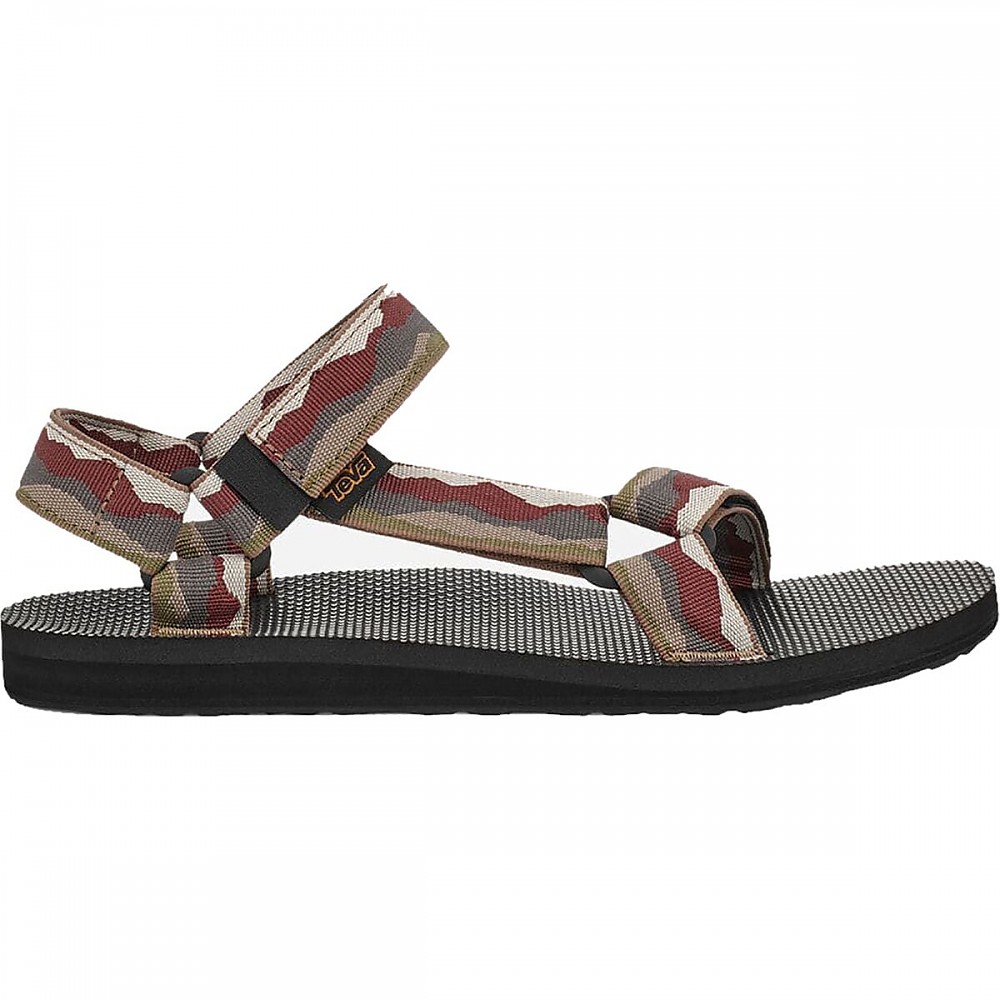 I bought these in the late 1990s. I moved to Texas and I wanted a breathable footwear for school and for water sports. I purchased these and I have used them in every creek and stream in and around water in Texas. I am doing the same thing in any water in Virginia.
Pros
Comfortable
Simple footwear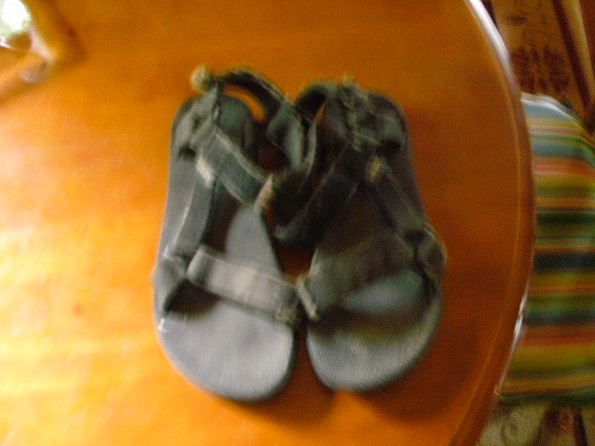 They are a simple shoe—a two-piece rubber bottom, attached to that a half-inch wide web strap with Velcro. I learned about the shoes in Backpacker magazine and read the ad and  saw them at an REI. I saw them tried them on and purchased a pair and the rest is history.
I had options many times to get new sandals and upgrade to other brands and styles. I saw no need to upgrade. These are meeting my use and purpose. I use these for canoeing and kayaking and anything by water. I took them to the beach in Virginia Beach last year.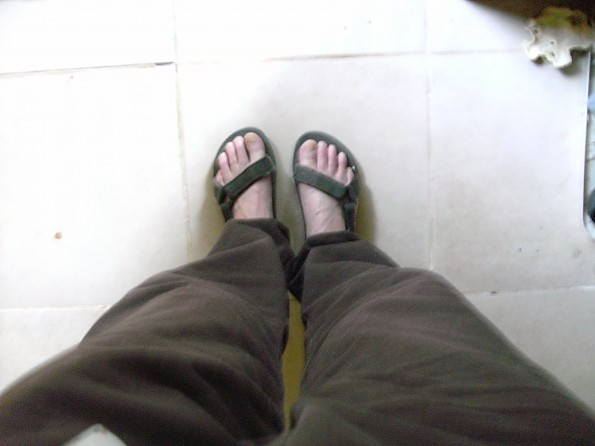 The things you need to check is the wear of the bottom of your sandal and the webbing with the Velcro. Really not much to them, but pretty good use of materials that will last the test of time...  
Experience
I am a member of a trail club and a long distance hiker. I have been backpacking and hiking since I was 13 years old.
Source: bought it new
Price Paid: $50

Teva is an authentic icon in the outdoor industry. Founded in the early 1980s by a Colorado River guide, Teva pioneered the sport-sandal category. For more than 20 years on rivers, in canyons, and across the trails of the great outdoors, athletes and enthusiasts have traveled the globe comfortably and confidently in Teva footwear.

Providing positive contributions to the world in which we play is at the core of everything Teva stands for. The Teva name itself is a Hebrew word meaning "nature" and the hand logo is the Hopi symbol for "friendship" and "water."

Teva supports the outdoor athletic lifestyle and remains committed to innovation in outdoor performance footwear, the platforms which carry enthusiasts beyond the offices of the day-to-day and onto the rivers, trails, and canyons of the next adventure.
Pros
Awesome looking
Cute
Comfortable
Waterproof
Durable rubber
Many colors available
Hook and loop closure
Cons
May be too narrow
Need more arch support
May need duct tape
Can become uncomfortable and rub on pinky toe
Velcro can catch onto polyester webbing
Teva Universal Flat sandal is sporty, stylish, and perfect for all of your casual weekend adventures.
I bought these sandals @ DSW because I like the look of these, but found that the size are not perfect and needed a size larger, no half sizes. They are comfortable nonetheless. It is much better than the "thong" which eventually cause irritation between the toes.
They are easy to wear but eventually remind me of a cheap pair of shoes from the beach section at a grocery store. The box it comes in is nice and shipping weight is 1.4 lbs.
Ive only had these sandals for a few weeks and worn them a few times. I thought I was gonna love these shoes a lot but seems like the sole needs more arch support. My weight from walking in the sandal has made the rubber broke in kinda sink like denting the sole.
I'm not sure if these are made from recycled rubber but they are not exactly made of memory foam. The sole is man made so not leather or natural rubber. It has been glued together. Guess it all depends on how you walk. Someone told me I can make repairs with seam sealer.
I don't recommend wearing these sandals for trail hiking. Great for walking on the beach or in a park. The bottom does not have much traction and the rubber is not durable enough for boundary waters. The webbing upper can get wet but takes a very long time to dry. Depends on the person and the humidity.
I think these sandals were designed for a sporty look but the quality and craftsmanship is poor. If you aren't careful and wear these shoes on more than a trip to the park or walk in the mall you will need to bring duct tape to keep the sandals a float.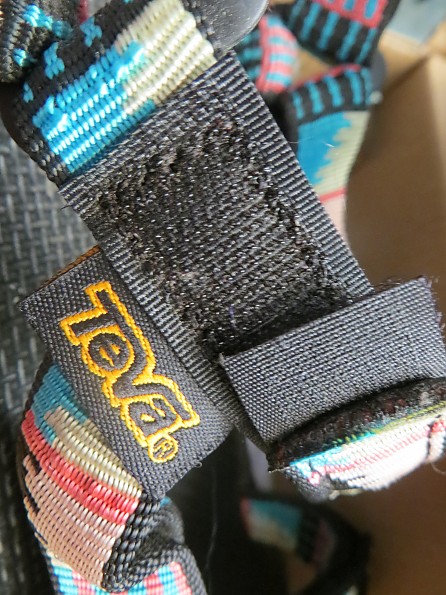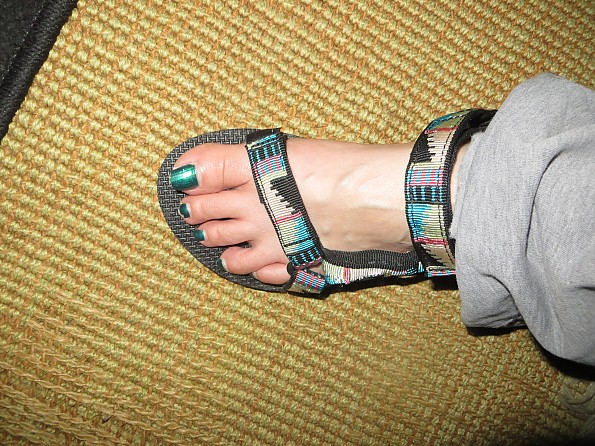 I like these sandals because they fit like a dream! Can adjust the polyester webbing upper using the Velcro. These sandals have no buckles. Can also adjust to wear socks. I like sandals during the summer months to keep my feet from sweating and developing athletes foot. Some say the front strap across the toes are in the wrong place so it hurts other people's feet cause they are narrow, but they fit my feet well. 
Some people like to jazz up their sandals by sewing turquoise beads n such across the straps. I like mine just the way they are. Iv'e also been told that the straps can eventually stretch and the Velcro can become worn out. They are just not strong enough for rugged terrain. I think rocks and foreign material will dent the rubber sole and will fall apart .
They are my new go-to-day off shoe. My glamorized flip flops. I want these sandals to hold up thru the summer with lots of punishing wear.
Source: bought it new
Price Paid: $39.95

When the price is right, these are a durable and fashionable outdoor sandal.
Pros
Comfort
Waterproof
Functionality
Fit
Cons
Price points vary between retailers
Arch support
Requires breaking in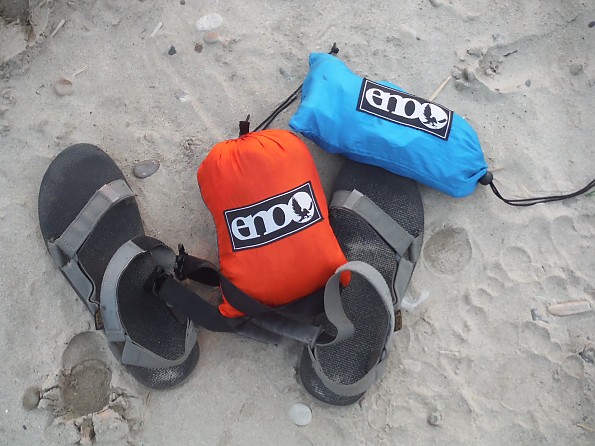 The Teva Universal is a staple in the outdoors industry. I purchased my first pair three years ago for $8CAN in a sale bin during the winter at a store up north in Sudbury. When I bought them, I thought they looked goofy, but I wanted them as I am an avid canoeist, and constantly had issues walking in shallow water with flip-flops on. I wanted something that would look similar, and act similar to flip-flops, but secured to my feet better. 
When I first wore them, I found them to be very uncomfortable and almost cast them away. I persevered on my way and slowly found them to get better and better. I then tried wearing them while walking in half a meter of water, and they molded to my feet very quickly. 
Soon, I began wearing these sandals daily, and my love for them grew more and more. I had endless adventures over three summers in different regions across Ontario. It is now to the point where I have worn them out, and recently purchased the identical pair, this time for $25. 
I must admit, these sandals do not offer the best arch support, so if you are someone who has sensitive arches, these might not be the sandal for you. The footbed will mold to your feet and provide support in that way, but be sure that it will be enough before buying.
As far as pricing goes, I have seen them priced as low as $8 and as high as $60. I can't see myself buying them if they are more than $30, so if you come across them on sale or discounted, take it as an opportunity to give them a try as a low cost, functional, and durable sandal. They aren't as fancy as Chacos, but they surely aren't as expensive.
Source: bought it new
Price Paid: $8

Your Review
You May Like
Specs
Men's
Price
MSRP: $50.00
Current Retail: $22.30-$55.00
Historic Range: $9.98-$55.00
Reviewers Paid: $8.00-$50.00

Weight
6.5 oz — half pair weight for size W7/M9

Material
Vegan footwear, created using synthetic and plant-based materials

Recyclable
TevaForever recycling program accepts any style of your well-loved Teva sandals to be recycled and they'll never see a landfill

Women's
Price
MSRP: $50.00
Current Retail: $22.67-$55.00
Historic Range: $11.98-$70.00
Reviewers Paid: $39.95

Weight
5.5 oz — half pair weight for size W7/M9

Material
Vegan footwear, created using synthetic and plant-based materials

Recyclable
TevaForever recycling program accepts any style of your well-loved Teva sandals to be recycled and they'll never see a landfill

Kids'
Price
Current Retail: $39.95
Historic Range: $8.73-$39.95

Recently on Trailspace