Teva Terra Wraptor XCR

The Terra Wraptor XCR has been discontinued. If you're looking for something new, check out the best trail shoes for 2023.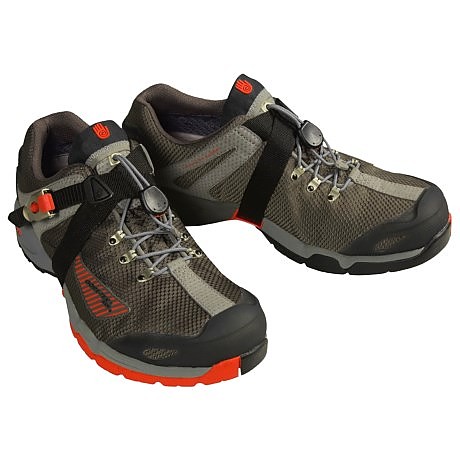 Pretty much the best light hikers ever made! Super comfortable, great grip in all sorts of conditions, easy adjustments, waterproof (Goretex), nice style (to me:)). I wish Teva would bring them back!
Pros
Waterproof
Long-lasting
Comfortable
Good grip
Easy to adjust
Teva, bring these shoes back!
This review is long overdue. I purchased my first pair of Teva Terra Wraptor XCR shoes about 10 years ago. After wearing them for just a few weeks, I knew I'd found a pair of shoes that I loved! So, I bought a second pair. Then, I bought a pair for my older brother, then a pair for my younger brother. Eventually, I bought a pair for my wife, but they were slightly too small for her, so they went to her sister.
Unfortunately, Teva stopped making this shoe not long after that. After years and years of daily use around town, hiking, backpacking, mountain biking, climbing ladders for window washing, and everything in-between, both pairs finally gave up the ghost. I've searched often, but I've yet to come across another pair in my size 10.5. Too bad, as these were the best shoes I've ever owned. (Keep reading for my review below.)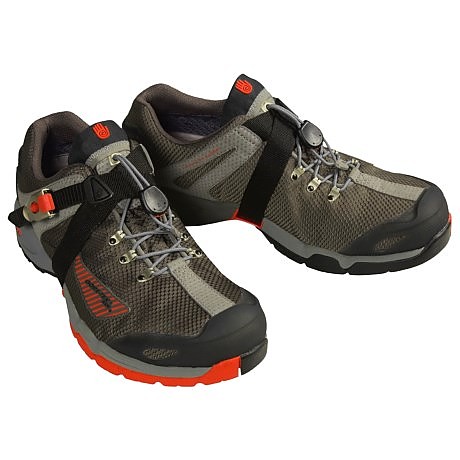 My first pair of Teva Terra Wraptor XCRs was this nice-looking grey color.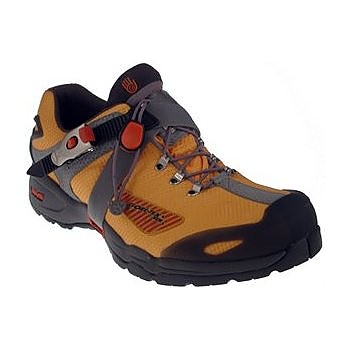 My second pair of Teva Terra Wraptor XCRs was this bold yellow.


Review
After switching between the yellow and the grey shoes pretty much every other day for 5-6 years, they finally wore out and had to be retired. It's now been about 4-5 years, so I'm going off memory here, but my memories of this shoe were fond... The fit of these shoes in size 10.5 was spot on for me.
These shoes featured a very unique lacing system that combined a pull-cord lace, with a ratcheting strap that wrapped through the sole of the shoe to help lock in the foot. After some tinkering with the pull-cord lace, I ultimately ended up leaving the pull-cord fairly loose, and just used the ratchet to tighten the shoe for normal daily use. When I would need to tighten up the entire shoe for hiking and backpacking, then I would tighten up the pull-cord. 
The pull cord was solid, not a bungy cord, so it offered easy adjustability to tighten down the whole foot when needed. However, the real standout here was the wraparound ratcheting strap. It came over the top of the foot from the instep, over the outside of the foot, through a slot in the sole, over the inside of the foot, and then was inserted into a ratcheting buckle on the outside of the foot. It seemed complicated at first, but it is actually very functional and did a great job of locking in the foot. I rarely ever felt any foot slippage, even when hiking down steep slopes.
The outer material featured a goretex liner that seemed to work fantastic. I never had issues with water penatrating the shoe until using the shoe for many years seemed to finally wear some small cracks/holes at the flex point of the shoes. I owned/operated a residential window washing business during the summers for about four years, and these shoes did a great job of keeping my feet dry while walking through wet grass in the early morning or spraying down the screens. The Goretex liner did keep the shoes from being as breathable as a mesh fabric, but I never felt like my feet were overly sweaty.
Traction was excellent. These shoes featured a rubber lugs with a felt fabric between the lugs. I never experienced any slipping on the trail, on steep slopes, on rocks, or on wet ladder-rungs. I also used these shoes occasionally for mountain biking on platform pedals, but noticed the metal pins on the pedals would dig into the felt fabric, and tore off one or two of the rubber lugs. When I noticed this, I stopped using these shoes for mountain biking, and never had an issue with losing lugs again (until near the very end of their lives).
Occasionally, the ratchet buckle and/or the plastic end of the strap would catch on a rock or log, but never really caused any issue.. until the end of the shoe's life. It seemed after 5-6 years of daily use, the plastic strap on the end became more brittle, and ultimately broke when snagged on something. I would try to keep wearing the shoes, but it eventually happened to the other shoe. Then, it finally happened to the other pair of shoes as well.  It was a sad, sad day. :(  
The tread was mostly worn down at this point anyway, but the uppers were still in fairly good condition, considering how much they had been used.
I would love to be able to find another pair of these shoes somewhere.... or better yet, Teva could bring them back... 
Source: bought it new
Price Paid: $80?

Your Review
You May Like