The North Face Aleutian 3S Bx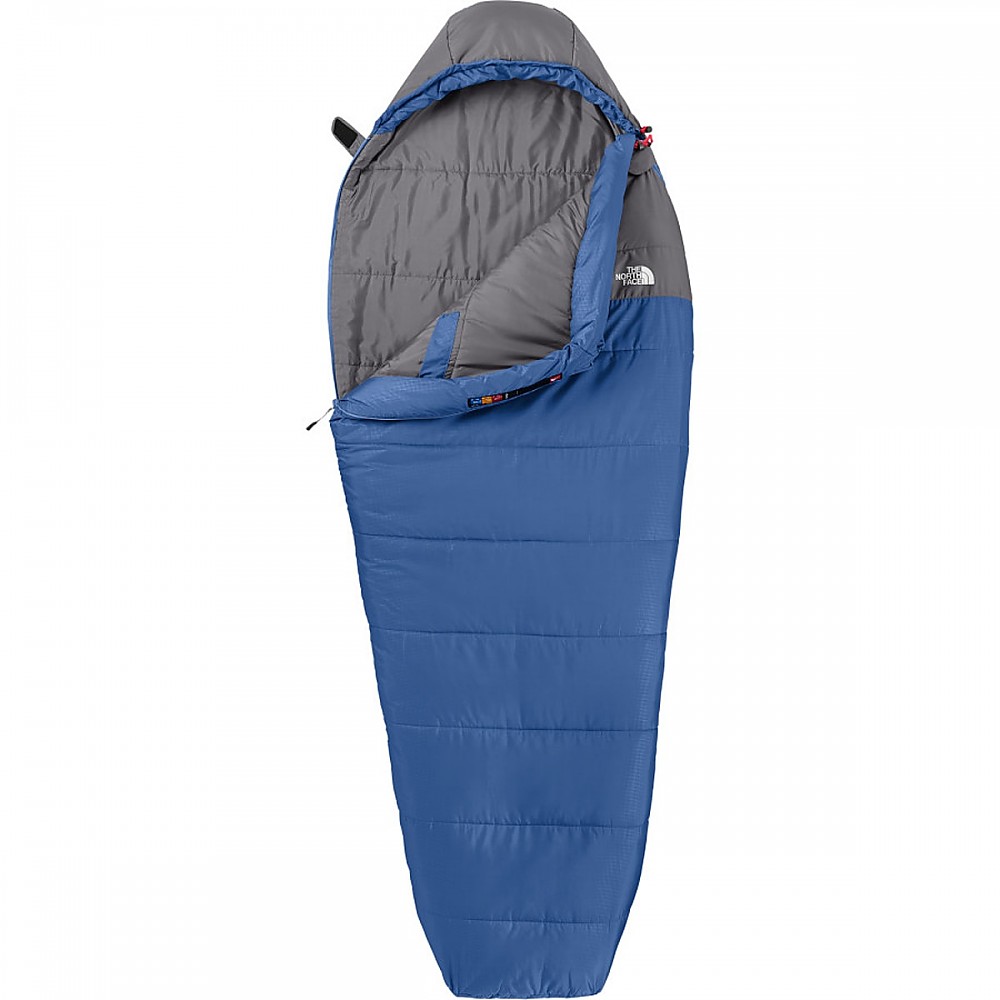 Version reviewed: 20 degree bag
This is not a 20 degree bag. IMHO, this is not even a 35 degree bag even with thermal underwear, a pair of socks and a winter hat.
Bought the bag brand new, let it air out, packed properly. I was surprised at how little loft there was. Took it up to Glacier National Park this fall for some camping. Nights were from 30 to 45 degrees, and I was quite cold in all of them using this bag, thermal underwear(top and bottom), sweatshirt,socks and two closed cell camping pads. I needed to grab my other sleeping bag that I brought for a comfortable nights sleep.
I understand this is an entry level bag (my previous bag was a ten year old REI -20 down that was about $250). However, that is really no excuse for mislabeling this bag. I would expect a lack of longevity, not false temp ratings. Normally you expect a bags ratings to be about 10 degrees off (on the warmer side). That's acceptable. This isn't. Also, a few days into the trip the zipper started snagging constantly right at the shoulder point.
Those complaints aside, I like the look of the bag, and the materials feel nice. It's a nice bag ONLY if you plan on using it during the summertime in the mountains. Do not trust it for spring and fall anywhere above 3000 feet.
At this point I may just create some sort of fleece liner for the bag to make it reach the advertised rating.
Design: mummy
Fill: synthetic
Temperature Rating: 20
Weight: ok
Price Paid: $89

It's a pretty decent bag for the money. However, the trade off for the cheap price is poor durability and weight. This was my first mummy bag and I was amazed how much warmer it was than my old flannel/canvas Coleman. It really a step up from that. The material is durable and feels nice against the skin.
I used mine mostly for car camping and for a few backpacking trips. After about 10-12 trips with it, it had noticeably lost much of the loft and warmth it once had. After a few more trips, it would barley keep me warm on a 55 degree (F) night. I was meticulous about storing this bag so I was very disappointed how quickly the insulation broke down.
Earlier this year, I was able to pick up a Marmot Pinnacle at $100 off retail. Now this is a fantastic bag! Like much of the bargain camping gear I have purchased, I'm finding I would have been better in the long run to buy the expensive, high-end model from the beginning. You really do get what you pay for with outdoor equipment.
Design: Mummy
Fill: Synthetic
Temperature Rating: Rated 20. Actual 30-55
Weight: >3 lbs
Price Paid: $80

Good affordable bag by a top name company. Can't comment on the 20 degree rating, but kept me warm down to the mid 30's. Here in Florida, it just doesn't get that cold. Plan on taking it on a trip up north soon. Should be fine. I'm 6' !" , 205 lbs and the reg. size fits good.
The only issue I have is getting the bag back in the sack. It's a real tight fit. My wife can't do it. I purchased a Granite Gear round rock compression sack in Large, 1400 cu in., which brings the size down to a little bigger than a soccer ball, after it's compressed. Made all the difference.
Overall, I would recommend this bag and the comp. sack to go with it.
Design: mummy
Fill: syn.
Temperature Rating: 20
Weight: 3 1/2 lb. or so
Price Paid: $89

I bought the bag for summer use in the Interior of Alaska... And woke up freezing every night that I used it, which is a pain when you have a job that keeps you in the field for months at a time. The temp never dropped near the 20s and I still had to put on extra layers.
I replaced it with a Marmot Teton down mummy and I must say the Marmot's a way better bag. You get what you pay for. My mistake.
I am just getting back into camping/backpacking, so I was looking for a new sleeping bag. I get cold easily at night, even in the summer, so I was looking for something on the warmer side.
I took the bag to NH Memorial Day weekend. Temperatures one night dropped to the upper 30s, and this bag kept me toasty. Our tent door was open, but once I zipped up the bag all the way and got into it properly it kept me perfectly warm (in flannel pants and a t-shirt).
I have yet to go backpacking with it, but it seems to compress fairly well, my backpack is small, but I think it will work well.
I am a 5'6" female and the bag fit me well, a little long, but women's bags are too short for me.
I'd give this a 5, but I'd like to take it backpacking and sleep in a little colder weather before doing that.
Design: Mummy
Fill: synthetic
Temperature Rating: 20F
Weight: little under 5lbs
Price Paid: $70

Overall I had no problems with this bag. I was sleeping in about 25 degree weather on top of snow and it held up fine. My head got a little cold but I forgot to bring my beanie in the tent with me and I didn't tighten up the hood drawstring. I'm 6'9" 250lb and the long size did the job.
The only drawback is that is is pretty tight around the hips but not many mummy bag aren't and one other thing is that it's a real pain (at least for the long size) to stuff in the bag compartment of my pack. I can work it in but it does take some effort.
It's a great bag for the price and seems to be true on the temp rating. I do recommend it for people who don't want to spend $200-$300 on a sleeping bag.
Price Paid: around $70

Can't beat it for the money!
As with all of my gear, I like to try it out before I set out. With that being said, I set up camp in my backyard last night and it dropped to a bone chilling 24 degrees.
I was a little nervous about this bag at first, but after 5 minutes, I knew there was very little to worry about. I was in my tent with the fly on and it was very windy last night. I had on full length base layers, regular pants, a lite weight wool sweater, a fleece, and my beanie. I was cozy warm and comfortable in the Aleutian.
Only warning I have, if you are over 5'10" (my height) opt for the "long". I bought the regular length and felt a tad cramped at the bottom, but nothing to fuss over.
Design: Mummy
Fill: Synthetic
Temperature Rating: 20 F
Price Paid: $89

Can't understand how I got such a good deal on this bag. Went on a hiking trip up to the Adirondacks last week with some friends. Nighttime temps were probably in the high 40s, and the bag was extremely warm...so warm that I had to open it up to cool off at some points.
It packs small enough (it easily fit into the sleeping bag compartment of my internal frame pack, which I couldn't say about two of my friends' borrowed bags), and it is relatively light, at least if you aren't an ultralight hiker.
Highly recommend this pack, especially if you can get it on sale.
Price Paid: $55

Great price, great bag considering.
Totally happy with the bag's performance. Is warm enough. Pack down size is not too bad with the included stuff suck. Can be compressed further with an after market compression sack (I never felt that it made enough difference to mess with this).
Zippers function very well, no snagging trouble.
A bit heavy (3lb., 6oz.), not for ultralighters obviously, but it also seems like it may be able to withstand a bit more than three-season hiking. It's not suited for the arctic, but wear some clothes and it will keep you tight in some pretty low temps.
All around use, a winner.
Price Paid: $79

Used the bag at Denali National Park. Despite three days and nights of ceaseless rain and snow and a badly leaking tent with temperatures below freezing nightly, the Aleutian stayed warm and dry on the inside. A great value!
Only small complaint is that it's a real bear to get it stuffed into the stuff sack that came with it. I got a long, and I suspect the stuff sack was designed for a regular length.
Design: mummy
Temperature Rating: 20 F
Price Paid: $69.95

The single pull/ bi-directional drawstring for the head wrap is a bit tricky to use in the dark until you figure it out. A 20 degree bag that easily goes to a 10 degree bag with a pair of thermals on. I used this bag at Black Rock SP in Georgia on 1-2-10 and stayed toasty warm at 9 degrees. Compresses well for easy backpacking. An excellent bag for the money and is correctly temperature rated.
Design: mummy
Fill: synthetic
Temperature Rating: 20 degree F
Price Paid: $99

Not a bag sleeping bag for the price. I bought this sleeping bag spring 2008 and used it the entire summer and fall. I have yet to take it down to its 20 degree rating, but the bag kept me warm and comfortable in 35 degree weather.
If you're looking for a good bag for under 80 dollars, I wouldn't have any problems recommending this one.
After two seasons of use, I'm very impressed with this bag. For under $100 this bag has done its job. The only thing I can say against this bag is it's not as light as others (but just as compact). If you're on a budget, take a look at saving some money here.
Design: Mummy
Fill: H.O.T. (Heatshield Optimal Technology) SL Fill
Temperature Rating: 20F
Weight: 3lb 6oz
Price Paid: $79

Not a bad sleeping bag. The price is great. Overall it was a warm sleeping bag. The only problem I had was the sizing. For me, It was a little tight around my shoulders.
Design: Mummy

Your Review
Where to Buy
Help support this site by making your next gear purchase through one of the links above. Click a link, buy what you need, and the seller will contribute a portion of the purchase price to support Trailspace's independent gear reviews.
You May Like
Specs
Men's
Regular
Long
Price
MSRP: $89.00
Historic Range: $48.95-$249.00
Reviewers Paid: $55.00-$99.00

Temp Rating
20° F / - 7° C
20° F / - 7° C
Total Weight
3 lb 6 oz / 1545 g
3 lb 10 oz / 1650 g
Fill Weight
2 lb 1 oz / 930 g
2 lb 3 oz / 1005 g
Max User Height
6 ft 0 in / 183 cm
6 ft 6 in / 198 cm
Shoulder Circumference
62 in / 157 cm
64 in / 163 cm
Hip Circumference
58 in / 147 cm
60 in / 152 cm
Foot Circumference
40 in / 102 cm
40 in / 102 cm
Stuffsack Size
8 in x 17 in / 20 cm x 43 cm
8 in x 17 in / 20 cm x 43 cm
Fabric
100% Polyester Enduralite
100% Polyester Enduralite
Price
$89.00 USD
$99.00 USD
Women's
Regular
Long
Price
MSRP: $89.00
Historic Range: $56.95-$229.00

Temp Rating
20 F / - 7 C
20 F / - 7 C
Total Weight
3 lb 2 oz / 1416 g
3 lb 5 oz / 1509 g
Fill Weight
1 lb 15 oz / 886 g
2 lb 1 oz / 930 g
Max User Height
5 ft 6 in / 167 cm
6 ft 0 in / 183 cm
Shoulder Circumference
59 in / 150 cm
60 in / 152 cm
Hip Circumference
53 in / 157 cm
63 in / 160 cm
Foot Circumference
41 in / 104 cm
41 in / 104 cm
Stuffsack Size
8 in x 17 in / 20 cm x 43 cm
8 in x 17 in / 20 cm x 43 cm
Fabric
100% Polyester Enduralite
100% Polyester Enduralite
Price
$89.00 USD
$99.00 USD
Kids'
Price
Historic Range: $59.40-$179.00