The North Face Baltoro Jacket

The Baltoro Jacket has been discontinued. If you're looking for something new, check out the best down insulated jackets for 2023.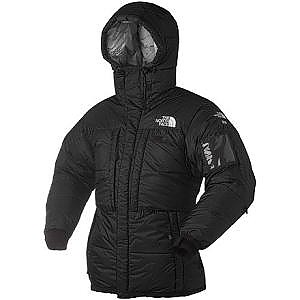 I have the black North Face Baltoro down parka, non-detachable hood, Summit Series, 800 fill model which I've worn every winter season now for the past four years. I love the coat and have many good things to say about it and just one, maybe two bad things about it.
Firstly, if you'd own one of these Baltoros and live where it gets really cold in the winters? often below zero? You'd cherish and love this parka and wouldn't want any other coat to wear in sub-zero temperatures. The North Face Baltoro is the most comfortable, light-weight, climate-controlled parka you could ever imagine! You'd have to try one on and be outside in the freezing winds of winter to understand! This parka, there's nothing like it!
I describe the experience of wearing this parka in freezing winter temperatures to wearing pajamas out in the harshest winter winds and temperatures while feeling toasty, light and comfortable without breaking a sweat. Besides having a non-detachable hood, the parka has a down-filled neck collar inside the parka which is extremely comfortable and warm adding protection from any draft getting on your neck. No wind gets in this coat, I'll tell you that much! I've worn the coat in strong winter winds while walking along an ocean shoreline. I hadn't felt any wind at all inside the parka, nor was I cold at all!
The coat is unbelievable. I'd say it's PERFECT except for two things I'll explain shortly. The hood has a well-designed set of draw-strings where you can adjust them with winter gloves on and can make the hood opening very small. The hood is also very-well insulated with down.
The bads things I REALLY dislike about the North Face Baltoro parka?
1. The outer-shell fabric is very fragile and thin! Lean-up outside against anything that might have a burr, be it metal or wood or whatever?... and there'd be an excellent chance the burr would tear a gash in the outer shell fabric like it were butter! You might not even feel it happen or notice it until you'd see your goose down blowing away in the wind! This had happened to me once while I was walking with a friend downtown where I ever so gently brushed against a metal street sign that had a burr on one of its' edges. The burr tore a four-inch long gash in my parka without my even feeling or noticing it.. and the down was coming out blowing in the wind while I was walking. I almost wanted to cry when I saw it. North Face really has to consider using sturdier and thicker fabrics for the outer shell. That's my opinion. No one wants to spend big bucks and have a parka that can be easily damaged?
2. The 2nd thing I dislike is that the outer shell is also not water-repellent. The outer shell needs to be treated. If not and you were to get caught in the rain wearing this? You'd be screwed without a doubt! Snow is O.K... rain... forget it!
I love the pockets on the parka. They're designed really well. Washing the parka can be a task, though. I think it's worth mentioning there's a heat-reflective silver-colored coating on the inner liner of the parka which can be damaged and fade easily if the parka is cleaned in a non-conforming manner to the printed cleaning instructions on the label inside the parka.
Fabric: Nylon
Fill: 800 Fill Down
Price Paid: Big bucks

Last year, while ice climbing at night with Dan Osman above Emerald Bay in South Lake Tahoe, we swapped his Baltoro, affectionately tagged "The Sleeping Bag," as a belay jacket. While belaying in the Baltoro, you could sit perfectly still in the biting wind for a long pitch, the air temp plummeting as midnight approached, and you might as well have been in the tropics. Toasty.
I've got a Himalayan Parka coming in the mail-- I'll see how it performs this winter. A little longer than the Baltoro, the Himalayan promises to be a furnace.
I've also got nothing but good to say about my Kichatna Jacket, worn over two seasons in conditions varying from vertical ice to an ascent of Shasta via the Hotlum Glacier. Make sure with any of these coats that you get them roomy enough, with layers, to allow complete arm rotation without binding.
Climb safe.
Fabric: Gore DryLoft/GoreTex 3-Ply
Fill: 700 fill goose down/none
Price Paid: $495 SRP/$385 SRP

If you want an extreme, baffled and exceptionally durable jacket, that is not too constictive than this jacket's for you. Very warm and has a detachable hood. Has all the features needed for serious mountaineering. If you're someone like me who doesn't like long and cumbersome down jackets than this is what I recommend. Very extreme jacket and is way too much for city use. You can say this is an extreme version of the summit jacket.
Very expensive, but if you're a serious cold weather enthusiast, then it is well worth the money! (Got this jacket for $350 Canadian.)
Fabric: Gore Dryloft/ripstop nylon
Fill: 700+ fill
Price Paid: $800 (Can)

Version reviewed: Down Jacket
This review is similiar to the MH Absolute Zero Parka review. Note: I have no circulation problems in my arms. There was a cold spot on the lower part of my left arm between my wrist and elbow. The down moves too much and there is not enough down. By only wearing a T-shirt you find out real quick where the down is lacking. MH Absolute Zero Jacket also had a cold spot problem. Only Marmot appears to make down jackets w/o cold spots. The T-shirt test is the only way to properly try expensive down jackets.
Fabric: Dryloft - Ripstop - Radiant
Fill: 800 goose down
Price Paid: $525

Excellent jacket. I live in Norway where it can get pretty cold, but this jacket keeps me toasty even under the worst conditions. The Gore Dryloft fabric shell has helped this jacket keep me dry as well as warm. With the detachable hood in use, there's absolutely no way for one to lose that crucial body heat. Got mine on sale for $350 USD, but it would have been worth paying twice that much!
Fabric: 30d Nylon Ripstop Gore Dryloft, Supplex Taslan Gore 2-ply
Fill: 7oo+fill goose down hand filled into 33 seperate chambers
Price Paid: $350 US

Version reviewed: Down Jacket
The warmest jacket you could ever buy; Built in body heat reflection system, Ribstop, verry verry warm and light. Lots on inside and outside pockets.
I recommend it warmly!
Fabric: Dryloft - Ribstop - Radiant
Fill: Goose Down 800+
Price Paid: 18.450 Belg. Francs

Your Review
You May Like
Specs
Men's
Price
Historic Range: $199.58-$349.30
Reviewers Paid: $350.00-$525.00

Recently on Trailspace