The North Face Big Shot

The Big Shot has been discontinued. If you're looking for something new, check out the best daypacks for 2023.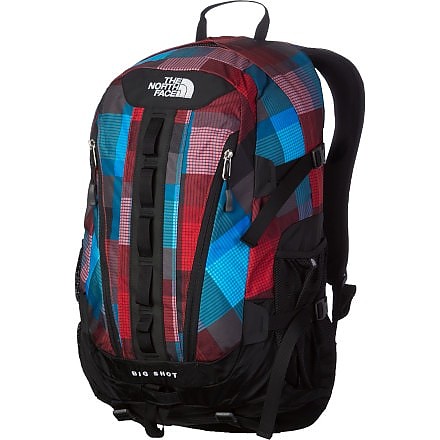 Out of 10, I would give this a 9. I've had the bag for a couple of months now - and it's held its own very well in both environments.
I have carried around my laptop, tools (wrenches, pump, repair kit) for my mountain bike, books for class, and folders. I have a cell phone pouch clipped to the front, it performs marvelously. The hip and sternum straps are highly useful when on your bike, keeping the load from shifting around too much.
I regularly fit 3 gallons of milk inside (with a few books at the same time), when I make a grocery run on the way back from work or school (on my motorcycle or mountain bike). The overlapping pockets in the back are useful for holding my laptop cords and bike tools.
I don't use the inside pockets / pouches much. They aren't very accessible when you are running with a full load. The side pouches comfortably hold my Nalgenes, even with the insulating covers on the bottles. Since the hip straps aren't padded, it's probably not a good idea to hike it with heavy loads for more than a day.
In the field I guess I would wish for a little more air circulation in the back area (but I don't know of any backpacks that are dual-purpose that are much better). I sweat like crazy when it's warm/hot, and this pack really holds in the heat for me. The daisy-chain straps on the back are sturdy enough.
There is also a hole in the top near the carrying strap for a hydration pouch - which I haven't used yet (I have Nalgenes, and a 100 oz. Camelbak pack when I need lots of water.) The hydration pack would fit in the lap-top sleeve in a pinch. You could easily fit the makings for a picnic in here, pack up for a day trip (maybe even a short overnighter -- unless you're Bear Grylls, in which case you can make your own pack out of vines, mud, and moss).
Fits my bike helmet inside when I'm running light around campus, and I clip it securely to the outside when I'm running a heavier load.
I recommend the back to the average college student who would take it outdoors on the weekend. I would also recommend water-proofing it with Camp-Dry, and spray the zippers with it too to prevent wear-and tear from dust / road-grime.
Design: Day pack
Size: 2100
Number of Pockets: 10-12
Max. Load Carried: 25 lbs. (three gallons of milk)
Height of Owner: 6'0"
Price Paid: $89

Great pack for just about any occasion and it has surprising amounts of room. The Pro's and Cons are listed below
PRO'S:
Durability:
I am not sure what you could do to this pack to hurt it. It has seen its fair share of abuse in the past 3 years and still looks GREAT. It is my standard choice for all my client guiding trips.
Support:
I would max this pack out at 25 - 30 pounds. Beyond that you are pushing it. There is a fair share of back support and the cushioned shoulder pads make up for the flimsy and almost non existent hip belt.
Space:
I was surprised how much I could shove into this pack. Ideally i would like to see it as a top loader so I could blow it out, but as a 3/4 zip it does alright. There are plenty of compartments and storage areas hidden through this pack and it makes room for everything you can think of.
Zippers:
All zippers are big and beefy and will close under extreme conditions (wet, covered in dirt, over stuffing, etc..)
CON'S:
Breathability - it does not do a good job allowing air flow and transferring the heat to keep your back cool.
Length - it's not the best choice for persons over 6' tall.
Overall it's a good choice for someone looking for an all-around pack that will still be hanging around four years from now.
Design: Front Loading 3/4 Zip
Size: 2,100 cu in
Number of Pockets: 5
Max. Load Carried: 25 - 30
Height of Owner: 6' 4"
Price Paid: Pro Deal

I've had the pack for about 3 years. A key factor in my deciding to purchase it was the two outside pocket which few other packs had. I've used it for day hiking in fall, winter, and early spring. I use another pack for summer.
It has compression straps above the shoulder straps which are great for carrying your hard shell it you don't need it or your fleece jacket if it gets too warm.
It's tough and I can get most of what I want to carry in it.
My primary complaint is that the bottom compression straps do not open. As a result, you are limited to what you can carry there to something that compressed to about 3 or 4 inches thick. I'd like to carry a closed cell sleeping pad there for emergencies or just to sit on when it's cold and/or wet. All I can get in there is about 3 feet of one. Another reviewer mentioned carrying a Therm-A-Rest. That must have been an earlier model which had open compressions straps.
Overall, it's a good day pack.
Design: Rucksack
Size: Around 2200 cu inches
Number of Pockets: 3
Max. Load Carried: 20 lbs.
Height of Owner: 5-8
Price Paid: $99

Good size!
Pros
Good size for my daily use
Tuckable waist belt
Notebook compartment
Good selection of compression straps and loops
Cons
Stupid internal design: The "small stuff" pockets are in the way when loading. I miss the design of many of the older/smaller TNF bags where the organizer pockets were in a separate, smaller compartment.
Great pack. My only gripe is the internal design where the organizer compartments tend to be very annoying when loading the main compartment.
I'm on the second on—bought used after my original one was stolen in 2019. Unfortunately the main zipper is very close to falling apart. And unfortunately it seems TNF has obsoleted both "Big Shot" and "Big Shot II"!
I guess Router might be the intended replacement. So although I'm definitely gonna miss some of the strapping options on this "cleaner" design, I guess I'll check it out...
Background
Used Big Shot for >10 years
Source: bought it used

Version reviewed: 1999
I've been hiking and snowshoeing with this pack for about two years, and have had good and bad results. First of all, it is suited for people up to about 6' tall (which I far exceed). The mesh water bottle pockets are OK for trail hiking, but not overly secure when the going gets rough. There is a foam backpad which adds some rigidity, but also does a horrible job of letting your back breathe.
Access to the inside of the pack is fantastic. The lashdown points/straps are sufficient, but one must be creative to hold on snowshoes. The ice axe loop will work for small axes, but the pack is overmatched to carry longer mountaineering axes. Construction of this pack is however top notch, and it will last forever.
Overall, a good quality pack, but stick to the campus or light hiking.
Design: Rucksack
Size: 2200
Number of Pockets: 3
Max. Load Carried: 30lbs
Height of Owner: 6'9"
Price Paid: $85 retail, $50 sale

I use this pack as a versatile climbing/hiking pack. It has several technical features that I love: daisy chain, ice axe loop, bottom compression straps that can fit a therm-a-rest, side compresion straps that can fit a therm-a-rest, two long back pockets, and side water bottle pockets.
This pack is very comfortable with a very dense back foam panel, padded waist belt, and padded, curved shoulder straps. It's hard to believe this full-featured pack retails for only $85, and from the North Face, too. This pack has never let me down and can roll up very small and fit on the side of my frame pack for peak ascents during a backpack, but the foam is still tough after the abuse of rolling it up.
Very nice pack, tons of straps and room to carry the kitchen sink, highly recommended!
Design: Rucksack
Size: 2450
Number of Pockets: 3
Max. Load Carried: under 20 lbs.
Height of Owner: 5'9"
Price Paid: $85

I bought a Hot Shot in '96 and a Big Shot in '97 (or so.) It is made out of North Face Iron Fiber, if I'm remembering correctly. The pack has been loaded into so many military aircraft and thrown onto the backs of trucks. I bought this pack specifically to abuse it as much as possible. In fact, I recently retired it to sit with my big backpacks (that's how attached to it I am). The pack that replaced it is a Maxpedition Condor II. The Big Shot just took that much use.
The fit is great as well. I wouldn't have carried it all that time if it wasn't comfortable. The pack could be compressed if the load was small, too. I would even strap a bad to the bottom sometimes. It was just a work horse!
Design: daypack
Size: 2100 c.u.
Number of Pockets: 3
Max. Load Carried: 50 lbs
Height of Owner: 5'10"
Price Paid: $65

I purchased this pack about four months ago. A previous reviewer describes the pack as "bombproof," but the stitching for a shoulder strap tore after just two months use, rendering the pack unusable. On the positive side, this may be an anomaly (the construction really does seem solid) and TNF quickly sent a replacement pack.
I bought this pack primarily for urban travel (please don't smirk); it allows me to carry all the gear I need for weekend urban travel (I don't have a car) including a stuffed sleeping bag which can be carried externally using the lower straps. It's an excellent pack for day hiking. I think the ability to strap on a sleeping bag makes it satisfactory for lightweight camping if you don't need to carry a tent.
Design: Daypack
Size: 2260
Number of Pockets: 2 outside
Max. Load Carried: 30
Height of Owner: 5'8"
Price Paid: $60

Features:
Durable material
two large external pockets (fit 1 litre bottle)
mesh water bottle holders on sides, you can reach with pack on
pull tabs on zippers make opening and closing effortless
two lash straps on bottom
two compression straps on either side,
spaced for ski bindings
the lower strap buckles are standard, the upper buckles are quick release
padded waistbelt. Hard to find in daypacks!
No key ring or internal pocket for wallet, etc.
Should have: key ring, inerior mesh pocket for quick access items.
Great shoulder straps - s curve.
Ultimate school bag, good daypack.
I can fit a realistic amount of gear for a day/overnight trip.
sternum strap is awkward to size.
Overall: Great.
Would buy it again with a key ring.
Design: panel load, with quilted padded back, no framesheet.
Size: 2260, 37 ltres
Number of Pockets: 2 external
Max. Load Carried: about 40
Height of Owner: 5'9"
Price Paid: $100 CND

The perect urban backpack: lets you slide through airports, crowded airplanes, cabs, and better places with the greatest of ease. A large snowboarder's pack, but slimmer and less protruding than a book bag type pack. Built to carry about 30 lbs tops, not overbuilt and therefore not heavy. Black model blends well with typical airport luggage. Easy to carry for quick on-off hops, design is vertical and the straps stay on your shoulder without the sternum strap and waist belt. Not a lot of external straps and pockets to snag on everything under the sun. Excellent for 1-3 day trips. No internal water bladder pocket; use a Platypus bladder instead and you are good to go.
Design: Internal rucksack
Number of Pockets: 3
Max. Load Carried: 20
Height of Owner: 5'10"
Price Paid: $90

Initially I balked at the high price, but I am sure glad I changed my mind. This is one really nice pack. Great for hauling books, cycling and overnight trips. This baby holds everything.
Well made overall. Big beefy zips. Nicely curved shoulder straps with ample cushy padding, not too cushy. A great padded waist belt, not some cheesey web thing. Two exterior pockets, center daisy chain and compression straps on the sides and bottom. One complaint though, what's with the lame sternum strap? It looks like they added it on as an afterthought. Hard to adjust and it just does not want to stay in place.
Great day pack nonetheless.
Design: rucksack
Size: 2200
Number of Pockets: 2
Max. Load Carried: 15kg
Height of Owner: 5'6
Price Paid: $100 cdn

Nice roomy pack for day hikes. Has cushy comfy straps for carrying loads. The beefy zippers are great for use with gloves on winter treks. It opens up really wide too, which is nice when you're fishing around the bottom looking for your rain pants etc.
It sucks as a ski pack though: The compression straps advertised as "spaced for ski bindings" sort of work but the suspension of the skis creates interference between skis and calves (ouch!), especially when hiking _down_ a slope. Also, it's wide enough to limit arm range-of-motion while skiing, especially for skinny guys like me. Best used as a hiking or climbing summit pack.
Design: rucksack
Size: 2260
Number of Pockets: 4
Max. Load Carried: 40 lbs
Height of Owner: 5'8"
Price Paid: supersale: $39

My favourite pack of all time, this thing is BOMBPROOF! Being just a day pack it lacks an internal frame but at least the stiff foam backpad makes a satisfactory barrier.
Several bicycling accidents on paved roads have proven to me that this is one tough pack and I can say that although I first winced at the $100 price tag, I am now a true believer in the North Face products. A front daisy chain and compression straps on the sides and bottom provide ample lash areas and the 2 front pockets are big enough for water bottles if you can't fit them in the water bottle pockets on the side.
Design: Day Pack
Size: 2260
Number of Pockets: 3
Max. Load Carried: 30
Height of Owner: 5'11
Price Paid: $100 Cdn

This is a great daypack. I love it. This pack is very comfortable and carries a load well. Very durable. Great for hiking or around town. I've used it for short basic weekend trips when I carried changes of clothes including extra layers, a 40 degree sleeping bag, a Therm-a-Rest sleeping pad (strapped to the outside), small amount of food, and my toothbrush. It did not have much room to spare after all that but it held everything well and one could strap a lot more to the outside of the pack.
Price Paid: $80

Your Review
You May Like
Specs
Price
MSRP: $99.00
Historic Range: $43.97-$119.00
Reviewers Paid: $39.00-$99.00

Weight
2 lb 12 oz / 1250 g

Capacity
2015 cu in / 33 L

Dimensions
21.5 in x 13 in x 8 in / 55 cm x 34 cm x 20 cm

Fabric
420D Nylon, 1680D Ballistics Nylon

Recently on Trailspace