The North Face Blue Kazoo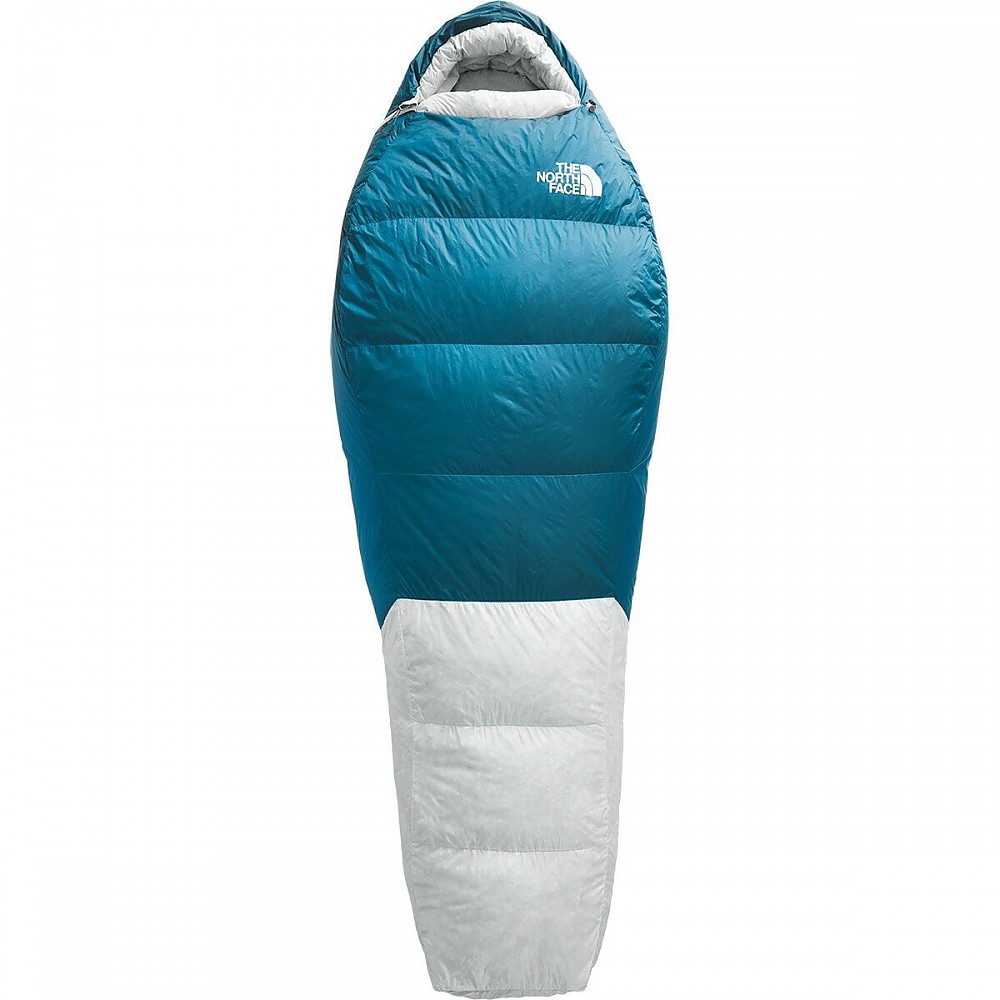 Lightweight and comfortable, packs small.
Pros
Easy-operating zippers, even with gloves
Roomy at the shoulders
Fabric feels soft and warm on inside
Packs small, and is lightweight
Hood snugs down well, and the baffles at neck and zipper keep out cold.
Cons
Doesn't seem to keep me warm like the older models below about 40 degrees.
Loses feathers more easily than other manufacturer's bags.
A little narrow in the footbox
I bought this bag to replace my VERY old (one of the originals) Blue Kazoo bag, which had weathered the Long Trail, PCT, and CDT, along with many shorter adventures. It was a trusty friend.
I found the new one to be adequate, but nothing great for the price. Has some nice features, listed in the pros, but overall I found it to be less than I expected given the quality of the original and the price. I had big cold spots when it went below about 40 degrees, which made it necessary to put more clothes on; something a 15-degree rated bag shouldn't need.
Out of the box, it was losing feathers, and I find several every morning I use it. Draft baffles work well, and keep air from entering at neck and zipper areas. You can squash this puppy down to nothing for the trail—a nice feature. I have wider shoulders, so the little extra room in that area is nice for me. The down is supposed to be water repellant—it seemed to not bog down from high humidity. 
Overall, I'd rate it only average.
Background
I used it for one extended trip of seven days, then traded my daughter for her Marmot bag as I was going to be hiking the Long Trail SOBO at the end of August and didn't want to be cold. It went down to 30 degrees some nights on the trip, and I ended up wearing extra clothes even with a bag liner added.

I've been backpacking/hiking/camping in all four seasons for over 40 years, and have owned many bags—REI, Early Winters, and even a homemade one. Like I stated in the review, my old Blue Kazoo was ancient, and I used it for several years.
Source: bought it new
Price Paid: $180

Good bag, true to temp rating, excellent durability. Would take it anywhere.
Pros
Warm
Light
Packable/ compressible
Dependable
Durable
Cons
Eventually I will have to replace it
Can be too warm
The Blue Kazoo is a great bag. I can't say that I have a strong basis of comparison because I have been using the same Blue Kazoo since college 10 years ago.
I believe it is true to its 20-degree rating and I have taken it much lower than that by wearing clothes and using a tent and sleeping pad. To attest to its durability, not only have I stuffed it in my pack on numerous treks, and used it to crash on couches, it it was my actual bed for an entire year and a half.
I washed it recently using Nikwax and restored its loft to about 95% of original. It's like having a new bag again.
Source: bought it new
Price Paid: $150 (on sale at Campmor)

Light, warm, and user friendly! Extra fiber fill in just the right places. Unique stuff compression sack allows it to fit well in bottom section of pack.
Pros
Down warmth with fiber fill under hips and shoulders help keep loft.
Cons
Same as most lightweight bags, zipper flap gets caught sometimes.
This is one of the best bags I've owned. Lightweight, warm down fill is supported by fiber fill in the typical compression spots (hips, shoulders, feet). Comfort range is great; from snow to stars, it keeps you comfortable.
The unique stuff/compression sack is such that when utilized properly compresses bag in to sort of a U-shaped football that fits well in the lower storage pocket of my Osprey by "curving" around my waist.
You can spend more, but unless you're planning on sub-0, no tent weather this bag is truly an "all season" bag.
Source: bought it new

This is a fantastic, lightweight bag for backpacking and general camping. I've had my Blue Kazoo for over 20 years, and it has never let me down.
Cons
Tight footbed for bigger guys
This is a fantastic, lightweight bag for backpacking and general camping.  I've had my Blue Kazoo for over 20 years, and it has never let me down.  
I now let my 7-yr-old son use this when we camp, and it kept him cozy and asleep in 40 degree temps even after rolling off of his Therm-a-Rest pad.
As I have gotten older (bigger around the waist), the bag has gotten a little more snug, but I'm 6' and 240 lbs., so your mileage may vary. (I was 6', 170 lbs. when I bought this.) It still fits me fine, but I do get a little claustrophobic in this now, especially in the foot bed.
I have two other North Face bags, and they zip together. I am about to mail this bag to NF's warranty repair, as they have changed their standard zipper in the last 20 years, and this bag is not compatible. They will replace the zipper for free and return the bag to me at no cost (other than my initial postage).
Overall, this has been one of my best camping purchases in my lifetime. It has stood the test of time, never let me down on chilly nights, and has become somewhat of an heirloom that I can hand down to my boy now that he is a scout.  
I recommend this bag without hesitation to anyone looking for a lightweight, easy to pack, and warm bag!
Source: bought it new
Price Paid: paid retail

I don't have much luck with this sleeping bag. The first one was a defect and got replaced. The second one looked OK but then found feather leaking never stops. Both ones came with lot of dust.
Pros: it does keep me warm at +30F, and it's very light and can be compressed into very small pack. It dries quickly even though it gets wet easily.
Cons: getting wet too easily despite of the "water-resistant" top shell, every morning I found wet spot here and there from the tent condensation. Feather leaks too much. Not rugged structure, feather moves among cells after one wash (hand wash), now one cell is completely empty and the other one is half empty. My wife's Igloo doesn't have this problem after the same wash.
I have a TNF down parka for 10 years, used it extensively and washed every year (didn't have Nikwax down wash until this year, just used normal detergent, even dry cleaning once). Never had any problem and it always keeps me warm. That's why I bought this TNF sleeping bag. However, I must say I am disappointed and TNF's quality definitely is going down.
Design: Mummy
Fill: 600 fill down
Temperature Rating: 20F
Weight: 3lb
Price Paid: $169

Quality construction, great value.
I purchased my Blue Kazoo in 1986 (yes, almost 29 years ago) and have used it, on average, 10 nights a year for backpacking. It has failed to keep me warm only once while winter camping in the Rockies when temps dipped outside my tent to about -10°F.
Granted, on nights when temps dip below about 25°F, I start putting on long undergarments to sleep, but doing so has kept me toasty in this bag down to about 0°F. Most recently I slept outside at about 11,000 feet on a night that dipped to about 20°F with one light layer of thin long underwear and was a bit too warm! And this without ever having washed the bag...
The only minor hassle I've had with this bag is that the zipper frequently catches the draft collar; perhaps the newer design improves on the ease of zipping. It packs into a fairly small (6-1/2" x 14") stuff sack (my regular size Kazoo weighs a true 3# 2oz), and lofts quickly when removed.  
I use my gear, but treat it well — this bag has returned the favor.
Source: bought it new

High expectations, poor performance.
Cons
Not a 15-degree bag, a 30-degree bag, maybe
Bought this North Face bag at a local REI. I used it for several years in a variety of settings, from indoor use to summer hiking, fall, even some winter hikes.
My biggest complaint is its temp rating. My bag says it is a 15-degree rating. YES, I always stored it loose, never compressed. The bag was well taken care of. After several nights over several different outings I was sure to bring extra clothes to sleep in if I knew temps would drop below freezing. This sleeping bag left me unimpressed.
There are also feathers leaking out at a constant slow "drip". 
Besides being lightweight and being nice to look at, not much good I can say about it.
Source: bought it new
Price Paid: $220

I was very happy with my Blue Kazoo bag. It has kept me warm so far even in below freezing temps. I love the fact that it has a remarkable price tag as well.
I used it up in the Sierras and woke up to about a foot and a half of snow and still was not cold. I would not have been so open to buying the bag if it was not on sale, but I must admit it holds a lot of qualities that a more expensive bag would have.
My only complaint is that it seems to shed a lot of feathers but that's not enough to keep me from using it.
Price Paid: $84.93 on sale

I've had this bag for over 11 years now. Doesn't have the loft it used to, but it's still warm. 
I find it's very versatile. Mine doesn't have closed baffles front to back so for summer camping I'll shake the down so that most of it is on the back of the bag.  When things start getting cold, I'll shake the bag so more of the down is on the front of the bag. 
In those 11 years I've grown a bit, and now the bag is starting to feel a little cramped, but when it's really cold out it doesn't feel cramped at all.
It's been a great value for the money! 
Price Paid: Can't Remember

Version reviewed: Long
This is a nice down bag at a reasonable price. I have had it for about six months now and it doesn't have any damage yet. This bag is comfortable and roomy to sleep in. On the downside, this bag has been losing some feathers while I am bpacking, but this does not bother me much. Another issue is condensation on tent walls, when will it ever end. (If there is a tent out there without this problem, let me know.) This is a good bag and I recommend it.
Design: Mummy
Fill: 700 fill down
Temperature Rating: 15 F
Weight: approx. 2 lbs.
Price Paid: about $100 on sale

As it is expected from TNF, this bag is superbly well built. The temp rating seems accurate and it packs extremely small and actually fits my 4000cu/in frame pack that I own.
However I have one complaint: Whenever I'm wearing shorts in this bag the seams inside the bag have a rough feeling on my legs, and it will only stop if I don't move my legs at all. I was wondering it the same thing occurs with the Superlight and the Kilo Bag...
Design: Mummy
Fill: 600+ Down Fill
Temperature Rating: 20F
Weight: 3lbs
Price Paid: $149.99

This bag rocks!!! I used it on a backpacking trip to Revelstoke and kept me warm at -5C/25F and I'm a cold sleeper. I have the 2003 model so not sure how the new ones fair - but coming from TNF I would expect exceptional quality, reasonable price, and really light weight. Don't leave home without this bag. Used it with the Rock 22 tent and had a comfortable sleep. You get what you pay for, and this bag is the best!
Design: mummy
Fill: 600 fill down
Temperature Rating: -7C
Weight: 3 lbs
Price Paid: $200 CAD

Version reviewed: Long
At 6'2" 240lbs this bag is a little cramped. However, it was my first love. Over the past five years it has performed well in all temperatures -- though it had some trouble keeping me warm when the temperature dipped below freezing (feet got cold), despite its +20F rating. Recommended for medium to large builds. If you wear XL clothing, you'll find it a bit restraining. Will work in sub 32F in a pinch.
Design: Mummy
Fill: 550 fill down
Temperature Rating: 20F
Weight: 2.11
Price Paid: $150 (on sale)

I have the Blue Kazoo 20. Still going on 5 years with no bad issues. Is losing some feathers. Very durable. AT thru hiked in 2002 and used it for 50% of trip from 17 degrees to 70 degrees.
Two items are not perfect. The main zipper sometimes gets stuck in the zipper cover fabric. The other is that it could use a little more knee space for us fetal sleepers.
Design: mummy
Fill: 600 fill down
Temperature Rating: 20
Weight: 1 + lbs
Price Paid: $180

I'm 5'11" and 210 pounds. The bag was cramped for me. Big problem with cold spots due to the down shifting. Fidgety zipper. Snagged and actually came open several times in the middle of the night. Do yourself a favor, take a pass on this bag. It's not up to TNF's usual high quality standards.
Design: mummy
Fill: 700
Temperature Rating: 20
Price Paid: $150

Version reviewed: long
A good backpacking bag, reasonable cost vs packed size and weight. My only real complaints are: the zipper sometimes hangs up, the 20 deg F rating is too low for me even though I don't consider myself a cold sleeper, and the occasional escaping feather. Even with these complaints, I would recommend it.
Design: Mummy
Fill: Down
Temperature Rating: 20 F
Weight: 3lbs
Price Paid: about $200

Version reviewed: Long
Used this bag in Arizona and New Mexico, where it is 100 degrees during the day and 40 degrees at night. I was very impressed with the performance of this bag--well worth the (kind of) high price tag.
Design: mummy
Fill: 550 fill down
Temperature Rating: 20 F
Weight: 2 lbs. 11 oz.
Price Paid: $225

Good bag for three season camping. Long bag has plenty room for a 6'1", 180 pound guy. Kept me warm well below freezing (I'm a warm sleeper). Nice quality for a mid-priced bag.
Design: Mummy
Fill: 650 fill down
Temperature Rating: 20 Degree F
Weight: 2 lb 12 oz
Price Paid: $140

Far too hot for BC coast for me. Feathers started coming out right after I bought it. Feels cramped and restrictive. I am 5 ft 5" and average weight.
Design: mummy
Fill: 600 down
Temperature Rating: -7 celsius
Weight: ?

Great sleeping bag, comfortable and warm...alarm holder and good support for your head.
Design: Mummy
Fill: 700 fill down
Temperature Rating: 15 F
Weight: 2.5
Price Paid: $199

This bag is crap if you plan to go mountaineering. The condensation inside the tent compresses all of the down and then all of the down will start to come out. It did however do its job by keeping me warm though; but I don't know how long it's going to last.
Design: mummy
Fill: 550 fill down
Temperature Rating: 10 F
Weight: average
Price Paid: $299

Your Review
Where to Buy
Help support this site by making your next gear purchase through one of the links above. Click a link, buy what you need, and the seller will contribute a portion of the purchase price to support Trailspace's independent gear reviews.
You May Like
Specs
Men's
Short
Regular
Long
Extra Long
Price
MSRP: $279.95
Current Retail: $289.95-$320.00
Historic Range: $15.00-$369.95
Reviewers Paid: $84.93-$299.00

Temp Rating
15°F / -9°C

Fill
700 fill ProDown

Weight
2 lbs 1 oz / 945 g
2 lbs 2 oz / 1000 g
2 lbs 5 oz / 1050 g
2 Llbs 7 oz / 1100 g
Stuffsack Size
9 x 17 in / 22.9 x 43.2 cm

Women's
Regular
Long
Price
MSRP: $299.95
Current Retail: $299.95-$310.00
Historic Range: $137.37-$310.00
Reviewers Paid: $180.00

Temp Rating
15°F / -9°C

Fill
700-fill ProDown

Weight
2 lbs 4 oz / 1030 g
2 lbs 9 oz / 1160 g
Stuffsack Size
9 x 17 in / 22.9 x 43.2 cm

Recently on Trailspace