The North Face Canyonlands

The Canyonlands has been discontinued. If you're looking for something new, check out the best three-season tents for 2022.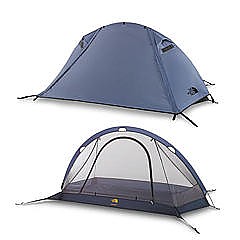 Specs
Price
Historic Range: $120.00-$179.00
Reviewers Paid: $60.00-$300.00

Reviews
10

reviews

5-star:

4

4-star:

4

3-star:

2

2-star:

0

1-star:

0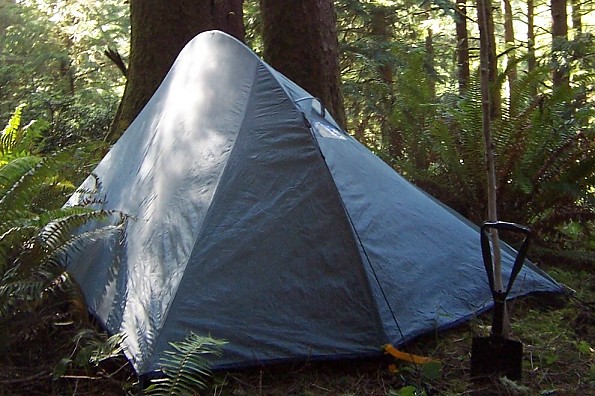 Picked it up used, for my summer travels. I was having problems with the rainfly. It was sticky and the windows were cracking. I sent it into TNF and the next week I got a new one. Great customer service.
Now that it is new tent, I have used it in both fair weather and in the rain. No problems at all! For a one person this tent is real roomy. I can sit up with ease. I touch the screening but not the rainfly. It is far and away my favorite solo backpacking tent.
If it rains I bring my backpack into the tent with me. Yes, it is that roomy. I understand the problems with the rainfly sticking and I will never store this tent wet. With the addition of this tent and some other gear, this backpacking season has been fantastic.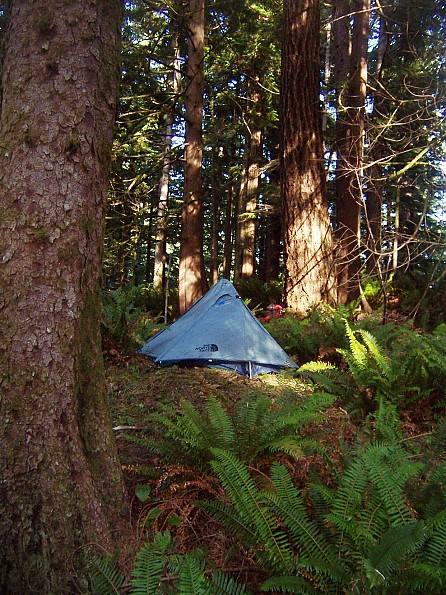 I love the color of this tent when I wake in the morning. Very mellow and warm. They should do some studies dealing with comfort colors for tents.
Design: Single pole, non free standing, 3 season
Sleeps: 1
Ease of Setup: Dummie proof. Very easy
Weight: 3 lb 7 oz
Price Paid: $60

Keep coming back to old reliable!
Pros
stays dry from both rain and condensation
roomy for a 1P
I have had this tent since 2002.  It has spent time on the trail in climates as varied as the Namib Desert to the Northwoods of Minnesota. I have trusted this tent with my life in snowstorms, sandstorms, and downpours. It has yet to fail me and will always be my go-to one person (and even two-person if totally necessary in a romantic situation where you don't mind leaving your packs under the vestibule). 
I will admit that it takes a little getting used to on the setup side of things. It isn't freestanding, no, but c'mon people, if you're out there alone and backpacking I'm pretty sure you can not only figure it out, but also sacrifice the three extra minutes it will take to adjust it!
I know there are lighter 1P tents out there and you could drop $250+ to drop a pound of weight, but if your budget is tight and you want something dependable, look for this sucker online used. You won't be disappointed.
Note: I have been very careful to waterproof this tent multiple times a year and never pack the rainfly wet. 
Source: bought it new
Price Paid: $150+

Very roomy solo tent of light weight and good construction. This is still my preferred solo backpacking tent after several years and many models tried. But read on, it has its compromises.
This tent is discontinued in favor of the smaller freestanding Particle 13. TNF no doubt got tired of hearing 'but it isn't freestanding' in reviews, hence the model change; but I never had any issue with putting down four aftermarket titanium stakes. It shows up from time to time on eBay so here goes a late review.
I replaced the original single Easton aluminum pole with an aftermarket carbon fiber one, and saved about a half a pound, which is a big reason why I like the arrangement -- at three pounds including stakes I have nothing lighter (unless I want to use a tarp, which I don't, particularly in Texas).
Also this tent needs seam seal treatment prior to wet weather use. The floor is solid construction and well taped, but the corners where the stake tethers are sewn on are so pinched as to be difficult for the taping to be 100% effective. Some Seam Grip may be needed on the outside corners around the tethers. Seam Grip is needed on the fly where the elastic flap toggles and the Velcro ties are sewn on; these will drip in rain otherwise. I also Seam Gripped the underside of the fly's long zipper seams where the storm flap does not cover them. This all took some time but the tent doesn't leak.
It has a small plastic window that isn't good for sightseeing but does let you determine without opening the flaps after a storm whether the sky cleared or not.
It is has a roomy floor for a solo. I can put my backpack at the head of the tent (using it as a pillow) and at 6'3" still have enough room to stretch out, with side space enough to lay out a few conveniences. One can sit up inside, though with the sides converging on one pole down the middle the head space is narrow at the top and generally more comfortable if the door is open (staked out perhaps).
Design: Three-season single pole
Sleeps: 1
Ease of Setup: Moderate
Weight: 3 lbs 14 oz packed
Price Paid: $95 at Sun & Ski for demo model

I have used this tent long enough now to write a review in a few conditions. I like the tent, the only reason for giving it a 4 instead of the 5 is that, as said, it isn't free standing and must be staked out just right to get a tight fly. But I have used it on overnights including a summer 50 mile BS canoe trip to a 5 degree night. 
Obviously it isn't a winter tent but performed fine other than the zipper (because it wasn't taut since I didn't take the time to dig out the snow exactly where the stakes should be).
For the 50 miler it was great, as I could leave the fly open and look out at the lake during the night.  Even with the fly zipper open the light rain stayed out, and in heavy rain it was fine and I was nice and dry. 
Light and easy to backpack or canoe/kayak.  I'll be keeping this for a while.
Price Paid: $80 used (once) on ebay

This tent has been my old faithful. My first experience was in Joshua Tree, CA, about 8 years ago. That night we were about 20 miles from the epicenter of a 7.0 earthquake (this is not a free standing tent). She held up through a night of continuous rolling after shocks. Ever since, I've trusted the Canyonlands, tested it everywhere... Oregon, Canada, Colorado... still a champ.
I did sew two extra webbing loops at the bottom of the fly in the middle (where your hips would be while in the tent) so I could stake down for a little extra fortitude. It's also still the tightest pitching tent I've used.
Price Paid: can't remember

Thru-hiked the AT with this tent. Never disappointed. Used it some with the fly off but mostly with it on. The vestibule the fly creates is roomy and best of all it runs the length of the tent so you can easily reach things. After 2200 miles it needs a little waterproofing in one corner. That's it. I love this tent!
Design: one pole
Sleeps: 1
Ease of Setup: very easy
Weight: about 3lbs

Super for backpacking. Not the lightest, but light enough. Mesh design is great. I also like the fly and footprint only option. I've taken it on several outings and it has performed well. I just wish it were a little easier to pitch the fly.
Sleeps: 1
Price Paid: $150

I got an unused tent off eBay; it lists at $180. The pros: it's lightweight; it feels like a tent, not a bivy; the all-mesh body offers great ventilation (especially in hot, humid climes like Houston -- I don't know how it would fare in colder areas); it comes with TNF's v-stakes, which are light but strong; it's easy to pitch; there is decent (if you're 6 ft. or shorter) headroom to sit right in the middle of the tent; the polyester fly won't sag like nylon; it's a pleasant color; and the reflective zipper pulls rock on dark nights.
The cons: it packs about the same size as a two-man; the vestibule is very small -- you'll get boots in there, but plan on leaving your pack outside; it's not freestanding; the door opens down (which means even when rolled up it can be stepped on); it doesn't come with a separate pole bag; the guy lines are built in and are at a set length; I wouldn't recommend it for anyone over 6 feet tall. Any taller and you'll be touching the tent walls. It's wide enough to sleep on your back comfortably.
I can only recommend the tent if you live in a warmer part of the country and can get it on sale. Next time I think I'll suck it up weight-wise (5 lbs.) and go for a slightly heavier solo (Eureka Mountain Pass 1XT - great vestibules!) or a small two-man tent.
Design: Single pole three-season
Sleeps: 1
Ease of Setup: Very easy
Weight: slightly less than 4lbs.
Price Paid: $100

I needed a tent for one person and good for warm climates. Well, the Canyonlands has a complete inner mesh tent so that was the reason i bought it. It's great if you are long beacause it's 230cm long! The vestibule was enough to sqeeze my backpack under. But cooking under the vestibule uhmm no way! Inside maybe but not for me. It has a large door which is not handy to enter when it rains! And the biggest minus: Rain got inside! at the places where the "buttons" are placed to put the door on if you roll it up. Maybe if I seal those on the outside it will be solved (so this will be continued). And remember it's not freestanding; you have to put six pegs really tight to have it solid.
The positives: No condens! Always cool! and light. But not to live in while having bad weather.
Design: 3 season 1 pole
Sleeps: 1
Ease of Setup: With some practice you can set it up under 50 sec!
Weight: allin 1,8 KG
Price Paid: $300

Original Review: October 12, 1999

As far as one-man tents go this one is good. I was kind of worried about stability with the one-pole design, but the first time out it withstood an almost constant 25-30mph wind for two days without the guys lines in use. The pitch remained very tight, with the wind hitting it head on.
The vestibule is small; you'll get your boots inside, forget about your pack. I had no condensation problems.
I am 5'10" 170 lbs and fit OK, the length was good. Headroom is a little tight, but I could sit up. It is easy to get in and out of unlike the "tube style" tents like the REI, Walrus, and Kelty brands that I looked at.
I have not used it in wet conditions yet, but if it holds up like my other TNF stuff I think it will do OK. It packs up pretty small also.
I'll keep this one until something better comes along.
Update: July 30, 2014

Great tent!
Mark again,
My original review was in 1999 and I can't believe it's been 15 years since I bought this tent. Had this tent in rain, wind, and light snow. It's still kicking. Kept me dry and out of the wind in diverse conditions.
I have taken care of it and stored it properly and it's still in great shape. Had my doubts when I bought it but I have none now. A great tent! It somehow turned into my 'go to' tent and has served me well.
Design: One Person, Three season
Sleeps: 1
Ease of Setup: medium
Weight: 4.2lbs complete
Source: bought it new
Price Paid: $119.95

You May Like
Recently on Trailspace