The North Face Chilkat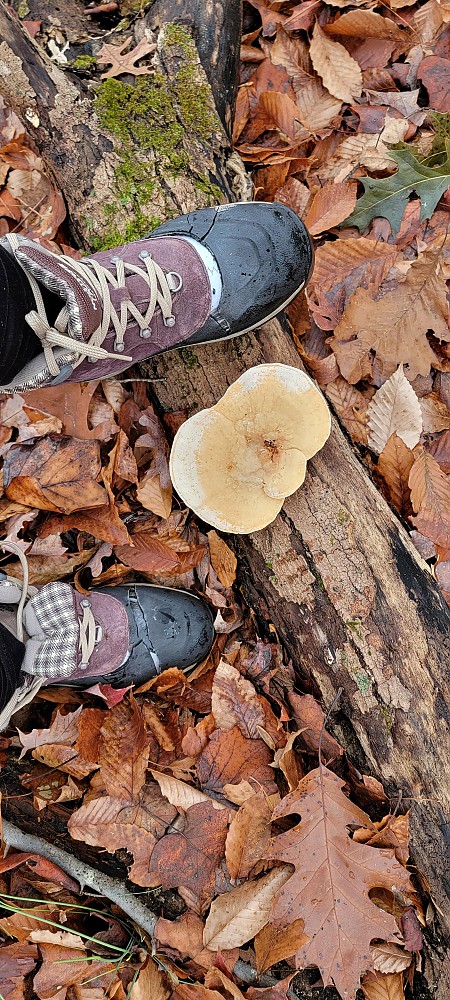 I've always been impressed with the quality and durability of the many North Face products I've purchased—many items that have lasted for years and countless uses. However, I too purchased the Chilkat style winter hiking boots and wore them only a handful of times resulting in what would be considered very minimal "wear & tear".

The boots appeared in mint condition the last time I put them on, but after taking a few steps, I noticed a trail of broken pieces of rubber crumbling off as I walked. Upon closer inspection, the whole lower rubberized section was splitting away from the upper portion, exposing the white inner lining through all the rotting/broken rubber, rendering the boots useless.

Needless to say, I was very disappointed that a product at that price point was so poorly manufactured and contemplated contacting The North Face to ask them to stand behind their products and customers...until I read on-line that so many have experienced the same defective product/materials with these particular boots and have received no recourse (only wasted their time and energy!) by contacting The North Face.

Very surprising that a company like the North Face doesn't admit the product is obviously defective and keep their customers satisfied?!
Pros
Warm and comfortable while they lasted (for about 6-8 uses in total)
Cons
Poor quality material used in manufacturing, particularly the rubberized portion. The rest of the materials used to construct the boots seems of typical good quality.
See above: rubberized portion of boots started breaking down and chunks were falling off and lower rubberized portion was separating from upper portion exposing white insulating under layer, rendering the boots useless obviously as they were no longer snow or waterproof.
This happened after only approx 6-8 very light uses. The boots appeared in mint condition until I started to walk in them and they began literally crumbling at my feet!
Source: bought it new

North Face Boot Review: Junk plastic on toe, disintegrating
Cons
Literally falling apart
Expensive—waste of money
Quality is rank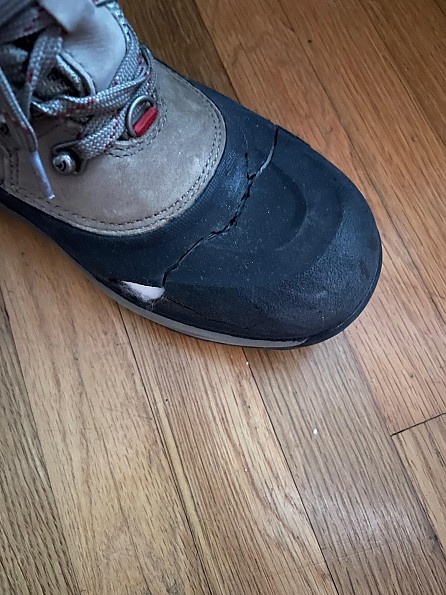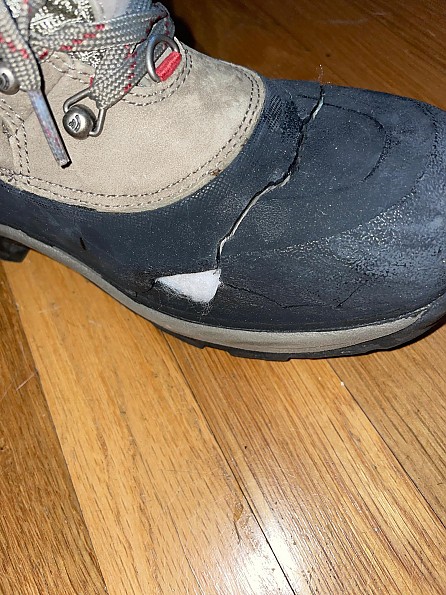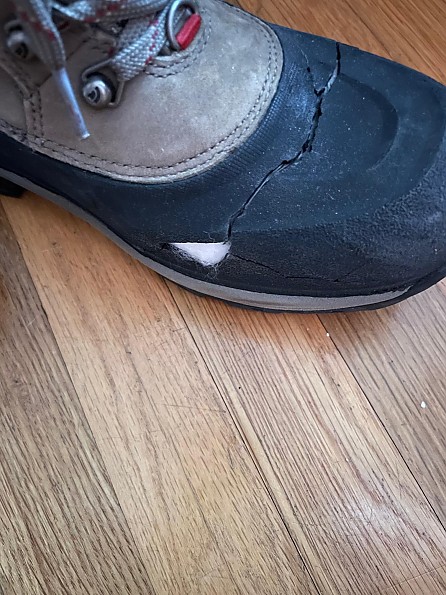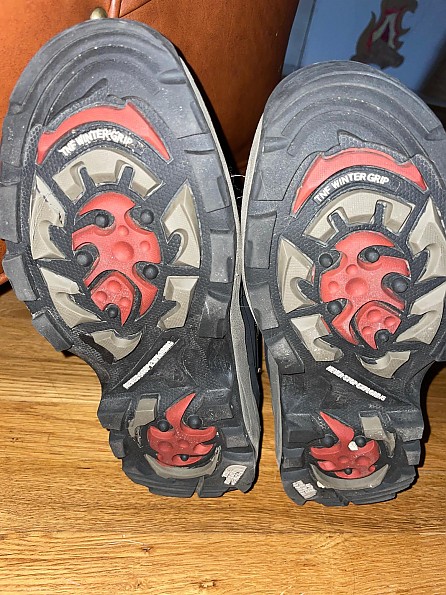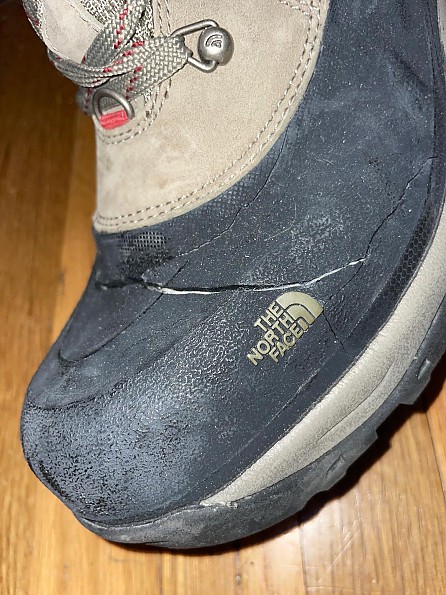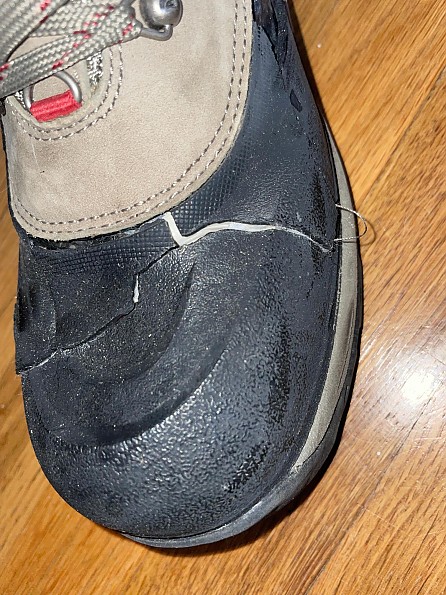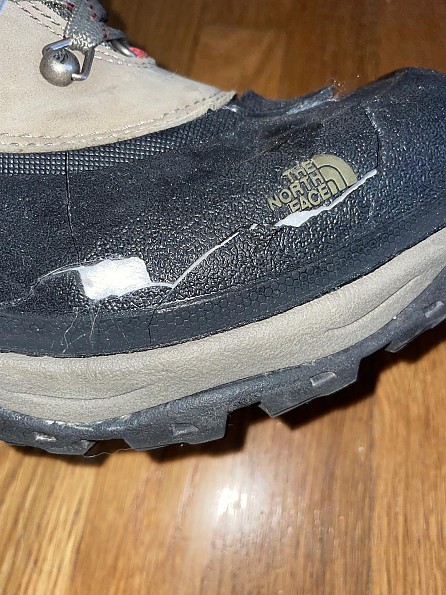 Same exact issue. Sorry for all others who had to deal with this, but CLEARLY it's a design flaw.
I bought these for a trip to the mountains and never wore them after. Seriously, I live in Los Angeles Angeles—winter boots aren't exact a must-have to live here. Anyway, they're barely used and well taken care of. Yet, we pulled them out of our shoe container to find them cracked and disintegrating. The interior is pristine as is the sole. The plastic is pathetic.
Such a bummer as I typically love TNF, but where is their quality control when this is clearly a widespread issue?
Experience
Here are a number of other people with the same issue:
https://www.trailspace.com/forums/gear-selection/topics/84266.html

Source: bought it new

North Face boots simply failed miserably! The failure is totally unacceptable. DO NOT BUY NORTH FACE PRODUCTS! They cannot be trusted.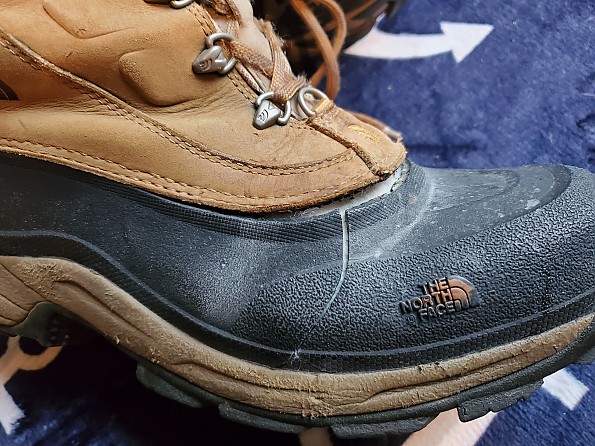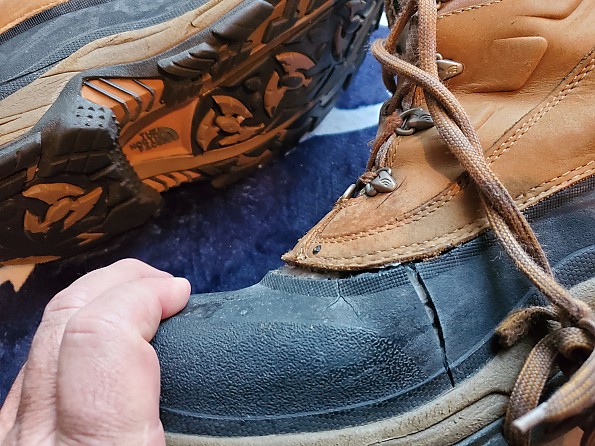 I can add to the simply horrible product that has the usually trusted name "North Face" on their boots. Mine failed catastrophically as others with cracks throughout the "rubber". At first I loved these boots as many others have stated. But the failure is totally unacceptable.
DO NOT BUY NORTH FACE PRODUCTS! They cannot be trusted.
Experience
I've never experienced this type of failure on any (!) boot I've ever purchased.
Source: bought it new

Like everyone else on here I kept my boots indoors in the dry, went to use them today and the rubberised part had completely split apart! Only ever wore these six times. Total crap to put such poor quality into what is otherwise a good boot.
Poor poor poor
Source: bought it new
Price Paid: £85

I bought these boots four years ago and have worn them maybe twice a year. Today when I was walking up my front stairs to my door both of my boots cracked completely across the rubber part!
Pros
Up until they fell apart they were pretty comfy.
Cons
THEY FELL APART AFTER I WORE THEM ALL OF 8 TIMES!
I bought these during a NW snowstorm. I thought I'd treat myself to a nice boot that would keep my feet warm and dry for years to come, and they did, for a while.  
We don't get a lot of snow here so they mostly lived in my bedroom closet. Dry, warm, good conditions for storing shoes, right? I guess not, because today I wore them out and watched the rubber upper part split apart before my eyes.  I am so disappointed.  
I always thought North Face was a quality brand, but upon looking up the warranty it turns out that my boots are only covered for a year. So in conclusion, this is a great boot if you like to throw away your money.   
Source: bought it new
Price Paid: $99

November 13, 2022
The North Face
"Women's Winter Boots Built To Last"

Last what? Half a hike
Pros
Comfortable and warm. Doubt it would last once it rained or snowed. No covering left.
Cons
Disintegrated while walking on the first time use.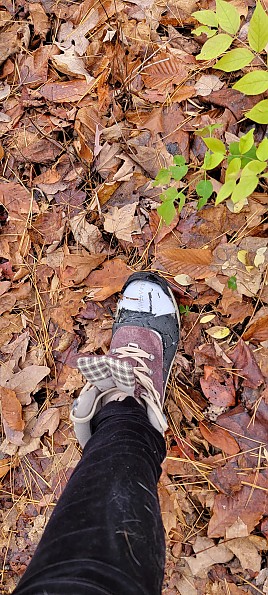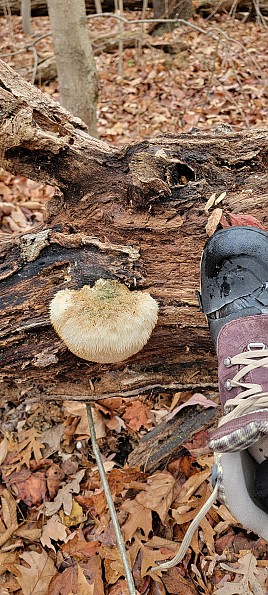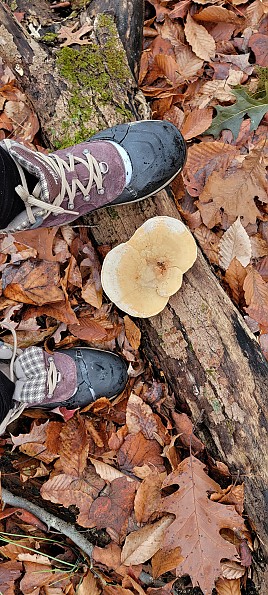 A friend gave me a pair of never used Northface boots. I thought oh wow The North Face that's awesome, a very good BRAND.
This past weekend I would use the boots for its very first time and break them in. We did an easy 1 mile hike through the woods. Half way in my partner looked down at my boots and started to laugh and stated I lost part of my boot. Oh my the whole toe covering was missing. You could see the inside insulation. We continued on to complete the hike with many jokes and laughter about my sole (soul) would be lost in the woods. Is this really breaking in a boot mean? More like breaking down. As we hiked more and more of the boot disintegrated. I was afraid the boots wouldn't make it back to the truck in one piece. That is all I would need. Just one piece.
I contacted The North Face and I was told about the limited warranty just like everyone here. I believe The North Face really don't care about losing loyal customers. This blog clearly shows poor quality products from many experiences and reviews. There are many other brands that back up their quality products to have loyal customers.
Experience
My experience with this brand DISINTEGRATED along with my boots.
Source: received it as a personal gift

When I first purchased these North Face boots I loved them. Paid almost $200. After about the 15 uses they start falling apart and mind you I normally only used them to use my snowblower. I was not really putting them to heavy use and they just fell apart.
Pros
Only thing good about them is the padding on the inside and they look good
Cons
They don't last. If you're rich and would like to use them once and throw them away then they are great.
They are great for one use only.
Experience
I would never purchase another pair of North Face snow boots.
Source: bought it new

A friend let me use her TNF boots as I was going to use them for just a couple of hours. To my surprise, 5 minutes after walking on them they cracked all over. Imagine how bad I felt. She let me borrow her expensive boots, which she had used a handful of times previous years, and suddenly I get them and they disintegrate within 5 minutes.

I can't believe the price of this pair of boots that only have 12 months warranty. They are snow boots; if you live in Florida like we do, we only use them so little each year. Then the next year they just crack completely. And not covered by warranty.
Cons
Feel like flushing $150 down the toilet and a bad experience as I now have to replace for my friend with other boots that are not hers.
Experience
Too bad. It completely ruined my trip.
Source: borrowed it

Look great. Wore three times over three years and the Made in China bottoms fell apart and separated from the leather. Junk!! Total ripoff and no warranty, but I am sure all of the same boots are defective.
Cons
Fall apart
Bottoms crumble
Wore three times in three years for snow. Put on recently and the leather separates from the bottom, which was crumbling and falling apart. Made in China. Junk.  
Source: bought it new
Price Paid: 95 dollars

Expensive boot, but only got to use them three times before complete failure.
Pros
When new these were great... but..
Cons
Not made to last more than two winters due to a mistake in material selection by the manufacturer..
Took them out of the cupboard on their second winter but the rubber rand had completely broken down into pieces. Like someone had cut the rubber up with a knife, when I pushed my finger into them it went right through.
These boots were not made correctly and the wrong materials were used.
Experience
From this manufacturer, very bad..
Source: bought it new

Be aware...North Face ignores design faults. My love of their products has gone.
Cons
Design fault with no customer service to back up. Never had a response from The North Face in years. It still bugs me.
These were bought purely as I had MS. They were excellent to keep my feet warm. I had the coat which was great. They split within 16 weeks. Our thick woollen lounge carpet is not exactly rough terrain! A design fault clearly ignored.
God knows what you would do if North Face boots had split on the mountain. Really, sadly, not worth the risk. I am one of many that have had this happen. They try to put the blame on the buyer. They never even got damp, wet etc. They were in the same room at the temperature 24/7. 
Experience
Shocking design fault ignored by The North Face.
Source: bought it new
Price Paid: £154

I live and work in Yosemite National Park. Our employee uniform shop routinely sells these Chillkat boots, and yes, from experience they do run 1-2 sizes smaller than normal! I wear a men's 7; I had to get a 9 to fit comfortably and snug on me.

They are comfortable, at first, but here is one HUGE problem—they leak! See more below...
Pros
Nice design
Fit pretty well
Good upper design
Laces are good quality and stay tied snug on you
Cons
They leak and your feet will freeze within a few minutes! Absolutely worthless when you are working and depending on your feet staying dry and warm.
My rubber uppers haven't broken apart yet, but we are in deep snow all the time working, and I couldn't figure out why my feet were so cold and then numb at the end of my shift. I took them off, and was sopped! I cannot determine where my boots are leaking, just seems generally on the lower seam above the foot tread somewhere. And BOTH feet are soaked. Very POOR, North Face!
North Face is not really North Face anymore anyway, like all the others now, they are just branding used for cheap, Chinese products now. Based on other reviews, I won't even both with a warranty claim (even though they are brand new, 1-month old)...just know I will never buy another North Face logo'ed product, EVER.
Source: bought it new
Price Paid: $50, through our Employee Uniform Shop

Epic fail of rubber on toe box.
Pros
Warm
Good traction
Good support
Loved these boots for warmth, traction, support, and fit. Have always cleaned them up and put them away in the original box. They were almost in new condition but the toe box fell apart, luckily, just as I was returning from a hike in the snow. Very disappointed.
It appears this has happened to quite a few people. I hope North Face corrects the problem.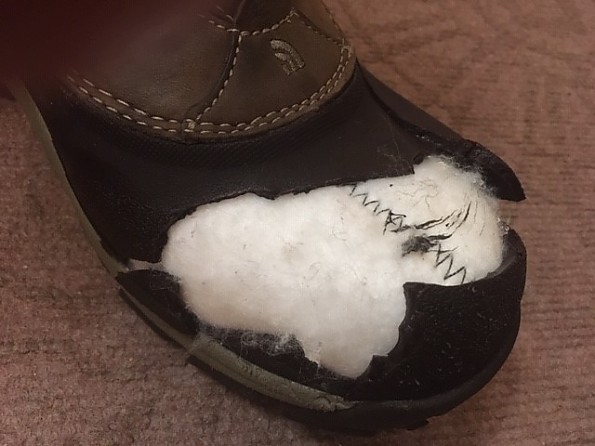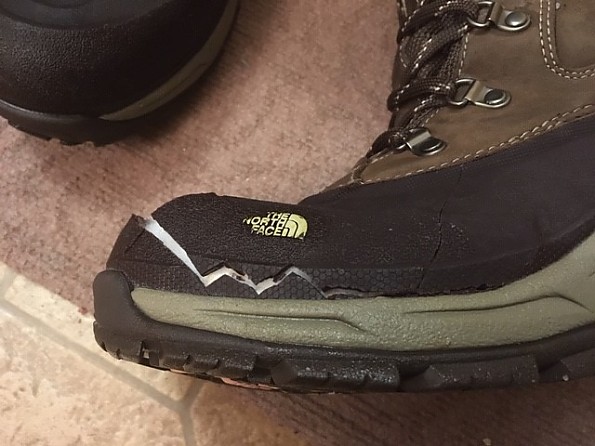 Experience
I have not ever had a winter boot fail in this manner.
Source: bought it new
Price Paid: $100-$125

Not durable!
Pros
Relatively comfortable and warm
Cons
Not durable considering I didn't use them very often.
Pretty comfortable boots, but I wore them maybe twice a year for five years, and then last night the rubber portion broke away from the leather just like these other reviewers experienced. I'll order new boots from someone else next time.
Experience
I've owned several pairs of hiking boots through the years. Never had a pair break across the top like this.
Source: bought it new

Worn once and fell apart. My review reads the same as all of the others. These boots are defective and North Face will not stand behind their product.
Pros
North Face Chilkat boots look good before they disintegrate.
Cons
You will only get to wear them a few times before they fall apart.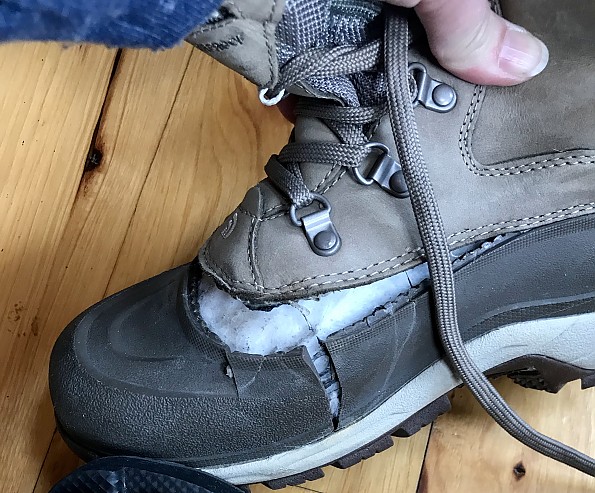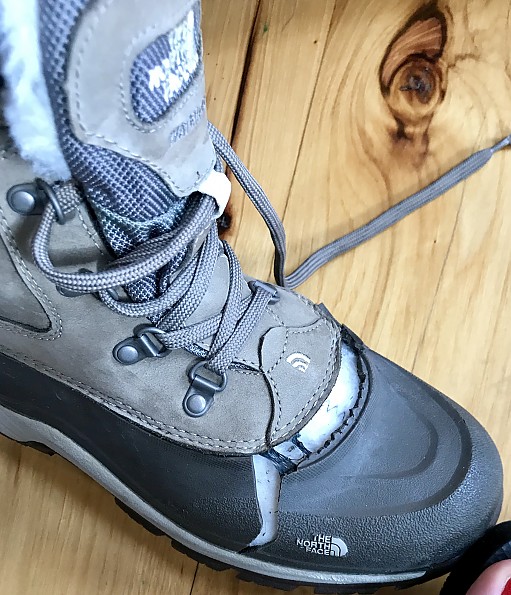 Not much more to add. Don't waste your money. These boots are garbage. My pictures look like everyone else's. 
Experience
Fell apart after a day of use.
Source: received it as a personal gift

I had the same problem others have written about. I had very, very little use on my boots and went hunting, and after walking a couple hundred yards the entire boot completely came apart. The rubber split and cracked away, and the glue holding the rest of the boot to the rubber portion tore away from the base of the boot.

I probably had walked less than five miles over time in these boots—and stored them in a completely dry and temperature controlled closet in my house.

In my opinion, these boots definitely had serious design flaws from the beginning. Wow, considering what North Face charges, you would think they would stand behind their products...but it appears from others posts, they don't care.
Cons
Horrible, horrible design
Crappy materials chosen for a high end boot. (I would expect this from a Chinese boot, but didn't expect it from North Face. Maybe they outsourced? Who knows.)
Construction and Materials: Worst I have ever seen in a boot. Junk!
Source: bought it new
Price Paid: $100 plus

My boots also cracked, although mine are more than 10 years old. My fave part to this boot was the click strap instead of laces. Does anyone else know a boot style like this?
These were exceptionally comfortable boots. I don't want to purchase another pair due to others' experiences and TNF responses. Evidently they used a grade of rubber that tends to age and degrade at room temperature. Should have used a better synthetic compound.
I think I will take mine to a shoe repair shop to see if there is any way to repair.
Source: bought it new

Rubber cracked after minimal use.
Cons
Rubber cracks with minimal use
Inferior product
The same exact thing happened to my boots when I took them out of the closet. There appeared to be a small crack in the rubber and when I actually wore them outside to shovel snow they cracked across the entire boot.  They were in perfect condition prior to this happening and were worn maybe 3-4 times per year.
NF should be ashamed of themselves for selling such an inferior product. Will never buy boots from them again!
Source: bought it new

I never write reviews, but felt a duty to others to tell them to save their money. I couldn't believe that my boots, which I've worn only a dozen times, are falling apart. The rubber is cracked all the way across the top of my boot. I saw many other similar complaints.
Cons
Fell apart after a dozen wearings
I spent a lot of money on these boots to make it through Minnesota winters. I thought I was investing in a reliable product. I love North Face products, but these boots are a wreck.
I see the warranty is only for 1 year, so I'm just going to throw them in the trash. I saw other customers try to reason with customer service on this and left those reviews feeling hopeless. What a shame.
Source: bought it new

Run fast away from these boots.
I had a pair of North Face white women's boots. I kid you not, I wore them once and they cracked up and the top plastic portion fell away. I was sooooo disappointed. I think they are designed to fail. 
Source: bought it used

Made from improper materials.
My Chilkats are maybe three years old and I wear them solely for snowblowing during New England winters. I've worn them approximately fifteen times. When they're not on my feet, they're stored in the house.
About four weeks ago, I took them out of the closet and found the right boot had four or five major cracks in the rubber material, wide enough to expose the insulation inside. Then, a few weeks later, the same thing happened to the left boot!
This is clearly a failure of the rubber material and judging by the many similar reports here, this isn't simply a "bad batch" of rubber. Buyer beware.
Source: received it as a personal gift

I concur with everyone on these poor reviews as well as the lack of response from TNF.
Pros
Great fit
Very comfortable
Cons
Unacceptably low quality due to the rubber cracking.
Nothing to add, other than I have purchased my last The North Face product.
Source: bought it new
Price Paid: $135

Rubber area suddenly cracks and crumbles.
These were bought new about four years ago. Worn lightly to shovel snow and visit local stores, the tread shows little to no wear. While shoveling snow today, the rubber area covering the feet fell apart without any warning. By the time my husband came in, large chunks had fallen off. 
Source: bought it new

Pros
I loved these boots, very comfortable.
Cons
Lower rubber portion of boot started to crack with chunks of the material falling off.
I had the exact same experience with the lower rubber portion of the boot starting to crack with chunks of the material falling off completely after being worn only a few times. I had not worn them more than 5-7 times.  Very disappointing.
Source: bought it new
Price Paid: I do not remember exactly but it was $150 or more. I paid list price at the time

Rubber lower cracked.
Pros
Comfortable
Warm
Easy to put on and off
I had a pair of the original Chilkats. I really liked them, but after a short period of time the lower rubber portion cracked.
I took a chance again when they came out with the Chillkat ll. I really liked them and figured NF fixed the issue. NOT!! Same thing different boot.
Really, North Face! Really!
Source: bought it new
Price Paid: $65 ?

The Rubber part are Rubbish!
Cons
Poor materials
Doesn't last
I have had my North Face boots for about three years. Last week when I took them out of the closet to wear in the snow, the rubber lower and leather upper separated. The rubber completely deteriorated from indoor storage.
What crap these turned out to be for an expensive boot. All the rubber on the boot is falling apart. DON'T BUY. Shame on you, North Face. I'll get my next pair from LL Bean. They actually stand behind their product.
Source: bought it new

Bought these boots on clearance and stored them in the box under the bed. First time they were worn they cracked all the way across the toe on both boots. Complete garbage!
Boots looked and felt great until I tried to wear them on my first winter trip. Both boots cracked across the toe.  
Source: bought it new
Price Paid: $75

Rubber upper boot fell apart.
I just pulled out my North Face Chilkats boots. The rubber completely fell apart in my hands. I have never seen anything like this.
Very disappointed, and I paid a lot for these boots. I kept these boots in my closet in the house. The boots were rarely used.  
Source: bought it new
Price Paid: $100

Wore these boots 3-4 times a year for three years. Last snowstorm, while walking, the rubber cracked starting at the toe. Junk!!!!!!!!
Cons
Don't go on an expedition with these, you'll die!
Junk!
Source: bought it new
Price Paid: $90

Comfortable and warm, but lasted 20 minutes walking.
Bought these boots to wear when snowboarding, but decided to wear them out walking. They lasted 20 minutes before the right toe area completely split. Such a shame as lovely comfortable boot. North Face quality!!
Source: bought it new
Price Paid: $50

Do not buy them. Wore them once in the snow, seemed fine. Second time I wore them the whole upper section came off.
Cons
Fell apart after normal use!
Buy a Euro brand. NF, shame on you!
Source: bought it new
Price Paid: Over $200

Split apart at the rubber/leather seam. NF told me to go fly a kite. What a joke, because they are warm, waterproof*, and cozy. Up until they fall apart for no reason.

Bye bye, North Face. Never again.
Pros
Big time name on your boot
Comfy and warm, until you decide to not wear them. Then they fall apart. Thanks, North Face. I'll be shipping you none of my business for the rest of my life. 
Source: bought it new
Price Paid: ~$165

Same thing happened to me ... I had these and only wore a few times bc I have really cute coach boots and last year we didn't have much snow and this year we didn't have much snow.

I got them out of my closet for the second time this year and they cracked same place as all of the others. I am so disappointed bc I loved these for really cold days. Seems to me there is a defect!!!!
Same thing happened to mine!! Seems to be a defect if it happened to so many. They should give people their money back! VERY disappointed.
Source: bought it new
Price Paid: $100

My boots also fell apart in the same place.
Cons
They fell apart. Hardly worn, kept in closet next to my L.L. Bean boots.
I've had these boots for a few years. Hardly wear them. Have always worn L.L. Bean boots, but a few years ago I ran into these and thought I'd try them. Didn't have the need to use them a lot until this winter.
Got them out of my closet sitting next to my other boots. Second day wearing them they fell apart where the leather meets the rubber. Never had a pair of boots do this. I've read other complaints about this and North Face says it's a storage issue and won't do anything after a year. Bad business! My L.L. Bean boots I've had for 10 years and they are still perfect.
Nice job, North Face. You just gave L.L. Bean more of your customers!!!! You are misleading consumers with products that don't last. I know there are people who haven't had any issues with these boots, so you should be taking care of your customers that do.
Clearly there is a defect in the material or just bad quality. Just not the way to deal with defected products with consumers. PERIOD.
Source: bought it new
Price Paid: $62

Same problem :(
All of a sudden I looked down while carrying wood in and the toe of my right boot split apart as I bent my foot while walking!  I had previously raved about these boots to anyone and everyone. I loved the comfort and warmth. Sadly neither of those factors matter if you can't keep your feet dry - soooooo disappointed. :(
Source: received it as a personal gift

Fell apart in my closet!!!!!!
They fell a part in my closet after a couple years of very light use!!!!
Source: bought it new
Price Paid: $300

Complete Rubbish, so disappointed with my North Face Chilkats. My boots were stored with the rest of my gear. Took them out for the first time and the boots split so badly two hours into the walk that I was not sure if they were going to stay on my feet. The rubber section just fall apart. Never seen anything like it. Ripped off.
Save your money and don't purchase any of the crap.
Source: bought it new
Price Paid: $180

Wore them twice and the side split from the sole.
I bought these to wear when hunting in Michigan.
They came out of the closet twice. Once to wear in the house and once to go to a friend's.
She noticed that the side had split open at the sole from toe to heel.
Source: bought it new
Price Paid: too much

These boots just fell apart in storage in my closet after almost no use. North Face calls that wear and tear. See the emails below to read their response. You decide if you want the same treatment.

From: Saimoom Ameen [mailto:Saimoom.Ameen@truealliance.com.au]
Sent: Thursday, 27 January 2011 10:30 AM
To: Stephen OBrien
Subject: RE: North Face Boots

Dear Mr. O'Brien,
Thank you for your feedback.

Unfortunately as previously stated your product is out of warranty and a warranty claim cannot be raised.

Kind regards,
Saimoom Ameen
After Sales Administrator
True Alliance
19 O'Riordan St, Alexandria
NSW 2015 Australia
F 61 2 9319 2009
E saimoom.ameen@truealliance.com.au

From: Stephen OBrien
Sent: Thursday, 27 January 2011 10:46 AM
To: Saimoom Ameen
Subject: RE: North Face Boots

Saimoon,
Thank you for your prompt reply.
It seems from your reply that The North Face considers it acceptable that their products have a very short life in a 'storage environment'. The boots certainly did not experience any 'build up in moisture over time' whilst stored in a cupboard at home. What info do you provide about storage when you sell the product? I certainly was not aware that boots needed to have 'access to fresh air'. Does the North Face 'air' the product prior to sale or keep them in a cardboard box??

I do not agree that a product that fails like this in a dry storage environment is not 'defective in materials or workmanship'.
I request that you consider replacing them. I am sure there are forums on the internet where will readers and potential buyers will be interested in my experience.

regards
Stephen O'Brien

From: Saimoom Ameen [mailto:Saimoom.Ameen@truealliance.com.au]
Sent: Thursday, 27 January 2011 9:34 AM
To: Stephen OBrien
Cc: After Sales
Subject: RE: North Face Boots

Good Morning Mr. O'Brien,

Thank you for your enquiry in regards to your The North Face product.

To answer your question regarding warranty, all The North Face footwear is provided with a one year warranty, as after a year it is difficult to ascertain whether damages to the product is associated with manufacturing defects or wear and tear. As your product is over 3 years old it is no longer covered under warranty.

In relation to the issues you are experiencing with the product, from the pictures and descriptions you have provided we can determine the damage has occurred due to the shoes being kept in a storage environment for a prolonged period of time. The deterioration of adhesives and the oxidisation of material is a common occurrence when products are kept in a storage environment, where the product do not have access to fresh air and it's components begin to fail due to the build up of moisture overtime. From the pictures it is quite evident that the product is now beyond repair.

This damage is not due to any defects in material or workmanship, and is a product of wear and tear in relation to the how the product had been used. Wear and tear is also not covered under warranty.

I hope I have been able to attend to your enquiry sufficiently. If you have any questions please do not hesitate to contact me.

Kind regards,
Saimoom Ameen
After Sales Administrator
True Alliance
19 O'Riordan St, Alexandria
NSW 2015 Australia
F 61 2 9319 2009
E saimoom.ameen@truealliance.com.au

From: Stephen OBrien
Sent: Thursday, 27 January 2011 10:04 AM
To: After Sales
Subject: North Face Boots

Hi

My wife bought these North Face boots in Niseko, Japan three years ago. They were worn only a few times on that trip, and have been stored in a cupboard at our house since then. In storage, they have only been subjected to a normal interior environment.
A few weeks ago we were packing in preparation for our next ski trip. We were extremely disappointed to find the boots had fallen apart and are completely unusable. The rubber lower section appears to have become brittle and has separated from the leather upper.

Attached are photos to show the deterioration. One photo shows the sole to confirm that they have had effectively no wear at all. Ironically these boots are labelled 'outlast'.

What is the warranty on these boots? Can they be replaced, and hopefully with a product that will withstand more than three years in a benign environment?

Regards,
Stephen O'Brien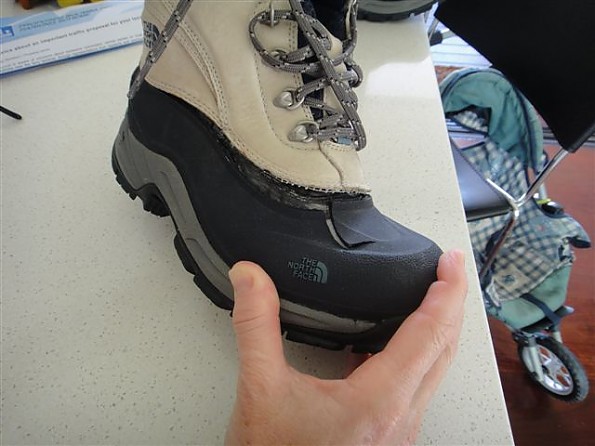 I wear this boots during Oct thru spring time hiking and backpacking and really comfortable. I would recommend this model North Face Chilkats for hiking in the rugged terrain.
Price Paid: $99

My wife bought a pair for herself. She liked them so bought a pair for me. I liked them, so we bought a pair for her parents in Poland. I'm going to keep this short... quite simply the most comfortable, warm, and waterproof boots I have ever purchased!
Materials: leather or Gore-tex
Use: Day hikes, foul weather gear, snow boots
Break-in Period: 0 days 0 blisters
Weight: 4 pounds I believe
Price Paid: $45

Good looking boot, and felt great on the feet, but just like all the others, mine also fell apart after just sitting in my closest with very little use.
Pros
Great for keeping your feet airy as they fall apart
Cons
Wondering if you'll make it home on busted boots
Fit: Fine
Comfort: Started out great, but got even better when the boot split apart.
Water resistance: Very poor as the fell apart.
I'd post pictures, but you'd swear I just copied and pasted from those already shown. Mine also had very little use, and split like Chinese rubber. Good bye, North Face.
Source: bought it new
Price Paid: $140

Your Review
You May Like
Specs
Men's
Price
Historic Range: $15.06-$100.00
Reviewers Paid: $45.00-$300.00

Women's
Price
MSRP: $90.00
Historic Range: $19.26-$95.00
Reviewers Paid: $75.00-$99.00

Kids'
Price
MSRP: $60.00
Historic Range: $22.97-$60.00

Recently on Trailspace