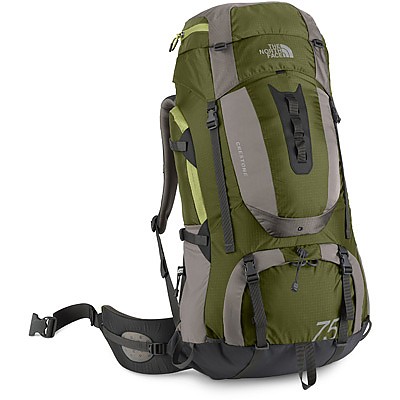 Specs
S
M
L
Price
MSRP: $229.00
Historic Range: $149.95-$249.00
Reviewers Paid: $119.99-$280.00

Weight
5 lb 1 oz / 2296 g
5 lb 10 oz / 2550 g
5 lb 12 oz / 2600 g
Capacity
3967 cu in / 65 L
4300 cu in / 70 L
4450 cu in / 73 L
Extended Capacity
4760 cu in / 78 L
5200 cu in /85 L
5800 cu in / 95 L
Fabric
210D Ripstop Nylon, 420D HD Ripstop Nylon
210D Ripstop Nylon, 420D HD Ripstop Nylon
210D Ripstop Nylon, 420D HD Ripstop Nylon
Reviews
6

reviews

5-star:

2

4-star:

3

3-star:

0

2-star:

0

1-star:

1
I am an experienced hiker. I've been hiking the A.T. and the trails along the Blue Ridge Parkway (VA) for some time now, and I've become an expert on gear (not trying to brag or nothin). I was looking for a large pack (4600-5500 cu in), and I quickly found that the packs that I was looking for are generally run in the higher end (the Marmot Terraplane, same size as this North Face, cost $369).
When I saw this for the price, I flipped and bought it right then and there. It was delivered via UPS the day after the next day. I might never need another pack. It held my REI Camp Dome 2 tent, my Kelty Tundra +15 sleeping bag (in the seperate sleeping bag compartment), my MSR Pocket Rocket stove and two canisters of fuel, my GCI anonidized aluminum mess kit, my food for two days, my Thermarest Trek Lite sleeping pad, two Nalgenes, my Camelbak bladder, a jumbo bottle of Powerade, and food and clothes for two days in 15 degree weather (a cold front was coming through).
I could not even feel the weight on my back. The hip belt and the shoulder straps balanced the weight so evenly, and the pack compressed so neatly, that I felt like I was strolling down my neighborhood with my school backpack on. I KID YOU NOT--BY THE END OF THE HIKE, MY FRIENDS--ONE HAS A MARMOT TERRAPLANE, ONE HAS AN OSPREY AETHER 85, AND ONE HAS A MILLET ODYSEE 50+10 (A FRENCH PACK)-- ALL WANTED TO GO AND BUY A CRESTONE 75 AFTER SEEING HOW MUCH STUFF I WAS ABLE TO JAM IN HERE AND HOW FAST I WAS MOVING WITH THIS CLOUD (AT LEAST IT FELT LIKE A CLOUD) ON MY BACK.
Don't hesitate to get this pack. It's $159 from EMS.
Design: top-loading internal w/ front access pocket
Size: 4900 cu in
Number of Pockets: main pocket, sleeping bag cpt., top lid, two front pockets
Max. Load Carried: 20 pounds
Height of Owner: 5'7"
Price Paid: $159

Comfort is the one word I would use to describe this pack. Plenty of room and great support.
Great pack with enough room for a thru hike. Love this pack, a bit on the heavy side though.
Source: bought it new
Price Paid: around 200

Faulty desing, shoulder parts broke after 2 days. North Face only gave me 3 month of guarantee altough they admitted a defect in material. Lifetime warranty is only marketing which means nothing, just read their definition of it. Problem is the construction of this backpack, it is just not made for wearing more weight than a pair of socks and a flashlight. North Face treated my like an idiot but it seems to be their general policy. I would like to add some pictures of the damage but its not possible in this forum.

I review on the official North Face website (US) but I think they only accept extremely positive reviews.. unbelievable! Consider this before buying a product of North Face!
Cons
broke the second day
only 3 month guarantee (at official North Face store)
This backpack is clearly attractive in design and good in price. But it is undoubtedly a faulty design. The shoulder parts broke after two days of travelling! When I lifted the backpack the second day I heard a crack noise and one side of the shoulder part was half broke, the next day, the other site started cracking.
Great, I had 3 months travelling before me! When the damage happened on the second day, I took pictures and sent it to the North Face Store where I bought it and asked about the guarantee. I never got a respond.
After my adventure I went directly back to the official North Face Store with the backpack. Although they promote "lifetime guarantee" they told me, that in this country you only have 3 month of guarantee (!!!) and no cash back. They sent the backpack for inspection to a centre and promised me to call me back as soon as the investigation comes to a result. They never call me so I went to the store. The store manager simply said: "yeah, it was a defect in material" and offered me a new Crestone bag. I refused because as a Product Engineer I am 100% sure that this product doesn't lack in material but in construction. It is simply bad designed and not made for transport heavy (normal) stuff.
Pretty disappointing, also the guarantee North Face "promises" is purely marketing, read here from their regulations about their "lifetime" warranty etc. It's simply not true:
Here, what is written about the "guarantee" of North Face
"Q2: What does "lifetime" mean?
Our products are covered under warranty, to the original owner, for the lifetime of the product.
Unfortunately, this does not mean your lifetime. Your The North Face® sleeping bag may not survive to the ripe old age of 70. "
This is like a punch in the customer's face. They wouldn't even provided me guarantee after 3 months.
Source: bought it new
Price Paid: about $280

Not a bad pack at all. The design was well thought out.  It has a good amount of pockets. The opti-fit is handy. I personally like the thick shoulder pads.
Pros:
plenty of pockets
zipper loops for ease of opening/closing
straps can hold gear in several arrangements using the same straps
water pockets made with stretchy "spandex like" material keeping it in place better
convenient trampoline divider between sleeping bag compartment and main storage
Cons:
side access zipper to main compartment gives just a "fair" amount of access.
hip supports could have used some pouches.
Price Paid: $119.99 on sale (gander mountain)

I work for a outdoor gear purveyor and this pack was given to me to try out. The model I tested was a 2010 pre-production model. I have been told that the webbing problem I had will be corrected on production models. This report is a portion of the report that I sent TNF.
I am 6'2" about 220 lbs. I have a long torso. The pack was fully adjusted to its longest torso length and fit me just fine. The hip belt was comfortable and the only comment I have is that the hip belt straps were long enough for someone who weighed 450 lbs. Just too much strapage there and it will be trimmed for future hikes. The hip belt was comfortable, and easy to adjust. I liked it.
The shoulder straps were comfortable and easy to adjust. The only complaint was that the webbing was too thin and got twisted very easily. The shoulder straps also seemed to slip a bit over time, I think because the webbing is so soft and thin.
The actual sack was easy to access and had plenty of room for the new lighter bring less guy that I have become. I will end up trimming the axe loops off for the future and a few other unnecessary straps to save weight. The access zipper on the backside of the pack was nice but I never used it.
Nothing broke and the zippers held up fine although it was only for 4 days. I liked the way it carried and hugged my back. I might even like it better than any of my DANA packs. (OK that was hard to write). The load transfer was fine and my hips felt nothing. I was about 30 lbs for 4 days although on the first day the weight went up a bit for the last mile as I carried about a gallon of water for a mile. The pack felt fine.
The only thing I did not like was the way the lid attached to the pack. I liked the Dana way better. TNF the lid is never really attached to the pack and when delving into the pack depending on what buckles you undo the lid can get flopped around and twisted. I hope you understand that. If not give me a call.
Oh yeah the water bottle pockets were a bit difficult to access when the pack was on. It could be done but there was a learning curve and it was harder to access if I was tired.

Design: top loading internal
Size: large
Number of Pockets: none?
Max. Load Carried: 30 lbs
Height of Owner: 6'2"
Price Paid: $0

I really like this pack. Keep in mind it is the 1st serious pack that I have owned, however my good friend paid $368 for an Osprey Argon 85 (which is really, REALLY sweet) however for the difference in price I would definitely go with the TNF Crestone.
I got the large (I am 6'4" 160#'s) and it fits pretty well, I kinda wish it was longer. The EVAP (or whatever they call it) is pretty cool it's foam w/ holes in it and a central chimney. (the Argon definitely LOOKs like it's foam molding would be more effective but that is just LOOKS.)
I will say that the large is definitely 85 liters and it is HUGE! I love it, I can fit so much stuff inside it it makes you sick.
Ss for using it on day hikes to the crag, it compresses really well so even without all my camping gear and just the climbing gear it is still really comfortable. It holds stuff really well and I especially like the double trash bag closure on the top. Easily holds 60 meter rope, full set of draws, harness, shoes, extra coat, hammock, food, essentials, and has tons of room to spare. (probly throw a whole trad rack in as well!)
I am having some trouble w/ the removable floating hood/daypack. It comes off easy enough but am having some trouble figuring out how it becomes a daypack...I called TNF and the gave me the warranty dept's info but I have yet to call them (they said i might be missing a strap which they would happily send me free of charge, GREAT SERVICE BTW!)
The "survival/signal" whistle DOES NOT WORK WHATSOEVER...which is really minor to me in the long run.
Really like the two "stretchy pockets" on the front for holding like a jacket/guidebook/whatever
BRASS TACKS: I did a lot of research and for the price I am really happy with this pack.
I kind of wish I had gotten the Osprey but I am glad I have the extra $180! (to go back and do it again I would still buy the TNF Crestone).
Design: top & side loading
Size: 85 liters
Number of Pockets: lots
Max. Load Carried: 50lbs - not on extended hikes though
Height of Owner: 6'4"
Price Paid: $177

You May Like
Recently on Trailspace