The North Face Dhaulagiri GTX

The Dhaulagiri GTX has been discontinued. If you're looking for something new, check out the best backpacking boots for 2022.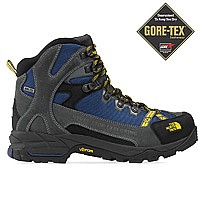 Specs
Men's
Price
Historic Range: $101.97-$170.00
Reviewers Paid: $120.00-$140.00

Women's
Price
Historic Range: $127.89-$170.00
Reviewers Paid: $170.00

Reviews
7

reviews

5-star:

1

4-star:

2

3-star:

0

2-star:

0

1-star:

4
These are the best boots I have ever owned and I'm 38. I did not climb Mount Everest — I trounced through concrete jungles, huge puddles, mud, snow, gravel and grass.

I have owned these boots for three years and they are the most comfortable shoes I own. They still look new and they are ultra durable. That's why they discontinued them — they are indestructible!
Impossible to find. If you can find them, buy them.
Terrible boots!! I bought these before completing the Jiri-everest basecamp- Jiri trek. Within two hours of walking my feet were soaked, the boots were not waterproof in the slightest.
Despite having worn the boots for a couple of weeks roundabouts beforehand, very large blisters appeared on the first day and then lasted for the whole 3 weeks. As dawn broke on the first morning as i donned my still sodden boots I noticed that the sole was pulling away on the left boot. At even a sniff of any precipitation these boots leak, the seems in the swade have popped. 
I tried to return the boots at the North Face outlet in Kathmandu, and was pretty much told I could keep my broken cheaply made boots, as we don't care.
I would never recommend to anyone to buy North Face footwear. The quality is shocking.  I've invested in a pair of Lowas. They're a little heavier, but they keep my feet dry.
Price Paid: £130

Worst boot ever! After 30 high peaks in the ADK you'd think most of my feet trouble would be avoidable by now, but these cause the worst half dollar size blisters I've ever experienced. After inspection I found exposed stickes and seam strategically placed right on the heal and achilles. WONDERFUL IDEA North Face! WTF?
Very hard to break in also, I'd like to give them to my dog to chew on.....
Fantastic boot well recommended. I've walked up many munros (Scottish mountain) with this boot with no problems. Break in quickly, grip very well, totally waterproof and they are the best looking boot out.
Issues with boot: fabric can take while to dry out, gore-tex fibres are starting to pull out (Most likely due to the rocky slopes).
Materials: gore-tex
Use: munro climbs and hikes
Break-in Period: 2 week
Weight: 1.6 kg
Price Paid: £115

WOMEN'S DHAULAGIRI GTX®
1. Worst product name ever. This is how my phone conversation goes at the Store: 'Do you have this hiking boot...the...well it starts with DHA..."
The store clerk: "yeah, I know that one, no one knows how to say it either".
Why would you call something that NO ONE will know how to say? This boot is known as the "other" OMEGA-3 vitamin.
2. Worst blisters in womankind ever. Blisters originated from the achillles heel of my foot. Upon further inspection found an exposed zigzag stitch on the inside of this hiking boot where my achilles heel was hitting. Of course this being a hot pressure point when climbing up granite boulders and mtn ridges, how come this is exposed? All other shoes/hiking boots seem to have their internal stitches covered. Especially in the friction zone areas.
3. Metal pins for the ankle support actually dug into my ankle bone and caused much bruising and pain. Understood these pins were meant for stability and rigidity but in real life, they were more painful and useless than being helpful. Worse was when I had to climb vertical/downhill - the pins just dug right into my legs, no way to even flex them out.
4. After 35 hrs of true hiking time, you would think that these boots would finally break in to their comfort zone, absolutely not. They got worse the more I wore them... Bigger Blisters, more unnecessary friction on my achilles heel and metal pins not conforming to my foot/leg.
I wished I spent my money on a true hiking boot company and not someone so junior in their experience and product. This boot would have been perfect for...nothing.
Backpacking in the wilderness at Sequoia National Park is not where you would want these hiking boots. This was the difference in a 12 hr hike vs. a 7 hr hike back to camp. Due to so many problems and actual injuries to my feet/leg, it took me longer than normal to reach my destination.

Materials: Gore-tex
Use: Wilderness backcountry hiking
Break-in Period: 35 hours and not broken in yet.
Price Paid: $170

These boots are junk. I returned two pair and went with a different brand. I wore then around my house to break them in. They started to fall apart before I could even take them outside. They are cheaply made. I would not recommend these boots to anyone.
Break-in Period: Did not hold up long enough to break them in
Price Paid: $140

I just came back from a hike in very rough and rocky terrain and wet conditions. This hike was more of a mountain climb than a simple hike. The boots, socks, and feet were wet from all the rain for days. I was carrying a 30 pound back. This was my second hike with these boots.
These boots have a number of excellent features: 1.) the outside sole grips wet and rocky terrain, the grip meets my expectations. 2.) The boot is broken in right out of the box. 3.) Comfortable. 4.) The boot looks good.
The only downside that I experienced on this second hike was blisters on my left foot, side of heel and side of big toe. Ouch! I should have stopped sooner to address the hot spots. I will take out the Superfeet insert and replace it with the stock inserts and will wear a liner under my socks to reduce friction and change out my socks in wet conditions. A few modifications may make the difference.
The first hike was not as steep and not has rough, no blisters.
Materials: gore-tex
Use: rough terrain and steep terrain
Break-in Period: zero breakin period
Weight: 198 lbs
Price Paid: $120

You May Like
Recently on Trailspace