The North Face Dogfish

The Dogfish has been discontinued. It last appeared in The North Face's 2008 product line. If you're looking for something new, check out the best hydration packs for 2023.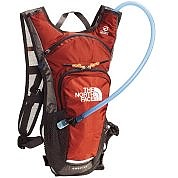 I won this pack at www.altrec.com and I was pretty stoked about that. I do some mid-distance running, and this pack seemed like it would fit the bill. It held my GPS, a couple of energy bars, and just enough water to get me through a 16-mile run in Montgomery, Alabama.
The first thing I noticed was that the weight was barely noticeable on my runs and that the magnet on the drinking tube was much better than my Camelbak drinking hoses which just kind of flop around.
The second thing I noticed was that my back would be soaked during my runs. I initially passed this off as condensation due to the Alabama humidity. I then decided to try this pack out on a quick ascent up Mount Cavello in northern Italy. Once again, the size was perfect for a first-aid kit, a couple of sandwiches, an emergency blanket, and just enough water to make the trip. But, once again, my back got soaked.
I started playing with the bladder and found that it leaked terribly at the swivel-joint where the drinking hose connects to the bladder. I can't complain since the pack was free, and I still love the actual pack. But, the bladder simply doesn't do the trick. I will keep using the pack, but will use a 2-liter Camelbak bladder instead.
Design: small hydration pack
Size: ?
Number of Pockets: 1 for bladder, 1 for a small amount of knick-knacks
Max. Load Carried: 10?
Height of Owner: 6'3"

I have used this pack for about a year now for light hiking and cycling.
The Good:
For biking this is a great pack. It has just enough room for a light jacket, an extra tube, and a snack. For hiking you might have to attach a larger jacket to the outside, cause you won't get anything larger than a light shell in the pack (Marmot Precip is what I generally throw in there).
The Bad:
As BBoots states in the other review there is a problem with the design. Frequently the tube will either get pinched or detached all together from the bladder. It isn't a huge problem, you just need to make sure that after you put the tube and bladder in, that it works...if not do it again.
Overall, I got a great price on this bag, so the minor hassle of having to check to make sure that the tube is attached and not pinched is a small price to pay.
Height of Owner: 6'1"
Price Paid: $25

Been a good pack for long runs. I like the fit, adjustable straps, plenty of pockets. Not terribly heavy.  Also, I like the magnet on the hose so it stays connected to your chest when not drinking. 
I did have a problem with the bladder, not sure if the O ring came out but it leaks terribly where the lid is. Huge problem, need a new bladder. 
Price Paid: $65-70

This bag is awesome. I use it for biking all the time. It fits more than enough water to keep me going and enough space in the mesh pockets and the secondary pocket for snacks... Although I have chewed the "magnetic bite valve" a bit too much and sometimes leaks and that is a problem when you can't find any website that sell spares for this.
Price Paid: $56

The tube keeps pinching off inside the pack. A hydration pack that you can't get water from is pretty useless.
Your Review
You May Like
Specs
Price
Historic Range: $34.34-$69.99
Reviewers Paid: $25.00-$65.00