The North Face Goliath 3D

The Goliath 3D has been discontinued. If you're looking for something new, check out the best 3-season synthetic sleeping bags for 2023.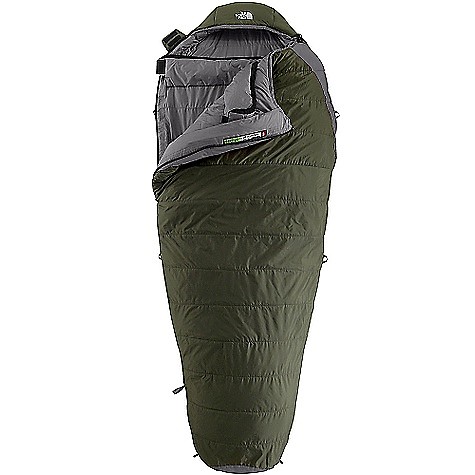 Great bag, I own two. I've got big shoulders so it's a lil'tight on me, but otherwise a great bag for the person stout enough to handle the extra lbs. Hunter on a quad, canoe, sailing, horse back or car camp'n it would be perfect.
Cons
Weight
Needs a little pocket for flashlight and stuff
Compression stuff sack
Goes in fluffy comes out fluffy (get a compression stuff sack). Little dew not a problem cause it dries quick. store it in a loose bag with some mint oil to keep the spiders out and spray it with Listerine ta keep the mosquitoes away.
I recommend sewing a veil of netting over the opening, big enough to drape souse it won't tickle your snooter. Listen to this Ol'NDN I know what I'm talk'n about cause I've been a lot to a lot people.
Source: bought it used
Price Paid: $40

After buying several so called "big and husky" bags, I found my North Face Goliath and haven't looked back since. I have used my bag year round in Michigan for the past 4 years and absolutely love it! Yes, it's big and fairly heavy at 4 lbs 4 oz. but I'm 6'2" and 300 lbs myself. A big guy needs a little more room than the average fella. I have used mine in deercamp where the low was -20 F. and high was +15 F.above for 2 weeks straight, the only time I got cold was when out hunting. When this bag says "comfort temp; 0F/-18C" they really mean COMFORT, not just a survival rating.
Design: mummy
Fill: Polarguard 3D
Temperature Rating: 0F/-18C
Weight: 4 lb 4 oz
Price Paid: $160 on sale

Wonderful, wonderful, wonderful! I am 6'2" 245 and athletic, not big bellied. I hike in the North Cascades and tend to sleep cold after a long day hike in. I looked and looked and bought several high end $250.00+ bags with unsatisfactory results. If you are muscular, wide, or have a big belly and don't mind carrying 1 to 1/2 lb more in bag wieght, this is the bag for you. I have slept in 20 degree weather in windy conditions and stayed very cozy. I have also been in near zero temps and never had a problem staying warm.
Design: mummy, wide
Fill: Polarguard 3D
Temperature Rating: 0
Weight: 4 lbs
Price Paid: $179 (REI)

I really do like this bag. I am 6' 4'' and I have more than enough room in this bag. It feels like sleeping in a bed at home. It is just WAY too heavy and doesn't pack down nearly small enough. I can barely fit it in the sleeping bag compartment of my backpack. I sleep warm, so this bag is good for me down to about -25 F.
A nice warm bag with lots of room which I still take on shorter, really cold trips.
Version reviewed: Long
The warmest synthetic bag I have ever used, this bag ROCKS, I had to strip down to skivies on a -25C Canadian night. All my previous experience has been with Military issue down bags. I was warmer in this bag than I ever was in Mil. Spec bags, now if only I could afford a 4 season tent!
Design: Large Mummy
Fill: Polarguard 3D
Temperature Rating: -18C / 0F
Weight: 4lbs 10 oz
Price Paid: $250 CDN - $169 USD

Finally, fat men can sleep in comfort in the back country. I am 5' 11" and 245 lbs. I slept through one the windiest nights at 12,800' in Rocky Mountain National Parks Boulder Field snug and warm in my TNF Goliath. Yeah its big and yeah it heavy... but so am I!
Design: Mummy
Fill: Polarguard
Temperature Rating: 0 F
Weight: 4 lbs +
Price Paid: $189 (on sale)

Your Review
You May Like
Specs
Price
Historic Range: $100.00-$178.99
Reviewers Paid: $40.00-$189.00