The North Face Hammerhead

The Hammerhead has been discontinued. If you're looking for something new, check out the best hydration packs for 2023.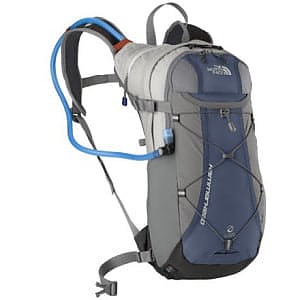 I bought this pack for day hiking in the North East. Specifically, I wanted something for warmer months that was more than a (PITA) fanny pack but less than a 3#, 3000+ in weekend pack. After some research, I decided to go with the Hammerhead which seemed like a great combination of (legendary) quality, ultra light weight and "just enough" capacity. After using it a few times, here are my thoughts.
First, what I like: a) This is a bomber built pack. It's going to last a long time. b) hydration system is (so far) great and easy to remove/fill. c) The comfort level of this pack is great. Padding is adaquate, breathable and the back firm enough that it almost feels like there is an internal frame. d) The external pockets still hold (16 oz or smaller) water bottles etc. for quick 1-2 hour hikes where I don't want to bother with filling/draining and cleaning the bladder.
On the flip side; a) The 730 inch capacity is hard to utilize and a tight fit. The two internal pockets (and dividers)are long but very restrictive in area/access due to their narrowness. You have to stuff things in and out and or feel for them as there is no clear view of the bottom most times. b) The mesh rear external pocket and bungee are small and don't hold allot. (Maybe a hat but a fleece jacket is tight/hanging out everywhere. c) Overall Volume is Ok if all you want to do is carry a small emergency kit and day esentials (i.e compact camera, extra socks, poncho and lunch.)but it's hard to utilize the room due to the tightness of the compartments. Really no room for a jacket, etc., unless lunch is a Power Bar.
All in all, this is a nice pack for 2-season day hiking in stable weather if you don't need to take along luxuries. In hindsight, I would probably recommend a 1000 inch + volume (like the North Face Megamouth?) to gain some more usable volume and extend its use well into the wet/cold months or in the mountains. FWIW, I'd give it a 4.5 for comfort and features if it was just a tad less tight inside.
Design: hydration day
Size: 730 in3 + 3L bladder
Number of Pockets: 3 out, two internal
Max. Load Carried: 5-6# + pack weight
Height of Owner: 5'8"
Price Paid: $46

Well, I guess perhaps I'm less discriminating, or maybe just less plaintiff. I really like this hydration pack It think it has a lot of nice, well thought out, but subtle features. Like the ability to move the lumbar strap up and down (which is great for females, of course).
Yes, the bladder did leak on me too the first time I went to use it. But it wasn't a big deal as I was going hiking anyway. And I noticed that after the initial leaking right after I filled it up, it didn't seem to leak beyond that. I think perhaps you just need to let a little out after you fill it and it's fine.
The storage space is somewhat small/compact. But it's perfect for a daypack when you don't want additional weight. It has lots of pockets and I found it pretty convenient.
The only negatives that I can comment on are that the bag does set in on my lower back. I think this is because I'm female. And it wouldn't affect me so much except that I hike with my dog and she pulls (which pulls the back of the pack against my lower back). And it wasn't very bothersome.
And the other thing is, like another reviewer said, you can't see into the pack very well. And again, I'd rather have lower weight, so that's a reasonable trade off.
Also, the bag does have a loop on the back for trekking poles, etc. I didn't know that when I bought it, but was happy to see it.
I'm really happy with the pack. This was my second choice, but when I got it, I was pleasantly surprised and I'm really happy with it.
Height of Owner: 5'8"
Price Paid: $59

My wife and I needed new hydration/daypacks for our weekend hikes. We were replacing two cheap $14 Hi-Tech hydration packs that actually worked well but had zero pack space and only a one-liter water capacity. Plus, they both had begun to fall apart after three months of weekly use. We got what we paid for.
We were pleased when our new North Face Hammerhead daypacks arrived- until we filled our hydration bladders, the bladders leak! No matter how hard we'd twist the caps on they still leaked water. Poor design of the hydration pack. The pack itself is built well, light and sturdy, as you'd expect from North Face.
If you are looking to buy a great daypack this is the one. If you are looking to buy a great daypack with a great hydration system this is not the one. Returning products. Will try another company.
Design: Daypack with hydration system.
Size: 730 cu. in., 1000 ounce bladder
Number of Pockets: Many internal and three external.
Max. Load Carried: Besides water only a few pounds- first aid kit, snacks, etc.
Height of Owner: 6' 2"
Price Paid: $69

Great quality and should last a long time. I find the cargo area roomy enough but quite restrictive and things have to be shoved in. You can't see in to the bag so end up fishing around inside. Not the best when feeling around for your squashed bananas.
Oh yeh, the lower pipe valve leaks pretty bad. Had mine replaced by NF and that leaks too. Enough to ensure your cloths are wet by the time you commute to work.
That said, a great bag if you don't mind wet contents.
Price Paid: £50

I had an awful experience with this bag. The first time I used it it leaked all over me. After being sent back three times to be fixed I finally gave up and went with the Patagonia Catalyst Pack ($60) I haven't had a problem since.
Right when I got this camelback I put 2 bottles of water in it and yes it did leak... I haven't done anything about that yet but is anyone else getting this problem?
I have been using mine consistently for 2 years and absolutely love it. Mine has not leaked a drop and the pack space is great too.
Price Paid: $45

Your Review
You May Like
Specs
Price
Historic Range: $22.36-$90.00
Reviewers Paid: $45.00-$69.00

Recently on Trailspace