The North Face Himalayan Hotel

The Himalayan Hotel has been discontinued. If you're looking for something new, check out the best four-season tents for 2021.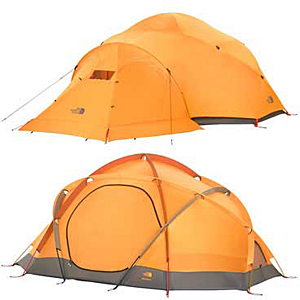 Specs
| | |
| --- | --- |
| Price | Reviewers Paid: $475.00-$895.00 |
| Minimum Weight | 14 lb 3 oz |
| Floor Area | 65 sq ft |
| Floor Dimensions | 123 in x 87 in |
| Interior Peak Height | 58 in |
| Vestibule Area | 15 sq ft (Front) 8 sq ft (Rear) |
| Stuff Size | 26 in x 9 in |
Reviews
9

reviews

5-star:

9

4-star:

0

3-star:

0

2-star:

0

1-star:

0
I think the this tent was intended for use in conditions one might find in the Himalayan mountains—truly. So think about where you'll be using this tent: high altitude, snowy, cold conditions are best.
Pros
Fabricated to outlive the worst weather conditions and you
Cons
I think it is overkill for someone using in Minnesota summer weather conditions, ie hot and humid
I purchased this tent for my little family of three back in the early 1990s and used it in the Boundary Waters Canoe area and the Superior Hiking Trail in summers. It is stuffy for summer use in Minnesota. You're not going to experience gale force winds or extreme weather (at least not back in the '90s when my family camped a lot) so if I could do it over again, I would have gotten a spacious tent with lighter nylon, less beefy, but just as well designed.
That said, it was set up under some pretty adverse conditions (highest point in area, under trees, with thunderstorm raging and very young children to tend to) so I highly recommend this tent and if anyone is interested to purchase it—hasn't been used or even out of its tent bag since early 1990's—rsvp with your best offer.
The only thing I did once was patch a tiny imperfection in screening. Otherwise it got light use, was well cared for, and should be in perfect condition. I'm offloading so if you're interested, and you're in Minnesota or near Minnesota or have reason to come to Minnesota, let me know of your interest. I want to offload and will consider your offer.
Source: bought it new
Price Paid: 900 USD?

Best for areas where weather can hit hard with rain and snow. Once it is up I have very rarely had to run around it checking up on its guy lines or stakes. Now if North Face will put it into production again. I could use a backup of my original.
Pros
Keeps you dry
The design sheers wind very well.
Bomb proof, it's a tent you never have to guy from the inside when you're really getting hit on one side with constant wind.
Warm and inviting
Cons
It's discontinued.
It uses a few more poles so it it heavier and is a tad tricker then a typical tent to set up.
Mine was old enough I had to seam seal it myself before using.
Other people who lose their tents in the same weather will soon be in yours. So camp with cute guys and gals.
Best four-season tent I've owned hands-down! Now start making them again, North Face.
I paid around $750 for it at REI on sale. I have lived in this tent for a couple of weeks in the winter and snow and it felt so much like home. The yellow has an uplifting feel to it when you are in it and amplifies any light that it catches.
Sleeping I had up to 7 in it and it was not as bad as you would think with feet into others' heads. The shape lends to sleeping arrangements that work quite well with an overload. It's also my emergency tent in case of natural disaster that might require a bug out from your home.
It's heavy, but it is easy to split up the tent to nearly half weight.
Source: bought it new
Price Paid: $750

It truly is a great tent. I have stayed in the North Face Himalayan tent as I bought mine for my boys as a Christmas tent about eight years ago. We, my two boys and I, go on ski camping trips to Snowshoe, W.V. in the winter. It has served us beyond our expectations.
Pros
The inside of the tent is well designed.
Cons
I just can't think of any.
The inside of the tent has lighted zipper toggs. When you wake up in the middle of the night and have to pee and want to leave the tent and are in total darkness, you can see where to pull the toggs because they are lit up with "glow in the dark" zipper pull toggs. Now that might not seem like much but it has prevented me from wetting the inside of my sleeping bag more than once.  
Also, it has drying loops on the ceiling of the tent for gloves or socks to dry out your clothing during the night time while you sleep. It has screened in vents or windows that are warranted not to crack or break to -34°F below zero degrees.
It holds the heat in good from the body and in no time the tent seems to be warm. I bought the Himalayan because I did not want to be caught out side in blizzard conditions while on our ski trips. So in that regard it is worth every penny we, "my wife and I" have spent.
After our skiing trips or at the end of the night, we always knew our North Face Himalayan tent would be standing and our home away from home. I bought the Himalayan after spending a couple nights out in the cold and camping in a $50 Walmart summer tents at Snowshoe.  I didn't want my boys or myself to be frostbite victims in the middle of the night out in the open with no place to go for shelter like we could have been on several nights we stayed out in the open.
I bought the Himalayan after doing many nights of research on the internet. It just wasn't a sudden investment in our family's safety. I was shopping for protection.
After one of our trips, I had the boys set it up in our front yard. They didn't stake it down. It blew into the driveway and got a tear in the tent's floor. I sent the tent into the North Face company for repairs to make that repair. The tent came back and the repairs were done with skill and quality that I would expect from the North Face Company. It was not a half-assed repair at all and I had reservations about sending my tent off. Whoever did the repairs was experienced and took pride in their workmanship.  
My boys are out of school now. But I look back at all those nights that we stayed in the Himalayan. I don't remember being cold and drafty. I remember being warm and cozy. We slept four with comfort and our black Lab dog Onyx with our gear and even had a microwave oven hooked up.
I still have our Himalayan tent and feel confident that it is ready to go and ready to stand up to any kind of weather if necessary.
Source: bought it new
Price Paid: $475 but I shopped around.

i've hiked all over for years and shredded many of tents. this tent is awesome. sets up quick. stands up when i've watched other quality tents fail. if you camp above treeline pack something worth carrying.
Price Paid: gift

We, a group of four friends, bought early 1993 the first Himalyan Hotel manufactured by TNF Europe.
And it is still alive!
It served extreme winter expeditons in Scandinavia and the Alps. It protected us from blizzards, extreme cold and heavy rains. Since years went by nowadays our tent is also used as a family tent during summer holidays and it appears to be kid-proof as well.
We only paid around 1000 Euro's (in Dutch currency at the time).
Design: four-season dome
Sleeps: 4
Weight: 6 kg

I've been using my Himalayan Hotel for ten years now...it comes on all my horse packing trips and is invaluable for sharing with my two dogs, horse riding or hiking girlfriends and husband Doug. Though Doug did say the tent was a bit stuffy with all of us in there the evening I invited him to share a night with three dogs, Deb and I after our month long horse trip in the Canadian Rockies.
I won't leave home without it this year.

Design: four-season dome
Sleeps: 4
Ease of Setup: just get the color co-ordinated poles right and you're good to go
Weight: don't care
Price Paid: gift

I Have been climbing for 40 years all over the world and this is the best tent that I have ever been in. I have had my tent since June 1998 and it has been all over the world with me and never let me down.
It has been in the coldest climates and some of the hottest, I have been through many a stormy night and got up the following morning to see the tents around me destroyed.
This tent after more than ten years of extensive use is still in excellent condition, congratulations to TNF for an outstanding and reliable place to sleep no matter what the conditions.
Sleeps: 6+
Ease of Setup: none
Weight: 6kg
Price Paid: $500

My dad and I have had our Himalayan Hotel for 1-2 years now. We bought it to replace our Vango Force 10. We bought it from First Ascent in Britain who were very helpful when we chose it.
When we slept out on the summit of Ben Nevis last December it was an absolute dream. The winds were reaching 60-70 mph in the gusts and it stood unshaken. It's so large inside compared to the Vango. We could easily sleep 4-5 people in comfort in it. With just two of us though it was like a hotel! The vestibules at each end are huge and we also bought some gear lockers for the roof.
All in all, it is a fabulous tent -- buy one today!
Design: High Altitude Mountaineering
Sleeps: 4+
Ease of Setup: Very simple and quick to setup
Weight: 6.4kg
Price Paid: £699 (Sterling)

This is an amazing tent when you need the finest stability around, with two doors and easy setup. There are no windows because it is an alpine-style basecamp tent and overkill for most situations. However I found it to be extremely roomy, top of the line North Face quality, and a great oval shape with plenty of headroom as well.
People feigned heart attacks when I told them I planned on taking it to Yosemite this summer, and after carrying it around in my Dana Terraplane for an afternoon I figured out why. Unless you're a Sherpa or member of the WWF, don't plan on bouncing around the countryside with this puppy, although you can split up the poles, rainfly, etc. between people.
Verdict: If you need a giant bombproof shelter at the cost of mucho weight, you've come to the right place. Look no further than the Hotel for Alaska trips, expeditions to Nepal, or anywhere else over 10,000 ft.
Design: Himalayan Hotel
Sleeps: 4 +
Ease of Setup: relatively easy, 6 main color-coded poles
Weight: 14 lbs.
Price Paid: $895

You May Like
Recently on Trailspace