The North Face Hydra 26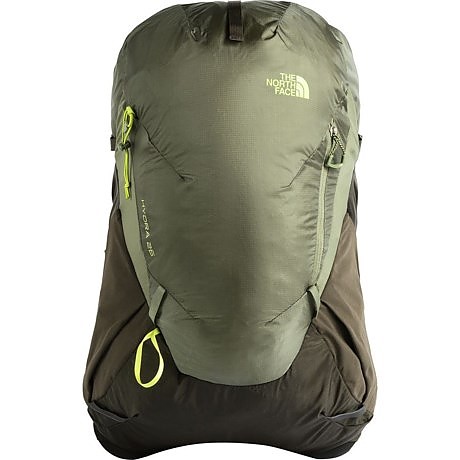 First proper civilian hiking bag. Uses: light hiking/sightseeing, cycling, travel. I am giving it 4 stars because it is that comfortable and fills the bag role for multiple activities.
Cons
Features
Gear access
No rain fly
Toggles loosen
Bag doesn't stay closed
Weak frame
So I gave it more stars than the number of Cons would suggest, but I don't think those cons have a big impact; excepts to say for one.
First, my only purpose-built hiking and camping bags have been a Spec 82 Canadian Ruck Sack and a T-62 (Spec 62) Canadian Ruck Sack from the '50s/Korean War Era. Both were canvas, with the 62 being a rubberized canvas coating, and both being about 45l capacity. My other hiking and camping bags were either old school bags repurposed or a 65L Outbound bag of which most Canadians will be aware of as not being the greatest quality.
I picked this bag to have a bag for short trips hiking, cycling, and to use as carry-on for flights. So I ended up with a Hydra 26; I may have gone with a Hydra 38 if it was available, but it might not have been carry-on sized. The 26 length and width is pretty close to Air Canada's suggested sizes and I had to squeeze the pack down a bit to fit the bin. This is easily going to be my go-to bag for most things now, even for trips to the store or the park. 
This review is based on: a beach trip, a four-day tour to St. John's Newfoundland, and a few cycling trips around home.

The Pros:
It ventilates very well in the back which is great for cycling, I took it on some short trips (2h) on hot days and was noticeably more comfortable. Notice how I didn't say "dryer" or "sweating less." I still sweat a lot when I am exercising because I am fat and mostly out of shape which results in sweating no matter what I do. The key here though is I wasn't uncomfortable and I felt decent air flow around my back. My range of movement was not hindered either; it is very comfortable for most of my activities of varying work loads.
Weight empty it is very light, well haha lighter than rubberized canvas, and it is capable of being stuffed with four days of clothes (dress pants, dress shirts, sweater, fleece, belt, dress shoes, etc...). Yeah, I was on a conference so I had an outfit for each day plus some light hiking gear (rain coat, fleece, a flannel, shorts, cargo pants, T-shirt, food, water...) for my tour around St. John's. It was able to carry everything and still be small enough as a carry-on bag. The weight carried well and didn't feel to shift about. The compression straps are more for attaching items, they do not do much to squish down the components.
The pocket in the back is a great place to put "need it nows" like a rain coat or fleece or damp swimming gear or cycling clothes you don't want in the main compartment. The ties and loops are meant for ice axes but work for camp axes and as tie offs for items or clip points. It is easily adjustable and there is something in the straps that is suppose to help even and stabilize the load. I don't know how or if it is working, all I can say is that when overloaded for my trip to St. John's the whole thing was easy to manage and felt secure. I like the metal frame as opposed to plastic, it springs back when twisted gently and is very firm, but flexible. However I worry if you take a side impact or baggage handlers are too careless with it then it might get distorted.
The Cons:
No rain fly! Which isn't a really big deal except that the top closes via a drawcord and has no "top bag" or a flap to cover the hole; Rain will get in there. So without the "top bag" or a flap cover it really should have gotten a free rain fly.
Only pack access is through the top drawcords, no bottom zipper pocket or side access. But I only just noticed this while writing the review. Essentially so far all my quick access stuff could be put in the gear pocket in back for quick access. There are also side pockets along the hip belt and an internal pocket inside the bag with an outer pocket on the gear pocket just big enough for a flannel shirt or other items (food, tool bag, swim gear, etc...). I like more pockets but these are acceptable.
One feature is a clip that adjusts the torso height for the straps; it seems to keep opening and allowing the shoulder straps to move up and down. With this issue I will say my first Hydra 26 didn't have this issue, but it was destroyed by Air Canada. The issue is only with the new one so it might be a one off. My solution will be to use electrical tape or a safety clip to hold it shut. The last picture shows the clip I am speaking of.
The mesh around the hip belt likes to pick up beach sand and deposit it on your floor when you get home. Not a huge issue, but something to keep in mind if you go to beaches.
The Airline:
So on my trip to St. John's my bag got stowed in the "sky check" when I got it back it was ripped, scuffed, perforated, and the frame was folded in on itself on the right side where the shoulder strap was. This caused the straps to sit awkwardly and made it very uncomfortable to wear. It did however protect my stuff inside it.
The airline gave me a claims chit and authorized me to buy another one, so I went to the outfitters in St. John's where they looked at my damaged bag. We tried to bend the frame back but couldn't. It took some force to fold the frame in like that. The staff thought it had to have gotten caught in the baggage belt or was caught in something hydrolic to have bent it in that way. When I returned I kept my pack with me and it fit fine in the bins as long as your bin mate didn't have a slightly bigger bag.
So I thought I would add this. I don't think I will be taking it on another plane; I think I will pack it into a suitcase or small luggage with my stuff. The pictures mostly show the comparison between the old bag after damage and the new one. 
Experience
Update 2020: So this bag has be demoted and is only used for light day trips, cycling, and beach days. After a half year I decided to drop it some levels due to some issues that have cropped up. The clasp that holds the straps in the right spot constantly come undone allowing the strap pad to slide up and down, I used duct tape to hold it closed. The back pocket comes open because the strap stay isn't tight enough to hold the strap securely. Something as light as running shoes or a sweater has enough weight to gradually open up the pocket while walking. The frame is really easily bent and will twist under light pressure. I had to straighten it twice and I don't know what I did to make it twist. So now it is only used for very light duty stuff. Gym bag, cycling bag, beach bag, etc... type stuff. I will be repairing/rebuilding my 1950s full external frame army pack for more rugged uses.

End Update:
There are other bags in the 219.99 range and the 149.99 range. I picked this one because it had the mesh back and felt solid and comfortable. The similar Osprey pack was lacking loops and attachment points. If it is a small bag, like these are, I really want places to hook gear externally, just in case I need to.

In all I am happy with the product and it fills the gap for a day use bag for multiple activities. I am looking to replace my 65L Outbound with a 40L to 50L pack and it might be the Hydra 38L; I am not sure yet, 38L is pretty small when replacing a 65L pack.
Source: bought it new
Price Paid: 199.99

Your Review
Where to Buy
Help support this site by making your next gear purchase through one of the links above. Click a link, buy what you need, and the seller will contribute a portion of the purchase price to support Trailspace's independent gear reviews.
You May Like
Specs
Men's
S/M
L/XL
Price
MSRP: $149.95
Current Retail: $96.99
Historic Range: $43.00-$149.95

Avg Weight
1 lb 15 oz
2 lbs
Volume
1587 cu in / 26 L

Fabric
70D IronLite Nylon

Dimensions
21.3 x 12.2 x 8.7 in / 54 x 31 x 22 cm
23.2 x 13.2 x 8.7 in / 59 x 33.5 x 22 cm
Women's
XS/S
M/L
Price
MSRP: $149.95
Current Retail: $96.99
Historic Range: $82.47-$149.95

Avg Weight
1 lb 14 oz
1 lb 15 oz
Volume
1587 cu in / 26 L

Fabric
70D IronLite Nylon

Dimensions
21.3 x 12.2 x 8.7 in / 54 x 31 x 22 cm

Recently on Trailspace