The North Face Jannu GTX

The Jannu GTX has been discontinued. If you're looking for something new, check out the best backpacking boots for 2023.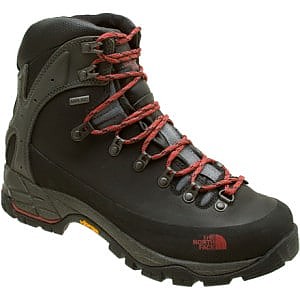 Disappointing. Lack build quality. Let in wet. Lack durability.
Pros
Good fit.
Good support.
Good grip on a variety of surfaces.
Cons
Poorly made.
Sole separating from main boot.
Protective rubber around lower boot peeling away.
Let in the wet.
I bought these boots just over two years ago from Castle Mountain and Moor in Nottingham. They were a slightly higher spec than was looking for but after trying them on I was immediately impressed and decided they would be ideal for me to take on more demanding walks.
They were comfortable from the outset and took no breaking in. I went on a few good hikes and had no discomfort whatsoever: no pressure points, great traction and super ankle support. My feet were warm in cold weather though perhaps tended towards being hot in warm weather but not too uncomfortable. I really thought I'd found the ideal boot.
It didn't last! After just a few walks the quick lace hooks became loose and spun on the rivet. As they remained in place and held fast I wasn't unduly perturbed. However as time went on I noted the protective rubberised strip around the body of the boot started separating from the leather, the union of the main sole to the boot split and the tread under the right toe area which is raised to allow the foot to role onto it has started to separate from the main sole. on top of this the boots have started to let in the wet.
None of my walks have been particularly demanding or over difficult terrain so I'm very disappointed. As I retained the receipt I took them back to the retailer but the assistant was unsympathetic, showed a complete lack of interest and merely cited the two year manufacturers warranty had expired.
Frankly these boots look good but are clearly not up to the task and certainly don't warrant the claims made by the manufacturer regarding their rugged build and the type of demanding hikes and treks they are supposed to be made for.
Source: bought it new
Price Paid: £109

Let me start out by saying that I used to be a walking North Face billboard, nearly everything I owned had a North Face logo on it! I originally bought these boots at my local REI. I got them because of their comfort and good balance between price and features, e.g. comfort, stability, waterproofing. The boots feel great and they never gave me a blister, my feet have never hurt after wearing them even with 60 lb back and 8 hour hiking.
But, and this is a big but, I took my boots on a 45 mile hike through the Olympic Mountain chain and they broke on the first day, a short 8 mile jaunt. The black rubber part of the boot cracked and split forming a gash about 2 inches long. I hadn't ever really used the boots before this day and would estimate the total mileage on them to be less than 15 miles before they failed.
Yes, I was upset. I had grown attached to these boots and they represent a significant investment for me as I am a student and live by meager means. I Fedexed my boots to North Face, at a cost of $45, and requested a rush decision.
Good news is they agreed that the boots failed due to defects in the product.
Bad news they didn't tell me my replacement boots were on back order for a month and a half.
I finally called North Face after several weeks without word on my order status and they told me that the quickest way to get reimbursed was to have them issue a gift card. Okay, then the gift card takes a week to get here. I used my card at northface.com to buy my boots but I now had to pay for another $45 shipping fee plus $25 in taxes! All in all i spent $304 on a pair of boots worth half as much.
North Face could have told me there was a North Face store less than ten miles from my house where i could pick up a new pair immediately and not have to spend more money on a pair of boots that shouldn't have failed in the first place.
I contacted North Face customer services to complain about all this and the lady made me feel as if i didn't have a reason to complain, like this was business as usual. All North Face products are now considered unreliable and unworthy of purchase.
Price Paid: $189

I've had the boots for just over a month. The boots were comfortable straight away and still are. The leather seemed a bit supple for a brand new boot but it meant less wearing in ie. no blisters. The fit is great as I have a narrow low volume foot. That's why I've decided to give it 2 stars. It looks the part and even though I had read some other rather negative reviews (on a different website) I decided to go with it as TNF is a brand I've come to trust.
Now for the bad news. After using the boots 5 days a week for 4 weeks while doing construction site inspections the midsole has started to come away from the upper! The only thing I've been carrying is my clipboard!!! What's going to happen when I trek 20miles with a 40 pound pack on my back!
I didn't want to purchase the boot as I noted it was made in China, but then again what isn't these days. Luckily I didn't buy these online and the guys at the store that I bought it from know me pretty well so I'm expecting a refund. Needless to say TNF are definitely going to lose me as a customer.
Materials: Leather
Use: full-leather shoe providing backpackers with waterproof, breathable Gore-Tex performance and technical, X-Frame stability for treks through treacherous terrain
Break-in Period: 1month
Weight: 3lbs 2oz
Price Paid: $175

If anything else, they are a nice looking boot. I used them on three hiking trips in the CDN Rockies and Arizona-Utah desert. They failed the water-proofing feature.
North Face said they will compensate me with an updated model introduced in 2012 , the VERBERA LIGHT BACKPACKER GTX.
Cheers. Canuckboy
Source: bought it new
Price Paid: 200 cdn

Bought them for winter construction work and snow plowing. Wanted warm and waterproof without a big heavy clod-hopper boot. Light and compact waterproof, and your feet won't sweat in them when you're inside. Very comfortable too.
Materials: Leather, Gore-Tex, Vibram Rubber Sole
Use: snowplowing, construction
Break-in Period: none
Weight: 2 lbs
Price Paid: $190

Your Review
You May Like
Specs
Men's
Price
Historic Range: $94.98-$190.00
Reviewers Paid: $175.00-$190.00

Women's
Price
Historic Range: $94.98-$190.00

Recently on Trailspace