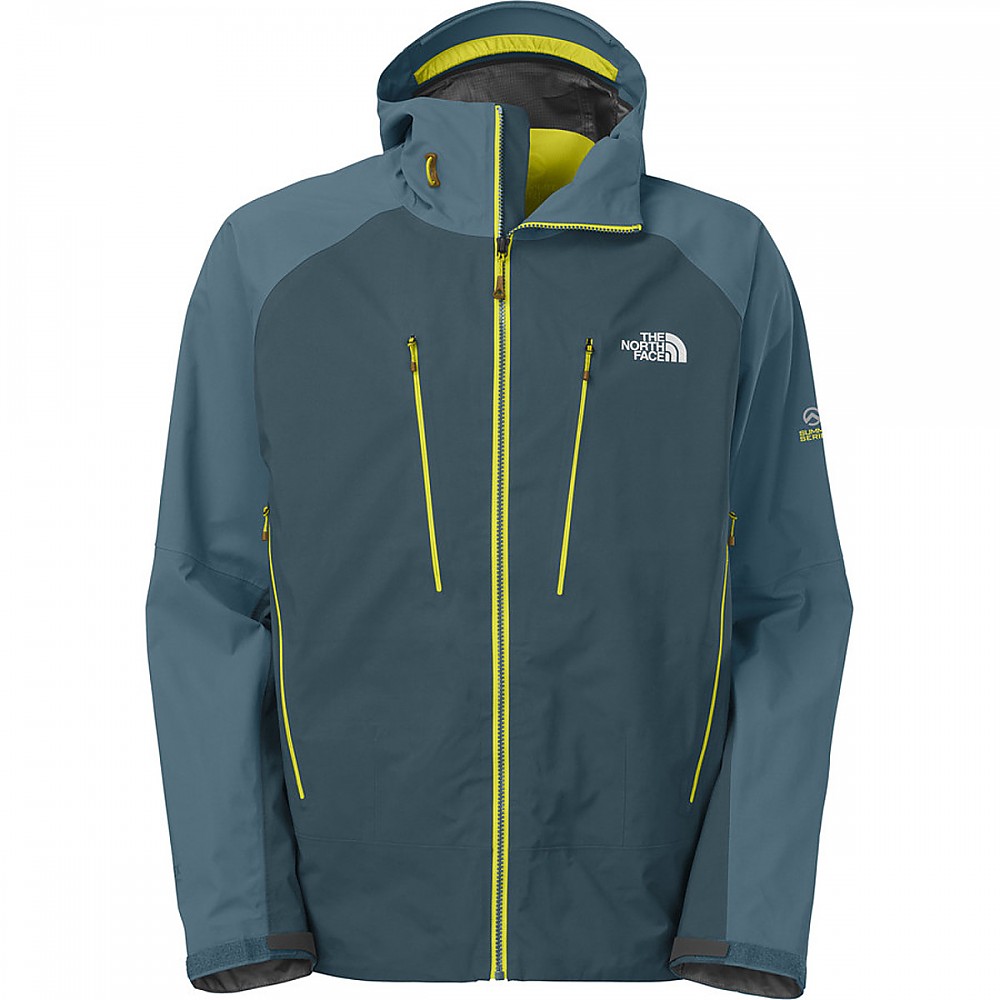 Specs
(no Gender)
Price
Reviewers Paid: $265.00-$525.00

Men's
Price
Historic Range: $298.83-$599.00
Reviewers Paid: $168.00-$425.00

Women's
Price
Historic Range: $269.53-$599.00

Reviews
22

reviews

5-star:

10

4-star:

8

3-star:

1

2-star:

2

1-star:

1
I have had this jacket for about 7 months. I was walking to work with a pack as part of my work out regime in the heart of Seattle Winter. So yes Wet! There is no doubt this jacket keeps you dry. However, as with some other comments I have read, it did not take long before the water started soaking through the outer nylon fabric. This is a little disappointing and I guess I will have to look at re-waterproofing the outer shell. I have not done this yet as I was wondering if this would affect the breathability of the Jacket. But I cannot see the jacket being too breathable if the nylon outer fabric is totally soaked.
Anyways, I cannot complain too much. For those of you that can make it to one of the North Face Outlet Stores, watch for their big 30% off sale, which is usually accompanied with a 10% coupon. This jacket was on on sale for $375US in Bend, Oregon, with a further $45% off sooo for around $168
Fabric: XCR Gortex
Price Paid: $168

I have had this jacket about one month and was pleased with it until I got it really wet. It did not leak but it developed dark smears and splotches on the exterior of the shell. I thought it was dirty but when the jacket dryed the dark splotches were gone. I saw a few other North Face shell reviews at this web site that had the same complaint. In short, it looks great until it has to look great AND function at the same time. It will be returned and my next shell will not be a North Face.
Version reviewed: 2000
This jacket replaced last year's model (no.. I am not loaded, it was stolen).
Have to say that they improved on a jacket I didn't think could be improved on. Better taping, velcro down the hood (get's it out of the way and prevents rain from building up in the hanging hood, when not on your skull), zipper pulls are easier to use, and to top it off it looks better (3 colour mixture vs 2).
I've put it through the BC outdoors test and it kicks butt :-)
Fabric: 3-Layer Gore-tex (XCR)
Price Paid: $350

After two years of use, the Kichatna has been a great jacket. Relatively tough jacket, great for offtrail brush busting and rock scrambling. This jacket has protected me well in some pretty violent weather above the tree line. For a Bangledesh made jacket it is surprisingly well made. No technical problems so far. So far even the DWR has held up, although I'm sure I will have to re-do it sometime do to the relativly large denier.
If I was paying full price, I would prefer the Arcterx Alpha SV or Theta AR. The SV is one great jacket with superior fit. However, I was not as impressed with the Theta LT for my uses as I feel it is well made but a little light weight for such rough treatment. Overall, the Kichatna is one tough customer and a jacket that will last you many adventures.
Fabric: 3 ply Goretex
Price Paid: $300 US on sale

The NORTH FACE CHIKATNA was bought as a Christmas gift by my wife, knowing I would get great use out of this type of jacket. On April 6-10 five of my friends and I climbed Mt. Washington through Tuckermans Ravine. The weather was typical White Mtn. weather wet overcast and winds close to 100 mph. the Chikatna Jacket was unbelievably dry and comfortable. I have owned other name brand shells but nothing seemed to be this well made, from the great location of the pit zips to the pockets THE NORTH FACE definitaly put together a jacket that anybody would feel confortable taking on their next out of bounds trip. Enjoy and keep climbing...
Fabric: 3 layer gore
Price Paid: $425

I have had problems with this jacket!
The first jacket bruised badly and wetted up within 3 weeks of use, making it less breathable and heavy. The replacement was instantly faulty. The shock cord in the hood snapped out on the first use.
The new Kitchatna is heavy with too much material and no use of waterproof zips. What's with the kevler?
For the initial investment in a supposedly bomb proof jacket I have completely lost faith in North Face.
North Face should pay less attention to fashion and do what they used to do and do it well.
Fabric: 3 ply Gore tex

Quite simply, a bombproof shell with its vault-like construction. The jacket is completely water proof and seems to defy wear and tear. I have taken a couple of long nasty slides down iced ski runs and the jacket comes out no worst for wear and tear. Don't try this in your Marmot Thunderlight or TNF Middle Triple Jacket. I have compared wear and tear with a skiing buddy who purchased a Thunderlight at the same time as my Kichatna, and although the Tlight is a little lighter, it has showed its age. Don't get caught up in this stupid my jacket is 4oz lighter than your jacket competition.
Fabric: 3L Gore-tex
Price Paid: $425

The Kitchatna is a good all around jacket. It is the toughest jacket I have ever worn. I think that it is 100% rip proof, the price is a little bit steep though.
Fabric: 3-ply gortex
Price Paid: 425

Fantastic. Best waterproof I've ever used. Not bothered by the fact that the hood doesn't fit in the collar as I bought it primarily to stay dry. Managed to get it for £199.99 in the Lake District store - Snow & Run. Not many left.
Fabric: Gore Tex
Price Paid: £270 - UK

One of the best qualities about the coat has yet to be mentioned. Because it is 3-ply it has no liner and therefore is much cooler when working hard. (climbing, skiing, etc... For those times when huffin and puffin in the rain or snow, no liner lets the air really flow. (With the pit zips open, of course.)
Fabric: 3 ply goretex
Price Paid: $395 +

Very waterproof and ergonomic. This jacket has kept me dry in severe thunderstorms and in snow travel. The front pockets are huge and there are 4 pockets inside the jacket for water bottles and other goodies. The two internal zippered pockets are made of a fine mesh to let things dry (I'm assuming. Why you would want to put wet items in a waterproof jacket confuses me though.) The hood fits like a suction cup to your head. You can look any direction and it won't get in your way. The jacket also has excellent butt coverage. With a god pair of boots and the Kichatna bib, I am totally waterproof.
Fabric: 3-ply Gore-tex
Price Paid: $425

I have only owned this jacket for barely over a month but i definitely have to say that it has passed all the tests i've put it through. First off, i would NOT pay $425 dollars for it, being a firm believer that if you look around hard enough you can find whatever you want at a reasonable price. (not saying that $318 wasn't a pretty penny for the jacket, but still..you get my point) The reason i was able to drop it to $318 is because of the friendly people at Moosejaw Online...they basically said that they would match and beat any price of any store that would happen to have the same model, color, and size in stock as they do. (i.e. no special orders, just what they have in stock)
So back to the jacket...while skiing in what some may call snow, with not only wet flakes mixed in with sleet, but having to put up with those annoying snow blowers, the jacket, along with keeping me perfectly dry, shielded my mouth with its high rise zipper (i do advise goggles however) from the cold blast of the snow blowers. it may "splotch" or spot when it gets wet, but come on guys, what are we trying to go for here...the look or the function of the jacket...
Fabric: Three ply Gore-Tex
Price Paid: $318

Good fit, excellent waterproofness, lots of pockets.
Durability a problem - after less than 1 year of wear mostly within Las Vegas, the sleeve has worn through (above the cuff at the apex of the pleat induced by cinching down the velcro cuff).
Develops ugly black blotches when the outer layer gets soaked in a downpour (but I've never been wet).
Fabric: 2-ply Gore-Tex
Price Paid: $395

Last year, while ice climbing at night with Dan Osman above Emerald Bay in South Lake Tahoe, we swapped his Baltoro, affectionately tagged "The Sleeping Bag," as a belay jacket.
While belaying in the Baltoro, you could sit perfectly still in the biting wind for a long pitch, the air temp plummeting as midnight approached, and you might as well have been in the tropics. Toasty. I've got a Himalayan Parka coming in the mail-- I'll see how it performs this winter. A little longer than the Baltoro, the Himalayan promises to be a furnace.
I've also got nothing but good to say about my Kichatna Jacket, worn over two seasons in conditions varying from vertical ice to an ascent of Shasta via the Hotlum Glacier. Make sure with any of these coats that you get them roomy enough, with layers, to allow complete arm rotation without binding.
Climb safe.
Fabric: Gore DryLoft/GoreTex 3-Ply
Fill: 700 fill goose down/none
Price Paid: $385 SRP

This jacket has held up great. I have had it for about 1 year.
It needs to be rewaterproofed though because water soaks into the outerlayer of ripstop nylon, but the gore tex stops it from reaching your body. It packs away fairly small, and has 5 pockets and 2 internal water bottle holders.
Fabric: 3 ply gore tex
Price Paid: $425

I initially thought this coat was a great coat and the fit and design are fabulous, but currently after less than 2 years occaissional use (no wearing a pack) I returned it to TNF for replacement. The fabric had worn through in several places both inside and out so that the Gore membrane was showing. Also the water repelency went away in less than 6 months. Pretty bad for a coat supposedly made out of "More durable " 3-ply material. We''l see if the new one does any better, but til then I give it a 2 out of 5, afterall I have a 2ply coat that has seen much harder use for seven years and still looks good with no leaks and little visible wear.
Fabric: 3 ply Gore_Tex
Price Paid: $525

Excellent jacket! Have no qualms about water resistant qualities or functional design.I have had this jacket on several camping/skiing expeditions and it has always performed exceptionally well. Highly recommend the "Kichatna", a little steep in price, but well worth it! Found mine on sale for $350 (CAN).
Fabric: GORE-TEX
Price Paid: $525 CAN

Add my name to the list: this is a great mountaineering parka. (Especially if it's on sale.)
Fabric: 3 layer Gore-Tex
Price Paid: $395

Very water/windproof, nice hood, the only thing is that the fabric is very thick and durable, but the jacket is therefore a bit weighty (2 lbs). Unless you are getting this shell hardcore mountaineering/ice climbing, it seems a bit overkill for anything else, but still a very nice jacket. (I got mine on sale for $265.)
Fabric: 3-ply gore-tex
Price Paid: $265

Exeptional weatherproofness, pit zips, ergonomic hood (a must). You've just got to try it to need it!
Fabric: 3 ply gore-tex
Price Paid: $575(can) (it's worth it)

Super coat. Kept me very warm and dry this winter. Pit zips, many inside pockets. Hood design needs some improvement but works O.K. Found mine on sale for $260. Great coat for the price.
Fabric: 3 Layer Gore-tex
Price Paid: $365 (US)

A wonderful jacket that can be used yearround. The cuffs do tend to hold moisture. But all in all a good jacket.
Fabric: goretex
Price Paid: $365

You May Like
Recently on Trailspace