The North Face Mountain Light Parka

The Mountain Light Parka has been discontinued. If you're looking for something new, check out the best waterproof jackets for 2023.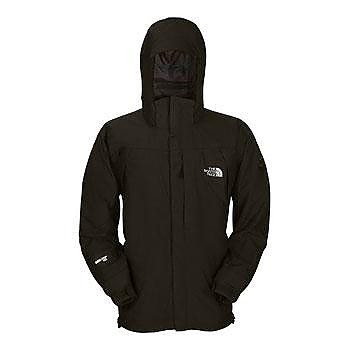 Now I don't get a chance to do much backpacking because of school, but over spring break my Mountain Light performed flawlessly. I was in the Allegheny mountains and the weather turned from bad to worse. The first 2 days were rain, then the second night it turned to snow and 40mph winds. By the end there was six inches on the ground. All of my gear was soaked, but i stayed dry. I had some TNF Ama Dablam pants to keep my legs dry. My TNF clothing performed flawlessly. The only down side about the new Mountain Light jackets is the core vents. These don't mesh too well with pit zips on the denali jacket. But I was dry and happy, and that's all that matters. Good job TNF.
Update: May 21, 2000
I am frankly getting sick of people bashing the North Face Mountain Light. People complain about its durability, its price, its increasing popularity, etc...First of all, the people who complain that it isn't comparable to other high-end mountaineering shells, and that say it is their worst investment ever need to think about it. It is a mountain LIGHT. It isn't meant for heavy winter mountaineering use. If you wanted a winter mountaineering jacket, you should have gone with a mountain, mountain guide, kichatna, or other quality brand 3-ply laminate jacket.
The Mountain Light was meant for 3 season climbing in harsh conditions, 4 in milder ones, all skiing except super extreme, all season backpacking, and lately, most of all, as an outrageously expensive urban rain shell. If someone complains it didn't hold up to the rigors they put it through, then they bought the wrong jacket for the job. It's like buying reeboks to climb denali.
Second, about the price. I'm a college student who bought it at the campus store. The store here is kind of special because it sales everything at a little over wholesale, but you can find the same deals on the internet that I got. I paid $200 for the jacket, and $85 for a denali jacket as a liner. That means I paid $280 overall, still $80 under what the shell alone retails. Now I would rather of had a marmot, mountain hardware, or arcteryx jacket; but the shell alone would have cost me over $100 more than what I paid for both the mountain light and the denali.
I've had mine on weeklong winter backpacking trips in the adirondacks, smokies, and in shenandoah. I have encountered more than my fair share of brush ins with briar patches, and with the occasional rock wall when doing some easy climbs on the cliffs nearby school. The jacket has yet to fail me in durability or waterproofness. Then only thing I've done to it is reapply the DWR coating.
Now here are the simple truths to why people complain:
1.) They received a lemon when they bought it. This is starting to happen more now than before because of the "main-streaming" of tnf and technical gear as a whole. TNF more than others have swelled in production and quality control may or may have not gone down, but they still produce some of the best technical gear out there. Sometimes tnf bashers find one minor glitch wrong with what they bought and go bonkers about it. Some people have a right to bitch, most don't. TNF customer service has mixed reviews. Since I've never had to deal with them (all of my tnf products have worked flawlessly), I can't comment. So, I'll leave that up for everyone else to decide.
2.) They bought the jacket for the wrong usage. If you wanted a 4-season mountaineering jacket, you should have gotten a heavier weight jacket, and not went for the cheapest retailed, brandname, gore-tex shell. It is called the mountain LIGHT for a reason.
3.) They paid too much. If you paid over $250 for the jacket, you are a lousy shopper. At any given time you can find at least 10 websites on the internet that have it for under $250, most under $200. I don't believe it is worth the $365 retail, but its worthy of paying at least $250 for.
4.) They are sick of the popularity of TNF products. If you want to have a "non-mainstreamed" jacket, go ahead and pay the extra 150-250 bucks. If it means that much to be the only one wearing it, then do it. If you are using the jacket for what it is meant for, then the people you see on the trail or on the wall will know you aren't being stylish or using it as a status symbol. I above all am sick of seeing rich preppy school kids wear technical gear because it's a wealth status symbol. Most of the kids I know that wear technical gear don't even know what the word "outdoors" means.
I have many TNF products, as well as marmot, patagonia, and others. All have their own spot in the technical gear market, and all do well. As for TNF, they still make some of the best quality technical gear on the market.
Well, enough said on my part. I would like to have replys as to whether this has helped you out or not.
Fabric: 2 layer gore-tex
Fill: optional zip in liner
Price Paid: retail $365

Moments ago I finished reading the review written by the lucky (or not so lucky) college chap who bought the Mountain Light Jacket for under 200 and the Denali for under 100. I myself own the jacket, having paid 300+. I understand your need to defend your gear manufacturer of choice, and even agree that for folks who plan on extreme weather (who PLANS on extreme weather?!) the Mountain "Light" might not be the best choice. (Then why does The North Face emblazen the right shoulder with "Summit Series?" A summit with no surprises.
I am here to tell you that it dosn't take a gear hound or a mountain guide to recognize that this jacket is crap. I must shyly admit that I am a jeep-driving, nike-wearing yuppie that only wears the shell for rock climbing outings. (no extreme weather encountered yet.) So I will cut to the chase:
1) Pit Zips: As I bought this jacket to replace one which was lost, I expected it to work just fine over my Denali from 1999. WRONG! The North Face moved the pit zips TO the north face, they are now on the front of the jacket, conveniently located underneath my pack straps most of the time, and nowhere near the zips on my Denali. The North Face apparently expected me to buy a new fleece!
2) Handwarmer pockets: These were just fine on my old North Face Shell. NO LONGER! NOW the size of the pocket is cut in half...to make room for what? The non-pit zips. This results in a conical-shaped pocket. Ever try to dig anything out of this pocket with gloves on? Impossible. Not to mention the draw cord that lies coiled in the bottom corner of the pocket.
3) Shock cord ends. I know it is a minor detail, but the engineers who designed the three-part plastic cap for the ends of the draw cords did not test them well, mine have fallen apart.
4) Skiing. If the point of this jacket, as mentioned by our collegate reviewer, includes skiing, why no snow skirt? This would have been helpful as I skid down the trails on my ass. (We'll get into that later.)
5) The Friggin Velcro: There are 13 (WOW!) velcro closures on this jacket, that makes for 26 pieces of velcro. This is a TREMENDOUS, NOISY pain in the butt. It sticks Pit Zips (Huh!) closed when you want them open. These closures are polygimist. The first thing that I have to do is uncoil a mass of stuck velcro when I take this jacket out of a pack or wherever. Not to mention the number of high-tech tops that have been totally shredded by the little hooks on the velcro.
The one good thing that I can say about this jacket is that I can leave it at the base of the cliff and it won't get stolen. Oh yeah, and it matches my nikes just fine.
Fabric: Gore xcr
Fill: Any idiot that buys it
Price Paid: $300+

Owning this jacket taught me a lesson. I learned never to buy any garmet with the word "Light" in the name. Bragging about a jacket's light weight is no different from bragging about a jacket's durability.
The North Face has a pretty clever marketing scheme. They talk about how their pit zips having 6 features in themselves, but in reality they made them worse. On a freezing Pacific Northwest day in ski gloves, it was impossible to just reach under your arm to zip or unzip them. It required removing your gloves, using all your might to rip the well bonded velcro apart, then figure out which of the two zippers to pull. Then the wimpy little zipper would snag, and you'd have to take the jacket off to fix it.
The hood worked pretty once it was on, but taking it on and off was a task that sometimes required help from a buddy. It didn't roll away into a collar either, but just hung loose, or could be tucked down behind your neck.
The chest pocket zippers would sometimes snag, and weren't as quick and easy to use as they could have been.
The 2 ply Gore-tex didn't bother me at the time, although it didn't breath as well as it could have. Its "lightweight" made it feel kinda flimsy, and it lacked ruggedness. I'd say that this is a great "around town" or rain jacket, but is not serious and heavy enough for "extreme conditions."
Do not buy any North Face jackets on the basis of what the company writes about them. These guys are becoming like Nike in the sense that you pay $345 for a jacket worth $200 because of the big label.
The Mountain Light did the job for a couple seasons of skiing, but until now, I never knew what I was missing. I now own a Mountain Hardwear Ethereal FTX which is an incredible jacket, especially after what I owned previously. The pitzips can be opened or closed quickly with welder's gloves on. The 3 layer gore-tex is more waterproof and gives the jacket a heavier feel. It has three times the features, yet Mountain Hardwear doesn't feel the need to brag about them.
I've owned equipment from all the name brands out there, and so far my favorites are Mountain Hardwear, Marmot, and Arc'Teryx because of the quality of their stuff. You feel like you are getting what you pay for instead of just a huge label.
Fabric: 2 Layer Gore-tex
Price Paid: $345

TNF bashing has become a national sport on many web pages. Some of it is no doubt deserved; some of it comes from people who are simply disappointed that the brand has become so well-known and popular since the 'outdoors' has been mainstreamed -- they feel they can no longer look cool unless they buy MH or a smaller 'boutique' label.
I'll leave the fashion one-upmanship sweepstakes to others and just report on my experience with the Mountain Light.
Maybe I just got lucky with mine (made in Korea, not Bangladesh or Sri Lanka) but I have had no problems with this jacket. The DWR has held up well in the eighteen months or so I've had the Mountain Light and the jacket sheds rain without any problems. I have NEVER had a problem with the lining catching on the main zipper -- it hasn't even come close to doing that. The fit of the jacket is tremendous -- the North Face is one of the few manufacturers that makes a jacket where the sleeves do not ride up when my arm is extended overhead. Also, the cut of the jacket is great -- fairly trim through the torso, but ample enough to allow for layering.
I've found the breathability to be good for Gore-Tex: it handles moderate exertion well; full, sustained exertion will overwhelm this (as well as any other) Gore-Tex jacket.
Criticisms? Price is too high unless you buy it on sale (not hard to find with TNF these days). The hood is decent, but certainly not up to the best current designs (e.g., MH, Arc'Teryx). And yes, the logo is kind of obnoxious, but it has been this way for twenty years or so.
Overall, a good product for the money (assuming you buy it on sale).
Fabric: 2 ply Gore-Tex Taffeta
Price Paid: $220 (sale)

I have worn this jacket for two winters here in the southeast Alaska rain forest. I really wanted to like the jacket because I spent a bunch of money on it and who wants to admit to making a mistake? However, I realize now that it's not a particularly well-designed product. The hood is lousy - it is impossible to cinch it down properly for wet and windy conditions and the wind whips it around like a rag. The storm flaps around the main zipper, pockets and vents ALWAYS get stuck in the zippers - it's amazing that I haven't ripped the material. The "core vents" provide inadequate ventilation, particularly when I am carrying a backpack - there are no pit zippers. The cut of the jacket is bag-like and ill-fitting (at least for my torso), and the DWR is not durable or water repellent for long. I don't thinks this jacket is worth purchasing at any price, given the much better jackets out there.
Update: April 12, 2002
I reviewed this jacket once already on 2001-04-02. Here's an update. The lining is coming apart at the bottom hem of the jacket. I am going to send this back to TNF to see whether the company will stand behind the product, but even if I get a new Mountain Light out of it, I won't be happy. No other "name brand" jacket manufacturer - like Patagonia, Mountain Hardware and Arcteryx - would have produced a piece of junk like this jacket. If TNF doesn't send me a new jacket it will be a blessing.
Fabric: 2-ply Gore Tex
Price Paid: Too much

I work outside a lot. My Mountain Light jacket withstood nearly daily use during this year's heavy El Nino rains, and has accompanied me on numerous backpacking trips. It's completely waterproof and windproof. I tend to do a lot of off-trail hiking/bushwhacking and have yet to puncture or rip the fabric Combined with TNF's St Elias fleece vest, Mountain Light keeps me warm and dry.
I have long arms, and find that TNF jackets are the only ones that fully cover my arms even when I'm reaching above my head. Pocket placement is kind of weird (due to drawstring around the waist, I'm guessing); one set of pockets is too high to comfortably put your hands in, the other too low.
Like everyone else, I find the zipper gets caught in lining, although once I just left the fleece liner in the shell, that problem was pretty much solved.
I also have TNF Hydrenaline Long jacket (which runs $70-100) which has a velcro-closed collar that the hood fully fits into. The Mtn Light hood just sort of flaps around.Too bad TNF didn't splurge on the hood pouch for the more expensive Mtn. Light. A napolean pocket would have been a nice touch too (Hydrenaline has one).
I'd recommend this jacket to someone who plans to get rained on a lot and really needs a waterPROOF jacket. If you just need something really water and wind resistant, save the $170 and buy the Hydrenaline.
Fabric: 2-ply Gore Tex
Price Paid: $345

The North Face Mountain and Mountain Light
I have owned both coats for several years now and love them both. Both of these are well made products. Of course, these are the ones with the pit zips. I wouldn't have them any other way. I don't care for the core vent coats.
It is funny to read all of the complaints about the light version. You people are comparing apples to oranges. The Mountain Light is a three season coat, that one can stretch to four season with a zip in fleece (ie, the Denali). I have used it year round.
I do prefer the Mountain for winter sports (hiking, skiing). I have used it with and without a fleece. It is great both ways, just depends upon what I am doing.
Otherwise, I like the Light for all around use.
For those of you who hate TNF, jsut as it is trendy for people who would otherwise not have such gear to wear it for the name, it is trendy for you to put down the company and its products. I have been using TNF gear for 27 years. The only complaints I have had was a seam split on a pack once, but TNF repaired free of charge and quickly, too, and yes, I have caught the liner on my Light once or twice in the zipper. Big deal.
I would bet my life on the TNF gear that I have.
Fabric: Gore Tex 2 ply

I have had this jacket for 5 years. I use it for rain gear only with north face pants. I never use the hood as my sport is bikes. I have found this to be the best rain gear I could get after trying several other options. On one trip several of us were forced to ride home in the rain for nine hours (because of time it was a sunday work on monday). I was still dry and the others were wet to the skin. A motorcycle going 60 mph in the rain is very hard way to stay dry. On another trip out west I ran into a hail storm by the time we could find cover we were getting hail as large as a dime hitting us the rain gear held up fine. Thou I had bruises from the hail stones. One thing I can not find is gloves that will not soak thru any one found anything that works for them. I am using a gore-tex glove made by bert brant they are good for a hour to 2 hours before they soak thru. The only problem with the north face is the pants are slow it get on and the zippers snag some. Others have told me to try seal skin gloves a brand name for rubber diving gloves any compents out there on them. have a good day and stay dry.
Fabric: gore tex

Stop the bitchin' and moanin'. I bought this jacket 8 years ago on sale (which by the way is the only way any garment, techwear or regular clothing should be purchased do to incredible mark-up) and have returned it twice to North Face because of problems. Maybe I would have had problems with other jackets as well, by other companies, but in 1992 there really weren't that many companies -- all the present ones were spinoffs/previous employees from North Face -- or like Marmot, etc. did not market their products in locations where I could try them on and purchase.
So I bought the Mtn. Light, the gore-tex DWR has worn down once and another time the inner seam ripped. And I don't abuse the product. SO....I returned it twice, and TWICE TNF SENT ME NEW JACKETS....That's why I have stuck with North Face. They might give you a little hassle but do you think I am going to go out and spend more money on another jacket....NO WAY.
Oh yea, I also own a Kelty day backpack that I have had replaced twice, over a 15 year span. Those of you who keep purchasing new jackets: You're the ones getting taken, it's not the companies taking you.
Fabric: Nylon-Gore Tex
Price Paid: $260/340

Found this gem on e-bay at a great price; I would never pay the retail 'cause I'm cheap. Only bought the jacket because of the positive image association I hope to get from the logo. I work in a data center with other wannabe outdoorsmen but finding time to sit in the woods is a challenge. I use this jacket to get from my SUV in the parking lot to the front door of the center and it has never failed me. Even when the temp is down to 40 degrees and I'm out there for three or four minutes.
All joking aside, I like this jacket because it makes my co-workers think I climb mountains, rocks, or hills or something when I'm not at work sucking up to the boss. I don't climb things because there is a risk of falling and I might tear my jacket or get it dusty. Also, during the process of falling; gravity, friction, and rocks are not your friends. Pain hurts and I try to not go there. I'm a very shallow person. This jacket feels great, keeps the rain out, and it's warm. Ignore the bashers and buy one.
Price Paid: $102

I bought this jacket while in the Army stationed at Ft. Benning, Ga. If you know the rainstorms that Georgia gets then you know what I'm talking about. I stood out in an hour rainstorm and not one drop of water made it through this jacket. I then got an idea--see if hot water can make it through the fabric of this jacket. I took it in the shower put it on as hot as I could stand and stood there for ten minutes....no water got in. I snowboarded in it all last winter and didn't get cold or wet. I then bought a North Face vest that zips into it and wore it at Mt. Hood, Oregon. The weather was 30-34 degrees F. with a wind chill up to negative 20 degrees F. I weigh 150 lbs with little body fat and wore that jacket with the vest and a t-shirt and didn't get cold. If you're looking for a great jacket with great features the The North Face Mountian Light Jacket is the one for you.
Fabric: Nylon shell
Fill: 2-ply gore-tex membrane, mesh lining
Price Paid: $350

Two comments, to add to the many:
(i) The jacket is about as sub-great as everyone says it is.
(ii) BUT the company is serious about the warranty, if my experience is any guide. I bought a TNF jacket roughly comparable to the ML (but non-Gore-Tex) back in about 1989 for about $100 new. It gradually delaminated and was completely worthless by 1999. I sent it to TNF via a local retailer, and TNF replaced it with a brand new ML. That was pretty impressive, I thought. I should have tried to trade it for something else at the retailer, but I missed my chance and took it home. It's an okay jacket, but there's much better stuff out there. I need lots o' ventilation (which the ML sorely lacks -- see other reviews), so I bought a Marmot Armstrong jacket. I leave the ML in my car for emergency use. A bit pricey for a car jacket... but mine was free!
Fabric: 2-Ply GoreTex
Price Paid: basically free

I bought this jacket to replace an older one-piece insulated Helly Hansen jacket that ripped. Since the ML is only a shell, I can zip in other pieces that I have accumulated over the years. I have an EMS heavyweight fleece that zips right in, as well as a TNF Redpoint vest. Both zip in flawlessly.
The jacket is perfect for skiing, which I do quite often, tackles the New England weather admirably plus general city dwelling. Yes, I do agree, that TNF has become too mainstream, but their gear fits my needs perfectly. It is possible to be popular and make decent stuff.
The only gripe I have is with the lack of a powder skirt, it's more of a mental thing because I'd just rather have it because I was so used to it on my old HH jacket.
Price Paid: $200

This is my third one. The first couldn't stand up to battery acid, but it's still a great "dirty" jacket. The second fell apart in the pockets and was replaced w/o question. The third has held up very well for several years in all kinds of weather, with all kinds of liners. The shell adds 15 to 20 degrees of comfort to any liner, including the down, which is the lightest and most comfortable.
But the matching pants are a problem. North Face thinks only very thin people should be allowed to wear their clothing. "Large" means 6' and 165lbs. "Extra Large" means 6'4" and 180 lbs. I'm 5'10" and 190lbs and it's hard to be comfortable. The zipper fell apart. The fleece liners have the same size problem.
Also when I destroyed the first jacket, the next year's model "blue" had changed.
Fabric: Nylon/Goretex
Price Paid: $345

Bought it from a friend who works at a TNF store. It was marked down to $179 because the color wasn't up to TNF standards (the red was a little darker than normal), and he gave another 50% off.
I love the jacket, except for one major complaint. When it rains everywhere stays dry, except the wrist cuffs. These become absolutely drenched. I wore it on a rain hike a week ago and the cuffs were soaked through so badly I had to put the jacket in the dryer before I went out again two hours later.
If anyone else has had this problem and found a way to stop it let me know. I'm close to sending it back to California but I'm leaving for Europe soon and I worry about it not being fixed soon enough.
Fabric: 2-ply gore-tex
Price Paid: $80

I must say my experience with this jacket differs from many of the reviews I have read on this website. I have been quite impressed with the quality and performance of this jacket. In fact, I had both this jacket and the Arc'Teryx Theta LT (a very well respected piece of apparel) and I actually returned the Theta LT in favor of the Mountain Light (saving me $225!!). The Mountain Light met all my expectations and included hand warmer pockets and an internal zipper pocket which the Theta LT did not have (I did prefer the "pit zips" on the Theta LT, although for the price difference, I think I can live with "core vents"). Certainly, only time will tell if this jacket holds up, however at this point, I am quite pleased.
Fabric: Gore Tex (XCR)
Price Paid: $199

Fantastic jacket. From summer bimbling in Cornwall to snowy expeditions in the Pyrenees this jacket just keeps going. Very light, comfortable, packs down to nothing, hard wearing (apart from one velcro cuff closure which has come away a little) and totally waterproof.
The main complaint other people have come up with seems to be that the DWR doesn't work very well -- just wash the jacket in pure soap flakes, make sure you tumble dry it, and the DWR performs just as it should. Another common complaint I've seen is that it is too expensive. However, check out the prices of its competitors - it was easily the best featured jacket I could find for the price, and the choice to buy it over other jackets was right.
Fabric: 2ply Goretex (Supplex and Taslan)
Price Paid: 200ukp

This is a great jacket. People often complain that the zipper gets caught. Once you learn how to make sure the zipper won't snag, you don't have anything to worry about. Almost everybody that works in the ski shop has that jacket, it lives up to the conditions well, and is flexible. A must for any extreme outdoor activity. The water repelient may ware off, but that is given. You can always re-apply it though. I would sugest the Denali as the liner for this jacket. Together they make a perfect team. All around this jacket with the denali liner is one of the best I have seen for the money, and use you can get out of it.
Fabric: Nylon
Price Paid: $220 (employe at ski shop discount)

I used the Mountain Light jacket up in the mountains of Haiti while doing missions work. Although I did not get the cold temperatures it rained like cats and dogs and I remained perfectly dry, the DWR held up quite well. The hood and body of the jacket fit me very well I am 5'8" and 155lbs. I truely tested the jackets breathablility and can say it passed with flying colors.
DOWN side number one. I wish the jacket was ripstop nylon! #2 the zipper constantly gets caught and sometimes you wonder if a rip is just waiting to happen!! All in All a fine jacket fix the things I mention and it will truely be worth the $325.
Fabric: 2-Ply Gore-Tex
Price Paid: $325

Lightweight shell for skiing and hiking. Easy to jam in your backpack when the sun comes out. Keeps the rain off and the wind out. If you're looking for a durable climbing parka for scraping against rocks and scrambling through branches, get something heavier. If you want to ski in snowy or rainy conditions, it works just fine with a fleece sweater or vest on underneath. I get a kick out of the reviews that pan this jacket for not being a 3-ply rip-stop heavy-duty climbing jacket. They're right - this is a completely different kind of parka that works well for its intended uses. It's cheaper than those heavier jackets, too.
Fabric: 2-ply Gore-Tex
Price Paid: $260

My Mountain Light Jacket turned one year old last week. It still looks brand new. I love it and would buy it again if someone stole it--my biggest fear. I have a Purmori fleece jacket that I wear inside and stay nice and toasty. It has kept out rain in the many storms it has seen. It also keeps out the wind extreamly well. I have had a problem with the long front pocket zipper snagging a few times. After careful work I was able to pull the nylon loose. It also packs nice and small and fits great into a day pack or on the back of my bike.
Fabric: Gore Tex
Price Paid: $345

This jacket is nothing less than awesome. I will start with the 'quirks' of the jacket first. The hood is a little hard to snap in simply because if you're wearing gloves, the slot where it snaps in is small and precarious. Secondly, the two zipper function is a little difficult to master the fist couple of times.
It's the warmest hardshell that I have ever owned; it's bombproof! I have a Denali Vest that I zip inside of it on really cold days, but highly doubt that I need it. It repels water like a duck and is amazingly warm!! Don't leave home without it!!

Fabric: Gore-Tex XCR
Price Paid: $300

North Face offers excellent products but where did they go wrong with the Mountain Light? I have used this jacket for numerous outdoor activities such as mountaineering in the Canadian Rockies, mountain biking, backpacking, hiking, and the occasional trip to the grocery store and found this jacket to be below average in performance. I have only had the jacket for two years and have found myself getting soaked during rainstorms and even light showers just walking to the truck. I have treated the jacket with TX-Direct by Nikwax with no marked improvement. In short, stay away from this overpriced, substandard performance jacket.
Fabric: 2 Ply GoreTex
Price Paid: Over Priced

This is a good jacket. The water and wind resistant is really living up to its name. I live in the city and wear it in a daily basis on cold days. Fews days ago it was like 5 degrees F, and i felt cold in the jacket. Not sure if its my jeans or the jacket that making me cold. The jacket is generally good. Mine was made in Korea, not Bangledesh or China or whatever. Anyone that read this review please tell me where yours is made in because i am curious to know if mine is a fake!!!
Fabric: Gore-Tex
Price Paid: $180

I have been very pleased with the jacket overall. The two chest pockets are easily accesible with a harness on. The pit zips are great, but a little hard to open with gloves on. The DWR eventually wears off, but that is to be expected. It has kept me warm and dry from through Mt. Baker's backcountry (combined with the Denali jacket), with temps as low as neg. 20 F with wind chill. I would recommend it highly, especially because North Face has an excellent guarantee. Be fun and go for Mango and Black!
Fabric: 2 ply gore-tex
Price Paid: $345

I keep hearing about zippers sticking, but with or without a liner, mine has never hung up. I use it for hiking, outdoor exercise, protection when outside on rainy days, etc. It seems to do quite well in the woods and I have yet to tear or puncture it (I've had it for about 2 years). The orange color is about as ugly as sin, but since I got it for more than $100 less than the $345 most people pay, what the heck.
I think it's a pretty good jacket.
Fabric: 2-ply goretex

i have had this jacket for nearly 5 years, and it is the best! it was worth every penny i paid for it. it has kept me warm and dry in conditions ranging from mild rainy days, to hail and blizzard conditions. along with the denali fleece liner it is all you need. the only one minor flaw i see (and i don't know that it could be avoided) is that the water repellant does wear off after a couple of seasons, and it must be re-applied.
Fabric: gore-tex
Price Paid: $300

TNF Mountain Light is a good all around jacket. Unfortunately its $100 over-priced. The nylon around the zipper is too loose and has a tendency to get stuck in the zipper. The water repellent finish wore off in a couple of weeks and the nylon would absorb water especially around the cuffs. I had a hardtime finding a NF fleece with compatible zippers and had to send it back for zipper replacement. My advice, unless you find this jacket on sale for around 270, don't buy it.
Fabric: 2-ply goretex
Price Paid: $345

I have put this jacket through conditions that would have turned other jackets to shreds, including bushwacking through a thornbush field, and it has held up beautifully. I must say that I was initially hesitant to purchase due to the price, but I now look at it as having been a good "investment". Combined with the Denali zip in jacket (another $160), I have used this jacket for everything from mid winter backcountry hiking to summer storms. I would suggest this jacket to anyone.
Fabric: Nylon/Gore Tex
Price Paid: $330

I bought it for mountaineering. It's a great jacket for hiking, backpacking, and skiing. It fits great, looks good, allows freedom of movement and is great for around town. It works adequately for moutaineering but the nylon is a bit thin. I have punched many holes in it. The thin nylon also gets caught in the zipper. The large pockets are great for water bottles and large gloves. The pit zips are sometimes difficult to open. I'm upgrading to the Kichatna jacket.
Fabric: Nylon

This jacket is a big disappointment. By moving the ventilation zips to the chest area, they made it incompatable with other fleece garments, plus it doesn't work well anyway. They took the pit zips out to cut cost at the expense of my comfort. Also, when you buy outerwear, you buy it to perform, not for the name. I now put North Face with the stuff you find at department stores, which, incidently is where you can find North Face now!
Fabric: Nylon 2 layer Gore-tex
Price Paid: too high for what you get

I have used this jacket in the northeast for 4 years and have been in all kinds of extreme weather and it held up nicely. When I go to Colorado at least twice a year and it has held perfectly in the rockies also.
One complaint that I believe they changed with the new 1999 model was how the hand pockets were laid out. I highly recommend this jacket for anyone that goes out in weather that you rely on staying dry.
Fabric: Gore tex 2-ply nylon
Price Paid: $299

After wearing while working on ski patrol at a southern for a year, this jacket has held up very well. It's light enough to wear on a warm, rainy day, and windproof to wear on the coldest. Only downside is the rather high price and the fact that substantial layering is required for anything less than 50 degrees. It also works very well with the Denali Fleece, in fact together, the two make a great, bombproof parka.
Fabric: 2-Ply Gore-Tex
Price Paid: $345

Excellent lightweight shell with many features, including the well used pit zips. However, after extended use the two ply gore tends to absorb some of the water. Loses its wicking action fairly fast in that the water does not wick off the jacket. Other than that, the jacket is very versitle and is an excellent choice. As with other North Face jackets the hood design needs a little work. Go for the green and black!
Price Paid: $450 Canadian

I have had this jacket for one year now and it seems to be holding up quite well. I've taken it rock and ice climbing and extended backpacking trips, no near plans on losing this one. Accompanied with the Mountain Light pants "your bombproof".
Great Product (I think the folks that bad mouth it just don't like the way the the North Face name is getting so popular with the city kids"
Fabric: 2-ply GoreTex
Price Paid: $240

Jacket held up nicely on my motorcycle during heavy Florida rainshowers on several tours to Daytona and the Keys (sometimes going 60mph). Kept bone dry except near sleaves--remedied by wearing neoprene dive gloves OVER TOP OF tightly velcroed sleeves!
Also held up well in EXTREMELY heavy downpour on my boat while cruising to the Bahama's at @30 knots.
Recommend re-treating waterproofing after 1 year of a dozen or so exposures to rain.
Fabric: Gore-Tex
Price Paid: $260

Sorry guys, but this jacket bites. I've been in downpours and taken it into the snow. The Gore-tex is fine, it's the quality of TNF. It used to be good, real good in the '70s and early '80s, but it's all down hill. Fashion, no longer function. This jacket leaked and the lining was coming out along with the stitching. Lean towards Mountain Hardwear, Marmot, Moonstone, and Patagonia.
Fabric: 2 ply Gore-tex
Price Paid: $345

What a piece of trash! I've had this jacket for three year and it was great at first. Then the seams began to tear out and was no longer waterproof. The EMS Expidition is a lot cheaper and gets the job done. My personal favriote is the Marmot Alpinest Jacket. TNF still makes some quality products but as far as I'm concerned they're a bunch of sell outs.
Fabric: Gore
Price Paid: $349

Bought this in a sale last August. It was originally retailling at about GBP260. Great versitility, I use it with either my TNF fleece or down jacket. Held up on a 6 day trek up to the summit of Kilimanjaro and a 3-day winter mountain course in the Cairngorms, in Scotland. I have used this in temperatures going down to -20C and high winds.
My best buy.
Fabric: 2plx Gore Tex
Price Paid: GBP 160

I took the jacket hiking in the Smokies for a week (rain/sleet/ice) and found it to be just about the best jacket I ever had. Perfectly watertight, no sweat condensation, good cap which protects from wind and weather.
Very light. May be a bit fragile when crawling through dense bush.
Zipper can be difficult to zip with liner unzipped.
I love it.
Fabric: Gore-Tex
Fill: zippable
Price Paid: $299

Heavy jacket for three season use. Have newer version with core vents, wish it had pit zips. Overkill for backpacking but good for winter use/mountaineering. Well contructed but DWR finish needs renewal quite frequently. A ripoff for full price. Would recommend to anyone using it for its intended purpose. Watch for last year's model on sale.
Fabric: 2 Ply Gore Tex XCR
Price Paid: $219

Most definitely the best jacket I ever owned. The Gore-tex fabric keeps me dry even in the harshest conditions. the pit zips are great, you don't have to stop to peel layers when you're hiking or climbing. the articulated hood is killer. the gusseted cuffs keep the snow out off your arms.
No doubt worth the money!!
Fabric: 2-ply gor-tex
Price Paid: $196 (closeout)

I have found it to be an overall versatile jacket. However, after a backpacking trip to the Smokies, the color bled through the back. North Face has had other complaints about this, but stressed that in no way would this affect the performance of the jacket. Aside from this, I have found no troubles whatsoever.
Fabric: Gore Tex
Price Paid: $350

It's a great jacket. it's light, so it's terrific for hiking in the summer rain. Put on intermediate layers, and it's good for winter as well.
I've been wearing it for almost a year, and it's still like new. No leaks, no tears. It even survived Kauai's Volcano Naitonal Park, a rain forest.
Fabric: Gortex shell
Price Paid: $300

I've had the jacket for a year now and am mostly satisfied with it. My biggest complaint is that the DWR is quite poor. The jacket needs to be redesigned, using a better textured nylon. Fortunately, the thicker overlayed fabric on the shoulders and sleeves has a better DWR.
Fabric: 2 play Gore Tex
Price Paid: $425

jacket has been a disapointment since day 1. snaps coming off of material, one is alomost completly gone. zipper is fraying at bottom seam. sent to warranty to have snaps replaced recieved jacket 3 weeks later in same condition as sent. very disapointed,looking for new company to go with.
Fabric: gore tex
Price Paid: $345

I have had this shell for two years and found it to be well made. Nothing spectacular just does what it is intended for! It is something I would purchase again, the only fault is the DWR, a longer lasting coating would be an improvement.
Fabric: 2ply GoreTex
Price Paid: 350 Cdn

an excellent jacket. i am very impressed. the only complaint is sizing. theb arms are a little too narrow to allow comfortable layering. i got a size larger just for that purpose, but it's just not designed for layering underneath. still, a great jacket.
Fabric: Gore Tex
Price Paid: $150 @ Cabelas

Great outer shell that can be used year round.
Pit zips work great for added ventilation.
Hood design needs a little work, which they seemed to have fixed in the latest model.
All the bells and whistles...
Fabric: 2 Ply Gore-tex
Price Paid: $265 (US)

Quite frankly, I am quite disappointed with the fact that no liners work with mine. Anyways i'll just send it in. Still sucks to send it in. Otherwise the jacket has been working out quite well.
Fabric: nylon, goretex
Fill: mesh lining
Price Paid: $200

Excellent wind, snow and rain protection. Fabric is durable yet flexible, even in extreme cold conditions. This is a great year round coat. Light enough that it can be put in your pack for summer hikes.
Fabric: 2-ply Gotex shell
Price Paid: $385

Great all around parka. Fantastic for cold, wet conditions or dry, windy conditions. Good for hiking, backpacking. Seems to be durable so far. I purchased this jacket after being very pleased with the hydrenaline jacket.
Fabric: 2-ply Gore-Tex
Fill: Mesh
Price Paid: $299.99

It's minty. It holds up perfect in a torrential downpore, in four feet of fresh powder, and in 60 mph winds. It is all around an excellent jacket to own for outdoor use.
Fabric: Gore tex 2 ply
Price Paid: $345

I have no major compliants about my jacket except for the fact that I had a new version Nuptse and it did not fit in my shell Mountain Light Jacket.
Fabric: gore-tex
Price Paid: $300

A great all purpose jacket.....i use it in the hottest wettest days in the summer and the coldest snowiest days in the winter.
Fabric: 2 gor tex
Price Paid: $345

Your Review
You May Like
Specs
(no Gender)
Price
Reviewers Paid: $102.00-$385.00

Men's
Price
Historic Range: $101.42-$349.99
Reviewers Paid: $80.00-$425.00

Women's
Price
Historic Range: $86.53-$299.00
Reviewers Paid: $300.00

Boys'
Price
Historic Range: $59.99

Recently on Trailspace