The North Face Prophet 65

Top 50 in men's Weekend Packs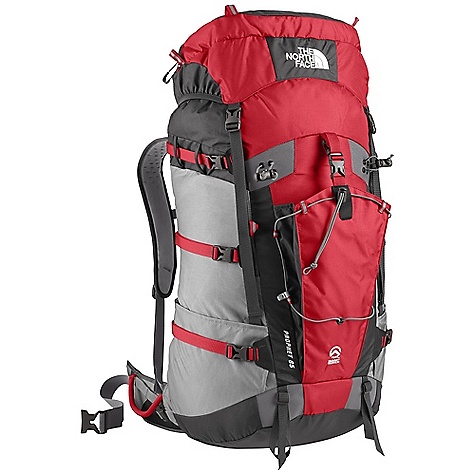 Specs
S
M
L
Price
MSRP: $229.00
Historic Range: $125.00-$319.00
Reviewers Paid: $160.00-$250.00

Capacity
3800 cu in / 62 L
4000 cu in / 65 L
4150 cu in / 68 L
-
Extended Capacity
4450 cu in / 73 L
4750 cu in / 78 L
5200 cu in / 85 L
-
Weight
4 lb / 1810 g
4 lb 1 oz / 1840 g
4 lb 3 oz / 1900 g
-
Dimensions
-
28 in x 16 in x 11.5 in / 71 cm x 40 cm x 29 cm
-
Fabric
315D Bombastic™ Cordura® Nylon
315D Bombastic™ Cordura® Nylon
315D Bombastic™ Cordura® Nylon
-
Reviews
7

reviews

5-star:

4

4-star:

1

3-star:

2

2-star:

0

1-star:

0
A real partner not only for mountaineering but also for backpack tours. The material seems to be too thin for heavy weight but it made >20 kg for 10 days daily use without any problems. But it can be made smaller for also for minor tours (ca. 40l instead of 65l).
Pros
Weight (ca. 1750g)
Many loops and ribbons to mount things
sits close, wearing comfort with normal weight
possibility to make smaller (ca. 40l)
Cons
doesn't sit close at heavy weight (>20kg)
materials looks flimsy (but aren't)
No rain cover (not necessary?)
I bought it directly at the NF online store, so i couldn't test it before. Mainly for a 10-day backpack trip to Spain in summer (incl. complete Camping Stuff). At the airport they weighted 20 kg. With this weight, it doesn't sit as close as it did with less weight.
I was afraid for anything breaks because the thin materials look flimsy. But at the end everything still works perfectly. Even with the whole stuff inside (also the tent) there was still a rest space without putting anything outside.
After the trip I use it for alpine tours. I already used it two times in the mountains (Austria) including camping stuff for two nights. Again, it worked perfectly again and even for a following mountain tour the next day the prophet 65 can be made small like a big single day backpack (about 40 l) and so it did its job also at a single day tour perfectly. 
Next things are maybe high mountain tours (3000+m) and it seem that it works there perfectly too. 
I don't know what happens when rain is coming so I'm thinking of an additional rain cover (r.c. is not included) but maybe it is water resistant, I will ask the manufacturer. 
With the many loops and ribbons everything of the equipment can be fixed like tent, mat, ice axes, crampons, ...
I'm glad about it and i can recommend it for any use in mountains (don't know about expeditions) and for traveling.
Source: bought it new
Price Paid: 235.- Eu regular

This pack is light and roomy, but compared to older versions this pack is lacking. I cannot recommend this pack unless TNF brings back the adjustable torso length shoulder straps.
Pros
Light
Roomy
Good compression
I have the medium sized prophet from 2012. I have used it a few times including trips to the summit of Mount Adams, Cashmere Mountain, and Mount Rainier.
It accommodates all my gear quite well. I like the abundant compression straps. It has three on each side.
At first the pack was very uncomfortable. But I was able to adjust it and make it work. Still I'm disappointed that the straps are sewn directly to the pack instead of being part of an adjustable suspension package like on previous models. I feel like this compromise really hinders the pack from transferring weight from the shoulders to the hips, especially with a heavy load.
I think that some competitors make a better pack for the weight. Better as in more features. I don't have any complaints about the quality of construction it seems to be sturdy enough.
Bottom line if I were to do it over I would have bought an Osprey pack and the main reason is the lack of a torso adjustment and the functional compromise this creates in the way the pack cannot handle weight transfer from shoulders to hips as well as previous systems TNF has implemented.
Source: bought it new
Price Paid: $180

I own the 2010 version of the Prophet 65. I have overloaded it with 50-lb loads, and it still remained comfortable and felt "tight."
However, on the very first day that I took the pack out, the buckle attached to the compression strap that pulls over the top of the pack snapped when I pulled it taut (I really didn't pull very hard). The North Face is sending me a new buckle. One star off for a weak buckle (possibly a manufacturing defect).
Overall, I wouldn't mind a little extra weight on the pack in order to have dependable buckles; I now carry 1 lb of gorilla tape with me just in case I have to patch this thing up, and would rather feel like I can depend on the fasteners in the pack.
Price Paid: $220

Great. Wears exceptionally well. I would have rather had darker colors though.
Price Paid: $250

Best I've ever owned. I found it very comfortable and roomy. Spare and light. Too bad they don't have a 90 liter model.
Design: internal
Size: 65 liters
Number of Pockets: 1 front and one lid
Max. Load Carried: around 40 lbs give or take
Height of Owner: 5' 11"
Price Paid: $230

If they had let me test it prior to buying, I would have gladly paid twice as much for it. Super comfy suspension, roomy, elegant, light, and efficient. Can't ask for more from a backpack. I own Kelty, Karrimor, Vaude, Deuter,and Osprey packs. This is my first North Face pack and I love it. I've used it for my last six trips, no problems.
Design: internal frame
Size: large
Number of Pockets: 4
Max. Load Carried: 50 lbs.
Height of Owner: 5' 7"
Price Paid: $199

I purchased this pack two years ago, and at the time it represented one of the true lightweight packs with a frame system suitable to carrying 40 lb loads. Overall, I find the suspension more than adequate, the padding to be adequate, and the top bag convenient (though not truly an ultralight feature). This pack is a top loader, so plan your day carefully.
Cons
My biggest single gripe about the pack is the lack of any sort of convenient place to store water bottles. Given that it compresses the load, getting a hydration bladder in and out of the small sleeve is an operation you would only want to do once a day, assuming you trust your fate to bladders. The strapping and cinches on the pack were way too long, so I saved an ounce or two by cutting them down, and restitching them. Some may find the shoulder padding inadequate, especially with larger loads.
Pros
The pack contours nicely to your back, and is not wide enough to hinder arm movement. It's really a climbers' pack, and as so, it has places to hang just about any piece of gear. The suspension system can take it, just be sure your shoulders can. The adjustment straps work well.
Opinion
There have been more recent packs that are a lb or so lighter, but those are really 30 lb class "frame sheet" packs. This pack has the capacity and frame system to hold two weeks (40 lbs for most people) of carefully selected gear. Before thinking you can get by with a flexible frame sheet pack, consider if you must carry two quarts of water along the trail, and if you really want to use that "something of a compromise" hammock or tarp for two to three weeks on end. If you're a light, but not ultralight, camper (and most people on the trail seem to be), then this pack will help you manage your must haves and little luxuries without adding extra lbs to your back.
Overall, I would do some more shopping around (given it's been two years in the marketplace), but might just find I'd buy it again. I haven't found another ultralight pack with as rugged a suspension system as this one. It has served me well, carried 45 lb loads, been dragged around, tossed into cargo holds, and served as a bear pack up in the trees. Still looks just broken in.
Only have a 20 lb load on your overnighter? Just remove the frame and leave the top bag at home, then you have that three lb pack you've always wanted.

Design: top loader
Size: 6500 cc
Number of Pockets: 1 top bag
Max. Load Carried: 50 lbs
Height of Owner: five foot seven inches
Price Paid: $160 or so

You May Like
Recently on Trailspace