The Roadrunner 22 has been discontinued. If you're looking for something new, check out the best three-season tents for 2020.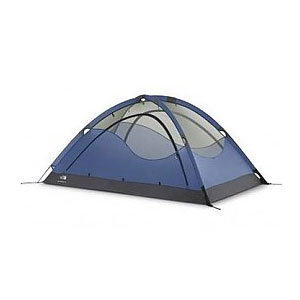 Specs
Price
Historic Range: $154.50-$259.00
Reviewers Paid: $250.00

Reviews
I like the design of this tent with twin vestibule/entry. The rainfly has been very problematic in terms of workmanship and longevity.
Pros
Design of tent is very good, relatively lightweight and easy/quick to set up. Excellent for one person, with lots of space for gear and stretching out when weather keeps you in the tent. Good for two people because backpacks and boots can be left in the vestibules. Venting is excellent due to the mesh construction and the rainfly gives full coverage.
Cons
Clear plastic "windows" in the rainfly cracked and shattered soon after purchase. Repair done under warranty leaked. Seams on rainfly were sealed with the wrong sealant and cracked and peeled off. This is a siliconized nylon rainfly and the seam sealant was not appropriate for this material. The velcro straps on the inside of the rainfly were only glued on (not stitched) and when the glue dried up it fell off. Poor workmanship.
Setup is easy once one you get used to the asymmetric pole positions. The color-coded attachment points are useful. The tent has a very nice footprint with two side vestibules and dual entry points. Shock-corded poles are light and easy to use.
The tent is moderately lightweight with compact packability. In fact, one of its selling points for me was the potential to use just the rainfly with the footprint and poles when lightness is important. Problems with the rainfly (described below) make me not want to rely on this feature.
The tent is very stable in wind and even in light snow due to its dome shaped profile. Runoff is directed away. If additional stability is needed in high winds, the tent can be staked down with lines provided with very good stability.
The main problems have been with weather resistance created by poor materials of the rainfly. The transparent "windows" shattered soon after purchase (~2 years) because the material was worthless. The North Face did replace them free of charge under warranty, but after the repair, the tent leaked in the rain.
In addition, the seam sealant used on the rainfly cracked and peeled off completely. I suspect the sealant used was not meant for siliconized nylon. I have recently resealed all of the seams with a silicon-based sealant and am curious about how weatherproof the tent is.
Lastly, the Velcro straps that hold the rainfly to the poles were only glued onto the nylon (again using adhesive that did not work on siliconized nylon) and dropped off. Very poor!
Overall, I love the floor plan and ease of use of this tent, but I would not buy it until the rainfly construction has been significantly improved. In fact, I am very hesitant to buy another North Face tent at all in the future.
Source: bought it new
Price Paid: ~$250

Mini tank!
Pros
Weather proof
Light
Easy setup
Cons
Not for over 6-foot person
Lack 3 pegs
Small vestibule
The setup is easy withe the color coded material. Great wind stability even under pouring rain. Condensation is no problem. Inside storage could be improve by adding a ceiling net, and outside storage is tiny due to the fly angle door so the pole could been longer.
Over the years this tent had been our favorite due to the weight and weatherproofness. Only wish had also bought the 3-person version!
Source: bought it new
Price Paid: $250

I bought this tent in 2006 before my 52-day trip to Alaska. Let me start by saying I absolutely love this tent.
The tent held up great to both heavy rain and 30 + mph winds.  The summer we went up to Alaska was the rainiest summer in over a decade. I want to say that it rained 36 of 44 nights we stayed in the backcountry. We stayed dry the entire time. 2 people can set this tent up in less than 2 minutes and can then pick it up and move it if need be.
Since Alaska I have taken this tent on a 2 week trip to Southwest Utah, multiple overnighters in the Pacific Northwest and multiple overnighters in the Ozark Mountains and I'm still using it today. Reflectors on the guide lines makes it easy to find after dark when doing long day hikes.
Issues:
slope of vestibules is tight and makes for a snug fit for your pack.
Condensation can be a problem. The Vestibules have two zippers so you can open the top of the rain fly to allow ventilation and the way the 3rd pole sits allows the zipper to be opened without threat of rain coming it. 
In tighter areas getting the 2 vestibules fully stretched can cause flapping of the vestibule against packs.
Honestly, I would buy this tent again. Hopefully, when the time comes to buy a new tent this one will still be available. It's a true workhorse of a tent.
i think this tent is a good tent beacose it is small and lighwaght and is a very handy think if you are looking to bye a small tent this is recomended.(very easey to set up)
good for bak pack.

Sleeps: 2
Ease of Setup: very
Weight: very light

I've had this tent for more than a year and love it. It's great in warm weather, where I usually leave the fly off and stargaze through the mesh (which keeps the bugs out!). It's also been through some pretty harsh downpours, and always stays bone-dry. There's plenty of room for two people to sleep comfortably, and I really appreciate the dual entrances so you don't have to climb over your neighbour! Finally, my favourite aspect is the fact that I can set up the whole thing (fly and all), by myself, in the dark, in only about 3 minutes. Love it!
Sleeps: 2
Ease of Setup: super easy...just slide in the poles and throw on the fly

You May Like
Recently on Trailspace